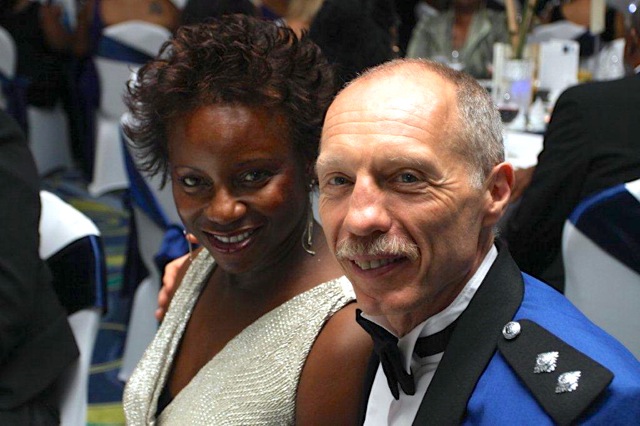 Craig and Beverly Morfitt
Yesterday I read an excellent post on Facebook written by our former colleage, Chief Inspector Craig Morfitt, who is now retired and living with his wife Beverly in Portugal.
Craig drew parallels between what Portugal has been going through with the spread of coronavirus, what actions they have taken, and what we can expect in the coming weeks.
He concludes with the following advice to us here in Bermuda (and everywhere else in the World):-
Lockdown situations can be difficult, uncomfortable and annoying for some. The alternative is MUCH, MUCH WORSE. Stay safe and shelter in place.
Coronavirus Insights from Portugal
By Craig Morfitt
With Bermuda about to enter its first period of the state of emergency, to combat the coronavirus, I thought it would be an opportune time to share my experiences in Portugal, as there are some parallels that might prove insightful.
Portugal's first two confirmed cases were announced on 3rd March. Fortunately, it took more time for the virus to reach Portugal than our neighbouring countries, such as Spain, France and Italy. That allowed the government to observe what was happening in those countries and to learn from their experiences. Especially the horrific toll that the virus was taking in Italy. The Portuguese government responded well and took protective measures much sooner than was the case in Italy, France and Spain. Those initial measures included school closures and social distancing recommendations.
Bermuda's first case wasn't confirmed until 17th March, providing the government with even more time to assess the impact of the virus and to prepare a response. By that date, Portugal had 448 confirmed cases (in the 14 days since the first case).
The following day (18th March), recognising that the country needed to be more restrictive to combat the virus, the Portuguese government implemented the first 15-day period of a state of emergency. It is notable that the state of emergency was implemented only 15 days after the first confirmed cases. On that date, there were 642 confirmed cases and zero deaths.
The state of emergency has several facets. Amongst them are restrictions on movement; closure of all non-essential businesses (including bars and restaurants); border closures and restrictions; and mandated occupancy levels for essential businesses (e.g. supermarkets and banks) to limit close contact and transmission. I have been impressed by how well the Portuguese community has responded to the restrictive measures. I haven't seen any panic buying or hoarding. The vast majority seem to be taking the threat seriously and have been staying indoors, particularly up north in Porto, where the streets sometimes resemble a ghost town.
Bev and I are fortunate to be retirees whose income has not been impacted by the emergency measures. Many residents will be enduring significant financial hardship due to the lack of income. The government clearly understands the financial impact and has responded well. A law has been enacted that permits tenants to defer payment of rents throughout the state of emergency without penalty (they will be allowed to pay back the outstanding rents over a twelve-month period once the emergency is over). Similarly, leases cannot be terminated during this period and are automatically extended through June. Interest-free loans are being offered. Financial protections are being extended to businesses and employees alike.
Fast-forward to today (3rd April), the day before Bermuda's state of emergency is to commence. Portugal has just renewed its own state of emergency for a further 15 days (the maximum permitted by law). The new version comes with some additional measures to address points that became evident during the first 15 days. One of the new measures is aimed at clamping down on residents who might seek to travel around the country during Easter. This comes after the police had to intercept hundreds of cars, as they sought to leave Lisbon and head south to the Algarve last weekend.
During that first 15-day state of emergency, the number of confirmed cases has risen from 642 to 9,886 and we have experienced 246 fatalities. We have 1,058 seriously ill covid patients who are hospitalised (245 of whom are in ICU). We have 1,124 health professionals who are infected with the virus, including 206 doctors and 282 nurses. We have increasing numbers of infections and quarantines amongst the law enforcement services. We have had some sizeable virus outbreaks in the nursing homes for the elderly that has required a country-wide intervention. We are now testing in the range of 6,000 to 8,000 people per day. This has happened since the implementation of the state of emergency! I think it is important for Bermudians to realise that they too are likely to see increases in the number of confirmed cases throughout the state of emergency. These emergency measures serve to slow down the transmission of the virus. They don't stop it.
We are seeing some success. Whereas we were once seeing growth rates of 45% of the previous days total, our growth rates have gradually decreased. Today's increase showed a growth rate of only 9.4% - but that still meant 852 new cases and 37 more deaths. Currently, the Portugal Health Department is forecasting that the virus will gradually peak in mid-May and that quarantine measures may remain in place until June. The state of emergency is not a quick fix. We have to be ready to ride it out months, not weeks.
Portugal implemented the state of emergency when it had 642 cases. Bermuda has 35 cases as it prepares to enter its own period of 'lockdown'. At first glance, it seems that Bermuda is acting much sooner than Portugal did in implementing a state of emergency. And I've read online comments from Bermudians who think that the action is too harsh and too soon. But let's compare the difference in sizes between Portugal and Bermuda.
Portugal had 642 cases for a population that is over 10 million. That equates to 64.2 cases per million, or 6.42 cases per 100,000. By comparison, Bermuda has 35 cases in a population around 62,000, which would be over 60 cases per 100,000. It is clear, therefore, that Bermuda has ten-times as many cases per capita than Portugal had when it initiated its state of emergency. My point here is that Bermuda's emergency measures are not coming too soon. And they are not too harsh.
I encourage Bermudians to take this virus seriously. As you can see from Portugal's experience, even when strict security measures are in place, the numbers can rise very quickly within a short period of time. I can imagine how dire the situation would have been in Portugal had the emergency measures not been implemented when they were. We need only look at Italy's experience.
Lockdown situations can be difficult, uncomfortable and annoying for some. The alternative is MUCH, MUCH WORSE. Stay safe and shelter in place.
You can read Craig's lifestory in our 'Then and Now' column at http://expobermuda.com/index.php/tan/267-craigmorfitt