The headlines in the Royal Gazette and on Bernews said it all after Bermuda held it's first ever Pride Parade in Hamilton on Saturday 31st August 2019.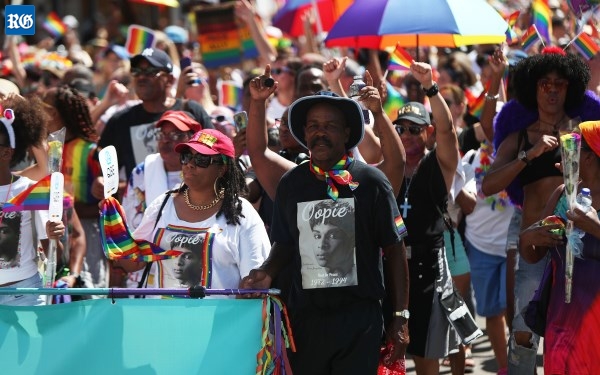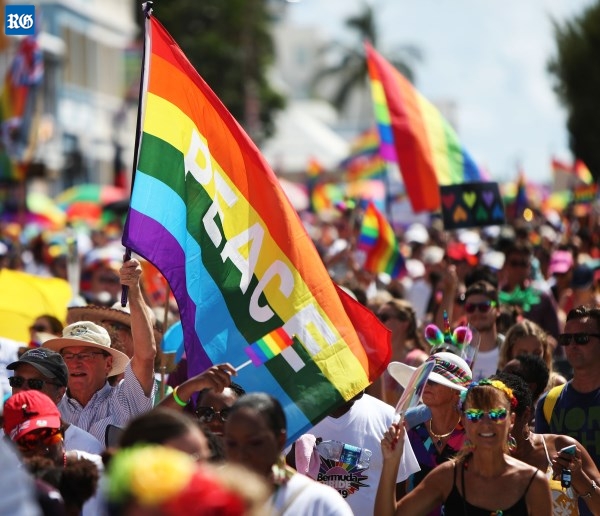 Photos courtesy of the Royal Gazette
(Photos by Blaire Simmons)

The Royal Gazette headline was "Joy as thousands celebrate Pride". The Gazette reported that "thousands of people took to the streets of Hamilton in an explosion of colour and joy in Bermuda's first Pride Parade today.
"Huge numbers joined a boisterous procession — estimated by police at more than 5,000 people — which at one point stretched along Front Street from the Birdcage to the Cabinet building.
"Large numbers of visitors celebrated with local supporters, creating an upbeat carnival atmosphere, with many people wearing rainbow attire and carrying banners promoting love and equality.
Organisers and supporters expressed their delight at the turnout from the community, including Rod Ferguson whose case was responsible for the re-legalisation of same-sex marriage in Bermuda."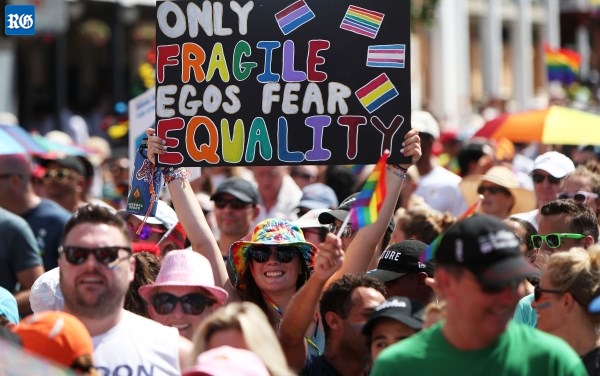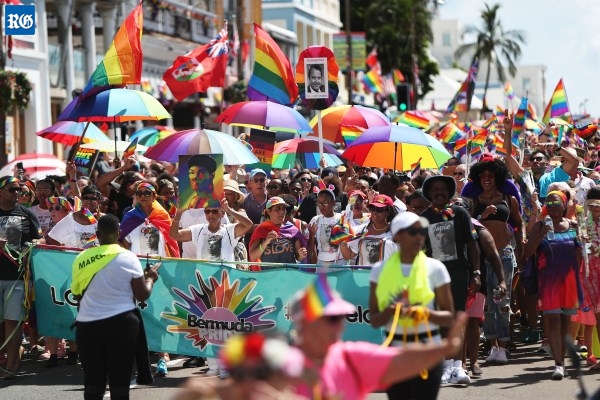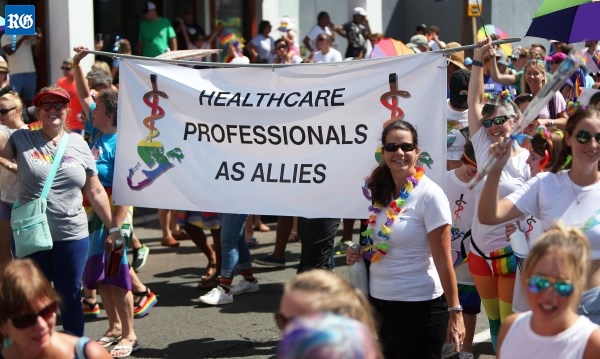 More photos courtesy of The Royal Gazette
(Photos by Blaire Simmons)
For more details you can view the following articles published in the Royal Gazette at:-
http://www.royalgazette.com/news/article/20190831/joy-as-thousands-celebrate-pride
http://www.royalgazette.com/news/article/20190831/delight-at-sea-of-rainbows
BERNEWS COVERAGE OF INAUGURAL PRIDE PARADE
Bernews provided excellent and extensive coverage of the Pride Parade throughout the day, including a series of fabulous photos which can be viewed via their website pages listed below. Bernews also provided us with a series of photos of the Parade and of the BPS officers involved in ensuring that it ran smoothly with minimum inconvenience to the public.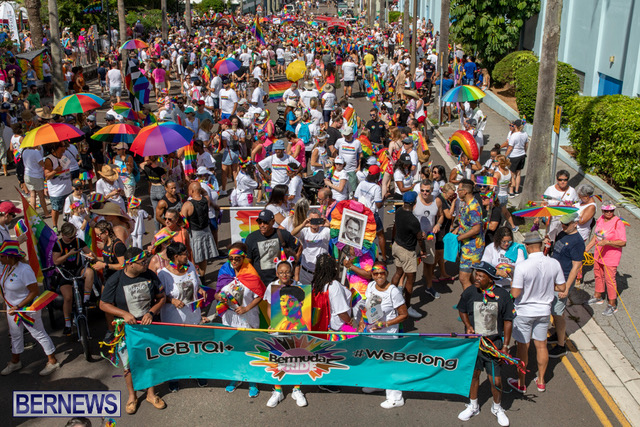 Enthusiastic participants pour out of Victoria Park onto Dundonald Street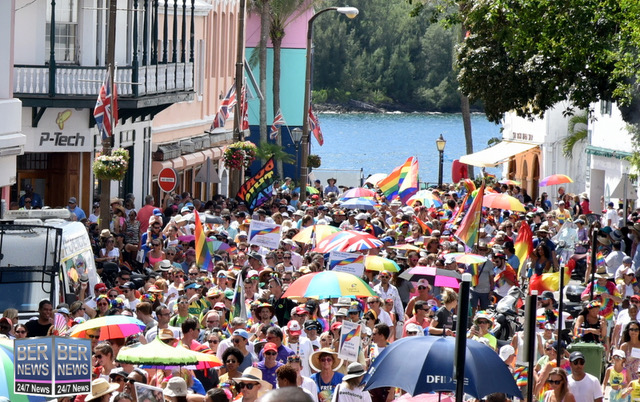 View of the Pride Parade coming up Queen Street with Hamilton Harbour in background
Bernews reported, "The streets of Hamilton were transformed into rivers of bright colours today [Aug 31] as thousands of people participated in the island's first Pride Parade, filling the streets as they marched through.
"The summer clothes were as bright as the rainbow flags carried by some revellers as they followed a route which took them from Victoria Park along Court, Front, Queen and Church Streets.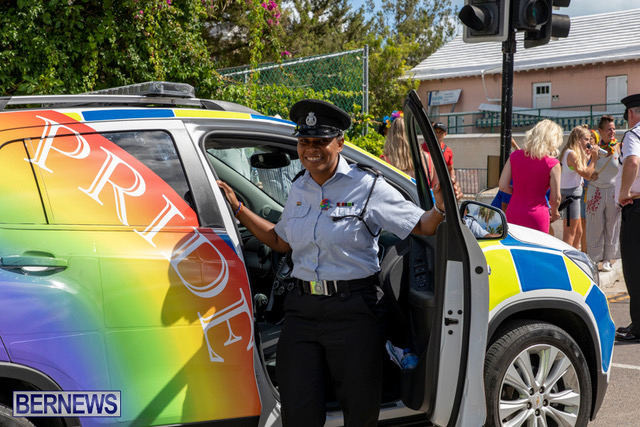 WPC Kimberley Spring prepares to lead the Pride Parade in a
brightly coloured police car decorated with the Pride emblem
"Led by a truck carrying DJs playing dance music over loudspeakers, the event had a festive feel, and even a police vehicle accompanying the marchers had been decorated in a temporary rainbow wrap.
Bernews published a series of articles during and following the Pride Parade which you can view on their website at the following:-
"Onlookers cheered the marchers on from sidewalks and the balconies of buildings along the parade route, many of which were decorated with flags and signs supporting the event.
"There were some poignant reminders of the past on display amid the sea of bright colours. Some marchers carried placards emblazoned with photographs of Wilfred [Oopie] Ming, a gay man that was murdered in 1994, and others displayed posters of the late Parliamentarian Dr. John Stubbs, whose 1994 Criminal Code Amendment Bill — the so-called Stubbs Bill — led to the decriminalisation of homosexual acts between consenting male adults in Bermuda.
"Today's Pride event coincides with the 25th anniversary of passage of the Stubbs Bill. Organisers said the parade date was intended, in part, to "mark the work of those that campaigned for decriminalization."
"The parade culminated at the Dundonald Street park where it had started, and was followed by addresses from event organisers and musical performances which lasted into the early evening.
"While the crosswalk by Victoria Park which had been painted in rainbow colours to mark the Pride event was partly defaced overnight by vandals, the parade passed peacefully, with it appearing there was just one protester along the route, while the amount of attendees is estimated to have been well into the thousands, with the Police Commissioner tweeting that it was "5,000+."

Editors note -
There is no doubt that the huge number of people who attended this first ever Pride Parade in Bermuda far exceeded even the organizers wildest expectations.
As a participant in the Parade, along with all my family including our five grandchildren, I was stunned when we arrived at the gathering point in Victoria Park which was packed and overflowing with literally thousands of enthusiastic supporters. This was very much a family event with attendees from all walks of life, all ages and all races and ethnicities.
The Bermuda Police did a fabulous job patrolling the parade route and there were no problems whatever throughout the event from start to finish. In fact the parade was led by a brightly coloured police car decorated with a giant rainbow.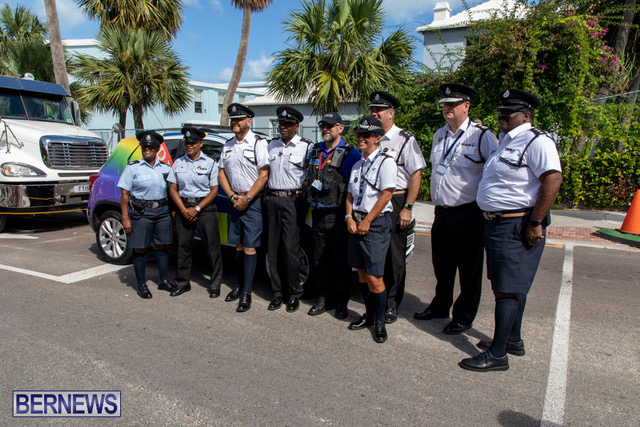 BPS Team responsible for managing the Pride Parade
(l-r) Reserve officer Sherry Tucker, Kimberley Spring (both in lead vehicle), ACOP Martin Weekes,
Acting Supt. Hasheem Estwick(Silver Commander), Sgt Brian McNab (Tactical Advisor),
Supt. Claire Armes (Silver Commander), COP Steve Corbishley, and Chief Insp. Tracy Adams (Bronze Commander).
Standing in the back behind Claire is Acting ACOP Sean Field-Lament (Gold Commander)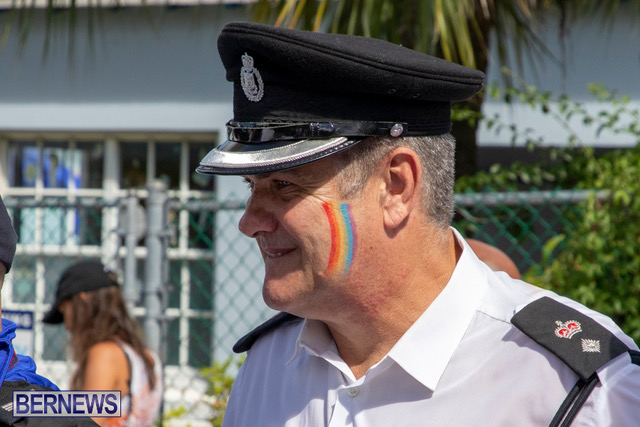 Acting ACOP Sean Field-Lament proudly wears the rainbow emblem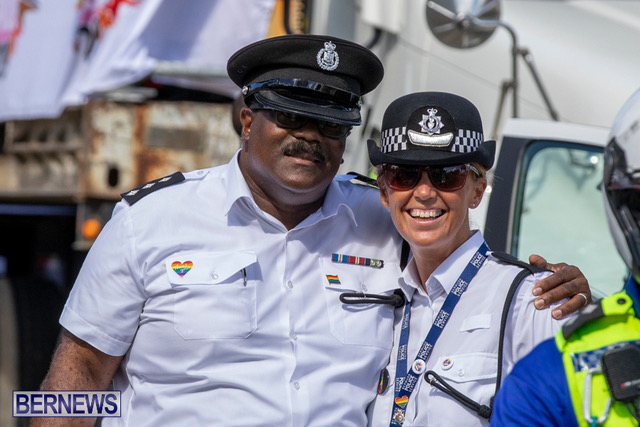 Chief Insp. Tracy Adams (Bronze Commander) and

Supt. Claire Armes (Silver Commander)
Above photos kindly provided courtesy of Bernews
POLICE ASSURANCE OF FULL SUPPORT FOR PRIDE PARADE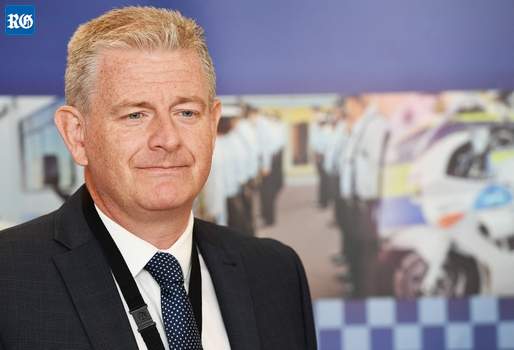 Commissioner of Police. Stephen Corbishley
The Royal Gazette had published an interview with Commissioner of Police, Stephen Corbishley, in June 2019, during which the Commissioner gave an assurance of the full support of the BPS to the then being planned Pride Parade. For full details of the interview with Commissioner Corbishley go to http://www.royalgazette.com/news/article/20190625/police-to-parade-at-pride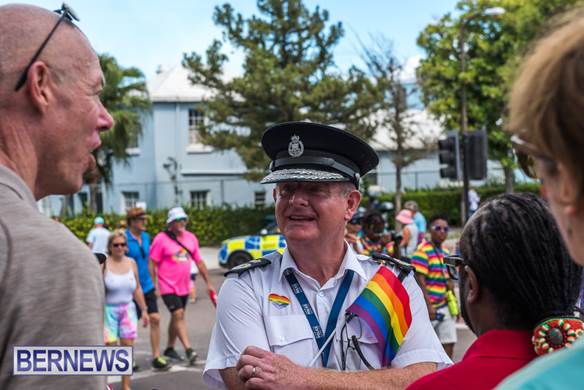 COP Stephen Corbishley on duty at the Pride Parade
Statement from COP Corbishley supporting the involvement of the Bermuda Police Service in the first ever Bermuda Pride Parade held on Saturday 31st August 2019:-
"Bermuda is a vibrant, multicultural community that reflects very strong family and community values and it is also in an excellent position to embrace and support the Pride parade and to ensure that LGBTQ people in Bermuda are equally proud in their identity. In my time in policing, particularly in the UK, I'm very familiar with Pride parades and also some of the challenges that our LGBTQ communities face. I think the BPS, as one of the biggest public service employers and because of the nature of the work that we do, should be visible in how we supported this event. The BPS reflects local communities and we have LGBTQ officers and staff here that directly reflect the communities that they police. It was also important for me as the Commissioner to support the event, but also important to support Bermuda in enabling every single person here to feel, from the police perspective, safe, respected and able to fulfil their potential, particularly young people who might feel afraid about being who they are."
Editors Note -
What a 180" turn from the Bermuda I came to in 1964 at a time when the term LGBTQ had never been heard of and surely no-one could ever have imagined the enthusiasm, love and support the Pride Parade received on this truly memorable day.