We have been contacted by our good friend and former colleague David "Dai" James, who sent us the attached two photos taken by a friend of his in Scotland (formerly of Bermuda) who, while attending an antique car show spotted a very rare 1964 Singer Gazelle, all black with an automatic transmission.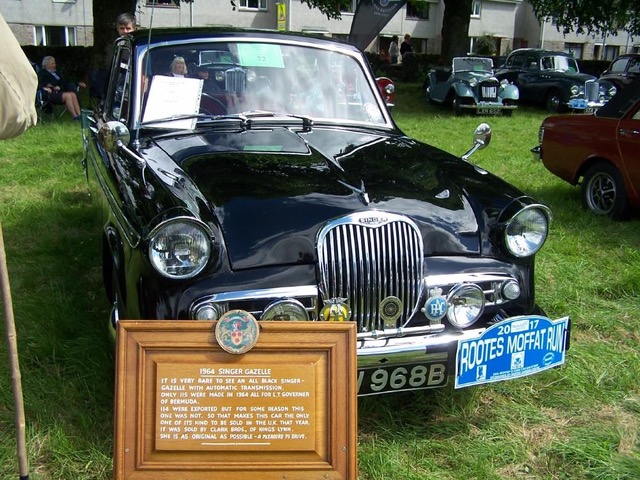 Rare 1964 black Singer Gazelle automatic displayed at Scottish antique car show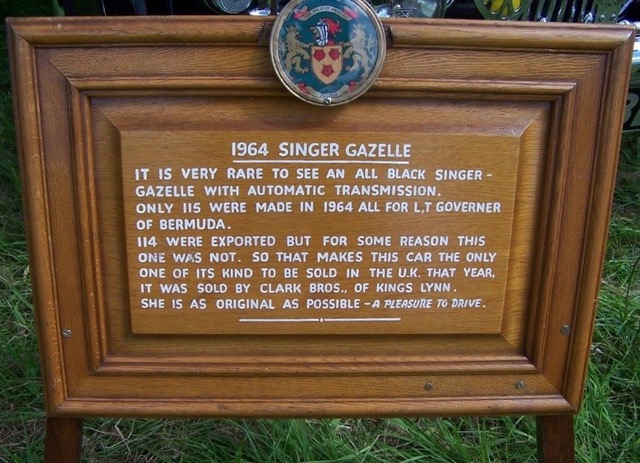 Did any of these 114 1964 model Singer Gazelles ever arrive in Bermuda?
What was remarkable about this vehicle was an accompanying sign which reads,"1964 Singer Gazelle, it is very rare to see an all black Singer Gazelle with automatic transmission . Only 115 were made in 1964 all for L.T. Governor of Bermuda. 114 were exported but for some reason this one was not. So that makes the car the only one of its kind to be sold in the UK that year. It was sold by Clark Bros of Kings Lynn. She is as original as possible – a pleasure to drive"
Dai wonders if we could shed any light on whether these cars ever came to Bermuda, and if the Bermuda Police ever used them in our fleet,
We have written to the ideal person to answer this question, retired Chief Inspector Derek Jenkinson, who served from 1960 - 1991 and spent most of his career in the Traffic Department but was also both a superb driver, and a brilliant driving instructor.
Sgt Derek Jenkinson
Derek was a first class driving instructor who went on to be
Chief Inspector OIC Operations (Traffic Department)
We will publish Derek's reply, but in the meantime we wonder if anyone else might know if we ever had a Singer Gazelle in our Traffic Department, or if you have any ideas as to where these 114 Singer Gazelles ended up!
11th June 2018
Reply from Derek Jenkinson:-
The short answer is NO. In 1960 to about 1964 we had Sunbeam Talbot Saloon Cars. They were replaced by mostly Riley's and a couple of Wolseys. After that we had Ford Cortina's into the '70s and '80s. There may have been one purchased for a senior officer but I certainly can't remember it.. Oddly enough Ken Norman and I purchased a Singer Gazelle convertible. White with a red stripe down the side and had it until he (Ken) emigrated to Canada with his wife Joan and took it with him.
Comments received from Mike Cherry:-
With regard to various vehicles being driven, when I was transferred to Traffic in 1960 the patrol vehicles were Sunbeam Talbots and 500cc Triumph motor cycles. Both were a pleasure to drive and ride. The OIC Traffic at that time Inspector John Marshall had an MG Magnette, which no one else was allowed to drive. The Commissioner drove a Morris 1000, as did most of the CID members.
As the Sunbeams became more difficult to maintain due to lack of spare parts they were replaced by Riley 1500 saloons which were quite fast, but did not handle too well on corners. I recall also that at some stage we had to use Ford Anglias or Prefects due to a shortage of vehicles. Fortunately that did not last very long as they were not very glamorous for Traffic Boys, and were not suitable for catching speeders before the days of radar guns.
The 500cc Triumphs were replaced by 350cc twin Triumphs which were a great success, being used by the popular Police Motor Cycle display team.
I do not recall seeing any Singer Gazelles on the road here at all, but Paul Martin of Martins Precision may be able to help, as I know that he was looking for old cars including Sunbeam Talbots.
EDITORS NOTE - I believe this article highlights the need for us to record how many types of vehicles we have used in the Bermuda Police since our Traffic Department was formed in the late 1940's. In this regard I will do some initial research regarding photos in our collection and post them in a new article on the subject of Police Vehicles through the ages! We cordially invite you to let us have your recollections of the vehicles you drove, both 4-wheeled and 2-wheeled, and how they handled. This would apply to any and all vehicfles, including those still in use today. Photos would also be most welcome.