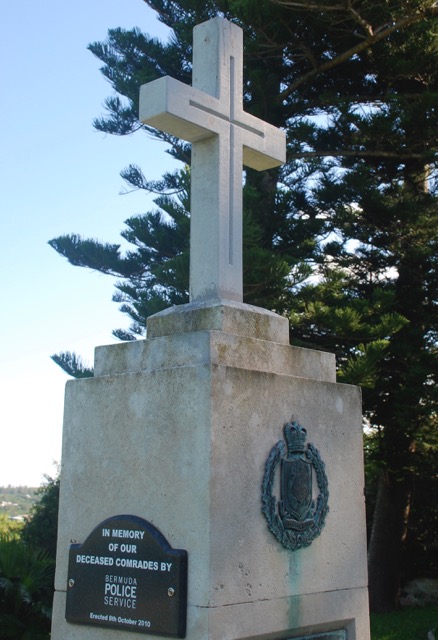 Police Memorial at Prospect Cemetery
All former members pf the Bermuda Police are cordially invited to attend the Annual Memorial Service being held at the Police Cmetery, Prospect, at 11am on Thursday 8th October, immediately followed by a light lunch at the Police Recreation Club.
This service is held annually during Police Week and pays tribute to all of our friends and colleagues who have served in the Bermuda Police who are no longer with us. It is hosted by the Commissioner of Police and is attended by H.E. The Governor, and Senior Officers, along with families and friends of those who have passed. We encourage you to attend if you are on Island.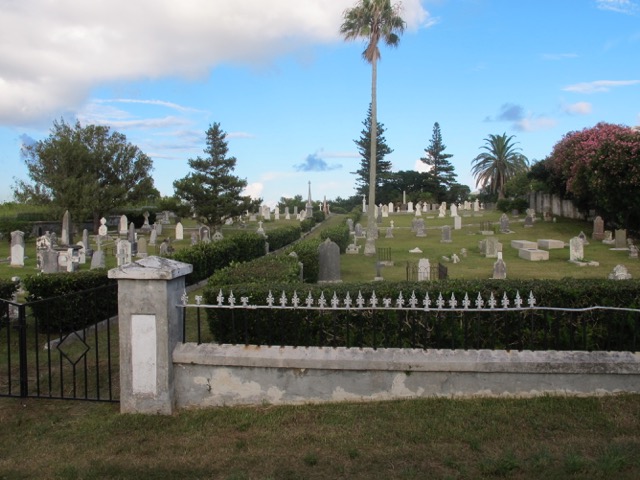 Military and Police Cemetery at Prospect
This has been a particularly sad year in which we have lost more of our former colleagues than anyone can recall. During the last 12 months we have lost no fewer than 16 of our old friends. During the Memorial Service the Commissioner reads out the names of all former police officers who have died in the past 2 years and the list this year includes the following:-
Retired Inspector Hubert Simmons
Former Constable Frank Maddern
Retired D/Supt Vic Richmond
Retired Inspector Arthur Rose
Former Constable Rodney Trott
Former D/Commissioner Alf Morris
Former Constable Reggie Butler
Former Constable John Fryer
Former Constable John Allen
Retired Constable Lawrence "Mincy" Rawlins
Former Constable Ian Douris
Former Constable Graham Swinyard
Former Constable Thomas Gray
Retired Chief Inspector Jeff Saunders
Former Constable Tom Barnes
Former W/Constable Betty Osborne
Last years list included-
Former Constable Alexander "Sandy" Duncan
Former Constable Trevor Nicholls
Former Constable Allen "Bugsy" Pugh
Retired Sergeant Brinley Jones
Former Constable John Wild
Former Constable Anthony Richard Saunders
Our PRC Cook for many years
Mrs Lucretia Brangman (Mrs "B")
Also honoured during the service are those Bermuda Police Officers who are buried at the Police Cemetery as listed here:-
Constable Andrew Park Davis Wilson
Constable Michael Frederick Henry Hills
Constable William Fox Galloway
Inspector John Wallace Starbuck
I
nspector Thomas David Doyle
Commissioner George Duckett, Esq, O.B.E. COP
Sergeant Reginald James Brown
Chief Inspector James McNiven
Inspector Douglas Noel Hebberd
Sergeant John Frederick Morris
Sergeant William MacKenzie
Detective Superintendent John J. Sheehy and wife Joan (ashes interred)
Inspector Arthur Rose (ashes interred)
Although no official records are kept by the BPS regarding former serving officers who have passed, except those who continued to serve until retirement and were receiving pensions, we have been endeavoring to compile our own record (CLICK HERE for our List of Deceased Officers).
We are aware that this list is by no means complete. For example, we were only recently made aware that former P.C. John "Boob" Travis who served in the Bermuda Police in the 1960's and left for Canada in 1966, had died in April 2004 after serving for many years in the Ontario Provincial Police.
We would invite you to review our list and let us know if you are aware of anyone who is not listed.