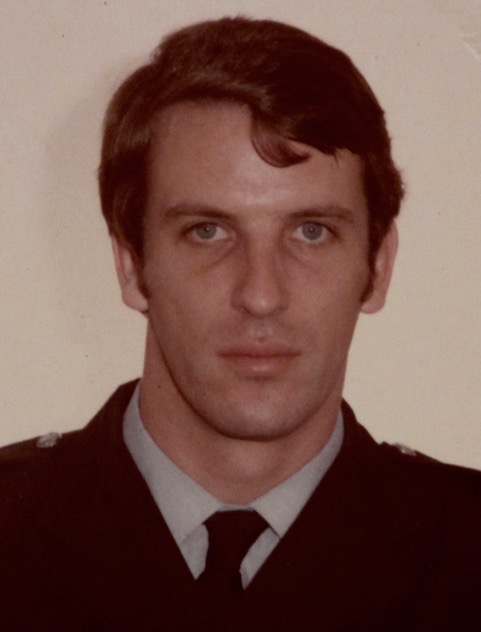 Young P.C. Steve Dunleavy
We have just heard from our old friend and colleague Steve Dunleavy about his "encounters" with legendary West Indian cricketers as a young lad in Bolton, as a constable in the Lancashire Police, and more recently during a visit to Barbados to watch the 2nd Test Match between England and the West Indies.
Steve, who was born and raised in Bolton, was a 12 year old attending Thornleigh College School when he faced the school's West Indian cricket coach in the nets – and the coach is without doubt one of the finest cricketers of all time, the great West Indian all-rounder, Gary Sobers, now Sir Garfield Sobers.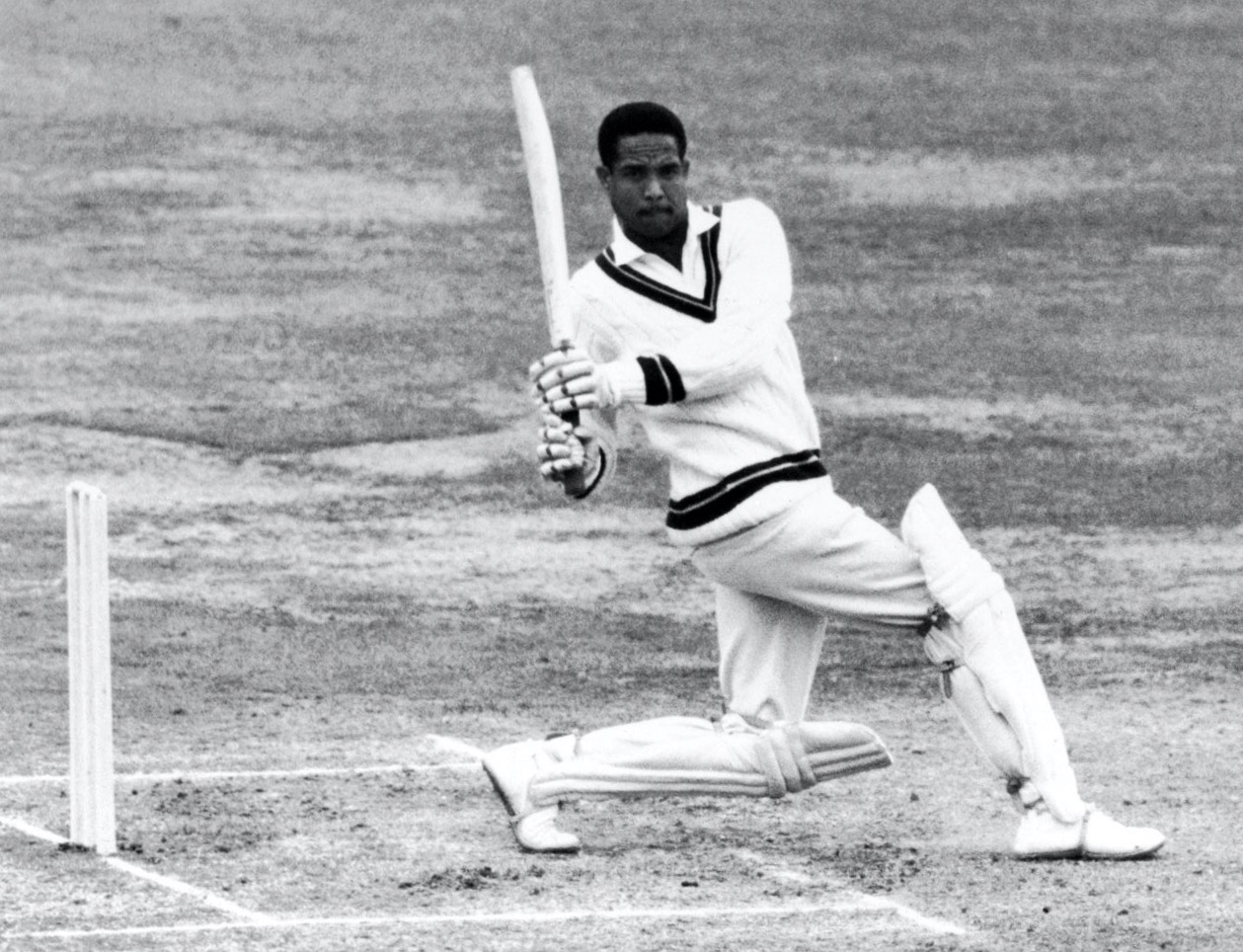 The Great Gary Sobers in action
At a time when overseas players were not permitted to play in county cricket in England, Gary had signed up to play as the professional for Radcliffe Cricket Cub in the Central Lancashire League from 1958 -1962 earning a paltry £500 per season. He was no doubt supplementing his income by coaching at the school. What a coach! What an experience for any aspiring young cricket player!
Steve's next encounter with a legendary West Indian cricketer was in 1966 after he joined the Lancashire County Police and was visiting the Ace of Spades nightclub in Skipton where he came across one of the world's fastest ever bowlers, Charlie Griffith, now Sir Charles Griffith, who was also playing at that time in the Lancashire Cricket League for Burnley Cricket Club as their club professional.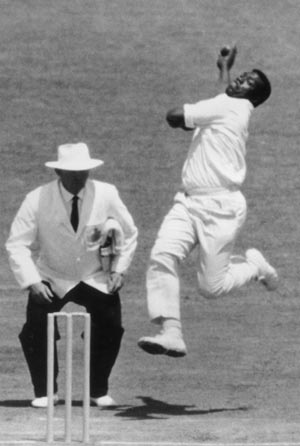 The fearsome Charlie Griffith
Steve's latest encounter with cricketing super stars occurred at Kensington Oval during the second Test Match between England and the West Indies in March this year (2022). Steve had flown to Barbados to watch the last two days of the test match together with his daughter, Katherine, who works for CG, one of the test match sponsors and he had been invited into the company box where he met up with two true "giants" of the game, Sir Curtly Ambrose, from Antigua, and Joel "Big Bird" Garner" another Barbadian who was a member of the "fearsome foursome" who dominated test match cricket during the 1980's. While chatting with Steve, Joel mentioned several of our former West Indies police cricketers who he knew, including Kenny Bourne and Mike Jackman.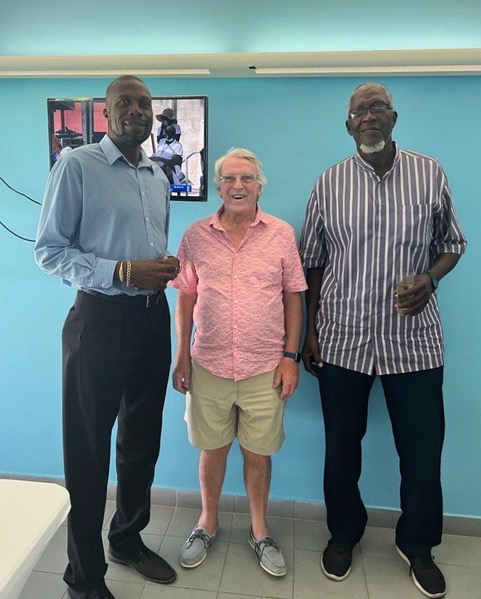 Steve Duneavy is dwarfed by Curtly Ambrose (l) and Joel Garner (r)
According to Steve's file in our police register at Prospect, he was 6'1 ½" when he arrived in Bermuda in January 1968, but he sure is dwarfed by Curtly who was 6' 7" and Joel at 6' 8" during their playing days.
Although the 2nd test match petered out into a draw it was a very high scoring game with England batting first and scoring 507 for 9 declared (with Joe Root scoring 153). West Indies replied with 411 in their first innings with Kraigg Brathwaite scoring a magnificent 160 and Jermain Blackwood 102. England declared their 2nd innings with 185 for 6, and put West Indies in to bat in hopes of securing a win on the last day, but Brathwaite again produced a classy innings of 56 not out to ensure the match was drawn. West Indies 2nd innings closed at 135 for 5.
That proved to be the last opportunity for England to come away with victory in the West Indies because they were trounced in the 3rd and final test.
Steve served in the BPS from 1968 until 1997, retiring as Sergeant, and he is still residing on Island as are his three children, Sean, Christian and Katherine, and their spouses and all seven of Steve's grandchildren. Despite having been coached by the great Gary Sobers, Steve never took to cricket but he excelled as a snooker player for the Police team and later for Warwick Workmen's Club.