We recently received this latest update from Craig Morfitt on the latest travels through Europe he and Bev have been embarked on riding a variety of incredible motor cycles - none of which are available here in Bermuda!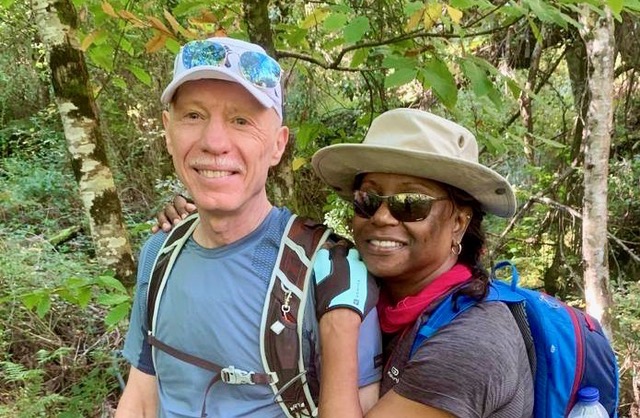 Craig and Bev hiking on the Serra de Freita mountain
February 14th 2022 will mark the 4th anniversary since Bev and I obtained our residency certificate for Portugal, and we are absolutely loving our retirement life over here.
We left Bermuda in June 2017, to find our retirement home in Europe. My online research had indicated that the city of Porto in Portugal might be the best fit for us, but we had never visited. Our plan was to spend several months trying out different cities and countries in western Europe, before making a choice.
We started out with a month in Porto, before travelling through France, Germany and Spain. We did some house-sitting in rural areas of France, but we were more inclined towards city living. We spent time in Toulouse, Bordeaux, Lyon and Paris in France. We also visited Berlin in Germany, Barcelona in Spain and Lisbon in Portugal. After six months of living out of suitcases, we returned to Porto in January 2018. When we got back to Porto, it already started to feel like our new home. Within a couple of weeks, we agreed that it was the place for us and decided to put down some roots.
Porto is Portugal's second-largest city, with a population over 200,000. It has a small city feel, when compared to the capital Lisbon. Yet it still has plenty to see and do. It is very easy to get around using the excellent Metro train system. So, there is no need to own a car to get around the city.
I did want to be able to explore the rest of Portugal though, so buying a motorcycle was high on my list of priorities. In the four years that we've been here, I've bought and sold a BMW F800GS Adventure, a Honda CBF600 and a Honda XR400R. I currently down to one bike, a Honda Goldwing GL1800, and that one is a long-term keeper.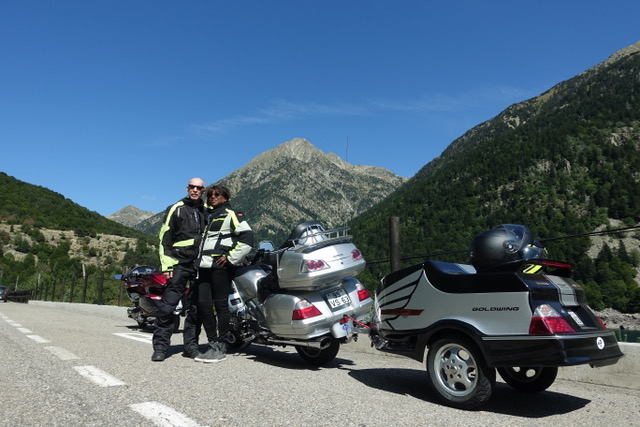 Craig and Bev with their Honda Goldwing GL1800
in the Spanish Pyrenees mountains on Craig's
60th birthday celebration trip - 2019
Bev loves the comfy 'armchair' on the back and we've used it for multi-day touring in Portugal and Spain, as well as many day-trips to explore the country. It's a lovely bike with an engine that's larger than most cars in Bermuda. We even have a trailer to pull behind the bike, for those longer trips. I'm also in the process of buying a new Honda CRF300L, so that I can continue to enjoy the off-road trail riding that I began with the XR400. Delivery of that bike is expected mid-February.
I'm a member of two motorcycle clubs – the Goldwing Clube de Portugal and the Moto Clube do Porto. My membership of the clubs has allowed me to develop friendships with other riders as well as participate in club rides and events.
We have also taken up hiking, so that we can enjoy the amazing countryside that abounds in northern Portugal. We can be up in the mountains within an hour of leaving home. There are so many established hiking trails throughout the country, that we are really spoiled for choice on where to go each time.
In 2020, we moved to a new condo in Vila Nova de Gaia, just across the river from Porto. Whilst technically a different city, we can see Porto from our living room and we are still served by the Porto Metro system.
Portugal is not only a beautiful country, it is also rich in culture and history. Its people are also friendly and welcoming. It provides us with everything that we need for a happy and fulfilling life, with a significantly lower cost of living than Bermuda. We are extremely happy with our decision to move here. And the attraction of Portugal has clearly not gone unnoticed, as Paul & Angela Wright and Grant and & Kate Tomkins have subsequently made the move here.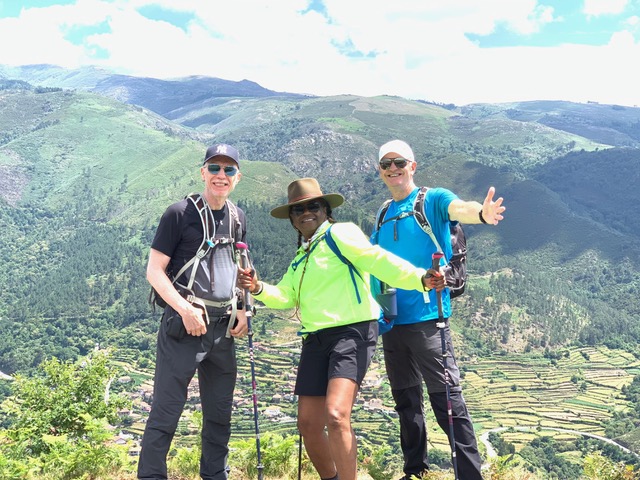 Craig, Bev and Paul Wright hiking near the village of
Sistelo in northern Portugal - June 2021
Sistelo has been called Portugal's Little Tibert, due to the terraced hillsides
If anyone is interested in seeing more of what we get up to, many of our travels and activities are documented on my blog at bermudarover.com.