50th Anniversary Year - 1971 - 2021
2021 marks a significant milestone for all those young recruits who joined the Bermuda Police 50 years ago, during the year 1971. A check of our records indicates that a total of 69 young men and woman joined during 1971. You can view the complete list below.
Sadly, some are no longer with us, and to the best of our knowledge they are Alexander "Sandy" Duncan, Malcolm Edwards, Colin MacDonald, Noel "Ben" Linton, Robert "Bob" 'Spare Parts" McDonagh, Graham Waring, Russell Delahaye, Phil Every, Andrew Hall, and Kim Ingemann.
Those who are still with us will hopefully be looking back and celebrating their 50th Anniversary since joining the Police, or arriving on Island to do so. Anniversaries are usually events to be celebrated but organizing any kind of anniversary function at the moment is no doubt completely out of the question, but we are starting a "blog" on our website in which all who are still with us can write in and let us know where you are and what you're doing these days, and maybe also give us your recollections of those balmy early days. CLICK HERE for the blog in our "Interesting Articles "column.
Unfortunately, the Police Training School very rarely had official photos taken on Localaisation Courses, and most of the young men and women who joined in 1971 were experienced police officers from either the UK or the West Indies, with the exception of the following group:-
Basic Training Course No. 14 June - September 1971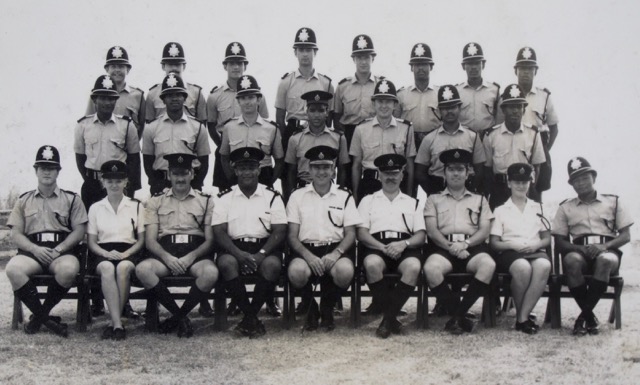 Top Row (l-r) Roderick "Roddy" Barclay, Brian Parkin, Louis D'Olivera,
Christopher
"Chris" Wilcox,
Martin Bowe, Kensley McDowell,
Vernson Mills, Douglas Joslyn
Middle Row - Martin Johnson, Noel "Ben" Linton, Kenneth Wright,
Kim Ingemann (Cadet) Gordon Farquar, Carrol Latchman, Ishmael Daniel
Seated - Jeffrey Baker, Yvonne Yates, Sgt Barrie Meade, Chief Insp.
Syke Smith, COP George Duckett, Insp. Dave Parsons, Sgt "Dick" Murphy,
Patricia Warraker, Oral "David" Small
For those of you not too familiar with our website, you will find a search box in the top right corner of our Home Page. If you type in your own name, or anyone else's name, it will provide you with a complete list of all articles or photos of that person. You can then click on any item on the list and it should open for you to read. To get back to the list you can then press the < sign in the top left corner of your screen and it will return you to the list. It's usually best to start with just a surname such as "MacDonald" rather than entering their first name because in some cases they might be titled "William" and sometime "Bill". If you have ever served in the Bermuda Police you should find your name somewhere on our website!
If you wish to comment on this article please CLICK HERE for the blog.
Here is the list of recruits who joined the Bermuda Police during the year 1971
| | | |
| --- | --- | --- |
| Last Name | First Name | Date Appointed |
| | | |
| | | |
| | | |
| | | |
| | | |
| | | |
| | | |
| | | |
| | | |
| | | |
| | | |
| | | |
| | | |
| | | |
| | | |
| | | |
| | | |
| | | |
| | | |
| | | |
| | | |
| | | |
| | | |
| | | |
| | | |
| | | |
| | | |
| | | |
| | | |
| | | |
| | | |
| | | |
| | | |
| | | |
| | | |
| | | |
| | | |
| | | |
| | | |
| | | |
| | | |
| | | |
| | | |
| | | |
| | Terry Chesterfield Robinson | |
| | | |
| | | |
| | | |
| | | |
| | | |
| | | |
| | | |
| | | |
| | | |
| | | |
| | | |
| | | |
| | | |
| | | |
| | | |
| | | |
| | | |
| | | |
| | | |
| | | |
| | | |
| | | |
| | | |
| | | ________________________________________________ |