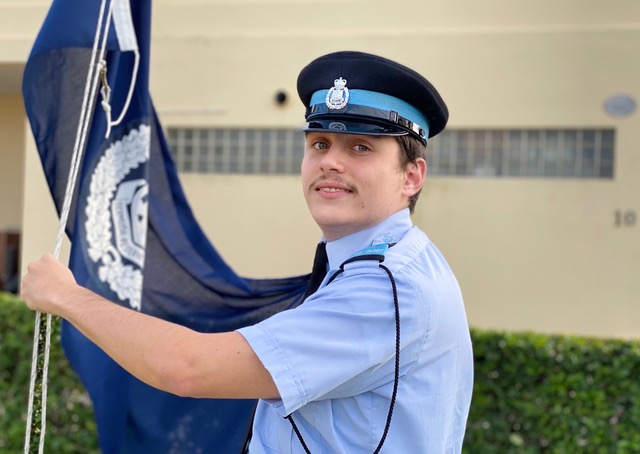 Young Police Cadet Trevor Williams attending
to the flag outside Police Headquarters
Last week I visited Police Headquarters to search for some police register files, and while there I took this photo of a young Police Cadet doing what hundreds of young P.C.'s and Cadets have done over the years, pulling down the Police flag at the end of the day. I wondered how many young men and women have hoisted the Police ensign up and down that flagpole since the former Prospect Army Garrison was handed over to the Bermuda Police as our headquarters back in 1959. CLICK HERE for our "Then and Now" article on Carol Royer who was working at the Prospect Garrison back then, and she didnt have far to mobve when the Garrison closed down because she became the first civilian employee, workimng in Traffic, when Prospect was taken over by the Bermuda Police.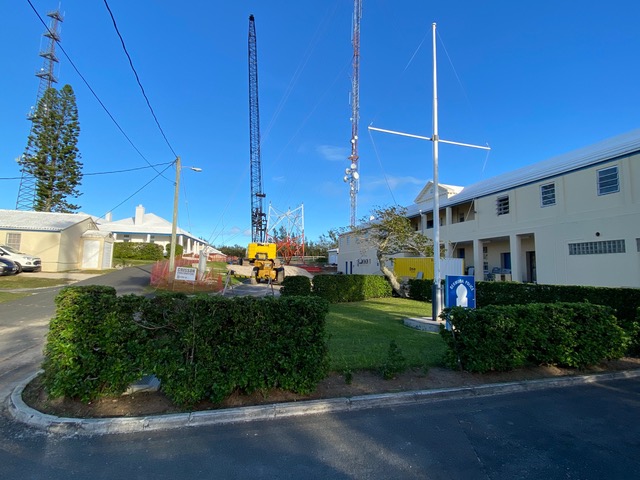 Police Headquarters - January 2021
While at HQ I saw they're constructing a new mast directly in front of the main HQ building which is going to replace the tower that you can see to the right in this photo. The new tower is being built to provide better quality island-wide coverage for the police radio systems. It will be considerably higher than the old one and can withstand higher hurricane force winds. The tower will accommodate other business needs, and to date radio stations are the main users, with no telephone service providers using that particular tower. Can anyone remember the time when it was strongly rumoured that quite a few of our colleagues who had lived in the Prospect barracks had died of cancer although a comprehensive study was done and I believe it concluded that the number of cancer cases amongst the police were no greater than in the regular population. I also wonder if anyone can remember the sight of Leonard Warren Flood painting the old tower while consuming copious amounts of Carlsburg "elephants" while doing so!
Editors note - When I first spoke to someone about the new tower he thought is was going to be used for transmitting 5G, but that is definitely not the case, and in any event 5G has not been approved for use in Bermuda by the Regulatory Authority.
For those of you wondering about the state of this area these days, the main building remains empty but is painted from time to time, and all the other buildings opposite are still in active use by the BPS, with the former Henderson block and Stourton block being use by administration, and most of those smaller buildings, including McBeath block are still in use. The Police Recreation Club is still standing and is very much in use this week, and I'm writing this article today to let you know what it's being used for during this dreadful Covid pandemic.
I visited there this afternoon and it was a hive of activity! It's been converted to become Bermuda's Covid vaccination centre. My wife and I drove up to Prospect for our vaccinations this afternoon (we're in the over 65 category - in fact the over 70's group), and we first had to drive into the Clyde Best Centre of Excellence car park which is located between the National Stadium and the Police Traffic Department. A group of Bermuda Regiment personnel were checking all attendees and the car park was being used as a holding area until there was parking space around the PRC. After a short wait we drove up to the PRC but first had to pass through a barrier manned by more Bermuda Regiment staff who checked to make sure we had our paperwork.
We then joined a queue outside the main club entrance, all wearing masks and staying 6 feet apart. Before entry into the building our temperatures were checked, paperwork was checked again, and we had to answer a series of questions on such matters as whether we had travelled in the last couple weeks, had been exposed to anyone with Covid, had any other vaccinations, had allergies to vaccinations etc. We went through two more checks including having to produce ID, and then it was off down the main corridor past the entrance to the bar, and through the far door to the main hall, where there were five injection stations complete with black curtains for privacy. Again we sat down while socially distancing until we were called into one of the injection stations. The moment anyone came out of a station, a member of staff first thoroughly cleaned the chair in there before allowing us in, and also wiped down the chair where we had been sitting
Just a few more questions and it was needle time! It was no more than any other injection - and quite a relief, but we then had to move towards the front of the room where we sat for 20 minutes with several nurses and a doctor in attendance monitoring us to see if we had any adverse reactions. I was desparate to take photos of the general scene but there were signs warning that taking photographs was absolutely forbidden.
The whole procedure took about 45 minutes from start to finish. All of the staff, from regiment personel, to receptionists, nurses, supervisors, and everyone involved were exceptionally polite and efficient. For anyone here in Bermuda considering having a vaccination, or being nervous about the process, I can only say the treatment I received was absolutely first class. For those of you living elsewhere I can only hope that your treatment is as good as mine was at the PRC.
Stay safe everyone