Sad news about death of Kevin Brennan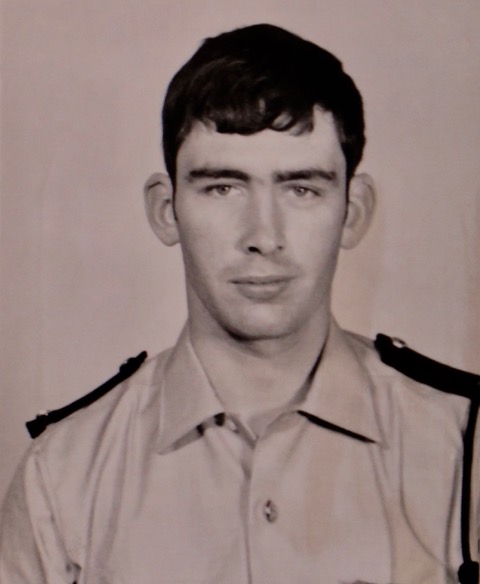 Young P.C. Kevin Brennan in 1969
We have just received the sad news from Dave Inwood that our good friend and former colleague, Kevin Brennan, died on Monday 14th October 2019 in his home town of Forres in Scotland after a battle with cancer.
Unfortunately, we don't have access to the Police Register at Prospect over the weekend, and I'm travelling abroad tomorrow for week, so it will be a week before I can provide details of Kevin's service record in Bermuda, and possibly his warrant card photo when he first joined the Bermuda Police.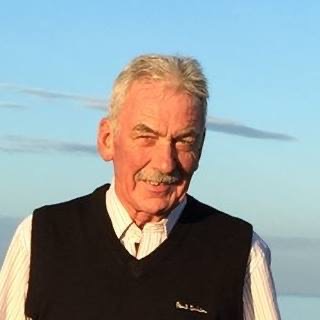 Kevin Brennan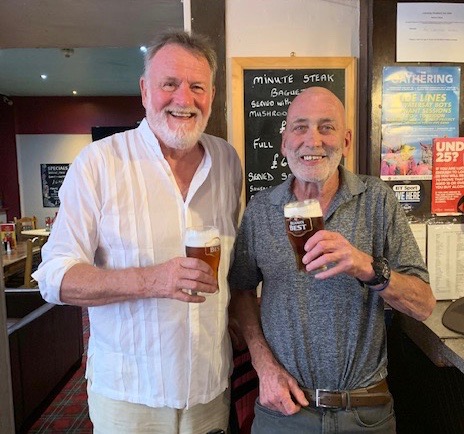 Dave Inwood (left) meets up for a drink and a chat with
his old friend Kevin Brennan for the first time in 46 years.
Dave says that he came to Bermuda in December 1968 and Kevin joined shortly after he did and was still serving in the Bermuda Police when Dave left in December 1973. Dave lost contact with Kevin for years but managed to catch up with him in July this year in Forres following a PRC football reunion in Manchester. Unfortunately Kevin was too sick to travel to the reunion so Dave made the trip to Forres to see him. Kevin was a fine footballer and played for the Police Recreation Club as centre half. Dave was aware that Kevin lived for a while in Thailand and also in Darwin, Australia, before settling back in Scotland.
The funeral is being held at 1pm on Monday 21st October at Tom Ross and Sons, 8 Orchard Road, Forres, Moray, Scotland.
We offer our sincere condolences to Kevin's wife, Maree, his son Jon, daughters Bec and Hannah and to their family.
28th October 2019
Further to the above information about Kevin, Dave Cooper has advised that Kevin served here in the Bermuda Police From May 1969 - August 1973, and John Headey says Kevin was a valuable member of the Police Football Team. John provided us with this photo of the very successful Police Team for the 1972-73 season in which Kevin is standing on the back row second from the right. Rather than publish the list which John can no doubt supply to us, we thought it might be a good test of your collective faculties if we ask our readers to identify everyone else in the photo.
I'm sure there is one person - a Scot no less - who will probably have no trouble picking everyone out, and will probably also be able provide us with their colllar numbers, so we'll give you 48 hours berfore publishing the answers provided by our good friend Davie!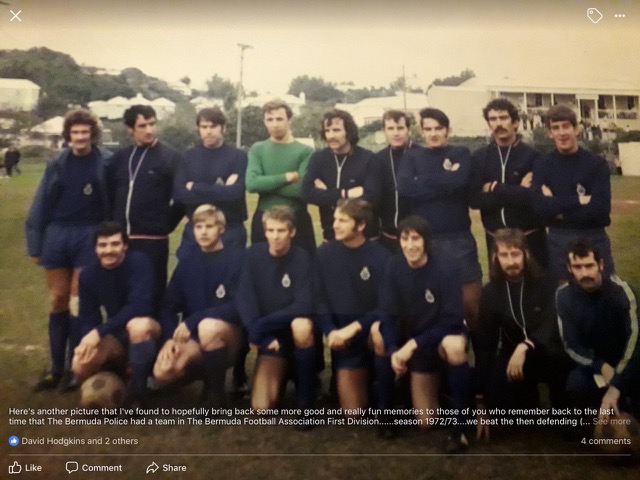 Police Football Team 1972-1973 Season
Back from L:- Graham Blackshaw*, John Headey, Eric Robinson* Keith Cassidy,
Dave Hodgkins*, Frank Dowie, Bill Jordan*, Kevin Brennan, Steve Taylor.
Front from L:- Bob Porritt, Brian McManus*, Bob Durman, Ernie McCreight, Alan MacLeod* , Dave Walker*, Bryan Parkin.
(Many thanks to Davie Kerr for providing us with all of their names - see Comments below)
UPDATE - I've now had the opportunity to check on the entry for Kevin in our Police Register at Prospect where I located the above photo of him taken shortly after he first arrived as a young P.C. in May 1969. Our records indicate that prior to joining the Bermuda Police , Kevin had served in the Hertfordshire Police, first as a Cadet and then as a Constable from August 1964 - April 1969. Whilst here in Brmuda he was posted to Western Division for about 2 years before being transferred to Operations where he remained until he resigned and returned to the UK in August 1973.