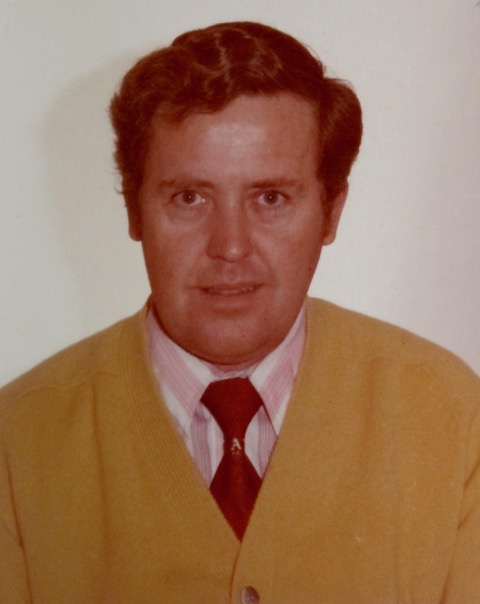 Sgt Crawford "Crow" Rae
We have received the sad news that our good friend and former colleague Crawford "Crow" Rae died at his home in Laurencekirk, Kincardineshire, Scotland on Sunday 8th September 2019, at the age of 84. His funeral took place on 18th September.
Crawford first joined the Bermuda Police in 1957 after serving in the Royal Army Pay Corps from 1953-1955. He served in Central Division (Hamilton). in Central Parishes, and Operations (Traffic) but for most of his career he worked at Headquarters ('A' Department) and for a number of years as Manager of the Police Recreation Club, then in Eastern Uniform, retiring in about 1982. He was a popular and well liked member of the Bermuda Police.
Crawford married his wife, Mary here in Bermuda in 1962, and they had two children, Martin and Siubhan. We understand that after retirement Crawford and his family moved back to Scotland.
We offer our sincere condolences to Mary, Martin, Siubhan and to all their family on behalf of all or us who knew them while they were with us here in Bermuda.
5th October 2019
INFORMATION FROM MIKE AND CAM BURKE - We just heard from Mike Burke and his wife Cam who were very sorry indeed to hear of the death of Crawford. Mike has sent us these recollections of Crow and Mary:-
"Crow" joined the Bermuda Police in 1957 and worked at St. George's while I was there, and we were very good friends. He was an usher at my wedding.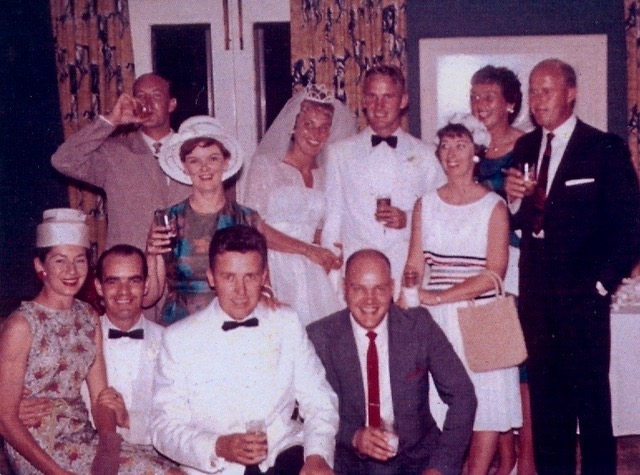 Mike and Cam Burke's wedding reception - Juhe 12th 1963
Standing (l-r) Trevor Nichols, Mary Rae, Cam and Mike, Janet Parsons, Joanna and Bob Roberts
Kneeling - Chris King, "Bill "Spider" MacKenzie, Crawford "Crow" Rae, and Jim Parsons.
He resigned and returned to Scotland in 1960 where I think he worked in a Dolcis shoe store. He re-joined the force in 1962 after marrying Mary ('Mame') Cormack, who was from Aberdeen. They lived above us in the Police apartments for a while, then moved to 1 Frog Lane where he made a super 9 hole golf course, the first tee-off being from the top of his back shed(!), which was enjoyed by many police officers and other friends. He even held a golf tournament with a shield for the winner. I set a course record of 12 under par 53 which is mentioned in a police magazine, page 65/66 in an autumn issue (not sure of year but could be 1966/'67) in an article written by Crow about his golf course, entitled 'Police Gardens', which I have a copy of but the date isn't on the article. Ron Wallace won the shield KO final before Crow moved to Alexandra Road.
After Martin and Siobhan were born, they moved to 18 Alexandra Road where he made another golf course in an unused area which was previously a park when the army was there. Many houses were built there in 1971.
Crow didn't keep that course going for long as there were complaints from the police residents in the surrounding houses concerning "flying golf balls". Later they moved to Mary Victoria Road. He and Mary loved hosting New Year's Eve parties and a game of some sort was usually played, 'Twister' being popular at one time. I remember Geoff Hunt once putting on an hilarious song & dance with a saucepan on his head for a hat. Spider McKenzie and Jim McNiven were always part of the group.
Crow and Mame were very good friends of ours for many years and we shared school runs for a few years. Crow was a very capable office worker. For a while he wrote the 'Personal and Social' section in the police magazine. He worked in Hamilton for a while on his return in 1962 and as you reported on the website he was at the Police Club and Headquarters, and I think the airport before he left.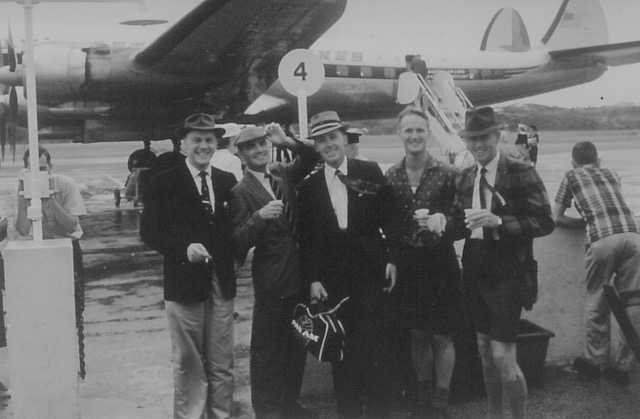 Crawford Rae is escorted to the Airport by his friends in 1960 after serving here for 3 1/2 years.
He returned to Scotland but re-joined the Force in 1962
(l to r) Jim Parsons, Bill (Spider) McKenzie, Crawford (Crow) Rae, Mike Burke, Bob Roberts.
He also wrote a book about his time in the police which Mame said was really funny but he didn't let us read it & didn't get it published....I wonder what he did with it. He took an early retirement following an operation on his big toe. Unfortunately, Crow and Mame didn't keep in touch with us after leaving and the only info I have had is through a mutual friend who lives in Scotland.
Mike's wife Cam has contacted a friend in Scotland who had visited Crow about 6 months ago and he was said to be in good health at that time. He was living in sheltered accommodation next to a nursing home Mary is in; she, sadly, h
as Alzheimer's. Cam was also advised that Crow's son Martin is in the Aberdeen Police, and I'm trying to contact him to offer our condolences to the family.