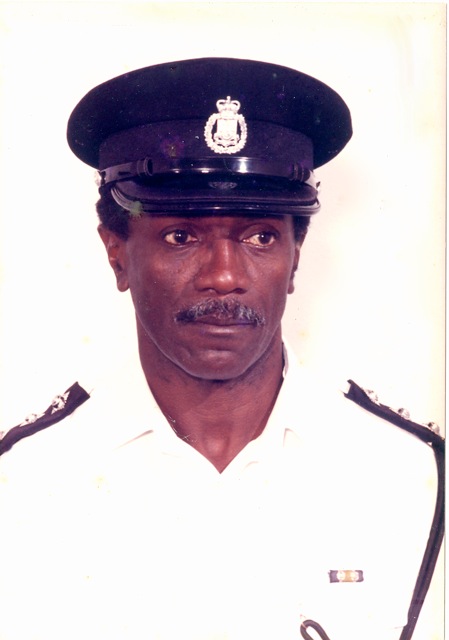 Chief Inspector Gerald "Gerry" James
We are deeply saddened to report having just received the news that retired former Chief Inspector Gerald "Gerry" James passed away in King Edward Hospital earlier today (19th July).
Gerry was born and raised in British Honduras (now Belize), the son of Henry George James, who had lived in Bermuda prior to settling in Belize and becoming a police officer in Belize.
Gerry joined the British Honduras Police as a young man and he was always very keen on bodybuilding and music. Whilst in the BHP he became a member of their Police Band.
After retirement Gerry's father returned to Bermuda with all his family, with the exception of Gerry who remained in the BHP until he decided to make a move and come to Bermuda where he joined the Bermuda Police Force in October 1960. His beauftiful girlfriend Gloria, followed him to Bermuda and the two were happily married for over 50 years. Sadly, Gloria pre-deceased Gerry.
After spending time on the beat in Hamilton, Gerry served for a while as a Process Server, then for quite a few years he was a Parish Constable in Pembroke Parish along with Aubrey "Tom Copper" Johnson. Between them they were a formidable team and not to be tangled with by lawbreakers. Gerry moved to Traffic and in 1966 he was promoted to Sergeant in Central Division. During that time he was an active member of the legendary Police Motor Cycle Display Team.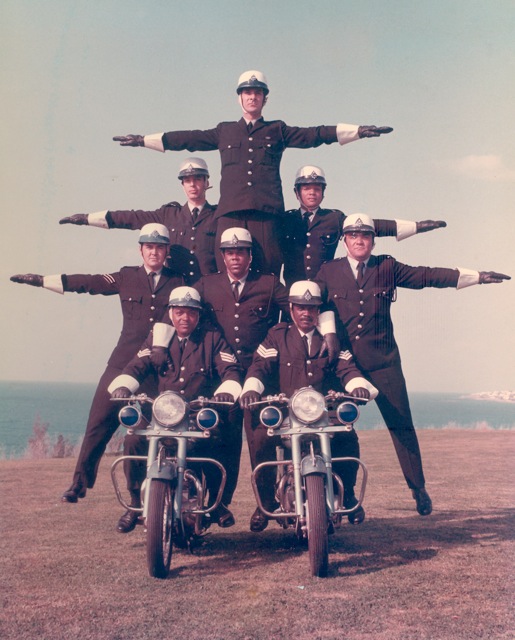 Members of the Police Motor Cycle Display Team perform the Pyramid
From top (l-r) Tom Cassin, Denis Brookes, Erskine Warner, Sgt Harold Moniz,
Campbell Simons, Eddie Foggo, Sgt "Custy" Crockwell, and Sgt. Gerry James
Following his retirement in 1985 Gerry worked for several years for Frith's Liquors in Hamilton.
Gerry always believed in keeping fit with his weighlifting and also playing squash. I can testify to the fact that he might not have been the most mobile of squash players, but when he hit a squash ball there was always a chance he would burst it! Gerry had both physical strength and great strength of character.
You can read Gerry's lifestory in our "Then and Now" column at http://expobermuda.com/index.php/tan/23-gjames#comment-5182
We offer our sincere condolences to the members of Gerry's family, and will provide further information about funeral arrangements as soon as we receive them.
UPDATE ON FUNERAL ARRANGEMENTS
We can report that the funeral service from our dear friend and colleague Gerald "Gerry" James will be held at The Cathedral of the Most Holy Trinity in Hamilton at 11am on Monday morning, 29thJuly 2019.
The following obituary has been published in the Royal Gazette -
A service celebrating the life of retired Chief Inspector GERALD EVERALD JAMES, beloved husband of the late Gloria James, of #1 Morer Estate Road, Smith's FL 05, in his 88th year, will be held 11am MONDAY MORNING, July 29, 2019, at The Cathedral of the Most Holy Trinity, Church Street, Hamilton. Interment will follow Holy Calvary RC Cemetery, Robert's Avenue, Devonshire. VISITATION: Relatives and friends may pay the respects SUNDAY EVENING ONLY, July 28 at AMIS Memorial Chapel, Khyber Pass, Warwick from 7.30 pm to 9pm. Gerald is survived by his siblings, three sisters and four brothers: Phyllis Eversley, George James, Claudia Augustus, Maurice James (Mary), Grace James, Ronald James (Marian) and Richard James (Valerie); his numerous nieces, nephews, other relatives and friends. In lieu of flowers, donations may be made to The Bermuda Police Benevolent Fund, 10 Headquarters Hill, Prospect, Devonshire DV 02. AMIS Memorial Chapel & Crematory.
You can add your condolences to Gerry's family below the obituary in the Royal Gazette which you can view at https://www.legacy.com/obituaries/theroyalgazette/obituary.aspx?n=gerald-everal-james&pid=193456343&fhid=12136