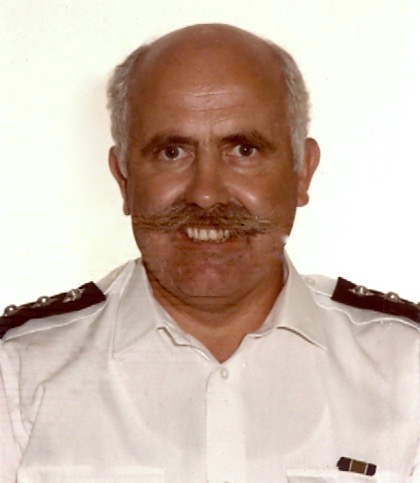 Chief Inspector Dave Parsons
UPDATED BELOW
We have just received the sad news that our good friend and former colleague, retired Chief Inspector Dave Parsons passed away this afternoon (10th February 2019) in hospital in Ontario, Canada, at the age of 86. We have no further details at this point but will provide further information as soon as we receive it.
"Parse" was born in Worthing, Sussex, and served in the Royal Air Force for 2 years before joining the West Sussex Constabulary, first as a Cadet and then as a P.C. before coming out to Bermuda to join the Police Force in March 1955.
During his 33 years service he worked in numerous departments including Central Division, Operations (Traffic), Western Division; at H.Q. "A" Department as a young Sergeant, first as Club Manager, then in Administration before moving back to Traffic as a Sergeant until his promotion to Inspector at which time he transferred to Central Division, then served for a year as Supreme Court Officer,
Perhaps most will remember Inspector Parsons in Training School where he became OIC. Forever on the move, he also served in Prosecutions, in Murder Room, as Chief Inspector OIC Central Division, and finally as the Press Liaison Officer in "F" Department until his retirement in 1988.
A man of striking appearance with his handlebar moustache and personality to match he was a familiar sight both in uniform and on the football field as a very good referee. "Parse" was, without doubt one of our great characters and most popular members of the Bermuda Police.
Dave settled in Canada not long after retiring from the BPS but he stiill had family here on Island, and would visit occasionally. I believe his last visit to the Bermuda was back in 2015 when he made a point of visiting the Police Recreation Club to meet up with old friends.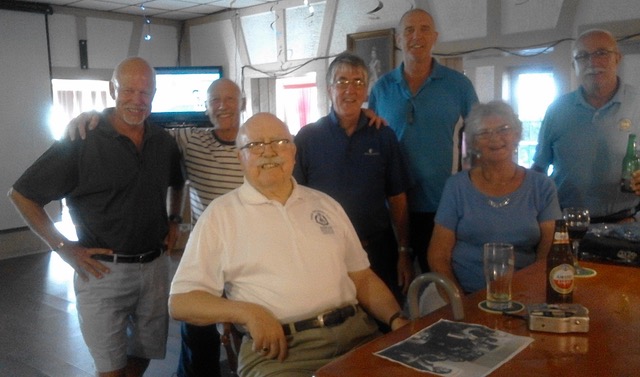 Dave and Patricia visit the PRC - September 2015
(l-r) Mike Shaw, Bob Porter (also visiting) Steve Taylor, Pete Shaw, and Charlie Mooney
with Dave and Patricia Parsons
We offer our sincere condolences to his his children, Andrew, Nigel and Fiona and Lois, his fifteen grandchildren, and to the rest of his family.
11th February 2019
Davie Kerr made a comment below about Central Division's Tug O' War Team taking part in an interdivisional tournament back in 1967. Here's the photo in question and now we need to know who is in the team - and do we need to ask which team won?!! We believe there are six members of the team who should be able to let us know the result.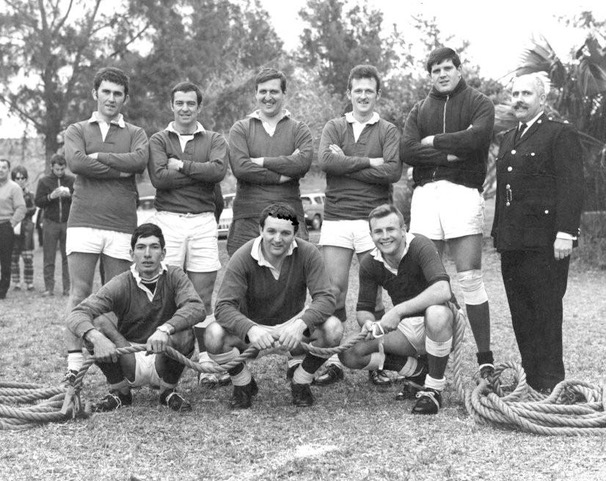 Insp Dave Parson's coached the Central Division Tug O' War Team - 1967
(l-r) ..... (to be completed)
18th February 2019
UPDATE - Obituary and Funeral Arrangements for Dave Parsons
Jeff Baker has kindly sent us this the following obituary form the Funeral Home in Canada handling Dave Parsons funeral:-
Mr. David Parsons, resident of Elmira, Ontario, formerly of Worthing, Sussex, Great Britain, passed away on Sunday, February 10, 2019 at St. Mary's General Hospital, Kitchener, at the age of 86 years.

Dave came to Canada in 1979, when he left his job as Chief Inspector of Police in Bermuda, with his wife Lilian. They bought a home in Elmira where David became the "distinguished" by-law enforcement officer. He was affectionately known as "Mr. Whiskers" by the little ones he safely saw across the road.

His passion, besides policing, was playing and watching soccer. This love of "the game" was manifested with him becoming a FIFA referee, and refereeing many international games.

"I don't get mad, I get even," was one of Dave's mantras, which gives us all a little concern as to what might be taking place on the other side!

This character of our family will be sadly missed. David was predeceased by his wife Lilian, his mother and father, and his sister Margaret. Survived by his children Andrew (Ann), Nigel (Sue), Fiona, and Lois. Also survived by his grandchildren Philip, Elizabeth, Adam, Nigel, Justin, Jacob, Erica, Carly, Matt, Simon, Rachel, Cory, Nikki, Kami, JJ, and special friend Barry.
A celebration of his life will be held at the Elmira Legion, 11 First St. E., Elmira, on Wednesday, February 20, 2019 with a memorial service starting at 1:45 p.m. and a reception from 2-5 p.m.

At Dave's request, in lieu of flowers, donations to the Royal Canadian Legion Br. 469 Poppy Fund would be appreciated.

Donations:
Poppy Fund, Royal Canadian Legion, Branch 469
11 First Street East, Elmira, ON N3B 2E3
21st February 2019
We have received the following information about the Celebration of Life/Memorial Service held for retired Chief Inspector Dave Parsons:-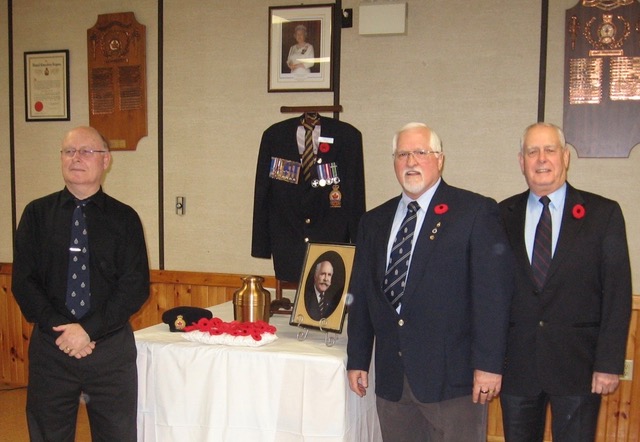 Celebration of Life/Memorial Service for David Parsons at the Elmira Legion - February 2019
(l-r) Former Bermuda Police Officers - Ian Kittle, Jeff Baker and Colin Fairbairn
On Wednesday 20th February 2019. Three ex members of the Bermuda Police Service, who now live in Canada, Ian Kittle, Colin Fairbairn and Jeff Baker, were able to travel to Elmira, a small town in Central Ontario, Canada, to join in the celebration of Life/Memorial Service, of one of our dear departed members. Ex. Chief Inspector. David Parsons, who had settled there on retirement. David on taking up residence in Elmira, became the Towns By-Law officer. He became very active in the Royal Canadian Legion and his Memorial Service was held at the Elmira Legion. He attained the highest offices in the Ontario Command and by his distinguished service was afforded a full Legion Memorial Service, resplendent with a full colour party.

From the amount of people who attended the service, and eulogised David, it was evident he was held in the highest esteem, and it became obvious in talking with people, that he had held court at the Legion on numerous occasions and regaled them with numerous incidents of his Bermuda Police experiences. Members of the Family who were present were very appreciative of our attendance. May he rest in Peace.

Best wishes,

Jeff Baker
Editors note - Many thanks to Jeff for keeping us up-to-date regarding our good friend Dave since he died on 10th February, and thanks also to Jeff, Ian Kittle and Colin Fairbairn for representing the Bermuda Police at the Memorial Service.
22nd February 2019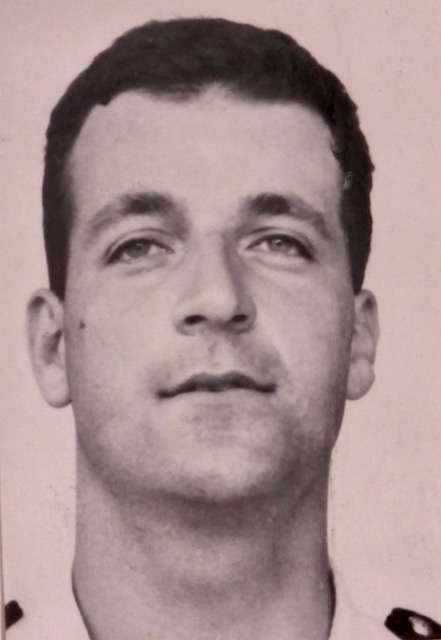 Young P.C. Nick Hall
Editors note - We received the following comments about Dave Parsons from Nick Hall a few days ago but I deleted it from our Comments column by mistake (we receive hundreds of scam email comments every week and it's a job and a half deleting them all.) Nick was describing a major and horrifying incident involving Dave who almost lost his life when he was working in the Traffic Department and was despatched to an incident. Here is Nick's comment:-
"Dave Parsons was my Traffic Sergeant. As Duty Officer I sent him to an incident where he was stabbed umpteen times by "Eggs" Trott. A civvy used the 'Tango' radio to call Jerry James "Police car help". I grabbed the nearest empty car and went to help as everyone was hectic. Doug Roberts boat had blown up and a rummy drowned in the back of town. I took Eggs Trott of Dave. He got 25 years (for attempted murder). Dave got a promotion and I got a commendation?
I also arrested two Royal Navy matelots for attempting to steal his wreck of a moto cycle from Prospect Police Club,and later accompanied him to a shop breaking on Middle Rd, Warwick. Dave wrestled with the villain in a sea of broken glass,cutting his rear end to pieces! My wife Viv nursed him through all and my late parents gave him a lift to Bramshill Police College RIP Sir."
As you can see, there is far more to this story which could so easily have resulted in Dave's demise at the scene. Perhaps we can provide more details in due course.