It seems appropriate this week to post this photo of a very happy group of our colleagues at a time when we are mourning the loss of one of them who had a hugely positive impact on the Bermuda Police during his 8 years in the job.
I believe there is a very similar photo of this same group elsewhere on our website so it shouldn't be too difficult to figure out who is present, and when and where it was taken. All in all the group has done well healthwise with most still with us, but can you not only name them but also let us know where they are and what they are doing these days. Sadly there are, of course, a few who are no longer with us, and they are Roy Chandler, Vic Richmond and now Pat McBride.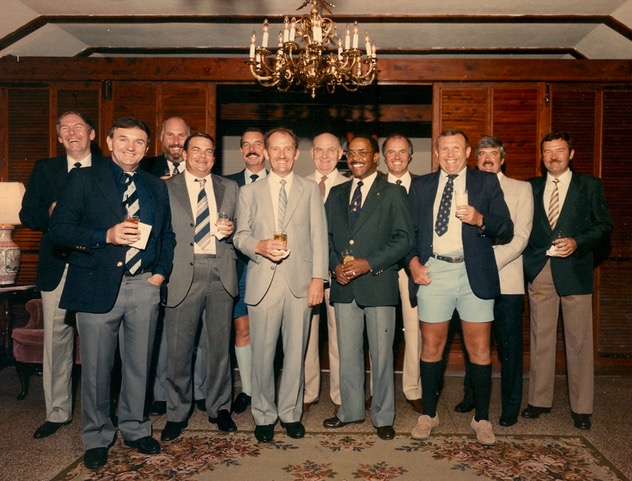 A Reunion held at Pompano Beach Club for 20th Anniversary
of them joining the Bermuda Police in 1966
(l-r) Gerry Ardis, Pat McBride, Malcy Smith, Stanley Hill, Dennis Brookes, Dave Cook,
Roy "Chief" Chandler, Reese Bartley, John Graham, Davie Kerr, Vic Richmond and Dave Ashurst
Davie Kerr has provided the names of everyone in this photo and he was also correct in saying that this one, or one similar, has previously been published on our website.
In fact, the same group appear together with their wives/spouses in a photo which you can view with the title, "A Social Gathering" published in 2016, at http://expobermuda.com/index.php/who-when-where/477-a-social-gathering#comment-4678
There has been some doubt about where this photo was taken with Davie Kerr thinking it was probably at Elbow Beach, but we have been assured by Stanley Hill, who was present at the reunion with his wife, Hilary, that it was definitely held at Pompano Beach Club.
The occasion was a dinner to celebrate the group having been in Bermuda for 2o years, with the exception of "Chief" Roy Chandler who was OIC Training School at the time of their Training Course in 1966. Missing from the group are Barrie Mancell and George Rushe who may have been off Island for this reunion, and also "Bones" Fraser who sadly had taken his own life.
Please also note that one of the above was already on Island back in 1966, and that, of course, was Chief Inspector Roy Chandler who was in charge of the Training School when they all arrived here.