As stated when we first published this photo it is definitely not the BPS Gardening Club but it sure looks like this group had been gardening! We wanted to know who is here, where are they, what have they been doing, and when was this photo taken? We included two blow-ups below to make life a little easier you, and then added another photo of the group taken from a different angle.
There was some confusion over whether one of the officers, who we now know to be Ken James, was the same person in both of these photos because he appeared to be dressed differently, but we believe that in one photo his top was open so we could see his white tee shirt, and it was zipped up in the other photo.
We have now established that the photos were taken during a Narcotics raid in the area of High Point, Alton Hill in Southampton in 1978 when a huge quantity of cannabis was seized by a team of Narcotics officers and a number of officers who were drafted in just for the raid. We are advised by George Rose who was then OIC Narcotics that, " Not many narcotics officers were present on this raid because they were dispersed themselves to the Major Incidents Room on follow-up investigations after the 1977 riots. Remember also, the Ganja flight had to be covered around midnight each night and that took a minimum of four narcotics officer committed for at least 3 hours. Seizures almost every night. Busy times indeed."
George added that a spin off of this seizure resulted in the successful conclusion of enquiries into the arson case at a certain hotel (this was the arson at Southampton Prncess Hotel in which three people were killed).
If you look at the Comments section below you will see there was mention of the fact that both Dai James and Dennis Brookes became dog handlers when the Police started to use drug sniffing dogs to detect illegal drugs. George Rose recalled that Denis Brookes was the first dog handler in Narcotics - this was sometime after the above raid. Denis was followed by Dai James, Howard "Stumpy" Kirkham, Jerome Simons, Ian Coyles, Customs Officer Tim Hayward, and Meredith Brady (Stapff).
Reference was also made to earlier Dog Section officers who included Winston "Super" Lottimore back in 1960 who was certainly one of the first, if not our first dog handler. "Super" was a super keen dog handler who was sent abroad to Hendon for specialist training in dog handling in 1960, and again in 1963. Custerfield "Custy" Crockwell worked as a dog handler and became OIC of Dog Section on his promotion to Sergeant in 1970. Also mentioned as former dog handlers were Tony Nuttall, Keith Allchin, and Alf Hagar, and there were several more. Ideally, we need someone to conduct the necessary research and write an article on the History of the Police Dog Section in Bermuda.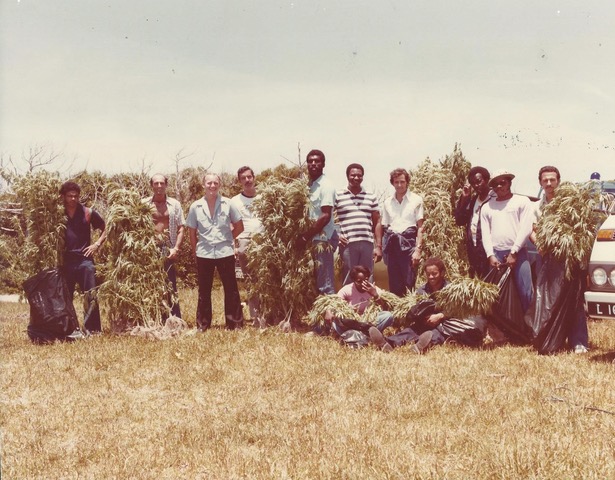 Scene of major cannabis seizure at High Point, Alton Hill, Southampton in 1978
Standing (l-r) Ronnie Smith, Dai James, Nicky Dunn, Denis Brookes, George Jackson, Denis Ramsay,
George Rose, Ken James, Norrell Hull, Matt Lindo
Seated - Clara Saunders and Ralph Trott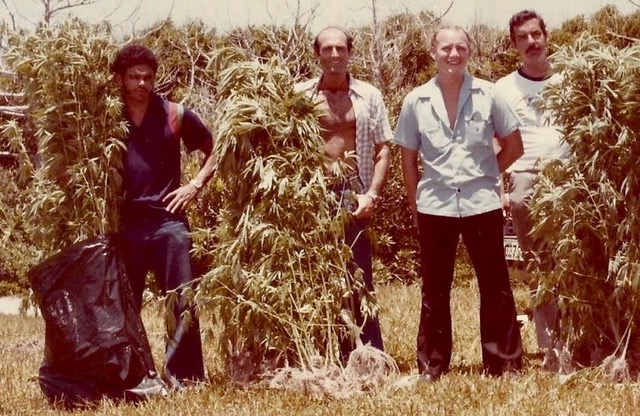 Blow-up 1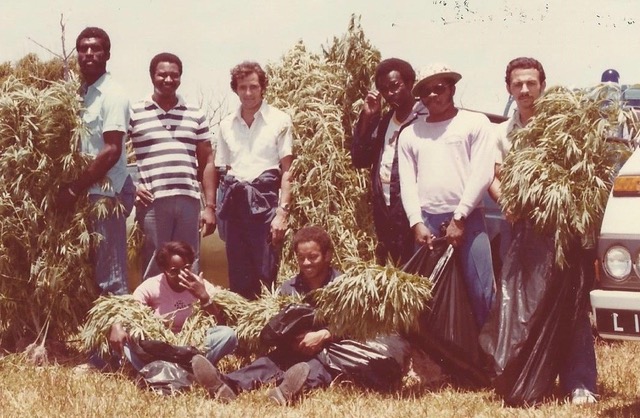 Blow-up 2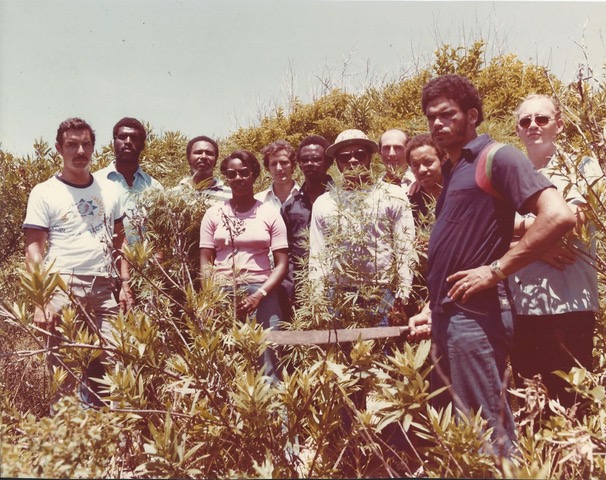 Major Narcotics raid in Southanpton Parish
(l-r) Denis Brookes, George Jackson, Dennis Ramsay, Clara Saunders, George Rose,
Ken James, Norrell Hull, Dai James, Ralph Trott, Ronnie Smith and Nicky Dunn