Fearless Fighters
We  received a series of photos from a trip taken quite a few years ago by our Bermuda Police Boxing Team who went to Boston to compete against a team of boxers from the Mass State Troopers. Our Boxing Team made several trips to compete against the Mass State Troopers and this one was definitely momentous, especially if you were there!  The photos, including the one we featured on our front page, were kindly suplied by Trooper Kevin "Kev" Buxton who is  a good friend of the Bermuda Police, and we promised to print them soon  but we first wanted to test some memories by asking if anyone could identify  the three men in the ring, and  tell us exactly where and when the photo was taken and any other details surrounding the historic event.
The handsome looking, well dressed boxer in the middle of the photo is, of course, our own Frankie Foggo who looks every inch a champion, and he is certainly in illustrious company.  The two men wearing Bermuda police helmets are none other than the incredible Sugar Ray Leonard on the left, and "Marvellous Marvin" Hagler on the right.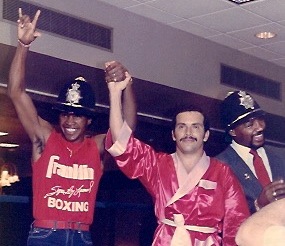 Three Champions!
Sugar Ray Leonard,  Fearless Frankie Foggo, and "Marvellous Marvin" Hagler
We received the following message and accompanying photos, including the one above from Kevin "Kev" Buxton, an officer in the Mass State Troopers in February 2014, after he had seen a post on Frankie Foggo's facebook wall regarding a visit to Boston by our Bermuda Police Boxing Team.
"I can now add to the comments that were made on Frankie's wall. It is obvious with the passage of time that things have been forgotten by folk!!!
The photograph was taken on 5th May, 1984, at The Worcester Marriott Hotel. It was the Massachusetts State Troopers v Bermuda Police Force Boxing Tournament.
To add a little context to the picture on Frankie's wall, Sugar Ray Leonard the following week was to make his comeback fight against a little known fighter named Kevin Howard. This was two years after he had 'retired' from boxing, being the World Champion at several weights. After the Howard fight, which he won controversially, he retired for another 3 years before he had his 2nd comeback fight against Marvellous Marvin Hagler.
Sugar Ray was stopping at our hotel and doing his pre-fight training at Clark University in Worcester. A group of us went to see him sparring on Friday 4th May. I took a lot of photo's which I managed to get quickly developed and then got Sugar Ray to sign along with the late great Angelo Dundee who was his trainer at the time.
"Marvellous Marvin" was a patron of the Massachusetts State Troopers boxing team and was at the tournament as a guest. All the talk at the time was that Sugar Ray was having an easy comeback fight before having a 'winner takes all' fight against Marvellous Marvin who in 1984 was undisputed World Middleweight Champion.
Now to 'that photo'! Well Frankie, if I didn't take it then it must have been someone sat on my shoulder.  I have attached a series of photos from the event and the weekend in Worcester of an unforgettable event in my life.
Both the boxers were nice friendly guys who indulged our fan worship without any complaints. Angelo Dundee was also a lovely friendly guy.
I cannot believe that it is almost 31 years ago. Enjoy!!
PS
John Wild, who I believe has passed away, also took a lot of photo's of a group of us with Sugar Ray Leonard and also a boxing team photo of us together with Marvin Hagler.  This photo appeared in one of your Bermudian Newspapers.  I mention this because I see that Dave Cook is your secretary.  Dave as you well know, was heavily involved with the Bermuda Police Boxing Team and I wonder if he knows where any of these photo's are now (presumably with John Wild's family).  If Dave or yourself was able to get a copy of these photo's for me it would be appreciated.
Editors note -   Does anyone happen to have a copy of that photo with our Boxing Team with Marvin Hagler?  If so, we would be delighted to see it.   Here are the photos sent by Ken.  I will post captions on them as soon as possible.