Police Boxing Trip to Massachusetts  -  1982
With this photo we pointed out that it's not often you see a bunch of tough looking policemen strutting around wearing satin red dressing gowns!   We figures you would quickly be able to guess why,  but we wanted you to name them all and tell us in what year this was taken and where was the event held? 
This was the first "Who, When and Where photo we published after providing a comments column under photos and articles so that you could post your answers directly on line.  It didn't take long for us to receive the correct answers as you will see below.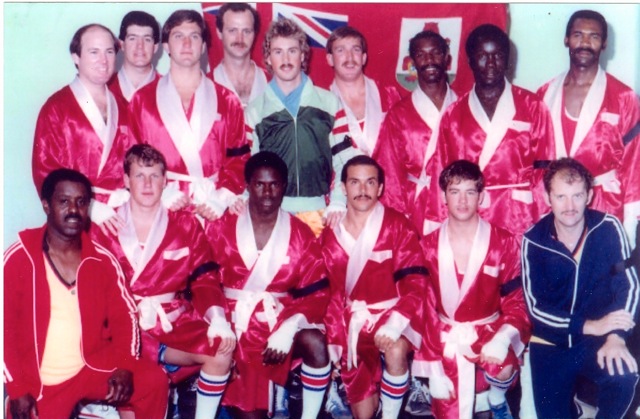 Bermuda Police Boxing Team  -  1982 
Taken during trip to the U.S. to compete against the Massachusetts State Troopers
Many thanks for all the input. It appears we can put this photo to bed with the information provided by Davie and Nick. To summarize  -  It's a photo of our Police Boxing Team who travelled to the U.S. in May 1982 to compete against the Massachusetts State Troopers. The photograph was taken on Friday May 7th at the Norwood National Guard Armoury.
Top row (l-r) Billy Henry, Nick Jamieson, Steve Rollison, Richard Flood, Dave Hope (civvy), Dick Parker, Merve Dickenson, Donville Yarde, Robert "Bob" Hinds.
Kneeling - Gary Smith (Trainer), Chris Coggins, Milton Douglas, Frankie Foggo Phil Connor, and Dave Cook.
Would anyone like to comment on the result of the Tournament before we file it under Who, When and Where?  Or can we presume that on this particular occasion our boys took some licks!   Might be interesting to have a few comments on when and how we started to compete with the Massachusetts State Troopers and where we competed against them i.e. at home and in Masachusetts.