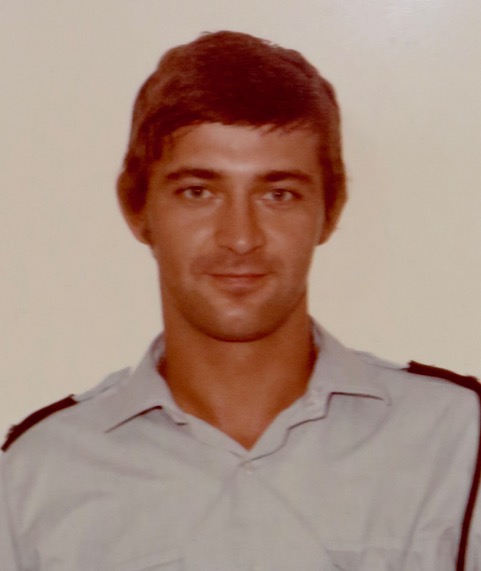 Young P.C. Paul Cranage arrived in February 1975
I had always wanted to see the world – preferably for free! I'd written off to the Royal Navy a number of times enquiring about joining the service as a boy entrant. I think I was 12. One morning in school the headmaster asked if anyone was interested in joining the Merchant Navy as an apprentice Deck Officer, if so, to see him after assembly. I think I beat him back to his office!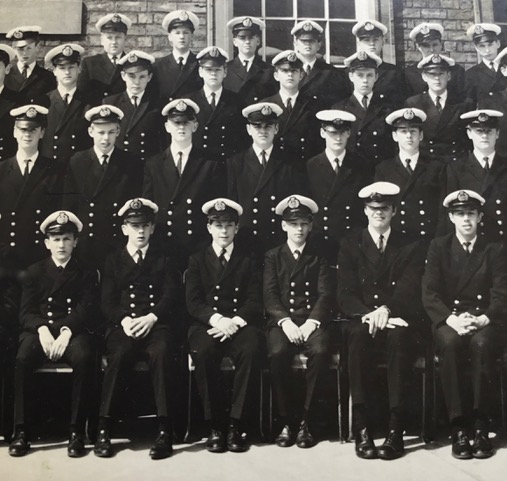 Young Paul Cranage attends Boulevard Nautical High School - 1966
Paul is 3rd from left on 2nd row down
It took a little longer than anticipated but two years later I went to Boulevard Nautical High School, Kingston-Upon-Hull. A further two years studying navigation, seamanship, chart work and other nautical subjects as well as the usual, I finally went to sea. I was 16 years old and flew (for the first time), to Rotterdam in the Netherlands to join my first ship that was in dry dock. It some became apparent that though I may have been a young lad, I was expected to work alongside men - no quarter given! - . I 'turned to' at 0700hrs worked on deck until 1700hrs with breaks for meals that were served at the Captain's table. If we were at sea, I usually got Sunday off.
Two weeks later we sailed to the United States, loaded general cargo in various Gulf ports and then down through the Panama Canal, across the Pacific to Fiji. We continued on to the Australian Coast discharging cargo from Cairns to Fremantle. Then loaded zinc ingots in Tasmania, before heading up to Gizo, in the Solomon Islands, and promptly ran aground on coral reefs! The place was so remote and we had no up to date charts. We were eventually towed clear (after 7days), and sustaining no real damage (except to the Captain's pride!), continued loading copra (dried coconut used in soap and cosmetics).
From there it was off to load in other Islands including, New Britain, Tonga, Apia, in Western Samoa – where I climbed up to a mountain top and viewed Robert Louis Stevenson's grave. From there we returned to Fiji to load coconut oil and then headed back to the UK, again via the Panama Canal. The trip lasted 6 months, 23 days. What an adventure it had been.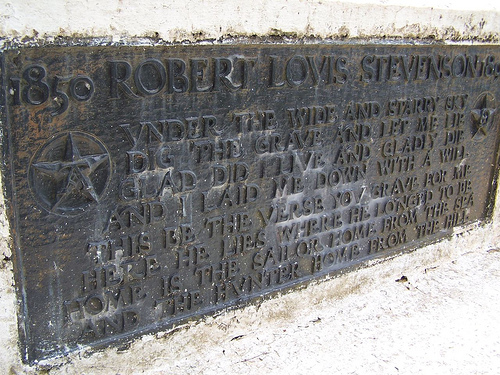 Robert Louis Stevenson's grave in Western Samoa
I spent the next 3 years visiting places I only dreamed of as a boy. New Guinea and more Pacific Islands. I went to East, South and West Africa. I witnessed apartheid first hand, extreme poverty on the Indian sub-continent, India, Bangladesh and Ceylon as it was then. The Far East, Singapore and Malaya, but Japan was, and still is, my favourite country I have visited. I've been to Argentina, sailed through the Straits of Magellan, visiting ports in Chile, Peru and Ecuador. The longest voyage lasted some 13 months.
The late 60's saw the advent of the "Box Boats" or container ships as they are called. These monster vessels loaded and discharged containers in ports located far from anywhere, usually in purpose built areas far from towns or cities. Most ports worked 24 hours. Things were rapidly changing in the Merchant Navy. New ships specifically built to carry hundreds of containers. Voyages lasting 10 to 12 weeks replaced much longer ones. Though I was now sailing as a 3rd officer I really had to make a major decision and one that would affect me for the rest of my life. I was back in Hull studying for my 2nd Mate's Ticket. I came home one weekend and suddenly decided that my seafaring days were over ………. But what to do?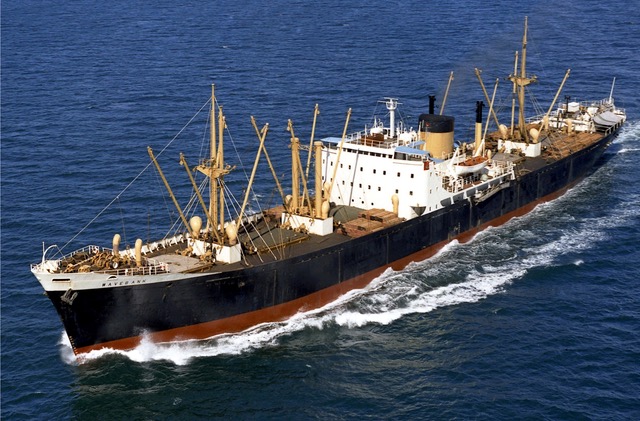 Paul's last ship voyage was on Wavebank - 1970
I spent the next six months frequenting my local pub! My savings were now all but gone. Things in the family homestead were getting (rightfully so!) strained. I was on the dole getting a pittance – my father, a policeman, wasn't too happy about #1 son's ambition or lack of it!!! Then one evening in one of my local watering holes I spotted someone who I had been at pre-sea school with. We started talking and I found out that he too had gone down the same road as I was now 'navigating'. He informed me that he was a constable in the West Yorkshire Constabulary.
That conversation resulted in me joining Leeds City Police – one of two "City Forces", the other being Bradford City, located within the West Yorkshire area. It also eased tensions on the home front and put a smile on pater's face! Both City forces however eventually amalgamated with West Yorkshire Police in April 1974, due to local government reorganization and the new force became The West Yorkshire Metropolitan Police.
On the 8th of October 1971, I met up with other new recruits at the Force's City Headquarters in Leeds. We were transported to #3 District Police Training Center, Pannal Ash, Harrogate. What a rude awakening that turned out to be! Uniformed sergeants barked out orders to the new arrivals. Probably 100 or more of us were from places as far afield as Devon & Cornwall in the South, to Teeside in the North, and numerous other forces in between. With some British Transport Police and a couple from Heathrow Police thrown in for good measure!
We were given a name tag and a plastic cup and 'told' to get into our uniforms. No sideburns below the top of the ears or moustaches below the side of the mouth and be in class within 15 minutes. I recall dozens of men in communal bathrooms in various states of undress trying to shave their sideburns etc. and getting dressed at the same time. Safety razors weren't as they are now and I think every one of us had a 'nick' of one kind or another. My force still issued cotton shirts without attached collars and we had to use studs front and back to keep the starched collars in place. I had a bruised Adam's apple for ages until being issued later with bri-nylon shirts!
Three syndicates were marched on to a parade square at 8am each morning by an ex Coldstream Guard police drill sergeant to the sounds of Colonel Bogey or some other military marching tune played over a loud hailer system. Goodness knows what the neighbours thought of all this! One syndicate was then chosen for close inspection, the other two were marched off. The course was residential and lasted 13 weeks, though we were allowed home Friday evening, returning Sunday evening. We slept in dormitories and had to make a bed pack each morning. Woe betide you if it didn't conform to the drill sergeant's measurements! The course was tough and very militaristic in many ways. Haircuts were short back and sides much to my horror, I dreaded going home for weekends, long hair and droopy moustaches were still in vogue and I was looking like a Royal Marine!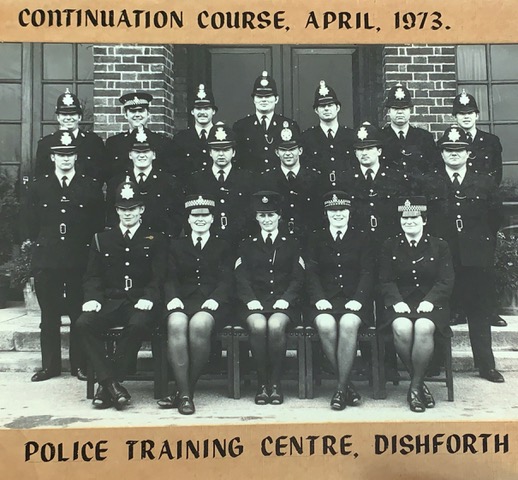 Police Continuation Course at Dishforth
P.C. Paul Cranage middle row 3rd from right
A few recruits dropped out and it was a great relief to finally pass out and go back to our own Forces. A further month's 'Continuation Course' followed about a year later, this time at RAF Dishforth's site in North Yorkshire. It was much more relaxed. After all we were seasoned vets now! I enjoyed catching up with some old faces from across the country.
I was posted to 'A' Division, Millgarth which was mainly the centre of Leeds.
Thankfully I was transferred a short time later to the other sub division at Ireland Wood, which covered from the north of the city down to the city itself with some 110,000 inhabitants having a vast difference in both ethnic, social and economic backgrounds. It also contained thousands of students who attended Leeds University and the Polytech.
More importantly it was the home of Headingly Cricket Ground and Leeds RFC. When I was eventually assigned a regular beat, both of these venues were on my patch so I got to see some great test matches when I was working or on my days off. It was also the beat where the first 'Yorkshire Ripper' murders took place, between 1975 and 1980. It was one of the largest murder investigations in the U.K. Peter Sutcliffe was later tried and convicted for killing 13 women and the attempted murder of 7 others. He received 20 concurrent life sentences for his crimes. Ireland Wood was a great place to 'learn my trade'. I was lucky to work with some excellent officers and my shift sergeants were extremely helpful.
On completion of my probationary period I was successful in getting a position on the force's Underwater Search and Recovery Unit as a police diver. This was on a part time basis. I stayed with my watch at Division and trained twice a month with the unit. We would be called out as and when our services were required.
Things were going well ….. Yet there was something missing! I still had the urge to travel. Together with my former shipmate, we applied to join the New Zealand Police. Just before accepting a position to go, he had a sudden change of heart and informed me he was getting married. I was shattered. I plodded on for a few more months and then one night in the force cafeteria a colleague tossed me a copy of POLICE REVIEW, "There you go Paul, they're looking for trained coppers to go to Hong Kong, Bermuda and Anguilla ."I've always been a great believer in fate – things do happen for a reason.
As the saying goes, the rest is history. I was one of 15 recruits who arrived in Bermuda in February 1975 including two others from Leeds, Gerry Benson and John Wright. Also on this intake was Angus McDonald, Ian Kittle, Steve Smedley, Dave Cart, Alan Smith, Dave Adams, Peter Giles, Alan Cleave, Peter Gimson, Graham Alderson and Mike Ross. Only Dave Cart and I remain, and have remained close friends. I was his Best Man when he married Sylvia and he mine when I married my wife Audrey. We are godparents to their three children.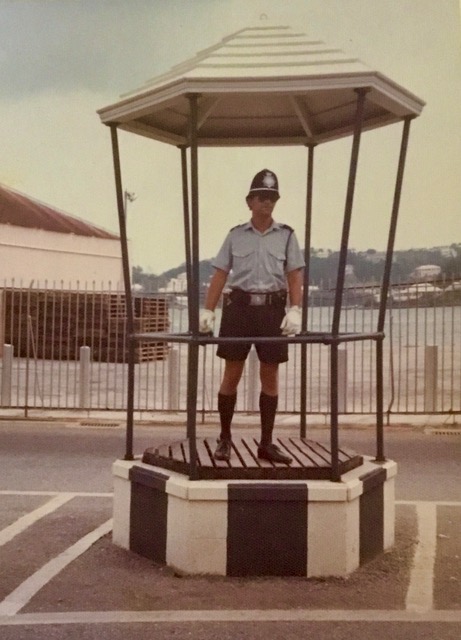 P.C. Paul Cranage in the birdcage at Heyl's Corner 1975
taken for his Mum's collection!
After our 2 week induction course we were posted to different parts of the Island. I went to Central Division, Hamilton. I have to confess that after about a year or so I was getting frustrated. The lack of driving and extended Government House duties was not exactly my idea of policing. On interview in London with DCOP Alf Morris and Supt. "Syke" Smith, because of my nautical background and police diving experience, I'd been informed if accepted for the Bermuda Police that I would be a good candidate for Marine Section. Time marched on and repeated transfer requests had gone unheeded.
Finally in late 1977 I got my transfer to Marine Section. I was over the moon! I went down to the Marine & Ports building on East Broadway and met Sergeant Gerry Ardis who ran the Section. Other members at that time were, Alex Arnfield, Reese Bartley, Phil Every, Steve Petty, Steve Rollin and Perry Fox. Stuart Lambert was also transferred the same day. I was paired up with Steve Petty.
Steve was a great mentor. I may have a certificate for steering a vessel of 100 Gross tons or more, but one piece of advice he imparted was "Don't approach a dock faster than you want to hit it!" Sound advice indeed and something I have always put into practice! The next few months were spent gaining local knowledge practically and theoretically studying for my Engine Drivers (Gas & Diesel) licenses followed by 'C' Class Pilots License. Once these were obtained I was allowed to go out unsupervised in Police launches.
I spent the majority of my service in Marine Section. I loved it. I was a square peg in a square hole! Not many senior officers really understood the role Marine Section played – this is not a dig – but fact. Our 'beat' was hundreds of square miles. I'd like to think that the vast majority of the boating public and fisherman thought we were a valuable asset of the Police Service. It was certainly specialized. Piloting a boat around on a beautiful sunny day is much different to searching for someone in the dead of night through unforgiving reefs.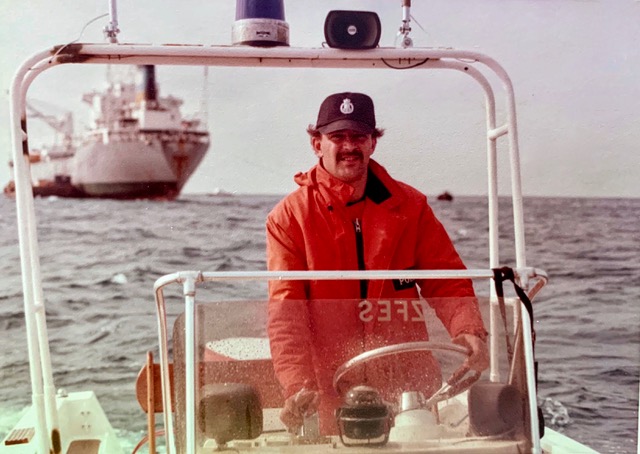 Paul Cranage at the helm of Heron III when the
Mary Boeing ran aground on the reefs near North Rock
I was once interviewed by a Royal Navy Commander who was in Bermuda on a fact finding mission. He wanted to know what the role of the Marine Section was, especially as there were a number of other government agencies /departments that seemed to be capable of taking on many of our duties. My answer was "If it's in, on or under the water we deal with it". I informed him that other than the "Protection of life and property" we dealt with Fishing Regulations, Marine Safety Regulations, The Powercraft Regulations, Mooring Regulations and others under the Marine Board Act. The Oil Pollution Act gave powers to certain officers to board suspected ships and obtain samples for use in HM Court. To my knowledge, we never lost a case in court, thanks in no small part to the staff and equipment at the Bermuda Biological Station who analysed the samples obtained. We were also the main search and rescue resource providers. In short, the unofficial Coast Guard for Bermuda but without a definitive legislated document outlining our responsibilities.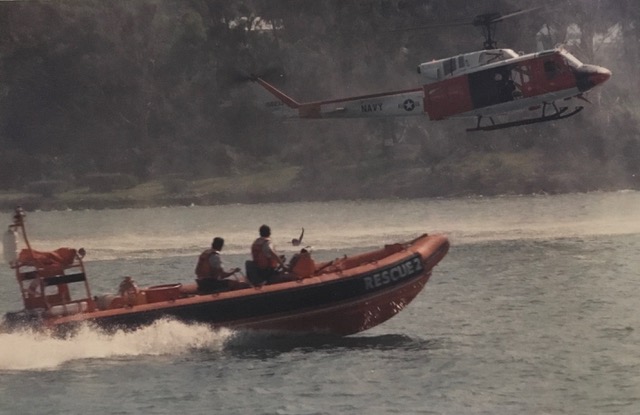 Search and Rescue Training its U.S. Navy in mid-1980's
Over the years, we dealt with some very interesting but sadly tragic scenarios. Files were prepared and went to far flung places/agencies around the world.
The "Marques" was a 120ft British registered barque which took part in the Tall Ships Race in 1984 from Bermuda to Nova Scotia, Canada. She broached and sank in a gale shortly after leaving Bermuda with the loss of 19 of her 28 crew including a very young child.
The MBC "Mezada" an Israeli owned bulk carrier sank almost 100 miles north east of Bermuda in a storm in 1981. Despite valiant attempts by the air crew of a US Navy helicopter, based at Kindley Field, who operated at the limits of the helicopter's endurance they could only manage to pluck two survivors from the sea and brought them to Bermuda. Very few of the crew survived and 13 bodies were recovered and landed in Bermuda.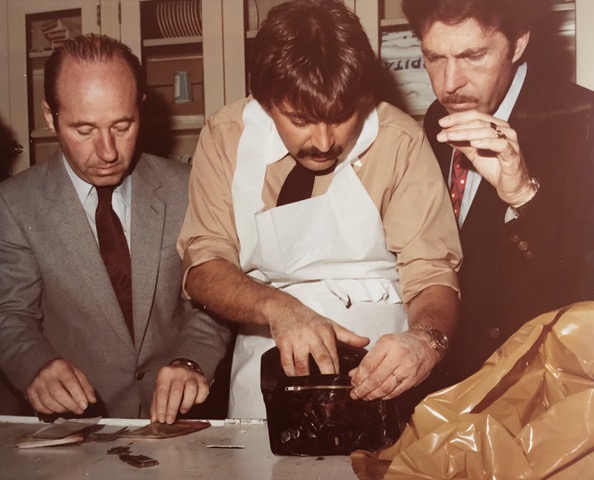 Paul examines personal effects of missing crewman off MBC Mezada
DNA and other modern identifying methods had not yet been discovered. The Israeli authorities sent faxsimilies to Bermuda. I remember going to the Cable & Wireless Devonshire depot and being in a room with banks of equipment as images of dental records appeared (very slowly) before my eyes – truly amazing – and now almost obsolete due to the advances in technology and the Internet. From these records, positive identifications were made with the assistance of local dentists and the bodies were released and returned to their loved ones.
Nb. I think I hold the record for attending the most port mortems – 13 in 24 hours !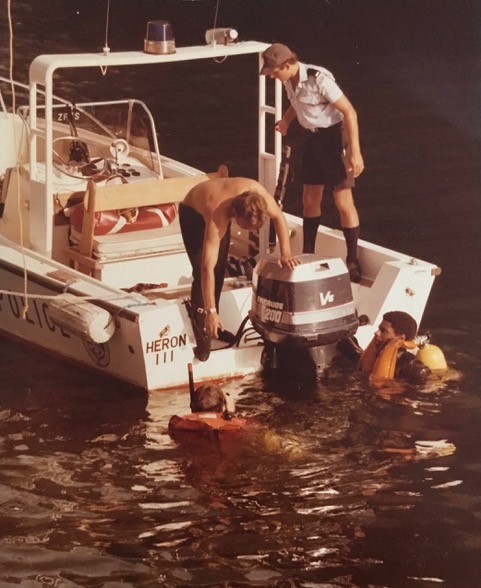 Marine Section carry out a routine dive near the Flagpole
on Front Street for stolen bikes dumped in the harbour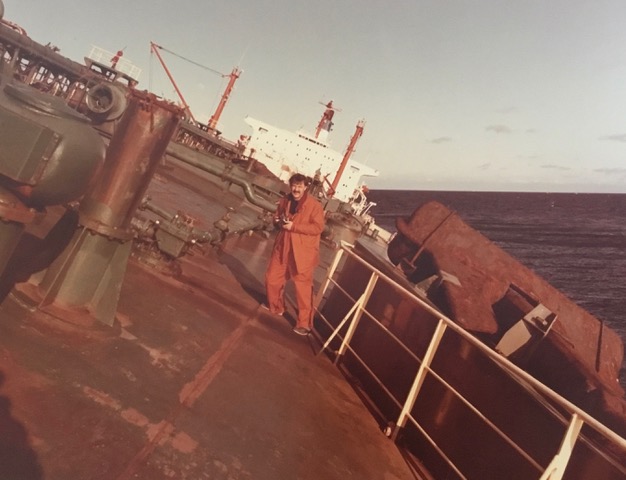 Paul on board Tifoso after in ran aground near North Rock - 1983
In the Spring of 1990, the "Akademik Keldysh" a Russian research vessel (seen in the opening sequence in the movie 'Titanic'), was on charter to the National Geographic Institute, who were using mini submersible equipment to search for a particular shark species in very deep water off Bermuda's West End. Sadly a clearance diver became entangled (we believed) in lines he was attempting to remove from one of the mini sub's he was attending to and was dragged down resulting in his demise.
A few months after the incident and a week or so before Christmas, I received a telephone call late at night at home from the DCOP. I was told that a Russian family and another person had arrived at the Civil Air Terminal. These individuals were the wife of the deceased diver, his father and the other person, a 'famous' Russian psychic . They believed he was alive, having swum ashore and was living on a remote Island and was suffering from amnesia. I was ordered to meet the family the next morning and assist in any way I could, these instructions apparently coming from the Deputy Governor's Office.
I spent the next few days conveying them around the Island, particularly the West End. We visited many small Islands, shouting out the diver's name, "Mikhail", awaiting a response but obviously to no avail. I could not convince them that I honestly believed he had died during the descent of the submersible. The problem further compounded by the psychic's insistence that he (Mikhail) was still alive despite there being no evidence to support this. The media got wind of their visit and ran several small articles. An artist's impression was shown around, Mikhail now had long hair and a beard! As a result, sightings of him were reported by members of the public.!!! It was a difficult time for all and I found it extremely frustrating, especially seeing a young grieving wife reduced to tears on a daily basis.
Needless to say, there was no happy conclusion, Mikhail's body has never been recovered. The family left Bermuda in the New Year but not before encountering difficulties with the U.S. authorities. This incident occurred just prior to the break-up of the former Soviet Union and trying to get back to Russia via the U.S. wasn't exactly an easy matter. Fortunately the Deputy Governor's stepped in to assist and eventually they managed to get home.
On a happier note, I have kept in touch with Mrs. Falina and her daughter. They managed to leave the Soviet Union after the fall of communism and eventually located to the West. My wife and I met with them after more than 20 years. It was indeed a touching moment for all.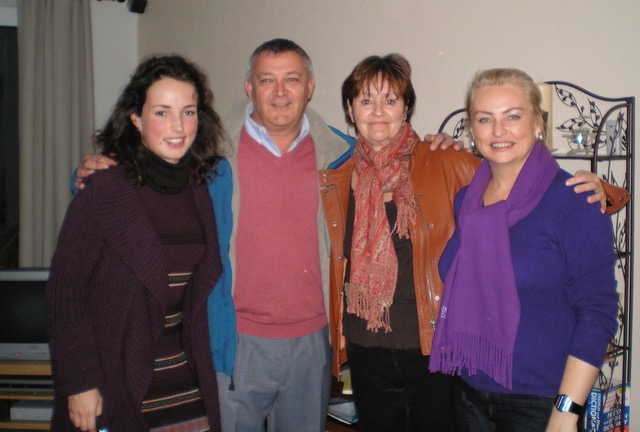 Paul and Audrey meet with Mrs Falina and her daughter over 20 years
after
Mrs Falina's husband went went missing at sea while diving of
the Russian research vessel Akademik Keldysh" in 1990
Keeping on the same happier theme, one job that really sticks in my mind and the one that confirms how specialised Marine Section work sometimes can be. Unfortunately I can't remember the year but I certainly remember the incident.
I was working with Peter Borland on 10-6 day shift. We were about to knock off when I received a call regarding two divers who were overdue, hadn't returned home and there was no sign of their boat. Fortunately they had filed a 'Float Plan' - briefly, a description of their boat, where they were going and expected time of return etc. Peter and I headed NNW from Dockyard towards Eastern Blue Cut, the divers reported destination. Thankfully it was a calm evening. We picked our way through the reef shoals arriving shortly after 6pm. No visible sign of their boat or anything else. We scanned the horizon and then I saw a brief flash – the setting sun's reflection on a windshield? We set off to investigate.
As we approached we could see that the boat matched the description confirmed by it's Marine & Ports registration number as the one we were looking for. Coming up alongside it was obvious there wasn't anyone onboard. We could see the anchor line out. Retrieving it, revealed nothing on the end – the rope had chafed on the reef and the boat had drifted away whilst the divers were underwater. Now there was a problem….. a big problem, where were the divers? We took the boat in tow and informed Harbour Radio of our findings. It was decided that we would head directly back upwind towards the Eastern Blue Cut stake (there was no beacon in those days) . Light was fading fast.
Towing a boat made progress slow and we had limited resources in those days so I requested a call out of the Bermuda Search & Rescue Institute to assist in the search . "BASRI 1," their craft, had been purchased from somewhere in New Zealand. It was specifically designed for operating in shallow reef waters . Their members were all volunteers and I think I am right in saying Dave Garland and the late Eddie 'Boxhead' Foggo were on the crew called out that night. That boat arrived on scene within the hour and we decided on a search pattern to use and commenced searching.
We were spaced about 100 yards apart and proceeded to motor up and down keeping track of our time which we used to calculate our estimated distance. We then moved out another 100 yards thereby expanding the search area with "BARSI 1" following suit on a parallel course spaced out. It was now dark, our only means of navigating was to steer a compass heading upwind and then the reciprocal course on the downwind leg. We would stop periodically, turn the engines off and blow a whistle and listen for a response of some description – hopefully from the divers. Nothing heard, we would continue. I decided to put up a white flare. These devices would shoot a projectile about 1200 feet into the air then explode and light up the area. Being on a parachute they would stay aloft for some time illuminating the area – spectacularly so !
I vividly remember being surrounded by coral reef, the colours were truly amazing especially when illuminated by the flares……. It was also a stark reminder of the danger lurking inches below our keel. Numerous search legs continued without success. We had a limited number of flares and had used most of them. We had been searching for over 2 hours and then a stroke of luck. Harbour radio informed us that a US Navy P3 Orion aircraft was returning to Kindley Field from their US home base and would be overhead in about 10 minutes and would assist in the search if asked.
Without hesitation we acknowledged in the affirmative and a short while later was talking to them via a marine vhf radio channel. It was agreed that they would continue on a similar expanding search pattern overhead. After several passes a voice came over the radio
"In the water dead ahead about 150 yards away." The last flare was put up and we could see the two individuals stood on a reef waving frantically. It was agreed for "BASRI 1" boat to go and retrieve them and get them to shore as quickly a possible. We thanked the air crew and the plane went on to Kindley Field, Peter and I slowly towed the diver's boat back to our base at Barr's Bay in Hamilton.
It was a very gratifying feeling, knowing that we had accomplished a successful search and rescue mission especially as there was no loss of life.
Nb. Following that incident, OIC Marine Section, Sergeant Gerry Ardis submitted a report to the Commissioner of Police, via OIC Central, C/I Ernie Moniz, outlining the circumstances of this rescue and requested that both Peter and I be considered for a Commissioner's Commendation. Ernie's comments were "That's what they are paid to do" Note to file. Those were the days!!! It would be remiss of me not to mention the officers who I had the pleasure of working alongside and not previously mentioned: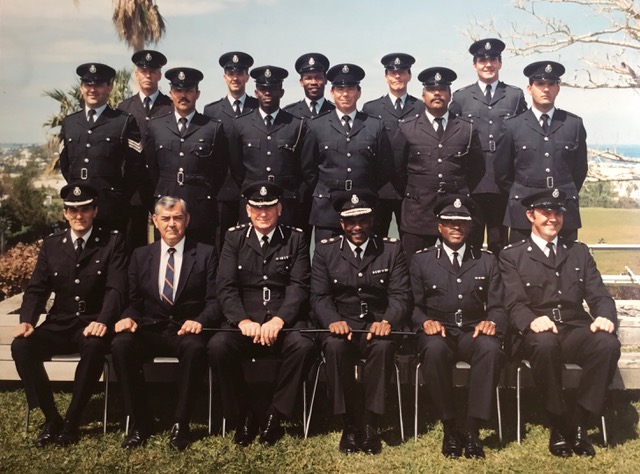 Marine Section Personnel - 1989
Top row (l-r) Mike Shaw, Mark Bothello, Huron Vidal, Andy Wright, Alan Gorbutt
Middle Row - Sgt Paul Cranage, Ralph Lindo, Larry Dean, Perry Fox, Wayne Ingemann, Reggie Horseman
Front Row - Supt George Rose, Supt Harold Moniz, DCOP Clive Donald, COP Fred "Penny" Bean,
ACOP Lennett Edwards, Insp Phil Every
It would be remiss of me not to mention the officers who I had the pleasure of working alongside and not previously mentioned. These include the following:-
Reggie Horseman, John Skinner, Mark Bothello, Huron Vidal, Ralph Lindo, Larry Dean, Mike Shaw, Larry Fox, Paul Watson, Alan Gorbutt, Michael Desilva, Wayne Ingemann (deceased), Terry Cabral, Andy Fielding, Earlston Thompson, Jerome Simons, Chris Taggett, Phil Taylor, Andy Wright, Peter Hall and Leon Turini.
These officers together with the Marine Police Reserves who collectively conducted many hundreds of hours voluntarily, working alongside their regular counterparts and who are worthy of special mention. These include and not limited to: Fred Pereech, George Washington, Clayton Flemming, Jack Rhind, Peter Holmes, Doug McKenzie, Ian Clarke, Scott Carswell.
Apologies to those who I have missed out.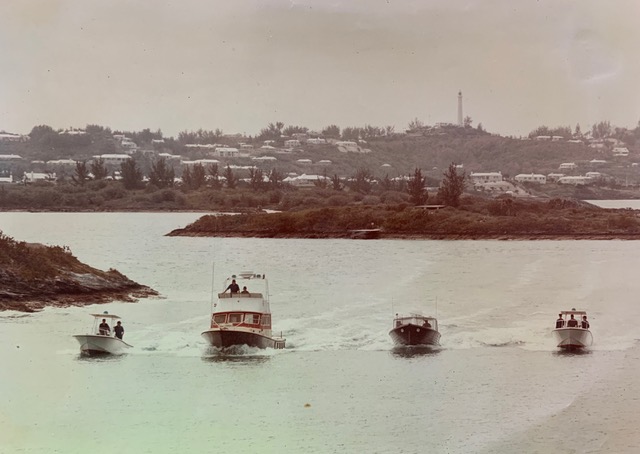 This classic photograph of our Police Marine fleet of four craft
was taken from Long Island by Paul Farrell - circa 1981
Sadly and for whatever reason, the Marine Section as I knew it has disbanded. I think the formation of a joint venture Police / Royal Bermuda Regiment boat troop is probably the best direction to take going forward, sort of a Bermuda Coast Guard. I hope that their role has been clearly defined and the necessary legislation passed, something that myself and a number of my predecessors had asked for but never acknowledged. I spent 17 years on the Section, certainly the happiest times in my 30 years plus, as a police officer. It's now great to catch up with former colleagues and 'chew the fat' over a beer or two while reminiscing, mostly about happy times.
Whatever the tasks asked of the newly formed unit, I hope they receive the best training and equipment that money can buy. It's Ok to send someone out to do a job but it's more important they return safe and sound.
In looking back on my time with the Marine Section there are a few indelible memories that I will never forget and these include taking members of the Royal family and other dignatories out on Bermuda's waters.
Marine Section were often called upon to do "Trips around the bay" as I referred to them!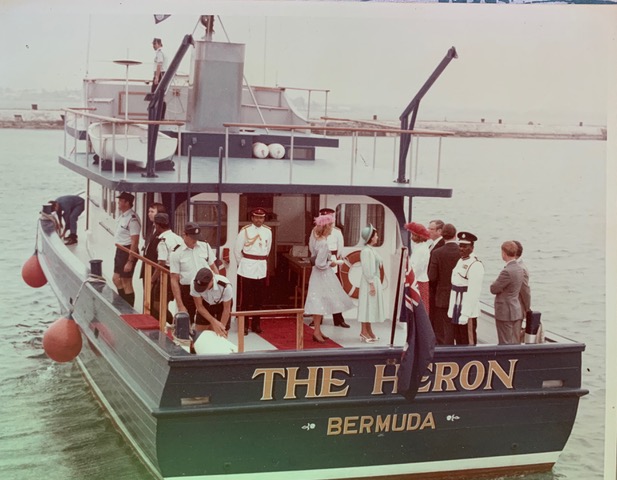 Paul pilots (top deck) The Heron with HRH Princess Margaret and party on board
Princess Alexandra was a frequent visitor to the Island and other notable Royals were Prince Michael of Kent, HRH Prince Edward who were ferried to various location. HRH Princess Margaret, was conveyed from Dockyard to Hamilton onboard the police vessel "The Heron."
I think my biggest claim to fame though was taking President George Bush (Snr) out on a Police RIB.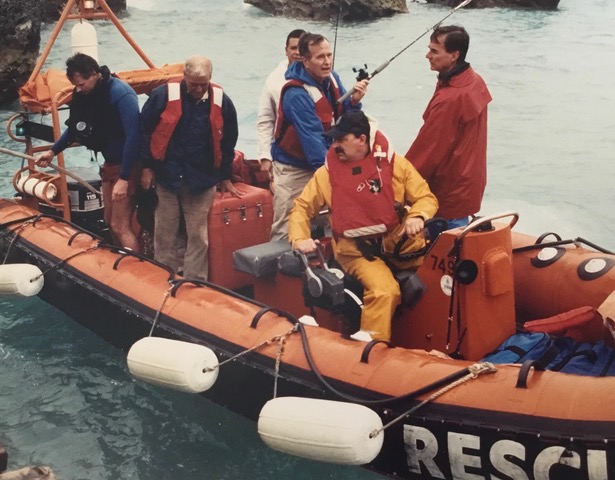 President George H. Bush Snr, armed with fishing rod, on board
a rather overcrowded RIB with Paul being extra cautious
Premier Sir John Swan is immediately behind President Bush
It was about lunchtime. I received a telephone call from the DCOP ordering me to send a police boat to The Whaler Inn dock on South Shore, as President Bush wanted to go out to a US Navy frigate that was on duty off the South shore during his visit to the Island. There was only me in the office. I jumped in to "Rescue 1" and headed off to rendezvous with the presidential entourage at the Whaler Inn. The President duly arrived, fishing rod in hand, surrounded by Secret Service agents, Special Branch personnel, Sir John Swan and others. For those who know the layout of the rescue boat you will know that there isn't much room for passengers! There's just the coxswain's seat and two immediately behind, where the occupants sat astride. Very little room and not particularly comfortable. On top of this, there was a slight drizzle and choppy seas . Kudos to "El Presidente", he never complained once and took it all in his stride - he had served in the US Navy during WWII. We made our way out and he (President) asked me if I could get him onboard the frigate which was on her way back to the States, having been on operations out in the Gulf war. We tried a few times but because of the large swell and sea conditions it was too dangerous to do a transfer. I politely told him so, and though disappointed he agreed. Bet there's not too many who have told a U S President what not to do !!
We stayed close to the ship and the President engaged in conversation with some of the crew before we headed back in, somewhat damper for the experience.
Another memorable experience involved the Queen Elizabeth II liner when she made a visit to Bermuda. The QE2 anchored in the Great Sound. A report was received that there was a sheen on the water downwind of the ship and needed to be investigated. Once on scene a smell of diesel could be detected. I boarded the vessel with my trusty bag of sample bottles etc. and spoke to the Chief Engineer who wasn't readily admitting being the offending vessel. Controlled samples were taken from the engine room bilges together with samples from the sea downwind of the ship. These samples were later taken to the Biological Station in St. George's and tested by staff using a gas chromatograph machine which confirmed both samples coming from the same source.
I returned to the QE2 and informed the captain as to the results of the tests and duly reported him for summons. A guilty plea was later accepted in Magistrates Court and a fine imposed. I don't recall exactly how much it was, but it was in the thousands of dollars. I'm also pleased to add that there was no environmental damage caused by the spill; diesel fuel is better left untreated by harsh chemicals as it naturally dissipates in a relatively short period of time.
Those were the days!
I retired from the BPS in January 2000. After a month traveling in Europe, Audrey and I returned to Bermuda and I became a property manager for a local company. However I found myself returning to Marine Section for a brief spell following the 911 disaster in New York when the Reserves were embodied (I had joined the Police Marine Reserves).
I found my new career both interesting and at times challenging. After 6 months on the job training, I spent the next 14 years dealing with everything from major floods to fitting out stores. It was certainly a job where diplomacy was required on a regular basis, after all, the tenants were in essence paying my salary. Of course that came easy being a Yorkshireman! 😂 For the most part I thoroughly enjoyed my time there and in 2014, I decided it was time to retire for good.
There was still a lot of the world to see and Audrey and I wanted to see as much of it as we could whilst still fit and healthy. Since then, we have visited Hungary, the Czech Republic, Croatia, Italy, France and Ireland plus a few cruises. We manage to spend a few months a year in Provence, South of France, and started to learn French at the Senior Learning Centre on the College campus in Paget.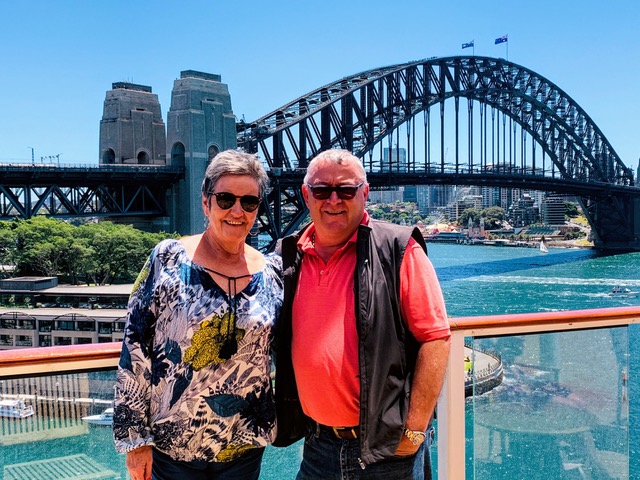 Paul and Audrey sightseeing in Sydney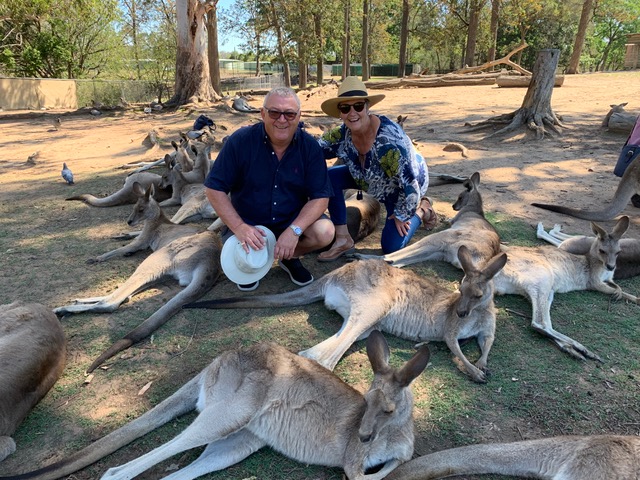 Paul and Audrey with the Roos in Australia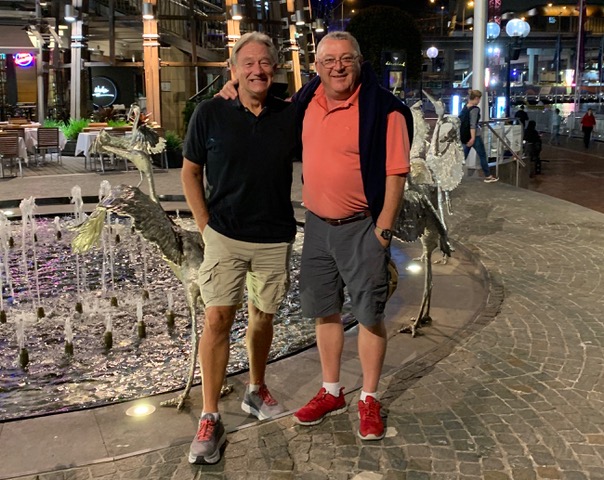 Paul meets up with old friend Ian "Geordie" Coyles at Darling Harbour, Sydney in November 2019
We've just returned from a 3 month visit to Australia and New Zealand and managed to catch up with old friends and relatives including Ian ' Geordie' Coyles who is enjoying life a Down Under !
Quo Fata Ferunt !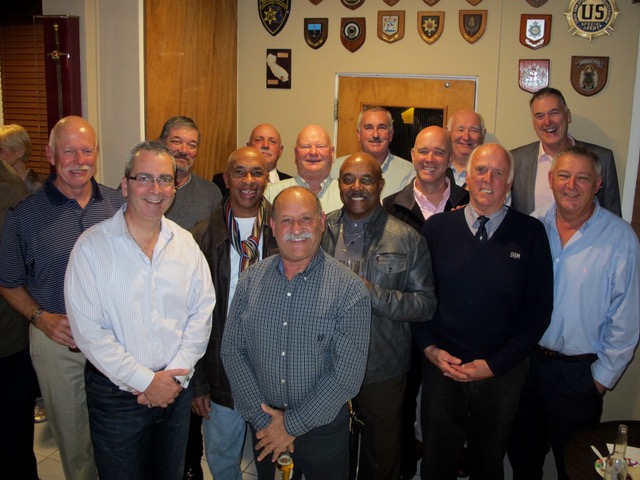 Former "Old Salts" members of Police Marine Section at our Annual ExPo Reception in 2017
(l-r) Mike Shaw, Michael DeSilva, Brian Robinson, Jerome Simons,
Ralph Lindo (back row), Kenny Roberts, Phil Taylor, Reese Bartley,
Ian MacMillan, Mark Bothello, John Skinner, Brian Malpas, Keith Senior, Paul Cranage