Served from 1963 - 1968
I came to Bermuda in September 1963 and my girlfriend joined me the following January. I say 'came' as the memories and senses are still very clear: tree frogs, humidity, tropical vegetation, beautiful beaches and Lambretta scooters! A Scot, Ron Wallace, joined at the same time. After marrying Brenda we lived off the Pitts Bay Road.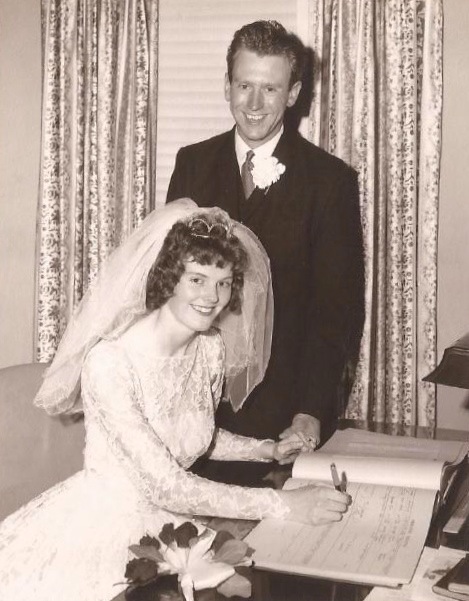 Alan and Brenda Coates sign the bridal register
I am unsure how long I spent on foot patrols in Central Division but I seemed to work as the Central Divisional Clerk for most of the time. I worked for Nobby Clark and then Bob Ball. The former was a significant influence on how I would manage problems and people in the future. (While I have forgotten much of the work and 'happenings' on the Island, I remember one incident when a suspect, I think, was being interviewed in a second floor office at Prospect and produced an axe and chased his 'interrogator' around the office before the latter escaped by jumping from the verandah to the ground. I cannot recall the outcome but it was high drama at the time).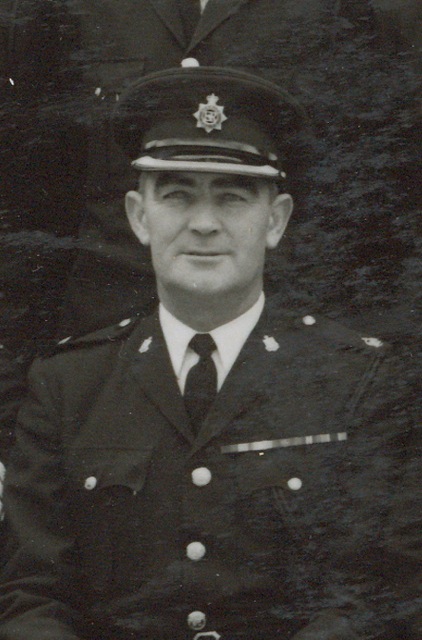 L.M."Nobby" Clark had a significant influence on how Alan
would manage problems and people after he left Bermuda
Before moving to Bermuda, I had been a police cadet with the North Yorkshire Constabulary in Whitby, completed National Service in the Royal Air Force and then returned to the North Yorkshire Force. My reason for applying to the Bermuda Police was the obvious one of a better climate and more exciting prospects! Bermuda met our expectations but I eventually decided that I wanted to pursue a commercial/business career and we returned to the United Kingdom in 1968. I went to Robert Gordon's, a Scottish Polytechnic, in Aberdeen to study, as a mature student, two post-graduate courses in Personnel Management – now termed Human Resource Management.
Subsequently and by chance, I was offered a management traineeship with Unilever, an Anglo Dutch and multi-national manufacturer of consumer and industrial products. I eventually reported to a Board Director and was employed in an Agribusiness Company which employed 12,500 people in the UK with similar businesses in France, the Netherlands and Germany.
My first two substantive jobs were in Liverpool and Manchester as a Factory Personnel Manager. From the sublime to the ridiculous comes to mind! Responsibilities were the negotiating of pay and conditions of employment with the Trade Unions, recruitment and selection, job evaluation, training, pay and administration. After four years I moved to the Company's Head office in Basingstoke, Hampshire as a Company Training Manager, then Staff Personnel Manager and finally, Personnel and Management Development Manager. Responsibilities for the latter were the recruitment, selection and training of managers, resource planning, salary policy, pay negotiation, etc and the co-ordination of manager exchanges between companies as preparation for promotion, etc.
With major changes in UK agriculture and employees numbers reduced to 2,500, Unilever sold the business in 1992 and I found a position in the education sector as a College Personnel Manager at Farnborough, in Hampshire. Living in Newbury, Berkshire, we did not have to move house. The College was a Further and Higher Education College and my duties matched my experience except for a Payroll of £10m pa and some lecturing work.
While we missed the sweet life of Bermuda, I have few regrets about my eventual choice of career. The work was interesting and challenging. I recruited a good number of management trainees and managers who went on to become MD's/CEO's and helped many employees find new employment as a result of redundancy – the harsh reality of a commercial career! I retired in 2000.
Brenda, my wife, missed the Bermuda climate and the outside social life but after the birth of our two daughters, returned to work with an Estate Agency. One daughter is a teacher and the other a Human Resource Manager working locally for Google. We returned to Bermuda a few years ago and stayed with Brenda's ex boss William Kempe of Appleby Spurling & Kempe and his wife Sheila. We found the Island as beautiful as ever. An 'Island in the Sun'.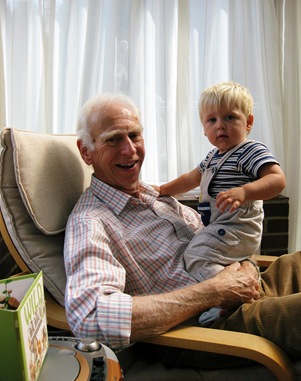 Alan and grandson Sam aged 3 1/2
January 2013
Editors note - Alan is one of our former colleagues who doesn't have a photograph of himself in police uniform. If anyone happens to have a group photo such as a Central Divisional photo from the early 1960's that includes Alan we would be pleased to receive it.
March 2021
SAD NEWS FROM ALAN - When Alan left Bermuda he handed over duties as Central Division Clerk to young P.C. Dave Cook, and the two have stayed in touch with each other over the years exchanging Christmas cards. Dave just received a Christmas card from Alan and was deeply saddened to read that his wife, Brenda passed away on 1st December 2020. Brenda had been living with Parkinson's disease for the last few years. We offer our sincere condolences to Alan on behalf of all his old friends and colleagues.
I should add that Alan mentions above that he came out to Bermuda at the same time as Ron Wallace. We are aware that Ron is in quite poor health and is now residing in a care home in Scotland.