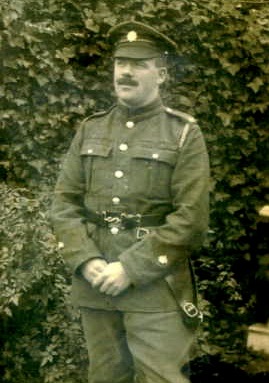 Patrick Joseph Condon served in the British Army during
World War 1
and also in the Bermuda Police from 1923-1928
Back in July 2018, our ExPo website received a comment from Mr. Mike Condon in Sydney, Australia, who had discovered an article on the History of the Bermuda Police on our ExPo website. Mike enquired if we might have any details of his grandfather, Joseph Condon, who was said to have served in the Bermuda Police in Hamilton many years ago. Joseph Condon was said to have served in the British Army, and may have also served the Governor in some way while in Bermuda. He explained that his father, John Condon, was born in Bermuda while his grandfather was in the Police.
At the time of Mike's initial enquiry I checked our current records and lists of Bermuda police officers and could find no trace of a Joseph Condon. The only possibility of tracing any record of him was through the annual Blue Books in Government Archives which listed members of the civil service including police officers from as far back as 1879 but it's a painstaking job checking through each year to find a name, and they are NOT in alphabetical order!
I had all but forgotten Mike Condon's enquiry, but since then retired Inspector John Skinner has produced his magnificent list of practically every police officer who has served in the Bermuda Police during the 100 year period from 1879 – 1979. He did so by meticulously going through all of the Blue Books which were published annually until 1950, and also any and every other list he could find, together with spending countless hours searching through the newspaper archives in the Bermuda Library. Unfortunately, there are still a few names missing, especially of police officers who served during the 1950's and early 1960's who did not serve for long, but John continues to do research and is constantly updating his list whenever he discovers a new name that was not included in the records.
By coincidence, I recently spotted Mike Condon's enquiry from 2018 at the bottom of the History of the Police article, and wondered if John's 100 year list might include Joseph Condon. On checking the list it had the name Patrick Condon who had served from 1923 – 1928 with a short break in 1924, but no Joseph Condon.
I emailed Mike in Australia, to see if there might be connection between Joseph and Patrick Condon, and he quickly wrote back to confirm that his grandfather's name was Patrick Joseph Condon and he often went by his middle name. Bingo!
At this point Mike mentioned that his grandfather, who was born in Limerick, Ireland, had served in the British Army during the First World War and had been wounded at the battle of the Somme. The family believed that his Commanding Officer became Governor of Bermuda after the War and may have suggested that Patrick come to Bermuda to start a new life – which he did.
For those not aware of it, John Skinner has been tackling another major research project in recent months after investigating the life of a legendary police officer who we had mistakenly believed to be named Thomas Joseph Powell. T.J. Powell joined the Bermuda Police in the 1880's and had distinguished himself during the Crimean War serving with the 11th Hussars and was awarded the Crimea War medal with 3 bars having fought at Alma, Balaclava and Sabastopol where he was said to have been present during the Charge of the Light Brigade. Through researching old copies of the Royal Gazette, John discovered that Thomas Joseph Powell was in fact Thomas James Powell, and has just completed a brilliant article about Thomas Powell for our Hall of Fame. CLICK HERE to view this article.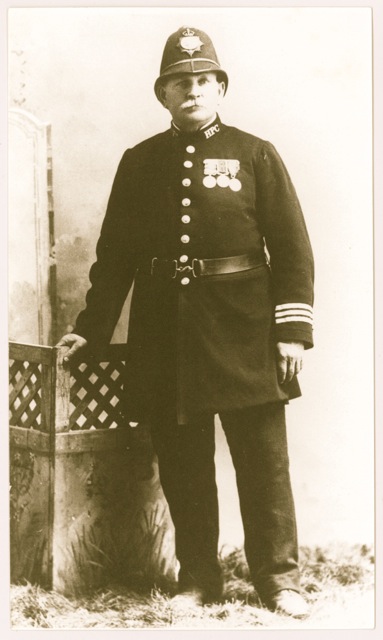 Police Constable Thomas James Powell
During his research on Thomas James Powell, John came across the names of numerous Bermuda Police Officers who went off to serve in the British military during the First World War, some of whom lost their lives, some survived and returned to Bermuda, and some resumed their police careers. This led John to tackle another huge project entitled "The Brave Blue Line" in which he has written an extensive article about those Bermuda Police officers, of which there were at least fifty who served in the military during the War. CLICK HERE to view "The Brave Blue Line".
We believe this article will result in a number of families perhaps learning for the first time about their valiant ancestors. And we are hoping that more information will come to light about them from their descendants.
Although Patrick Joseph Condon did not arrive in Bermuda until after the War, he clearly deserves to be included in the "Brave Blue Line" and John will be putting together his story in more detail after liaising with Mike Condon.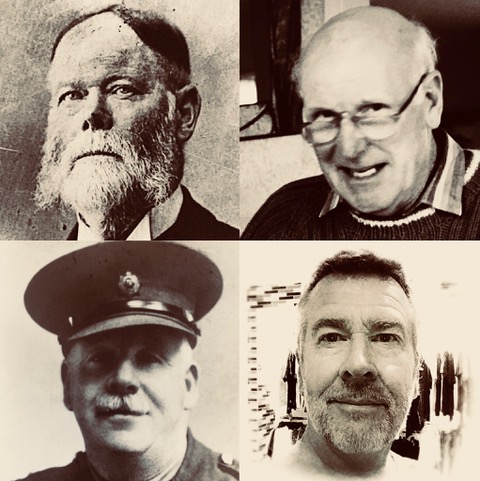 Four generations of Condons
Top Left - Great grandfather Joseph Condon
Bottom left - Grandfather Patrick Joseph Condon
Top Right - Father, John Joseph Condon
Bottom right - Mike Condon
Mike Condon has kindly sent us this composite photo of his great grandfather, grand-father, father and himself. Mike's father John Joseph Condon was born in Bermuda during the time his grandfather was serving here in the Bermuda Police, and he had three sisters, Mary, Lucy and Cecelia.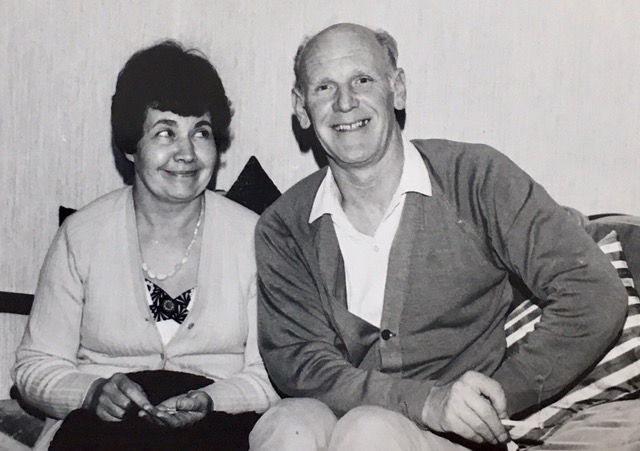 John Joseph Condon and his wife Christine
John was born in Bermuda while his father was serving here as a police officer
Mike also sent this photo of his father and his mother Christine who married in London in 1952, and had 3 children, Paul, Mike and their younger sister Caroline.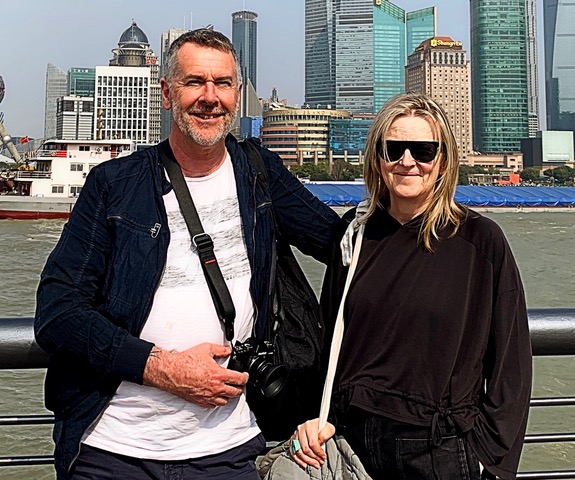 Mike moved to Australia in the 1980's where he met and married his wife Barbara and they settled in Sydney. Mike has always held a fascination for Bermuda because of his family connections and he realized a lifelong dream when he and his Barbara visited Bermuda in 2016 on a cruise from Boston. They were delighted when a taxi driver named Arthur took them on a tour of the Island, and after Mike mentioned that his grandfather had served here as a police officer, Arthur kindly took them up to the Police Club at Prospect. Mike no doubt felt nostalgic as he walked through the streets of Hamilton where his grandfather had patrolled the beat almost 100 years ago in the early 1920's.
Editors note - John Skinner has never been one to stand still and do nothing and we understand that his next project will be to write a continuance of the "Brave Blue Line" about our Bermuda Police Officers who saw military service during the Second World War. Mike Condon's father, John Condon, never served in the Bermuda Police but following the outbreak of the Second World War he followed in his father's footsteps and enlisted in the British Army, in the RASC driving DUKW's and took part in the Normandy landing on D-Day sailing/driving one of the amphibious landing vehicles onto "Gold Beach in Arromanches, Normandy. Mike has passed on some reflections about his father's experiences during the Second World War which are of interest to John while researching the second half of the Brave Blue Line.