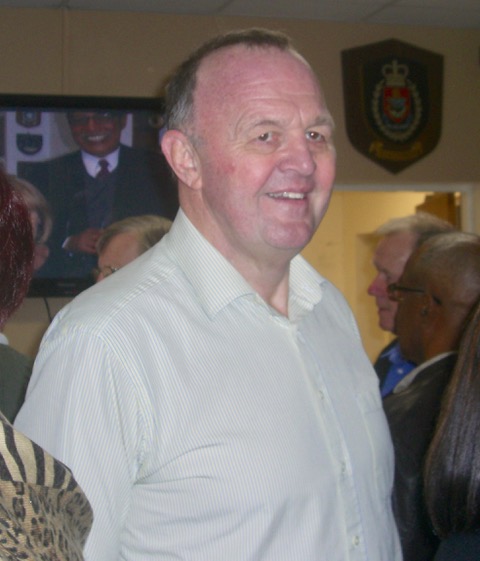 Retired Chief Inspector Phil Every at one of our recent ExPo functions
We were deeply saddened to hear of the death of our very good friend and former colleague, Retired Chief Inspector Phillip 'Phil' Every who died on 1st September 2018 in Horsham, Sussex.
Phil is survived by his wife Nicky, other relatives and friends in Bermuda and around the World. Cremain will take place in the U.K. and a Memorial Service will be held later in Bermuda details of which will be announced in due course.
Condolences can be sent to:-
Mrs. N. Every,
The Beaches, 3 Willowmead, Southwater, Horsham RH13 9AT, England. Or by email to. This email address is being protected from spambots. You need JavaScript enabled to view it.
Phil was a very popular and highly respected police officer who was also very liked by all who served with him. On behalf of all of our ExPo colleagues we send our sincere condolences to Nicky and to all of Phil's family and friends.
Editors note - Unfortunately, I'm presently in the U.K. to help celebrate my mother's 100th birthday, and as a result, I don't have access to Phil's files at Prospect, and can't access our usual photo files. As soon as I return from the U.K. we will update this entry.
UPDATE - We have received the following information from Nicky with regard to funeral arrangements for Phil in the U.K.
Dear All,

For those of you who have asked for the details of arrangements for Phil's funeral they are as follows:-

There will be a cremation at Muntham Chapel, Worthing Crematorium, Horsham Road, Findon, West Sussex BN14 0RQ on the 21st September at 2.40 pm. There will only be family flowers but donations can be made to St Catherine's Hospice and the RNLI at Aberavon, Port Talbot through This email address is being protected from spambots. You need JavaScript enabled to view it./remember. There is plenty of parking. However it is advisable to be there in ample time as the service will commence sharply.

I would like you to join me afterwards at the Findon Manor Hotel, High Street, Findon, West Sussex, BN14 OTA for afternoon tea. As we need numbers for catering please RSVP if you are wishing to attend.
Love
Nicky