This section of our website is intended for you to keep in touch with all of your fellow colleagues who have served in the Bermuda Police. We started this column by putting all entries on one post but soon realized that it would stretch for far too long so we are doing it by each year- and this one is for 2014.
We welcome news, however brief, and would also encourage you to send us recent photos. Sadly we sometimes have to report "bad" news such as illnesses - or worse - but we are always delighted to receive positive news! We can be contacted at This email address is being protected from spambots. You need JavaScript enabled to view it.m
6th December
Michael Tate - We were delighted to hear from Michael (Mike) Tate who wrote to help us identify everyone in our latest "Who, Where and When" photos (CLICK HERE to view the photo). These photos were taken at St. George's Police Barracks when a group of young constables got together for a Christmas dinner in 1966 or 1967. Mike left Bermuda back in 1969 but returned for several years - from 1971 to 1975 - to work in the hotel industry during which time he remained good friends with his old mates Barry Smith and Dave Ashurst.
Mike is now living in Ottawa where he is a co-owner of a number of Retirement Residences. He sent us these photos, the first is with his son Stephen who followed in his father's footsteps and became a police officer in the Ottawa Police. The second photo is of Mike with his ex-wife Marie (they were married here in Bermuda), and their two sons, Steve on the left and Chris on the right. It was taken on the day of Chris's wedding.
We believe that anyone who knew Mike when he was serving here in the Bermuda Police who have no trouble at all recognizing him from these photos.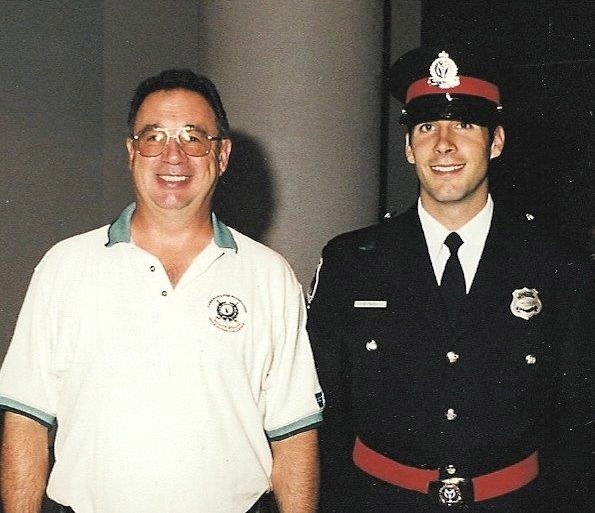 Mike Tate with his son Stephen at Steve's swearing in ceremony with the Ottawa Police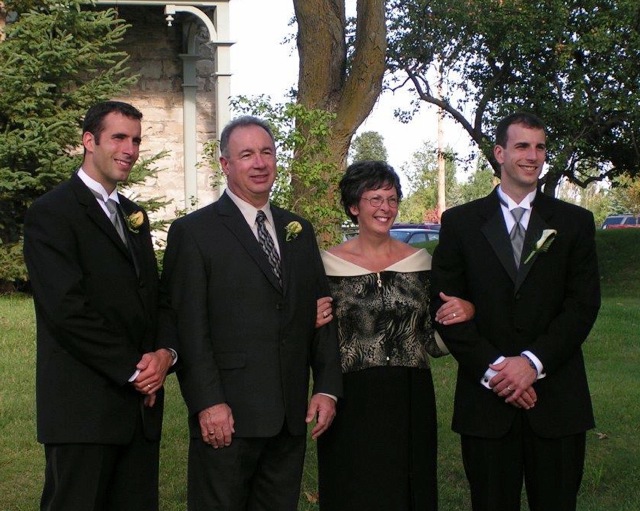 Michael Tate with his ex-wife Marie and their two sons, Stephen on the left
and Chris on the right taken at Chris's wedding.
Mike has promised to write to us again early in the New Year.
25th November
Iain Morrison - After reading our post of 20th November, Iain Morrison has written to correct my assumption that Raimondo Harrison, being from Stoke-on-Trent, was a Stoke City fan, but it turns out that Rai is a Man United supporter! However, Iain does point out that another Stoke City fan is another former Bermuda polcieman, red headed Mark Allen. We wonder if anyone knows of Mark's present whereabouts.
Iain also comments that he never ceases to marvel at the way he managed to recuit Frankie Foggo into becoming a Stoke City fan after several years of "brainwashing" while the two worked together in Traffic. Frankie remains a loyal fan and can always be seen wearing something to show his loyalty. He now works as a Manager at the Blue Hill Hill Gas Station and is as cheerful and positive as ever. We won't bore readers with the details but Iain also wrote to describe Stoke City's performance this season which is very much "up and down this season".
20th November
The Late Frank Robinson - As mentioned elsewhere on our website, we recently heard from Adam and Mark Robinson who's father Frank Robinson served in the Bermuda Police from 1956 to 1962 during which time he was promoted to Sergeant. Adam had spotted his father's photo in our Who, Where and When column (CLICK HERE for the photo) with a group of 10 police officers taken outside Somerset Police Station, probably in the early 1960's. We were not sure if it was Frank, but Adam confirmed that it was definitely his dad, and he enquired if he might obtain any more information about Frank from anyone who might have served with him. We quickly heard from former P.C. John McCulloch who remembered Frank quite well, and also from retired Inspector Arthur Rose who also remembered Frank for their time at the old police barracks on Victoria Street in Hamilton. We have put Adam in touch with both John and Arthur, and if anyone else remembers Frank we would be pleased to hear from you.
During a phone conversation with Arthur Rose this afternoon he told me he is doing quite well at the moment although he spends most of the time at home other than being taken for a weekly drive. Arthur seems to be doing a little better than his football team, Aston Villa who are presently languishing in 16th place in the Premier Division, just two above the relegation zone, and way behind Stoke City who are, remarkably lying in 9th position. Who, you might ask, cares a hoot about Stoke City! Well, apart from myself, there is Iain Morrison, Raimondo Harris, and an ardent Bermudian fan, Frankie Foggo, who is happier than ever!
John Headey - We just received this lovely photo of John Headey who was attending a wedding in London with his wife Susan (nee Brown) , and their gorgeous daughter Lena who is still starring in the very popular TV series, "Game of Thrones". We don't see Game of Thrones on our local TV in Bermuda but we hear that Lena, who was born here in Bermuda, plays the role of the ruthless Queen Cersei Lannister in the series.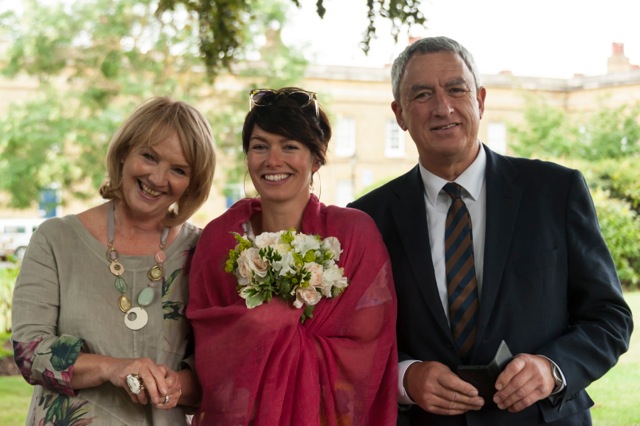 John and Susan Headey with their beautiful daughter Lena
John tells us that during filming, Lena's schedules are quite punishing, with 5am starts and long days. Susan accompanied Lena to Belfast - where the main sets are located - for a couple of weeks and described how some of the scenes were shot over and over again, not because there was anything wrong with the acting, but just so they can edit to ensure only the very best is selected.
Lena has just finished filming the latest series and plans are underway to film an eighth series. She is now back in LA but will be returning to the UK with her son Wylie to spend Christmas with John and Susan.
CLICK HERE for more information in a previous article we posted about Lena when she met with HRH Queen Elizabeth on the set in Belfast.
Editors Note - My apologies for taking a sabbatical during the last month due to taking a vacation and having other commitments that have consumed much of my time and energy. Hopefully, I can get back to devoting more time to the website and to providing you with the latest news from home and abroad. Please fell free to write and let us know where you are and what you are doing these days. I paid a visit to Toronto in November so have some catching up to do.
23rd October
Bob and Anne Porter - Anne & I arrived here in Bermuda from the UK on Monday evening, the 6th of October. We had wanted to come to the 135 years of Policing in Bermuda since we heard about it through the Bermie Ex-Po website. The website has been a great resource to us retirees around the world. Around the end of August we were asked to house-sit in October so here we are again for the 3rd visit in a year.
The first event we attended was the Police History Presentation at Tatem School. Presenters were Roger Sherratt and Chris Wilcox with support from Andy Bermingham. It was a fascinating evening where I learned so much about the Island, the Police generally and specific officers, villains and events. Chris Wilcox and Andy Bermingham gave brief vignettes from certain chapters in an illustrated book they are helping to write along with Alex MacDonald which is due to be published before Christmas It will be very interesting and a good one to put on the Christmas gift list ! CLICK HERE for Police History Talk by Roger Sherratt.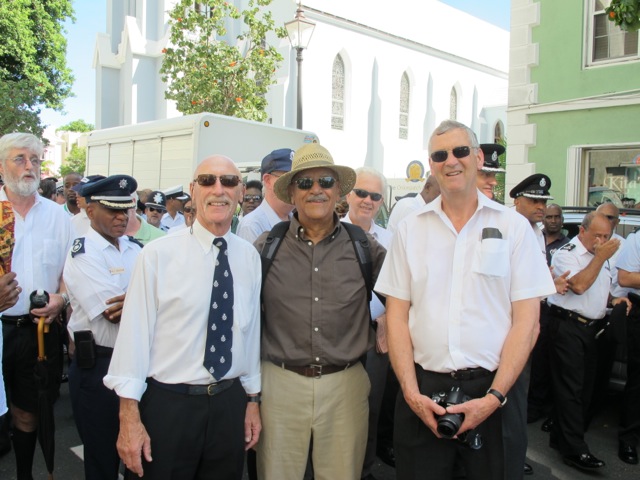 Bob Porter, Arthur Bean and Rocky Ironmonger prepare for the
Parade of Staff leaving the new Hamilton Police Station for City Hall
Wednesday morning saw us gathering outside the new 'nick' on Court Street. It was a hot sunny morning and most of us ex's were attired in the requested white shirt and black trousers. Old faces soon became recognisable. Roger Sherratt, Dave Cook, Rocky Ironmonger, Steve Shaw, John Dale, Bernie Pitman, Arthur Bean, Jean Vickers, Juanita Shaw just to mention a few. We made it to City Hall after a quick stop at The Birdcage to get a photo of Jean Vickers, our 1st Bermudian policewoman. What a lovely lady still. At City Hall we were entertained by the excellent Bahamas Police Band and posed for a huge group photo of current and ex Police & Civilian staff.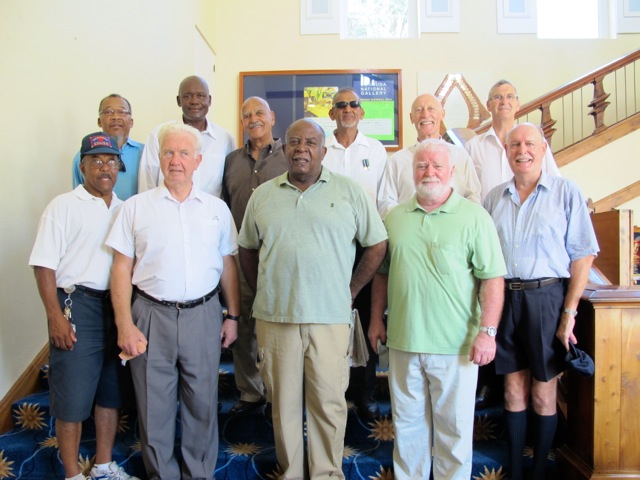 Old friends and colleagues gather at City Hall
(l-r) Top Row - Hiram Edwards, Stan Francis, Arthur Bean, Paul, Bob Porter, Rock Ironmonger
Bottom Row - Reese Bartley, John Dale, Wentworth Christopher, Bernie Pitman, Roger Kendall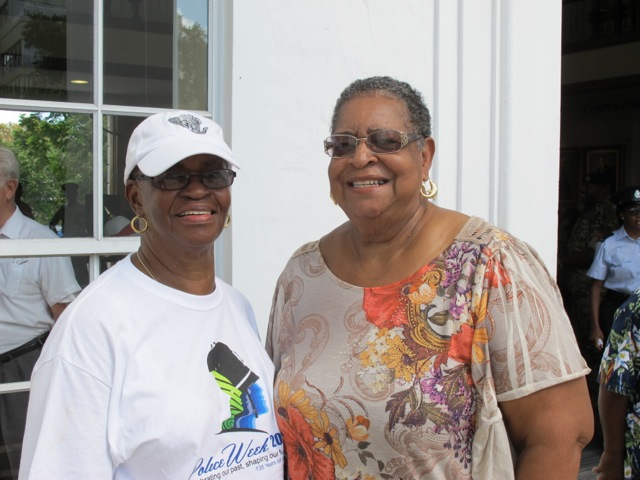 June Pitt and Coralee Trott in front of City Hall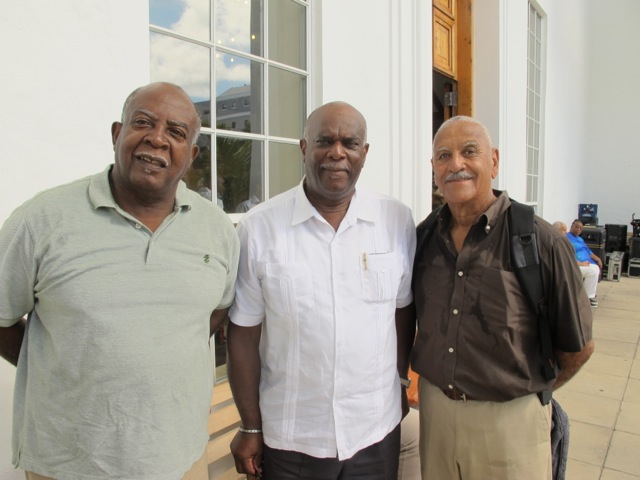 Wentworth Christopher, Fred Bean and Arthur Bean in front of City Hall
That evening we had the pleasure of attending a Retirement Celebration and BBQ for ex-staff. One of the retirees that the CoP presented was an ex-colleague Gerry Lyons who has actually had 2 stints with the BPS. Well done Gerry. The Commissioner made every one feel very welcome and a delicious BBQ Buffet and free bar was laid on. Old acquaintances were renewed, war stories abounded and the dark 'n' stormies flowed.
Thursday was Sports Day but as there was no ex-staff invitational races I declined to attend. Friday morning saw us assemble at Greenwich Lane Police Cemetery. I actually parked outside our old police house at 18 Alexander Road (see article on Alexander Road).
The event was reasonably well attended. Those known to me were Steve & Juanita Shaw, Dave Cook, Mr.& Mrs. Davie Kerr, John & Sheila Skinner, Jimmy Costello and Brian Malpas. The Bahamas Police Band again provided some moving pieces. Several dignitaries were in attendance and H.E., CoP and Roger Sherratt and various family members laid wreaths. The CoP read out a list of names of those of all those who had died while still in service, and a list of those retired and former officers who had died within the last 2 years. Particularly poignant were hearing the names of old drinking buddies, "Buster" Brown, "Stumpy Kirkham", Mick Cresswell etc. I regretted not having a Heineken bottle to leave on the Cenotaph in their honour.
As the occasion dictated we were drawn to the PRC to drink to the memory of departed colleagues and yet again a superb repast of fish and peas 'n 'rice etc was laid on.
Unfortunately, there were no tickets available to the Police Ball in the evening so we got together with old friends Rocky and Maureen Ironmonger for our own celebration.
Sadly as many know we had a visit from Tropical Storm Fay on Sunday which put paid to the finale, the Police Tattoo at the National Stadium. This was a little disappointing even more so to all those that had worked hard to organise the event.
Overall the events and the week were a wonderful and joyful time. It was great to meet up with Barbara Clarke who worked Parishes with Rocky and I. She looked stunning for 75 ! (Oops sorry Barbara) Another personal thrill was to see Clarke Minors, who I taught on Outward Bound and in the Cadets. Like me he is a Pastor now and he offered a pray at The Memorial Service.
A big thank you to all who made the week a huge success. The organisation and professionalism were first class and Commissioner Michael DeSilva was a most convivial host. A great week and some good memories to sustain me until the 150 years Celebrations!
PS. Apologies to anyone that I met that I haven't mentioned and to anyone reading this who I no doubt annoyed between 1970 and 1981.
Love you guys,
Cheers, Bob Porter (ex-PC310)
5th September
George Rose - We just received the following internet link to a great Bermuda promotional video. "Passage to Bermuda 1963" starring Jonathan Winters, from George Rose, who heard about it on the David Lopes morning talk show. The link is https://www.youtube.com/watch?v=1bDPRjbCElU
George wanted to know if we could identify two uniformed police officers who appear in the video which is 27 minutes in length. The first one is a Sergeant who appears at 8.42 minutes and the second officer appears after about 22.00 minutes.
Although this was made the year before I came to Bermuda I instantly recognized the Sergeant, and I am also certain about the identity of the Constable because of his most unusual gait! I wonder how many others can recognize them?
After receiving his email I asked George if he could let us know where he is and what he is doing these days, and he kindly sent us this note:-
" I'm well retired now at 70 - clearly a youngster to you Roger - and living out the seasons' on the Island (St David's) with my good wife Sandra of some 30 years who hails from Virginia, USA.
Of course, the secret to sustained living here is to leave as frequently as one can; and this we do whenever the fancy takes – always keeping in mind of course the length of time one can lawfully spend in foreign parts without paying a penalty.
I stay busy putting the finishing touches to a compilation of case histories I worked on during my career in CID and Narcotics. The things one forgets is really incredible unless duty diaries and pocket book entries are available to refresh ones memory. Press reports of the trials were abundant in those days of the late sixties; the seventies, eighties and nineties.
All those decades were exciting times to live and work through. Such reading should keep the grandchildren busy for hours I think, as they browse through the recorded histories and see how granddad worked - before they were ever born.
I also spend a few hours each week genealogically researching my Rose family ancestors. Being a born Englishman, as was my father and grandfather, I always thought I was of Anglo-Saxon ancestry but after DNA testing some years ago, it turned out that I belong to a cadet line of the Roses of Kilravock Castle, Nairnshire, Scotland.
Slow and detailed documentary research shows my line migrated out of the Highlands in 1840, probably as part of the ongoing social movement known as the Highland Clearances. I'm back to the mid-1700's presently around the time and place of the battle of Culloden which lies only some 10 miles or so from Kilravock.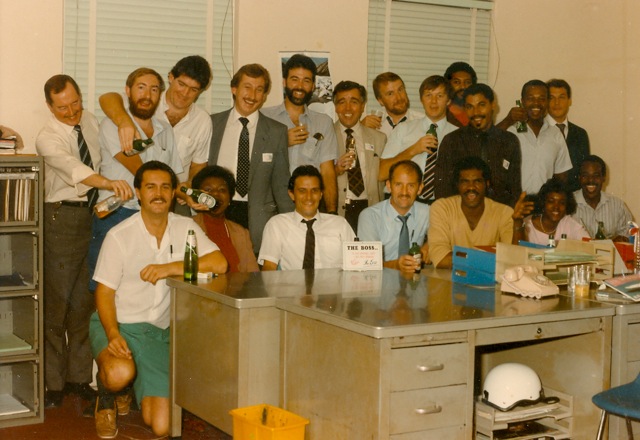 George with members of Central CID in 1985
For those who might remember my son Nick as a youngster, chalking on the blackboard on Saturday mornings in the Narcotics office, he has just turned 40, and lives outside Savannah, Georgia with his American wife Melissa and two daughters Sweeden and Irelynn. These days Nick travels the world as an International Captain with the Gulfstream Aerospace Corporation.
At .98 Mach it doesn't take him long to indulge the foreign cultures in places such as Russia, China, and Old Europe - as he calls it; the Middle East or South America. His adventures are at times difficult and tiring but highly rewarding nonetheless. He never forgets his Bermuda roots and savors the times when he can pilot one of the fastest private jets in the world to a wheels-down in Bermuda.
His sister, Natalie has recently returned from the Middle East to live in Bermuda with her new family. There's Charlie aged 4 and Maria aged 10 months. Natalie worked in Bermuda for a number of local and International companies before marrying in London to Justin who took her off to Dubai for five years. It was time to leave there however and we are glad they are now back in the arms of Bermuda.
Should anyone wish to contact Nick, Natalie or myself I'd be pleased for Roger to supply my email address. If I can help anyone with their genealogical pursuits, DNA or otherwise, I should be pleased to assist where I can. Best wishes and good luck to you all wherever you may be."
George.
28th August
Kevin Hardisty - Kevin just enjoyed a vacation in Bermuda, staying with friends, and he found time to join a group of his former colleagues up at the PRC during his visit. (See previous entry in this column dated 15th August).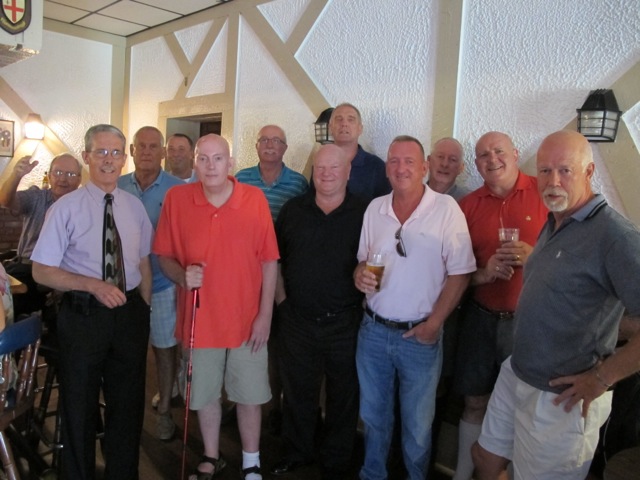 Kevin Hardisty meets up with old mates at the PRC
(l-r) Dave Lunn, Coggy Gibbons, Maurice "Moby" Pett, Keith Cassidy, Kevin Hardisty, Charlie Mooney,
Phil Taylor (lower level), Pete Shaw (upper level), Larry Fox, Norman Wilson, Alan Gorbutt, Mike Shaw.
25th August
Rex Osborne - We have just been in touch with Rex Osborne to help us settle an argument about whether he was one of the uniformed officers in a set of photos sent to us by Tony Laughton which were taken at the Commissioner's Sherry Party in 1976 with some of his MCPS buddies CLICK HERE for the article on Tony in our "Then and Now" column.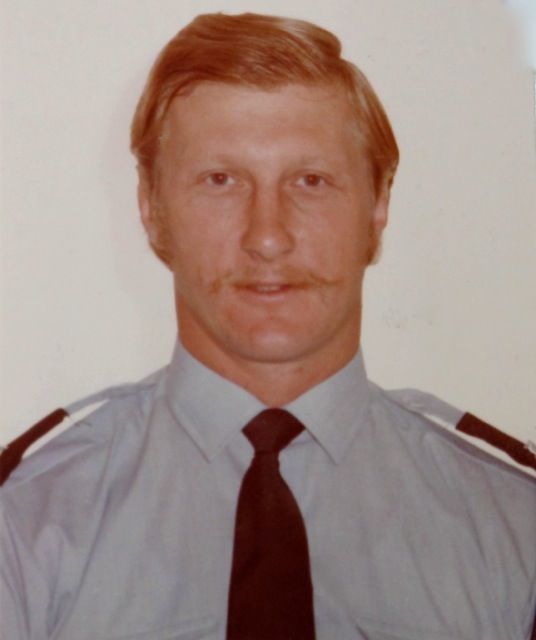 Young P.C. 197 Rex Osborne
Someone was sure that one blond haired officer with his back to the camera was Rex, and it certainly looked like him, but ever observant Davie Kerr was sure it couldn't be Rex because the number on his shoulder was not 197 which Davie assured us was the number worn by Rex as a PC.
Sure enough, Rex confirmed that there is nothing wrong with our Davie's memory.
We'd heard that Rex has been having some health issues, but he tells us that although he had to undergo several surgeries on his back and shoulder, he is now in much better shape. Rex clearly comes from good stock because has just returned from a trip to Victoria, BC, and then to Dursley in Gloucestershire where he and his wife, Pam, attended his mother's 100th birthday celebration. We gather that mum still plays scrabble.
20th August
Mick Hale - We heard from Mick Hale for the first time a few days ago when he wrote and asked to be included on our List of Colleagues for whom we have contact details. He says, "I only recently found out about the website and would love to have my name included on the ex members list. I served from 1970 till 1978 starting in Central/Hamilton and moving on to Motor Cycle Patrol Section where I spent most of my time. I'll try and do some remembering re others whom I came out with, though I think you've had a recent photo of our induction course, maybe from Bob Porritt. CLICK HERE for our "Then and Now" article from Bob Porritt which includes their 1970 Localisation Course photo. If you can help us to identify everyone in the photo please post your comments under Bob's article.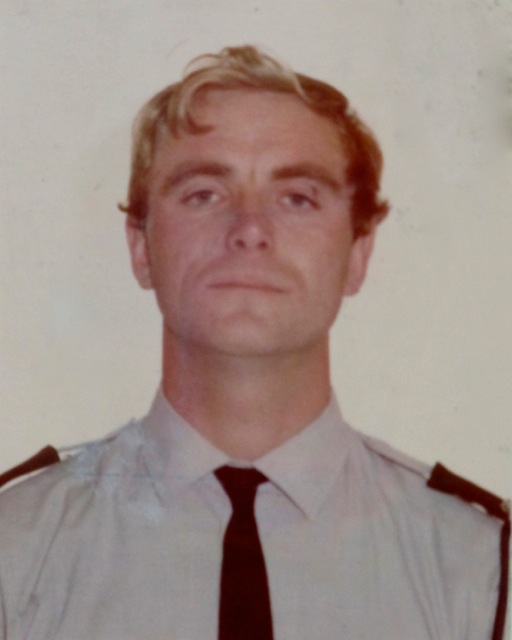 My brain don't work too quick these days due to a small tumor I have. But things are pretty good in England where I've been since leaving the island.
By coincidence we had also just received a set of photos from Tony Laughton taken at the New Years Day Sherry Party in 1975. CLICK HERE to view them in Tony's "Then and Now" article. There were a couple of guys in these photos who had their backs to the camera and we were trying to figure out who they were, and our "Memory Man", Davie Kerr was sure that one young blonde-headed PC was Mick Hale because of his Force number 288 so we contacted Mick and asked him to confirm (or deny) it was him.
Mick then wrote, "I did look at the photo's posted by Tony and I wouldn't recognise myself from behind but my good lady wife, Isabel, said Yes that's you. So there I was 288 that much I do remember and the unknown in the photo is now known - it is me!
I am on Facebook under Mike Hale (rather than Mick). I'm not well conversant with the medium but I have seen a couple of posts from Davie Kerr and am friended to both Davie and Bob Porritt.
Hope this can help you do a little more re connecting me.
My thanks
Mick
Editors note - Mick again mentioned that he had a small tumour which gives him some memory problems but we have asked him to write some more about his time in Bermuda and what he did after leaving the Island etc. He has promised to put something together for our "Then and Now" column.
18th August
Tim Shea makes contact with Clive Owen - We recently heard from Tim Shea who worked here in Bermuda with the U.S. Navy at the Naval Air Station from 1972-1974. He had just discovered our website after perusing a Facebook page called Navy NAS Bermuda where he happened to see a post from our good friend and colleague Territt (Terry) Cabral. He contacted Terry to enquire about two old friends from his Bermuda days, Clive and Jenny Owen, and Terry was able to let him know they had both recently visited Bermuda and that their visit was mentioned on our Bermuda Ex-Po website. Tim promptly contacted us and we put him in touch with Clive and Jenny. He has just written to us to say how delighted he is to make contact with his old friends and neighbours, and he also wrote a little about his time in Bermuda with the U.S. Navy. CLICK HERE for his letter in our Interesting Articles column.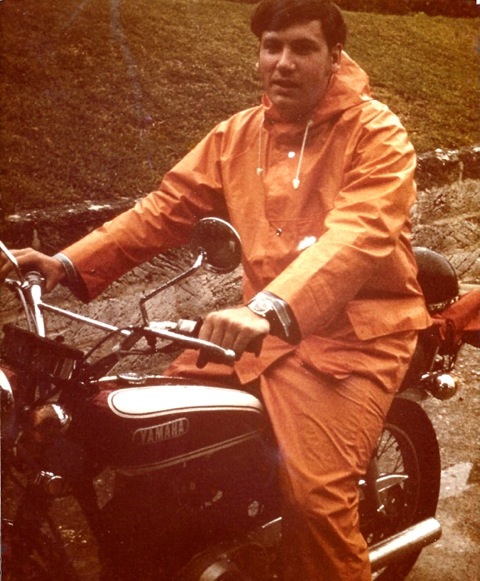 Young Tim Shea riding his Yamaha in Bermuda
15th August
Kevin Hardisty - We were pleased to hear recently from Kev Hardisty who served here from September 1984 – October 1989. Kevin came out in the same contingent as Craig Morfitt. CLICK HERE for Craig's article in our Then and Now column which includes a photo of their intake and references to Kevin.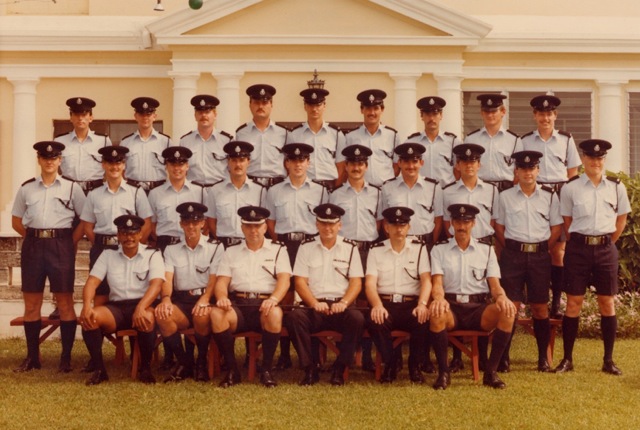 Localization Course, September 1984
T
op Row (l-r) Kev Hardisty, Stuart Pybus, Bill McKay, George Pearson, Nigel Brock,
Alex Watson,
Mick Rhodes, Pete Morgan, Craig Morfitt.
Centre - Steve Parkinson, Nigel Gyte, Dave Pascoe, Des Peters, Russ Matthews,
Neal Richardson,
Dave Arrowsmith, Chris Johnson,
Mike Grainger, Danny Matthews.
Bottom - Sinclair White (Instructor), Sgt Tony Smith (Instructor), Supt. George Garrod,
Deputy COP Clive Donald, Insp. Alan Bissell, Sgt Jeff Payne (Instructor).
Kevin left Bermuda after being diagnosed with a brain tumour for which he received successful treatment in the UK. Sadly, he had his contract terminated for being disabled for which he sued the Bermuda Government, and after many years of legal wrangling the case was settled out of court when he was paid a full years salary.
Kevin has written to say that since leaving Bermuda he has drifted from one insurance position to another never being fully employed as no-one wanted to employ a disabled person despite all the laws to the contrary, He eventually became self employed and after spending all his savings (on scams) he is now a published author.
He has just written to say, "I will be in Bermuda later this month, from 23rd -30th August and as you can appreciate with only being on the Island for a week there are many people I want to see and them me.
I am in contact with more people from my days in Bermuda than I am in the UK. I got into writing after a very smart young lady bought me a 'HOW TO WRITE NOVELS' software programme as a gift for Christmas one year and I published it in 1998; it is called ' The Mystic Circle and should be available on the Amazon website at £5.99 or cheaper I will personally sign any purchased if available.
I have continued with my writing but have altered my genre somewhat. They say you should write about what you know, so I have started to write about crime and I have invented a character, calling him Frank Blood. He completed 22 years as a Royal Marines Commando and served in the elite Special Boat Service. So far he has solved more crimes than you can shake a stick at. I intend to publish them on Amazon through Kindle. I lost a shed load on my first book as being naive I went with the first publisher to approve my novel and it cost me dearly."
We have written to Kevin to suggest that he visit the PRC on Thursday around 5pm on 28th August, at which time he can hopefully meet up with some of his old colleagues over a beer, or two.
We also have his home address and the address and telephone number where he is staying while in Bermuda. If anyone wishes to contact him directly please contact us through This email address is being protected from spambots. You need JavaScript enabled to view it.
6th August
Dave Garland and John Van de Weg - Dave Garland has been suffering with acid reflux (Gastro-oesophageal reflux disease) for some time and recently had exploratory surgery which confirmed the diagnosis, and fortunately nothing more serious. Dave is still as active as ever and still gets out on the golf course at every opportunity, including the Bermuda Senior Golfers Association, but he has to watch his diet carefully. I wonder just how many young constables have arrived in Bermuda knowing no-one and who have quickly been invited over to Dave and Sue Garland's for delicious home cooking and good company. That surely applies to many of those who hailed from Yorkshire. (CLICK HERE for recollections of life on Alexandra Road, Prospect, by Dave.)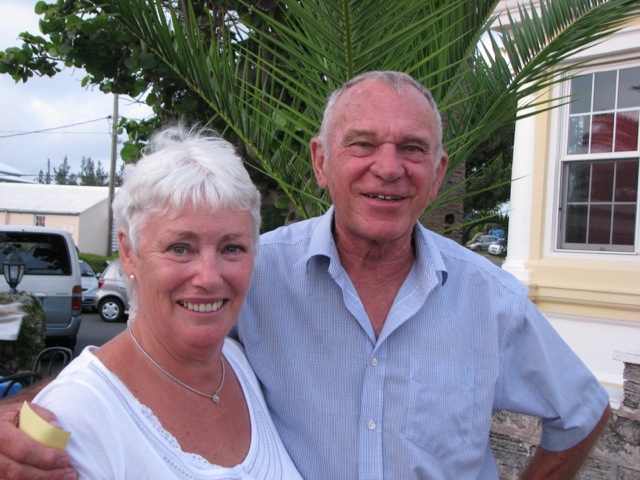 Perrenial Hosts - Dave and Sue Garland
Typical of Dave, he is always thinking of others and is a regular visitor to John Van de Weg – another Yorkshireman. Dave recently explained, "I always feel better after visiting John at his home. As we all know John suffered a serious medical problem after a flu injection many years ago. He is still mobile with his walker and always upbeat. As a Yorkshireman I wouldn't expect anything else! At the moment he has exhausted my rugby film collection and I now have him watching horse racing. This goes down well with Rachel, his daughter, who is currently at "home" recovering from serious injuries after a fall from a horse!
John loves watching and talking cricket of which I have a good supply of books to keep him occupied, especially those about Yorkshire cricket. He's currently on his favorite and mine, the sublime opener, Sir Len Hutton.
Ron Beech regularly visits him also, and Mary, his devoted bride, has a tough job on her hands but handles it all with, patience and kindness.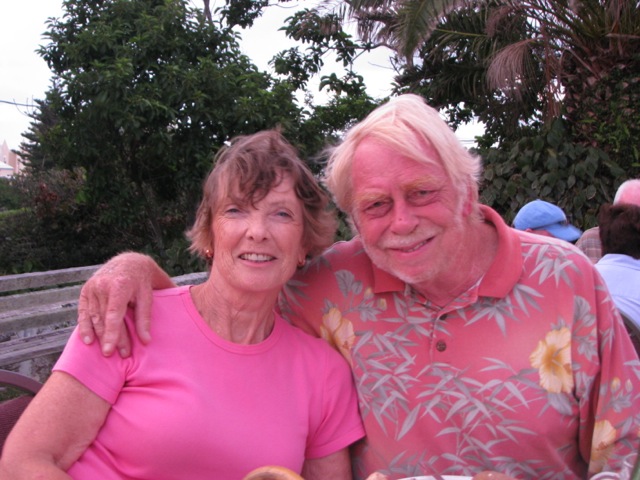 Mary and John Van de Weg attending one of our BBQ's on the PRC patio
John is always glad to see old police friends and have a chat and laugh about older days."
Dave Garland.
Editors note - If you would like to contact John directly we can let you have both his phone number and his email address. Just write to us at This email address is being protected from spambots. You need JavaScript enabled to view it.
5th August
Ray Sousa - We had asked Ray Sousa, who had written to us about our article in this year's Cup Match weekend, to let us know what he and his family were doing over the Cup Match holiday, and he wrote the following:-
We received the following from Ray Sousa who wrote the following about his activities over the Cup Match holidays..
"I can confirm that the Sousa family supported St. Georges for generations. My father also supported St. David's, Flatts, and Bailey's Bay counties; depending who was winning. My grandfather Alfred Sousa did a lot of farming in those areas, particularly growing Easter Lilies for export. My father Archie, did a lot of volunteer constructing and improving cricket ovals for the teams using heavy equipment.
Pat's family also supported St. Georges, but not for any particular reason.
Reference the weather here in Western Australia, it is near perfect for winter. Temperature at night about 10 degrees celsius [ 50 degrees F ] , sunny days early 20 degrees C [ 70s F].
Reference what I am doing/did during Cup Match weekend; the same as other days. Ensure "Muffy" the dog gets her 40 minutes walk a day, work around the house, volunteer work with St. Vincent de Paul Society, Knights of the Southern Cross, and the local Emergency Support Group. We are gearing up for summer's Bush Fire and Cyclone Seasons. When an emergency occurs, I manage the Support Group at Command Centres [Radios, mapping, scribing, security etc] ; that is coordinating people in the field.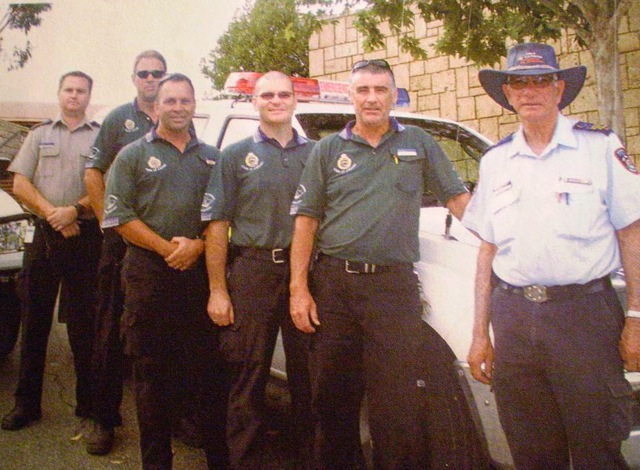 Although now retired it's a case of "Once a Ranger always a Ranger for Ray"
This year injuries have slowed me down a bit; but not stopped me. I started the year of with an infected tooth that required an operation. At Easter I did a hamstring, and whilst pulling myself up tore the muscle in my right arm which is causing a lot of pain, and limited movement. I am waiting to see a specialist, but am likely to need an operation. As you can see I am enjoying old age.
All the best,
RAY
Dr. Valerie James - We are sad to report that Dr. Valerie James who was our Police doctor for many years has just passed away after a long illness. Valerie went into private practice here in Bermuda after leaving Government's Health Department. She was an excellent doctor who did a great job caring for the Police and Prison officers etc. Her obituary notice can be found in today's Royal Gazette (CLICK HERE to view it)
Tony Laughton and Steve Rollin - We just received an email from Tony Laughton bringing us up to date on several things include John Wild's funeral, and the fact that Steve Rollin is making a good recovery from his surgery.
Tony wrote:- I have just been in touch with John Wild's daughter Becky and asked her if there was another email contact for her and family, to pass on to you. She's said that anyone can continue to use the one I gave you in my last message. (Editors note - if anyone wants to contact Becky we can supply her email through This email address is being protected from spambots. You need JavaScript enabled to view it.)
John's funeral is this Thursday 7th August, at Northwich, Cheshire, but very regretfully I cannot attend.
I have only just read 'Latest news from Home and Abroad 2014', with the mention of Steve Rollin and asking for latest news. I don't know if anyone else has been in touch but here goes: Steve lives about 20 miles from me in Nottingham (I'm just south of Chesterfield, Derbyshire) and we see each other about twice a month, socially and for walks.
He has indeed recovered well from major heart surgery and delighted himself when, a couple of months ago, we walked for about 1 hour along the banks of the River Trent near Nottingham. I have attached a pic. taken only last week of Steve (on the right) with me, at a Matlock, Derbyshire, steam train day.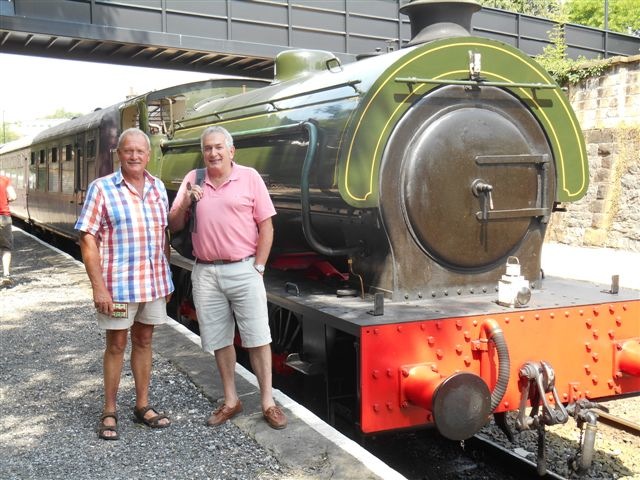 Best wishes, Tony Laughton.
Tony has also promised to start digging out some pics of his Bermuda days. The first ones will one of B watch, Traffic, and Gerry Harmer's Wedding. Watch this space.....
29th July
Davie Kerr and Ian Graham - News from Scotland - Ian Graham's home is ideally located for the Commonwealth Games presently going on in Glasgow, and he and Maggie were delighted to host Davie and Jean Kerr, along with Sue Wale who many of our colleagues will remember was Maggie's former nursing partner in the Emergency Department at KEMH.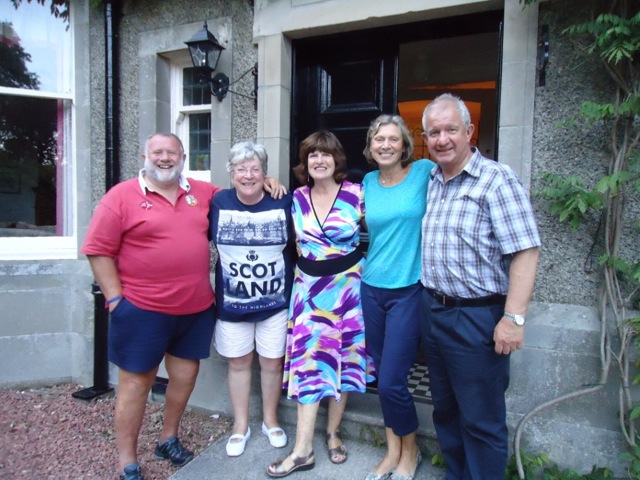 A Bermuda gathering in Glasgow
(l-r) Davie and Jean Kerr, Sue Wale, Maggie and Ian Graham
We hear that Davie and Jean went to see the hockey yesterday, and were joined in the morning session by the Earl and Countess of Wessex (Prince Edward), and in the afternoon session by the Duke and Duchess of Cambridge aka "Wills and Kate".
According to Davie, "We did wave to the Royals, but were not suitably acknowledged: however, in their defence, we were directly opposite them across the pitch, and they maybe didn't pick out our particular waves among all the others!"
Davie also reported that he and Jean "had a BRILLIANT day at the CG hockey: 4 games, 2 Scottish wins, 18 goals, God knows how many saves, and a sun-tan for good measure!
Needless to say, Davie was most grateful to Ian and Maggie for their hospitality.
Davie has advised us that he and Jean are coming to Bermuda from 24th September to 5th November, and will be housesitting for John & Sandra Barnett. Jean has never been to Bermuda before, but is really looking forward to attaching faces to names and places while they are here, and to meeting some of Davie's old mates. Davie says he may even dare to take her up to the PRC one Thursday evening! (For anyone not aware of it, Davie does not consume alcohol, but we will speak to the manager about stocking a few Mars bars for the occasion!
28th July
John Riordan - We heard yesterday from former P.C. John Riordan who wrote, " Only just found out about this website. I too recognise Dave Walker. I was PC 486 in Bermuda for a short period in 1974 and played football alongside Dave in the Police team and remember well the coaching course we attended. The instructor was the Bermuda National Coach, I think he was called Jones. Dave and I were used as guinea pigs in many of the exercises. Still have sore heels to this day, Dave! Would be great to get in touch
Editors note - John was referring to the photo in this week's Who, Where and When column (CLICK HERE) to view it We have also featured Dave in our "Then and Now" column (CLICK HERE) to view.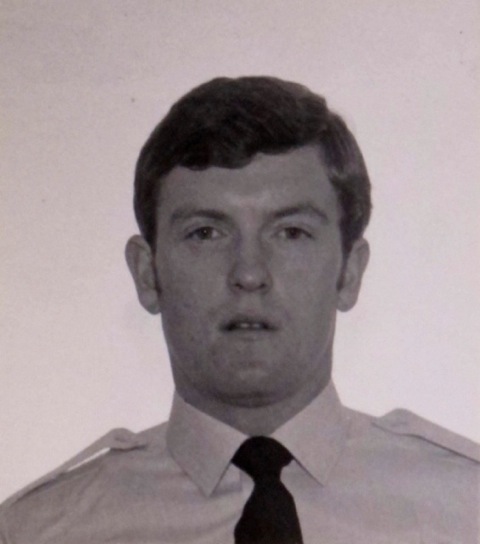 Great to reminisce and would love to hear from anyone who remembers me.
Editors note - We have put John in touch with Dave Walker, and we are always more than willing to put any former officers in touch with each other. If you happen to be checking our website just go to the List of Former Colleagues which provides a list of all those former officers for whom we have contact details.
Geoffrey Hunt - We just heard from Geoff who tells us that he's being forced to wear shorts – not a common practice in the UK - due to the persistent good weather, and it reminded him of having his first pair of Bermuda shorts, green and white check, being tailored by Mr. Carty in his shop next to the Police barracks at Prospect "amid many ribald remarks about measuring leg length!" Geoff asked what happened to Mr. Carty.
To the best of our knowledge Mr. Carty continued to work at Prospect as the Force tailor for quite a few years before retiring. He lived in a small house on Happy Valley Road near to Tumbridge's store, and he passed away quite a few years ago. Mr. Carty had a very strong West Indian accent and also spoke very quickly, making him quite hard to understand at the best of times! He passed away a few years ago while still living here in Bermuda and we tried to find out a little more about him, where he came from and what brought him to Bermuda, but to no avail. He may well have worked for the British Army at Prospect until the Army withdrew and their buildings were taken over by the Police. If anyone has any more information about "Carty" please let us know.
Geoff also advised us that his wife Olive has not been well. He says, "She has been diagnosed with Polycythaemia Vera - a rare blood cancer which can lead to Leukemia if not treated - which it is - and can lead to clotting and strokes - which it has! However, Olive is making progress, albeit slowly, and we clearly have a long haul ahead of us before she fully recovers - which we are assured she will! In the meantime life is generally on hold."
All of us who knew Geoff and Olive wish her the very best and a full recovery even it is slowly.
Paul Stedman - Touching base from Cornwall. Paul Stedman has written to say, "I served in Bermuda from 1984 to 1986. Pc 423. I was stationed at St Georges. Great few years.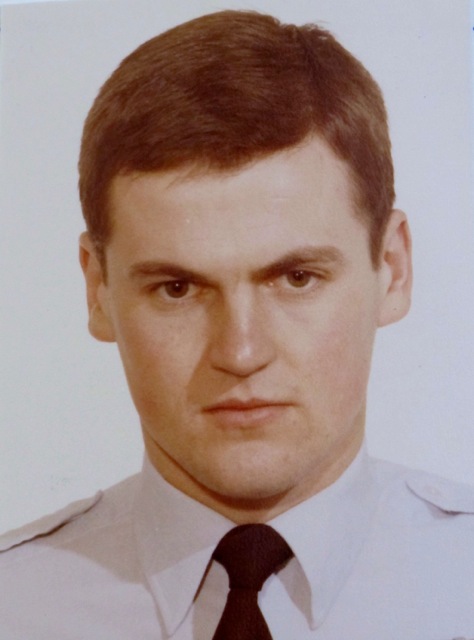 Returned to UK to West Mercia Police and retired two years ago. Now run a Bed and Breakfast in Sunny Cornwall.
Could you add me to contact list please. Hi to anyone who remembers me. Ronnie Boggan and Steve Dunleavy were my two Sergeants.
Stephen (Steve) Smith - We were delighted to receive the following information from former P.C. Steve Smith through our website:-
I'd like to add my name to the list of former Bermuda Police PCs, having served as PC233 in 1982-83 - in fact I was in the intake of the recently retired PC Kevin Knights and Deputy Commissioner Mike Jackman! Looking at your website brought back many happy memories and it certainly doesn't seem like 32 years since I joined, and though there only a short time I made some life-long friends.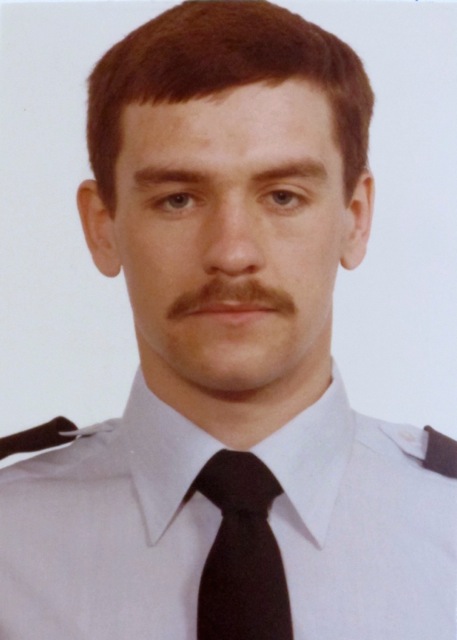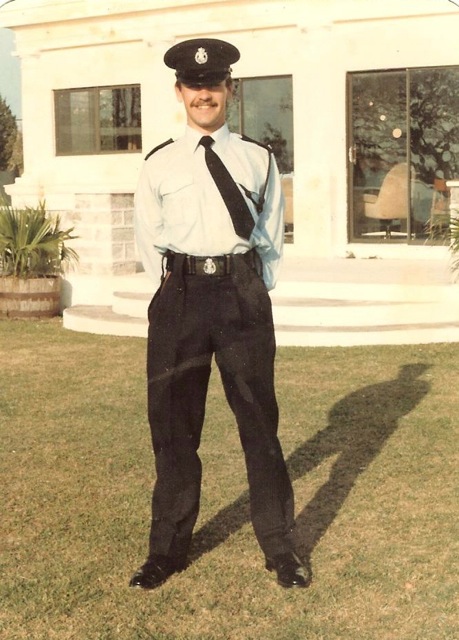 Young P.C. Steve Smith outside the Police Recreation
Club during Basic Training Course in 1982
On leaving Bermuda I returned to the UK for a year and worked in IT (as I had done before Bermuda) then joined the Royal Hong Kong Police for 3 years as an Inspector, serving in the Marine Police in command of a patrol boat, and also as an EOD officer and staff officer at the Marine Police HQ.
I married in 1987 and returned to the UK, taking up employment once more in IT, and becoming self-employed in 1995. I also served as a reservist in the Royal Auxiliary Air Force between 1989 and 1999, and transferred to the Royal Naval Reserve in 2000, in which I still serve. I'm currently on my third period of mobilisation with the Royal Navy (the previous two being in Bahrain in 2008 and 2009), and have been serving as a regular naval officer since June last year at the Headquarters of the EU Naval Force for Somalia Counter-Piracy mission but finish in September, when I hope to return to IT freelance work.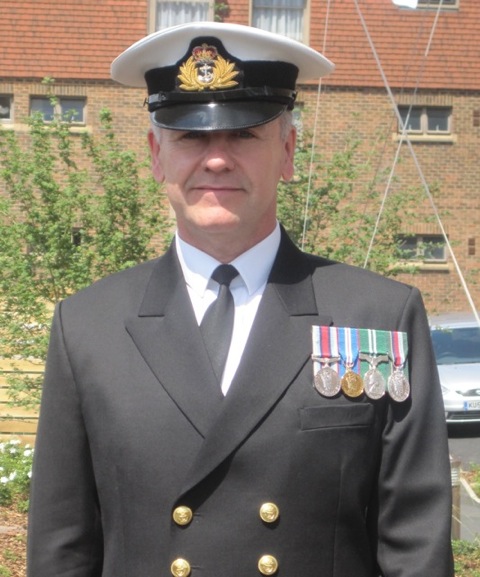 Steve in Royal Navy Reserve uniform
at HMS Wildfire, Northwood HQ in March 2013
I live in north Buckinghamsire with my wife and two children and if anyone wishes to contact me I would be happy to hear from them. (Steve has provided his email address which we can supply to anyone who wants to contact him)
I don't have many Bermuda or Hong Kong photos on my computer but have attached a few for your records.
I will endeavour to follow the updates on your website as and when I can but in the meantime, keep up the good work! It's a great place to keep in touch and remember the good times gone by, and when I have more time I will put pen to paper (or fingers to keyboard) and try to expand on the above for your 'Then and Now' feature.
23rd July
Richard Coulthard - Richard (Dick) Coulthard recently sent us this photo of himself in uniform along with his three children which was taken at his son's graduation into the South Australian Police Academy. It's clear that Richard's children have all inherited his penchant for wearing uniform - as seen here - with son Aidan who was graduating, along with daughter Emma (centre) proudly wearing the uniform of the Australian Air Force where she is a Sergeant, and Claudia (right) who is a Senior Constable in the South Australia Police and is married to a fellow police officer.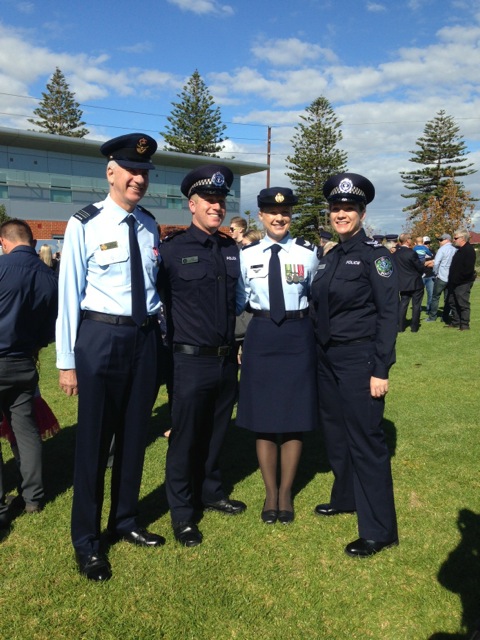 Richard with son Aidan, and daughters Emma and Claudia
taken at Aidan graduation from the South Australian Police Academy
Needless to say, Richard says it was a very proud day for him and Jenny.
Richard says he is still enjoying our website and catching up with the happenings of his old friends and colleagues.
17th July
Clive Owen - Our most recent overseas visitors to the PRC were Clive and Jenny Owen and their daughter Christie, who were enjoying a holiday in Bermuda. They were delighted to meet up with old friends at Prospect.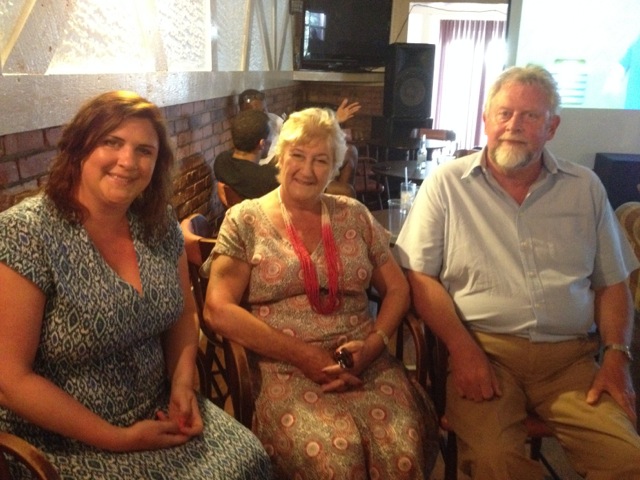 Clive Owen with his wife Jenny and their daughter Christie
pay a visit to the PRC at Prospect where Clive met up with old mates
Clive joined the Bermuda Police in June 1971, and he vividly remembers that whilst queuing up at Heathrow he was standing behind John Lennon in the queue.
Clive says, "We were met at Bermuda airport by chief Inspector Dave Parsons in a white transit van who immediately took us to Prospect Police Club where he explained the vital process of signing chits and paying your bar bill at the end of the month (It's important to get one's priorities right!)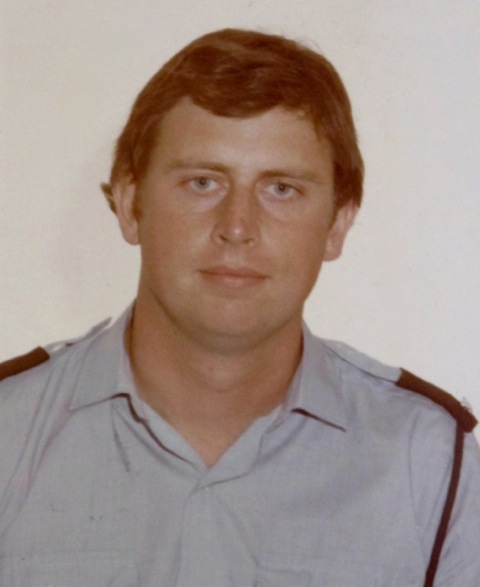 Young P.C. Clive Owen in 1971
I was first posted to Hamilton on uniform patrol duties and discovered the joys of the 'birdcage' and the occasional excitement of patrolling Court Street whilst dodging flying beer bottles.
After a spell on the Motorcycle Section riding those lovely Triumph twins. Especially vivid is my initial motorcycle test when Inspector Ernie Moniz said, ''See if you can keep up with me'' as he blasted off up the road!
After a serious memory loss about a magistrate's court date - I was on a rest day and forgot all about it - I was posted to Eastern Division as a punishment (Please don't throw me into the briar patch!]
This was the best part of my service, especially being the St. David's Parish Constable and getting to know the locals who were, and are, lovely people.
I met my wife in Bermuda and our daughter Christie was born there in 1974. We lived fairly near to John Smith's Bay which I was pleased to see is still as unspoiled as ever. We had a very full social life in Bermuda and both have many happy memories.
I returned to the UK in late 1978, joined West Mercia Constabulary and was posted to Worcester. I retired in 2007 and then did some teaching at Worcester University, having received my Doctorate in Law from the University of Warwick some years earlier.
I live in Worcestershire between Worcester and Stratford upon Avon. It was great catching up with old friends and colleagues [Doc Hall even recognised me!] I would also like to thank Dave Cook who did a splendid piece of detective work in tracking us down in Bermuda, particularly as he had not been given our address and looked after us very well.
16th July - Reese Bartley, Patrick Hamlett and Dave Cook - Reese, Pat and Dave were caught in action at the PRC bar earlier this week catching up on "wos happnin"!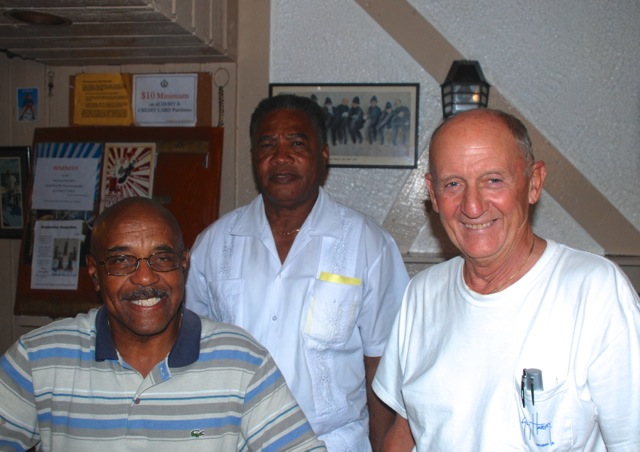 (l-r) Reese Bartley, Pat Hamlett and Dave Cook at the PRC
Since his retirement from the Police, Reese has worked as a carpenter/handyman and has been the Maintenance Superintendent at Craig Appin House on Wesley Street for the last 9 years. He is still active on our Ex-Police Officers Association and is our Vice President. (CLICK HERE for more information about Reese in our Committee file).
Pat joined the Bermuda Police from St Vincent back in 1969 and anyone who knows him will know that he spent most of his career in CID and Narcotics where he excelled. Pat was also seen occasionally in uniform in Central and Eastern Divisions. He has worked for some years now for the Bermuda Credit Association and says it is busier than ever due to the prolonged recession. As always, this popular St. Vincentian, who was also an active sportsman, playing both cricket and rugby, is never at a loss for words!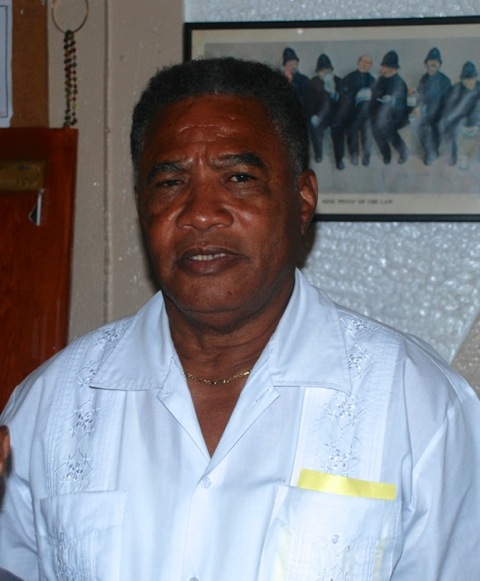 Pat Hamlett
Dave Cook is another of our retirees who joined in the 1960's. After retirement Dave worked for some years in security at the Bank of Butterfield and went on to become Head of Securityat the bank before his second retirement. Dave has also been a very active member of our Committee having held the position of Secretary for several years (CLICK HERE for more information about Dave in our Committee file) . He stepped aside earlier this year to make way for our new Secretary, Gail Correira, but has kindly agreed to remain on the Committee for the near future.
12th July - John Headey's "Royal" daughter meet Royalty - We recently heard from our former colleague John Headey who worked out of St. George's Police Station in the early 1970's about a "Royal Meeting" between Queen Cersei and Queen Elizabeth!
You may recall that we wrote an article about John and his wife Susan in our Latest News 2012 column - scroll down to the entry dated 31st March). Their daughter, Lena was born here and surely no-one could ever have imagined then that after the family left Bermuda and returned to the UK young Lena would go on to become an internationally famed and beautiful actress who currently stars as Queen Cersei Lannister in the very popular HBO series, Game of Thrones.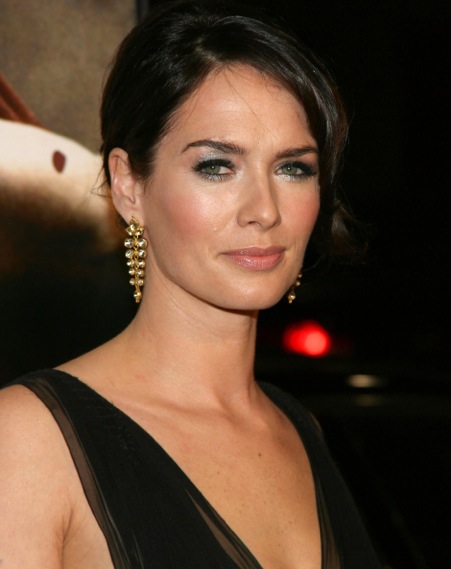 When we last heard from John a couple of weeks ago Lena was visiting her parents in Yorkshire, along with her son Wylie, after spending the previous two days in Belfast. Although she was in Belfast for final preparations for the filming of the 6th - and possibly final - series of Game of Thrones, Queen Cersei was thrilled when The Queen and Prince Philip visited the main set in Belfast. The Royal visit was covered by the Daily Mail (CLICK HERE for the article) and the article includes several shots of Lena and other cast members with the Royal visitors. Lena admitted to being nervous but said that Her Majesty was simply charming, commenting that the (Iron) Throne 'looked very uncomfortable'.
John informs us that filming starts at the end of July and his family is planning a holiday before then, although he is not at liberty to divulge the destination because Lena now tends to get recognised wherever she goes, so a little diplomacy is necessary to avoid fans and the press. John actually wondered whether it was him who was attracting the crowds - but we think not!
John adds, "Susan and I remain in reasonable health, although a few weeks with our 4 year old grandson may have some effect on that!
"Our regards to all old colleagues and friends, and our best wishes particularly, to Peter Stubbs.
A footnote to regular contributor Terry Cabral.....do you remember our win on the Football Pools?. I still have the Rolex I bought with the proceeds."
Editors note - Bernews also published an excellent article (CLICK HERE to view it) about Lena and her connection with Bermuda on 29th March 2012. You may also find the above article in our Latest News column, but we felt it was so interesting that we also published in this column.
7th June
Sick and Injured List – We have recently had quite a few former colleagues on our sick or injured list and want to bring you up to date on their condition wherever possible. They include the following –
Peter Stubbs - Retired Chief Inspector Stubbs has had his share of health issues during the past few years which has forced him to very reluctantly give up his golf. As former President of both Riddell's Bay and the Bermuda Senior Golfer's Association that has been a bitter pill to swallow for Peter.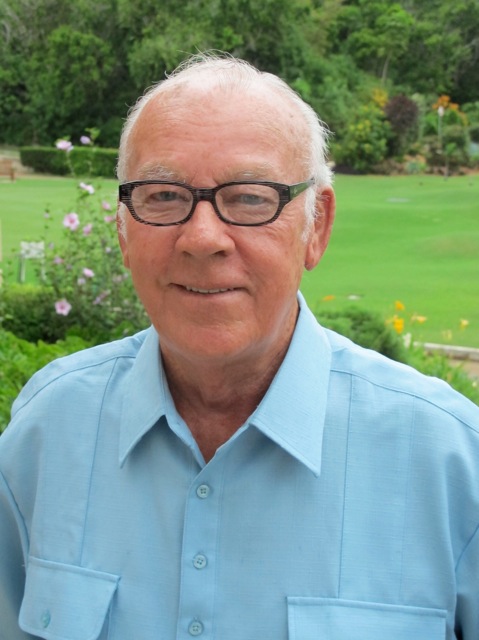 Peter Stubbs
In 2012 he had a successful hip replacement and he is currently having a series of epidurals on his spine to be followed by an operation in August to treat spinal stenosis.
However, he still manages to get out and is in otherwise good spirits.
Bill Butterworth - Bill has been out of action on the golf course for a while with a knee problem but had knee replacement in April, and played his first round post surgery with Mike Shaw earlier this week. Bill is looking quite slim and trim having shed quite a few pounds.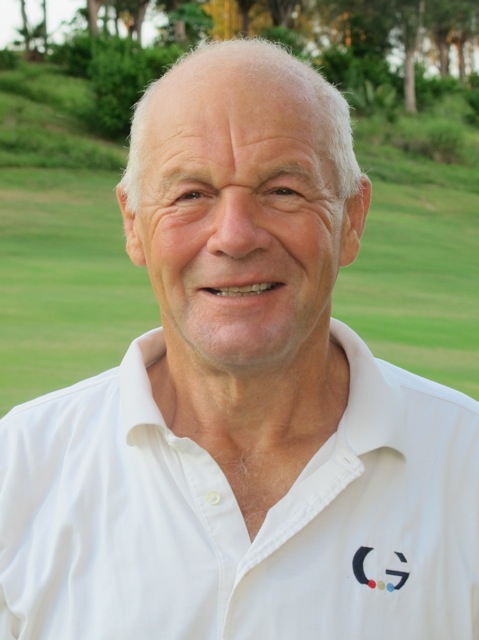 Bill Butterworth
Howard Cutts - we hear that Howard Cutts recently underwent a triple bi-pass and is now on the road to recovery, so much so that he says he will soon back out on the golf course.
Pete Shaw - had some concerns a few months ago and underwent a series of tests. He has been pronounced in fairly good health but has been recommended to give up the booze. That in itself is serious to Pete!
Inspector Hubert Simmons - Hubert has had ongoing health issues, and has been staying in the Continuing Care Unit at KEMH for several years. Hubert is one of our oldest Police pensioner. Born on 25th February 1925, he joined the Police on 1st June 1950.
Arthur Rose - Arthur is our oldest pensioner. Born on 27th March 1924, he joined the Force on 23rd April 1951. Arthur lives in the UK with his sister who takes excellent care of him. Although mostly confined to the house he still takes a great interest in all sports and was no doubt delighted when Arsenal finished in the top four last season.
20th May
Phil Scott - We recently heard from former P.C. Joseph "Phil" Scott who wrote to our website on 14th May asking for his name to be added to our List of Former Colleagues which we were pleased to do.
Phil wrote that he loved Bermuda from the day he arrived and that "leaving was probably a big mistake"!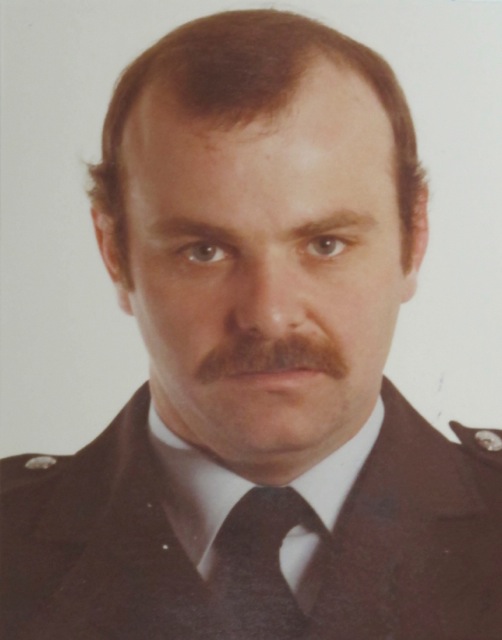 \
Young P.C. Phil Scott
Phil has now written to say, "Bermuda was a wonderful place to live and I have many fond memories. Being stationed at St. George's from February 1981 to February 1983, I resided above the social club in the Police Barracks, which was most convenient. I alternated between uniform patrol and C.A.T. duties. Gary Venning and I were members of the same 1981 UK intake. The jovial Arthur Bean was my Sergeant, and the formidable Marjorie Amos a patrol partner.
Other names not on your list also spring to mind. After returning to England I left the Police and became a member of the National Association of Retired Police Officers (NARPO). I studied full-time at University to postgraduate level and ended up working as a Town Clerk. I am still a bachelor therefore unable to send a family photo
Keep up the good work.
We have asked Phil to send us a fairly recent photo.
12th May
Jann Pearce - We have just heard from Jann Pearce who served in the BPS from March 1972 to January 1993 and spent much of his police career in the Police Garage servicing motor cycles. Jann found our website a year ago and says he's found it fascinating to stay in touch with a very interesting part of his life, but rather depressing to see how many people he worked with have since passed on.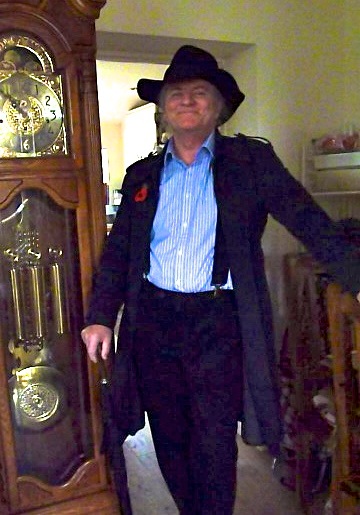 Jann heading off recently to a soirée at the Tate in London
We have had some recent comments about Jann's correct name, particularly after we posted the photo of "Fifty six men in uniform" in our Who, Where and When column. CLICK HERE for the photo. The constable numbered 54 on the photo was said to be Jan (misspelled) and then Jann, only to have Wayne Robinson write and tell us that it should be Ian not Jann. Wayne pointed out that Ian Pearce had been on his initial Training Course in 1972 so he was sure of the name. CLICK HERE for an article on Wayne in our "Then and Now" column which includes a photo of their training school group.
We asked Jann to help us clear up the confusion which he has done as follows:- He was born Ian Pearce and had his name changed by deed poll to Jann Pearce in 1973 due to some family issues. Just to complicate matters even further he changed his name again in 1999 to Willow Moon, although he is writing to us using the name Jann Pearce. And would you believe it, when Jann left the Force and was given a retirement gift his name was spelt Pierce instead of Pearce!
As those of us who worked with Jann will know, he had some major health issues necessitating a large amount of brain surgery. As a result he was given a medical discharge after which he and his wife Anne (nee Doe) moved to England and lived in Newlyn, Penzance, for the next 7 years where Jann was "mainly treading farmers fields and shooting pests."
He and Anne returned to Bermuda in 2000 as Anne's father, Maurice Doe, was in failing health and needed full-time care.
Jann and Anne left Bermuda again in 2010 and have lived since then in Ashford, Kent, in an early Victorian gate-house in a closed cemetery which Jann describes as "very peaceful"! They enjoy repairing in-period old Victorian houses and have just bought another one in Ash near Canterbury. They do lots of photography for restaurants.
Unfortunately, Jann still has his health issues with poor balance and one-sided weakness from his 1990 surgery.
We send our best wishes to Jann and Anne.
Jann's favourite quote –
" I regard the earth as a courageous global experiment that failed". QUENTIN CRISP
22nd April
Alexander "Sandy" Duncan - We just received the sad news that Alex "Sandy" Duncan died in Arizona on 17th April after a prolonged illness. CLICK HERE for more information under our Latest News column.
Chris Fludgate - A few days ago we received an email from Daniel Fludgate, the son of Chris Fludgate who served in the Bermuda Police from 1963 - 1966. Daniel had just discovered our website and wondered if we could possibly provide him with any information about his father during the time he worked in Bermuda.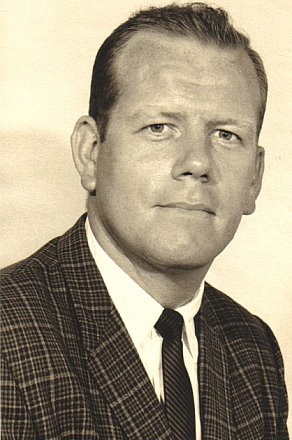 Young P.C. Chris Fludgate
CLICK HERE for an article in our Hall of Fame about Chris based on the information and photos supplied by Daniel together with some information from the Police Register at Prospect. Sadly, we have to report that Chris, who was serving in the Thamses Valley Police as a Detective Inspector, died suddenly in 1992. It would be most appreciated if anyone who worked alongside Chris could provide any additional information about him in the comments section below the Hall of Fame article.
28th March
Mike "Cool Cat" Caulkett - Knowing that Mike Caulkett is an avid cricket fan I wrote to him a few days ago after England's stunning win against Sri Lanka in the World 20/20 competition and after commenting on the victory he wrote the following:-
"I was doing OK health wise until a couple of weeks ago. An ex colleague and friend for over 50 years had bought on EBay a double concrete section garage from someone in Sidcup, Kent, to dismantle there and re-erect at his home in Horsham. He needed some help to dismantle the bloody thing and all his golf buddies, who see him much more regularly than me, were not offering their services, so I offered to go up to Kent with him.
The garage had a corrugated asbestos type roof, (but not asbestos) and I started removing the bolts so that the sections could be removed. I was up on the roof, that is, until the roof suddenly gave way and I crashed to the concrete floor some nine feet below. I landed heavily on my lower back before my head was thrown back violently into the concrete. I didn't lose consciousness but knew I had taken a very bad fall. The incident was witnessed and the young chap selling the garage was excellent. It was established that I could move my legs and was still lucid but it was obvious from those present that something else was of concern as there was a fair bit of blood around. It would seem there was a serious wound in the top of my head caused by my head catching something sharp on the way down.
Ambulance arrived and I was taken to hospital where it took the doctor well over an hour to insert 18 stitches. I was checked out and it was decided that I probably hadn't broken anything. I was given a sheet of 'head injury' advice and discharged.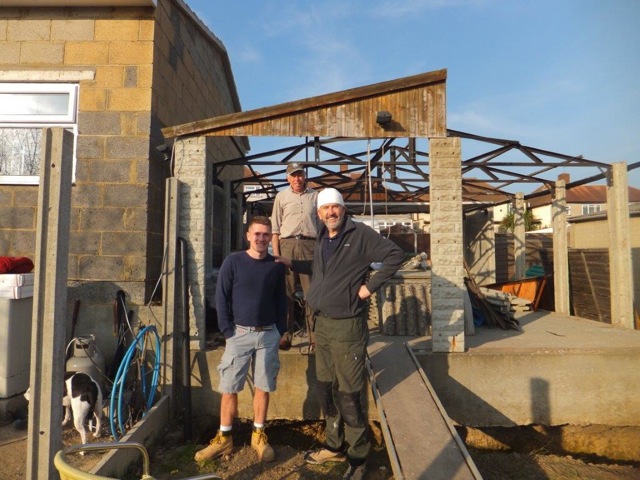 Mike (wearing white bandage) at the scene of the accident after discharge from hospital
I was very lucky, I could have been paralysed, brain injured or worse! I have been further examined by my GP who confirmed nothing broken in my pelvic area and he said I must have strong bones. Considering the original injury to my head it has healed very well and the nurse who removed the stitches said this must be down to a good diet which she says makes all the difference in the healing process. I have Jill to thank for that. Just on two weeks later the only problem I have is pain in the back of the thigh on my right leg. Very strange."
Editors note - Mike sent a photo of his head injury but we considered it too darned gruesome to publish! Perhaps there are a couple of lessons to be learned from this tale of woe. The first is that we over 70's should stay the heck off ladders and roofs. The second is that a good diet makes all the difference in the healing process. We hope that Mike makes a complete recovery.
Not to be outdone, the West Indies also had a superb victory against Australia earlier today. For the information of our colleagues abroad, we are able to watch all the matches live on our local Cable channel 22.
28th March
John McQuaid - After posting the photo of the "hospital gang" below we received an email from John McQuaid who commented on the fact that Marjie Barber is obviously keeping Dave's vests nice and white, and wondered if she washed them in Tide or by hand in the waters of Harman's Bay!
John is hoping that Dave and Marjie are keeping his old cottage, now occupied by the Barbers, "up to scratch". He sent us the following photos of the cottage after John had rescued it from a forest of brambles and was able to rent it for free for a while from the Hayden Trust for his troubles.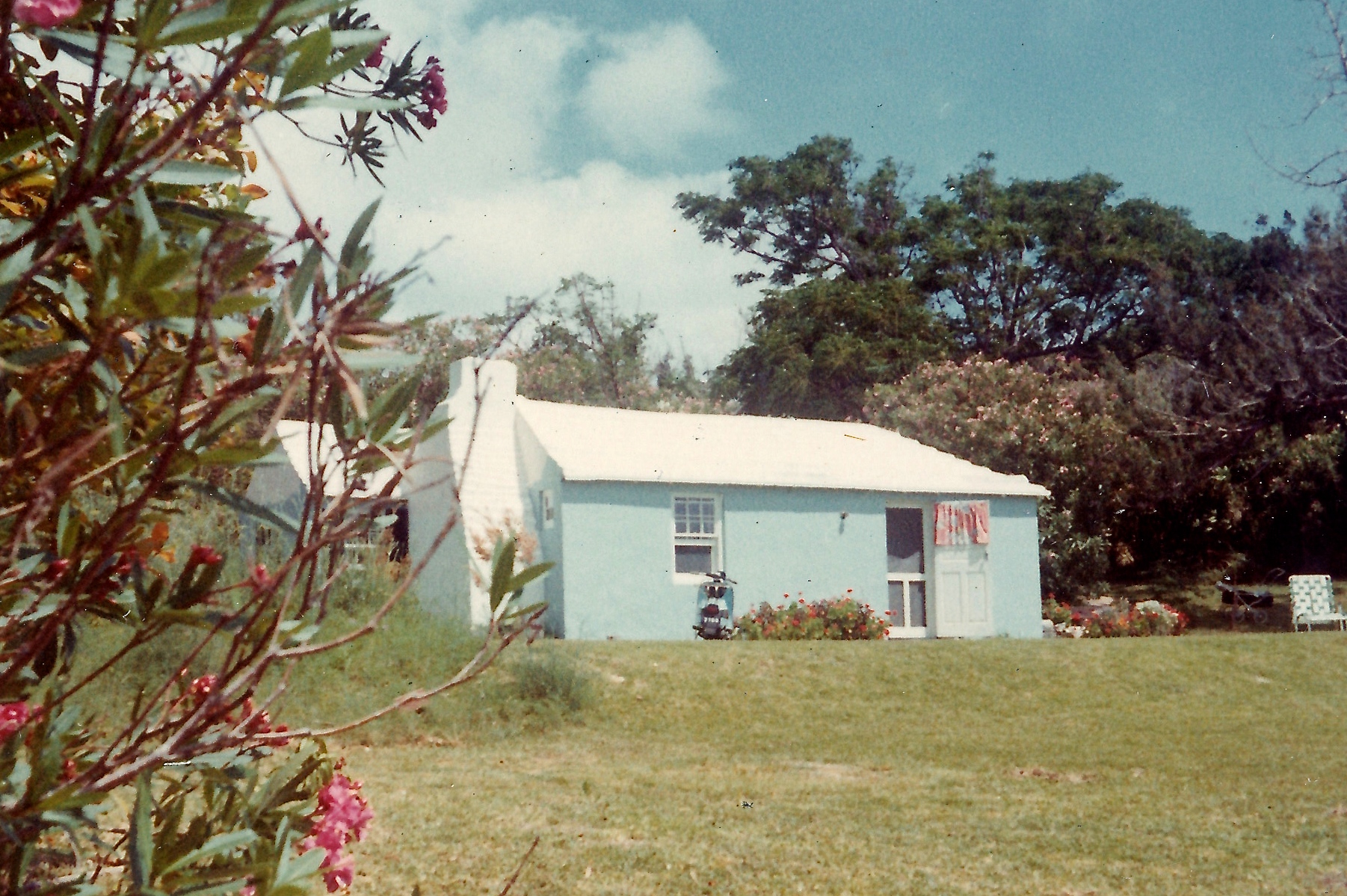 Leastways Cottage after rescue from the brambles
He also sent a photo of his gardening efforts, a hobby that has certainly been carried on by Dave who is not in the best of health these days but still loves to get out into his garden. John quotes Thomas Hardy in describing how their cottage in the wilds of Somerset always seemed to be "far from the madding crowd."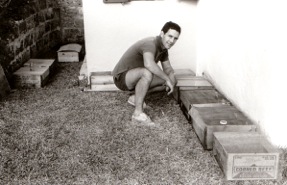 John McQuaid trying his hand at propagation (No. Not marijuana!)
John also commented that he would like to see more on our website about his old mates from the 1960's. We would be delighted to hear from anyone who served at the same time as John who clearly had a great time in Bermuda where he met and married his wife Lynn before returning to live in England after serving in the Bermuda Police for 6 years.
For more information about John CLICK HERE to see his article in our "Then and Now" column.
Unfortunately, John ran afoul of the law earlier this year, and here is the evidence to prove it! He must have thought he was still driving his car around Bermuda in the days before seat belts had even been invented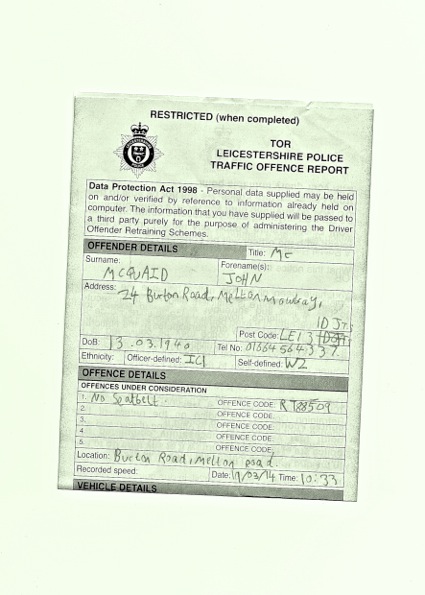 6th March
Dave Barber, Pete Shaw, Vic Richmond and Kathy Albuoy - We posted this photo on our front page under "Who, When and Where" shortly after it was taken to see if anyone abroad might recognize anyone. It was taken on Wednesday afternoon 5th March in Cooper Ward at King Edward Hospital, and just in case you didn't recognize our former colleagues they are, from left to right, Dave Barber, Head Nurse and former WPC Kathy Albuoy, Pete "Shag" Shaw, and Vic Richmond.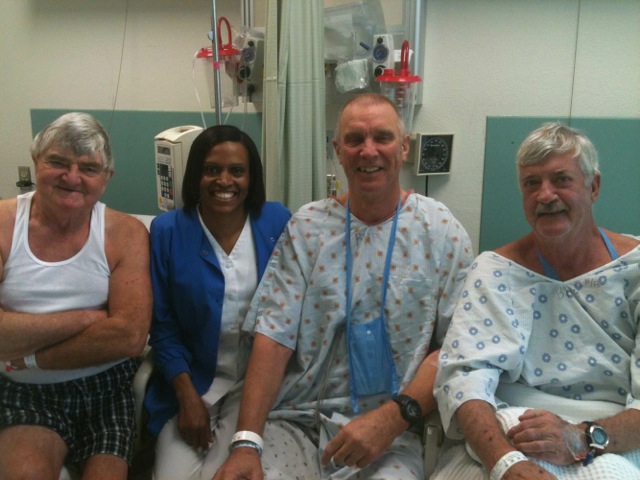 Dave Barber, Kathy Albuoy, Pete "Shag" Shaw, and Vic Richmond
As our readers will know from a recent report in our "Keeping in Touch" column, Dave Barber has been having some health issues, and on this occasion he'd lost the use of his right leg and was experiencing pains in it. He was admitted to Cooper Ward and was given a blood transfusion after it was discovered he had a low hemoglobin count. He was also put on a course of antibiotics and is scheduled to see a visiting pain specialist.
Dave recalled being admitted to KEMH about the same time last year and recognizing the voice of another patient who was brought to the ward. On that occasion is was Bill Butterworth who had a heart problem which resulted in Bill having surgery abroad for which he appears to have made a good recovery because he's now back on the golf course.
On this latest occasion Dave heard another familiar voice being brought into the room. It was Vic Richmond who had been admitted with an irregular heart beat. Dave reckons they hadn't seen each other for about 15 years and they spent time catching up on their happenings.
The two were being given excellent care by Head Nurse, Kathy Albuoy, who many of those who served in Western Division in particular will remember as a young WPC when Dave Barber was an Inspector.
Another patient who popped into their room was Pete Shaw who had apparently suffered a heart flutter playing golf last weekend. Typical of Shag, he shrugged it off and rode home on his bike, only to be admitted to hospital and into ICU for observation. We understand that there were no rooms available on the wards so Pete spent several days in ICU before being released.
Dave had just arrived home from the hospital when we spoke to him on Saturday 7th March, and he understands that Vic went up to Lahey Clinic for an operation, and Pete, who was also released, might also follow suit and head to Lahey.
We will do our best to keep you posted on their progress.
Editors note - We heard from Peter "Shag" Shaw" on 9th March to say that he was doing fine. He had a fibulation problem but is now home and will be back at wortk on 10th March.
3rd February
Mike Brown - I thought it'd be a good idea to write and let you know that I'm missing from the list of ex Berpol names. I served from late 1971 to late 1977 having arrived with such stalwarts as Steve Rollin, Phil Every, Steve Taylor, Ken Vanthal, Marg Amos and so on. I was at Hamilton for a start, after a brief spell with "F" troop. I was duty driver on Brinky Tucker's and Derek Fletcher's Squad and was one of the first at scene of the Governor's assassination. Thereafter I did a spell as Duty Officer before finishing off with three and a half years on MCPS under Eddy "Boxhead" Foggo. I now live in Dorset having retired after 25 years with Dorset Police.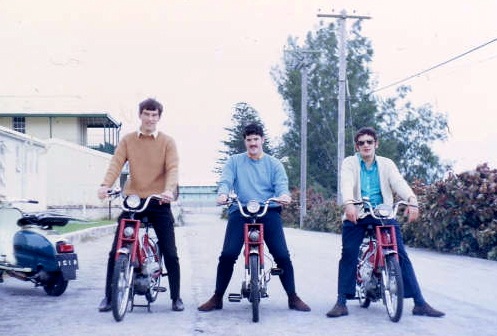 Ken Vanthal, Mick Brown and Steve Rollin days after their arrival in Bermuda in 1971
I've attached a photo should you need any further for inclusion in the "Who, when and where" section. I'm the one in the middle with Steve Rollin to my left and Ken Vanthal on my other side. It was taken outside McBeath block within a couple of days of our arrival on "The Rock"
Editors note - Apologies to Mick for not having him on our list of Former Colleagues. We are delighted to hear from him and also to add him to our list. We would also be pleased to hear from anyone else who is missing from the list.
Steve Rollin - On the subject of our good friend Steve Rollin who is photographed above a couple of days after arriving here in Bermuda in 1971, we have just heard that he has just come out of ICU following heart surgery after which he developed some kind of an infection. Although we have very few details we understand that he is now doing much better.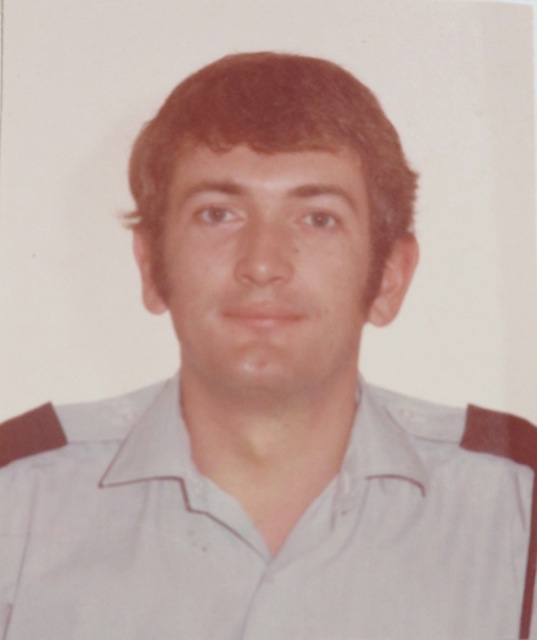 Young P.C. Steve Rollin
If anyone has any more details and can advise us where Steve is at the moment we would appreciate hearing from you.
2nd February
Sid Gordon - As a result of us posting the 1973 Traffic Divisional Photo in our "Who, When and Where" column (CLICK HERE for the photo) we just heard from Sid Gordon from Down Under. Sid wrote to us to confirm that #39 on our photo is in fact Graham "Pinky" Marshall and that is conformed by none other than Graham himself who also lives in Australia close to Sid, and they meet up on a regular basis. Here is the email we received from Sid, along with several photos he also sent:-
"Dat dare be Graham 'Pinky' Marshall!
We are all well down here in Oz!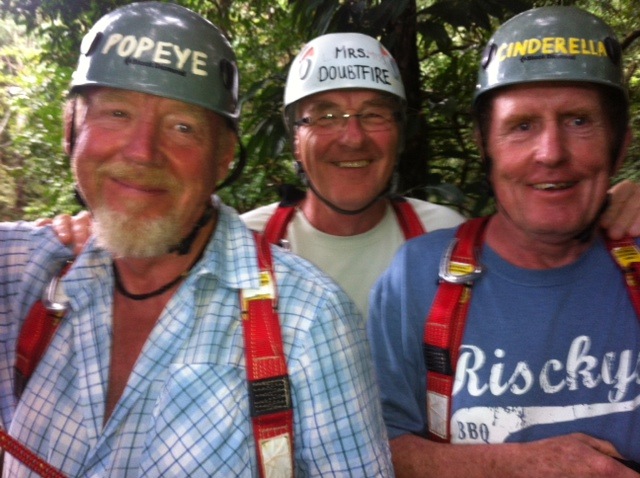 Malcolm Martin, Graham Marshall and Sid Gordon
Jungle Surfing at Camp Tribulation
Graham and I are retired bankers (OK no rhyming slang jokes boys.) We still meet a couple of times a week for a 2 hour walk and a 2 hour coffee/chat in Manly on Sydney's Northern Beaches where we both live. I'm sending you a photo of Malcolm Martin, Graham Marshall and myself doing Jungle Surfing at Cape Tribulation in Far North Queensland. (This is where you fly through the trees on flying fox zip lines, stopping at various tree platforms to take in the views of the treetops and the Great Barrier Reef.)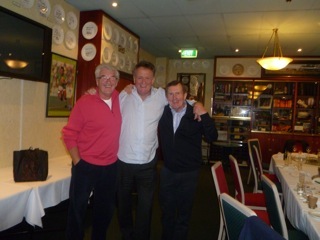 Graham Marshall, Dave Inwood and Sid Gordon
Dave Inwood is still running his book distribution business out of Windsor about 40K out of Sydney. He sometime complains about being busy but he does seem to spend an awful lot of time on holiday in Bali and Europe. All three of us are married with 2 adult children each.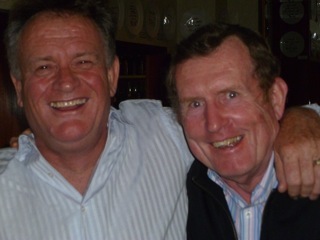 Dave Inwood and Sid Gordon
Malcolm (MM) Martin is a retired guest house owner/celebrity chef and lives at The Entrance, NSW about 90K north of Sydney. It is a beachside resort where the local tourist attraction is the daily pelican feeding. MM can be found there a couple of days a week feeding the locals and providing witty commentary for the tourists.
Speaking of tourists, we had 'Not-So-Wee' Davey Kerr staying with us a few months ago and and we did a lot of touristing and reminiscing together.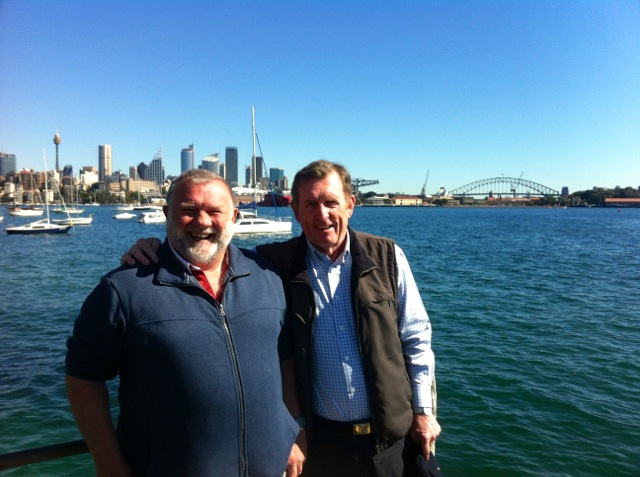 Davie Kerr and Sid Gordon during Davie's visit to Oz in 2013
I was actually going to write to you in the next couple of days because I just saw that Dave Barber wasn't well and I wanted to send him a note as I spent many happy hours at his place on Sunday afternoons or playing (badly) for the Dave Barber All-Stars cricket team. He is a kind and lovely man! Can I have his email address please?
Regards to all in Bda. They were fun times, great memories and long term friendships.
PS I just marvel at how both of my boys, who worked summer jobs in the States, just fronted up at Willy and Linda Hart's place in Las Vegas and were treated like royalty. Will is now retired too and is a lovely kind man!
Dave Barbers email would be most appreciated. (We forwarded Dave email address to Sid and we know Dave will be delighted to hear from him.)
23rd January
Arthur Rose - We just chatted with Arthur Rose who now resides in southern England with his sister, Jean. As previously reported Arthur has had his health issues in recent years, and is rather housebound but he sounded every bit as cheerful and upbeat as ever, particularly because his football team, Arsenal, is playing so well at the moment.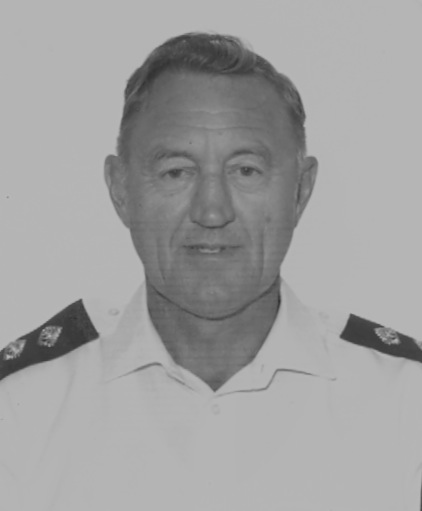 Arthur Rose
Arthur was delighted to hear about our latest Hall of Fame article on Peter "Pip" Carter who Arthur remembers well from their time together many years ago. We also passed regards on to him from Dee Carter who had provided us with the information and photos for the article on Pip (CLICK HERE to read the article)
Although not on email, we have Arthur's home telephone number and we're happy to pass it on to anyone who might want to give him a call.
Dave Barber - We have also just been in touch with former Chief Inspector Dave Barber who has to be one of our most popular retired officers. Dave joined the Bermuda Police in October 1965 and spent most of his service in Western Division, in both CID and in uniform latterly as OIC Western Division. He is now retired and living in Somerset with his wife Marjie who has also just retired.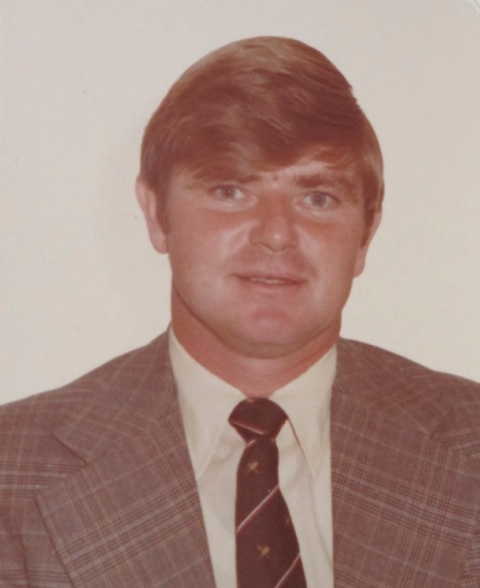 Dave Barber
Dave never really had any health problems during the early years of his career except for being hit on the nose playing cricket! But in 1984 he fell ill with strange symptoms and had to fly to Brigham and Women's where he was diagnosed with Tuberculous meningitis for which he received successful treatment. Shortly after retirement he went on a trip to Delaware with Brian Malpas and Fred Beach at which time he came down with a bad case of shingles. (It had nothing to do with the company he was keeping!)
He was sent to Mass General where he was diagnosed with Guillain-Barré syndrome (the same condition that afflicted John Van de Weg in the 1960's after receiving a flu shot) and was partially paralyzed down one side.
Dave had started making a recovery but then developed a serious lung problem diagnosed as Bronchiectasis - a rare disease that affects the lungs. He's been hospitalized with his lung problems no fewer than 9 times including a spell in the U.S. where he was prescribed a very strong but effective drug known as Daliresp which is available in the U.S. but not in Bermuda.
Dave is home at the moment and just as hearty as ever despite his health problems. He's also on email and is always happy to receive emails or phone calls. If you need his contact details please email us at This email address is being protected from spambots. You need JavaScript enabled to view it.
20th January
Mike Kelly - Our recently published cartoon of Peter "Pip" Carter in our "Who, Where and When" column resulted in us contacting retired Sergeant Mike Kelly who came out to Bermuda on the same flight as Pip and Jimmy Moir in 1956.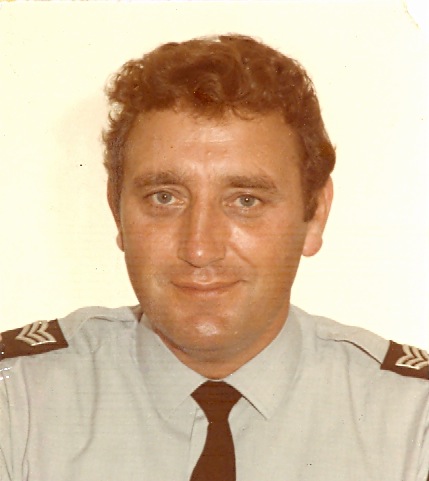 Sgt Mike Kelly
Mike had served in both the Coldstream Guards and the North Riding Police Force before coming out to Bermuda. He played rugby on the same team as Pip and many other great rugby players including Greg Lane, who he describes as a fabulous lock, Bob Railton who was a former Rugby League professional, Brinley Jones who played as hooker, and many others. Mike says they first played as the Bermuda "Barbarians" against some excellent American university teams such as Yale, Harvard and MIT during College Weeks, and also against visiting Royal Navy ships, and teams from the Royal Naval Dockyard. The Police eventually formed their own team as did BAA, Teachers and Renegades.
With his strong military background Mike was an excellent drill instructor at Training School and also worked in Central uniform and Traffic including radar where he made headlines when he hit on the novel idea of sitting at the side of Pitts Bay Road next to an artist's easel with paint brush in hand while monitoring the radar machine!
Mike was playing golf until quite recently but has somewhat slowed down due to suffering from macular degeneration, but he still keeps active on his computer. He is an avid reader on his Kindle (using larger print), and still gets out for walks. Happily married to Beryl he has step-children and 4 grandchildren. He sounded in great shape when we chatted about his arrival in Bermuda almost 60 years ago.
15th January
Brian Callaghan - We just received a letter from Ann Callaghan bringing us up-to-date on Brian's progress following his stroke. It is clear that Brian is making steady progress, no doubt due to the love and wonderful care he receives from Ann, together with his resilience and determination. Just to make us a little envious Ann sent us this photo the two of them setting off in their Morgan for a first spin together since Brian was first taken ill. CLICK HERE for the full update on Brian and Ann in our Latest News column.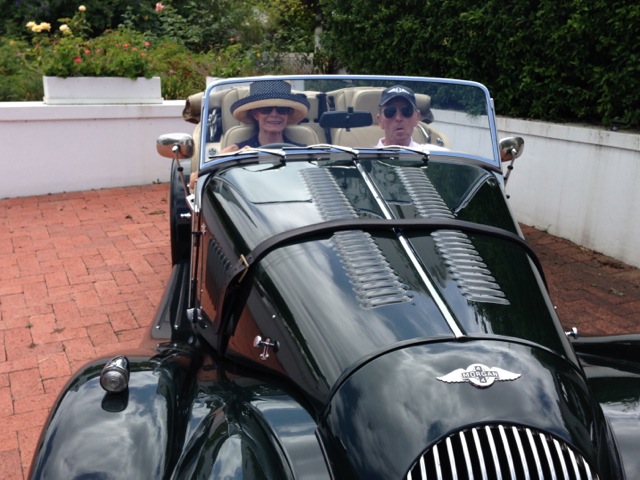 Ann and Brian Callaghan setting off for a spin in their Morgan sports car
3rd January
Ian and Maggie Graham, Paul Davis, Sue Wale, and Frank Donald - We recently heard from Ian Graham, one of the organizers of last year's York Reunion, who had promised those attending the event that he would deliver a "Hog Penny Pub" tee shirt, signed by all those attending, to Paul Davis who was unable to attend the reunion because he was in the early stages of recovering from a health problem.
True to his word, Ian and his wife Maggie made a trip to Somerset (in England that is) to visit Paul and his lovely wife Carol, and safely delivered the signed tee shirt to Paul along with a gift bag from the York reunion including Black Seal rum miniatures – for medicinal purposes!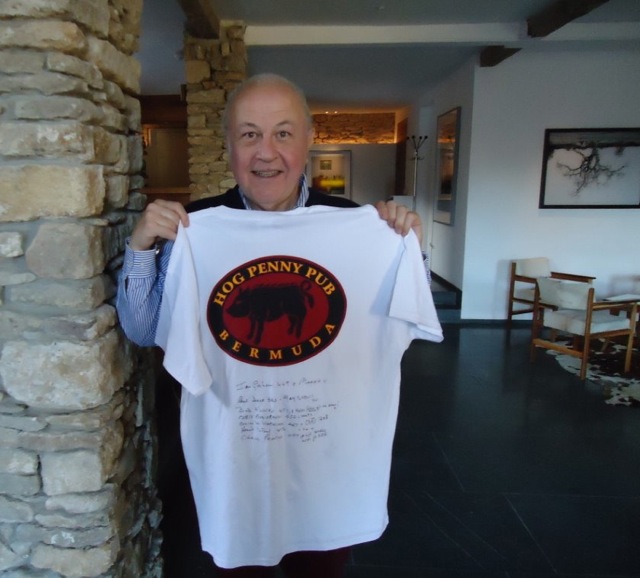 Paul Davis receives his Hog Penny Pub tee shirt as promised
Although still requiring some more surgery, Paul is well on the mend and was in good form, and had not lost his unique sense of humour.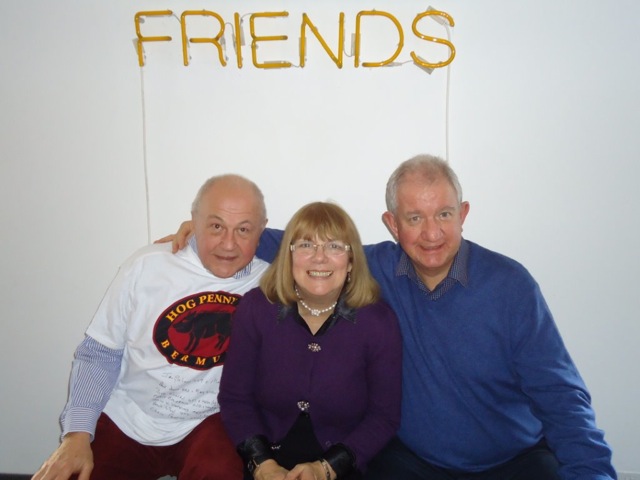 Paul and Carol Davis with Ian Graham
Before returning home Ian and Maggie made a visit to Sutton Coldfield to meet up with Sue Wale who was Maggie's shift partner in the Emergency Department at KEMH while they were in Bermuda. Sue has now relocated to the UK after living in Bermuda for many years.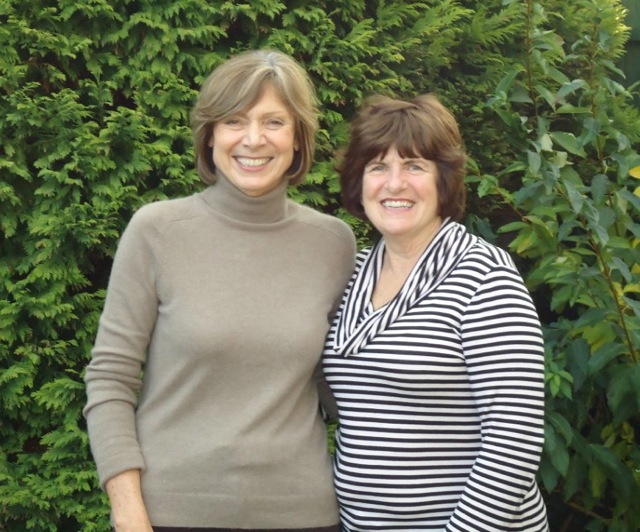 Fellow nurses in Emergency at KEMH during Bermuda Days - Maggie Graham and Sue Wale
Within a few minutes of their arrival at Sue's home, Ian and Maggie were taken completely by surprise when Frank Donald walked in. Ian and Maggie had last seen him in 1976, the year he left Bermuda.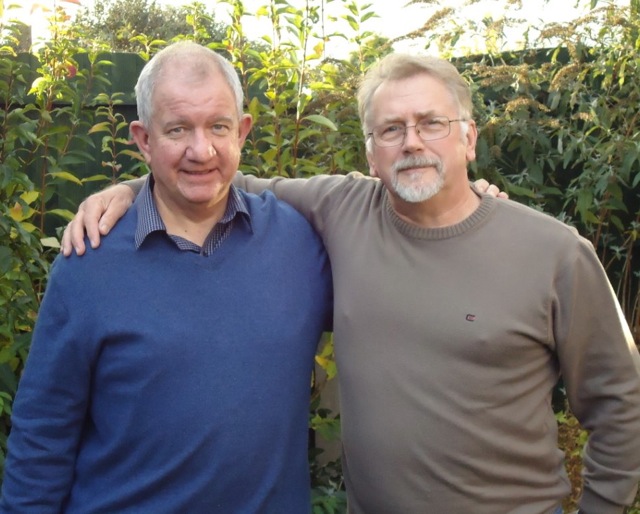 Ian Graham was surprised when Frank Donald showed up at the door
We understand that Paul and Carol, and Frank and his wife Sally are making plans to attend the next grand reunion in England which is being planned for October 19th and 20th in Sutton Coldfield near Birmingham. We will be posting details of the planned reunion within a couple of days. Watch this space!
1st January 2014 -
Commissioner's New Year's Party - We are starting the year off with the Commissioner's New Year's Party held on the first day of the year at the Police Recreation Club. This event was first introduced in the late 1950's but until the arrival of present Commissioner Michael DeSilva it had not been held for some 10 or more years. Fortunately, Commissioner DeSilva reintroduced it in 2011 to say thankyou to members and former members of the Service and to many of those people behind the scenes who provide so much support to the Bermuda Police. Today was no exception and it was well attended by former officers along with H.E. The Governor, Premier The Hon. Craig Cannonier who happens to be the nephew of retired Superintendent Gartie Barker, the Minister of Home Affairs The Hon Michael Dunkley, and many other dignatories and supporters of the Service.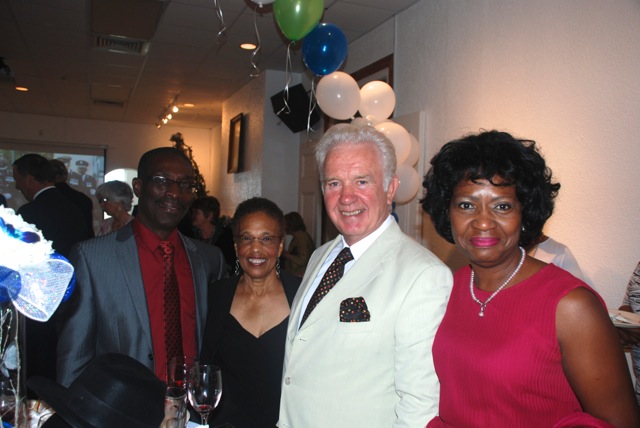 Vendal and Louise Bridgeman with John and Betty Dale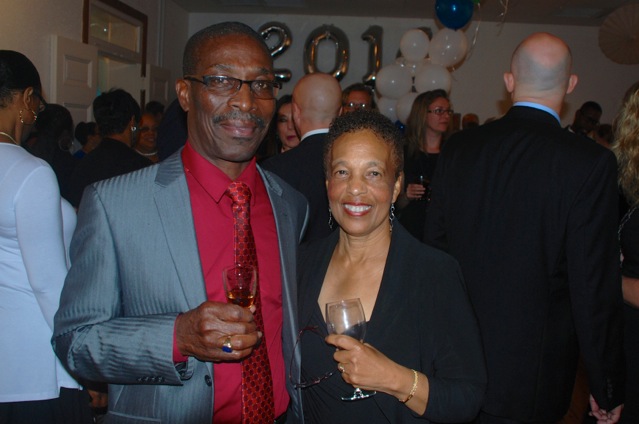 Vendal and Louise Bridgeman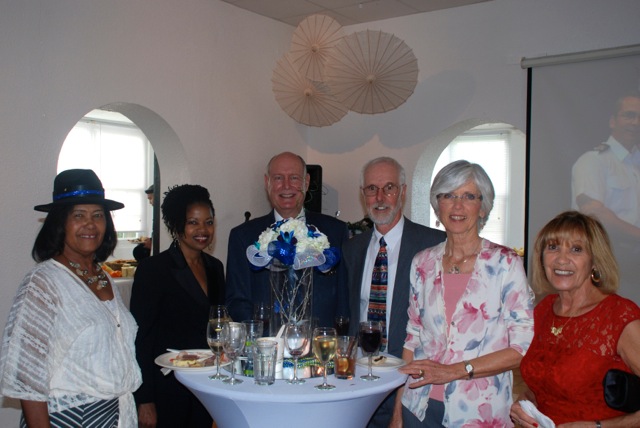 Gertie Barker, Antoinette Cannonier, Roger Kendall, Roger & Marian Sherratt and Lita Kendall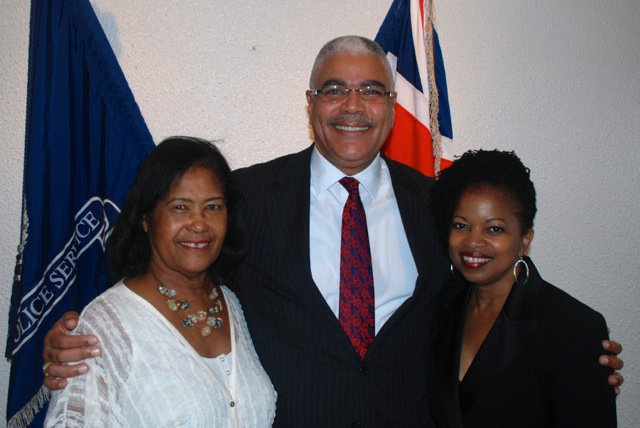 Gertie Barker with her cousin, Premier The Hon. Craig Cannonier and Antoinette Cannonier
Gertie Barker (nee Cannonier) retired from the Service 12 years ago as Superintendent and is now totally retired although she keeps busy, as always, playing bridge and golf. Who can remember all those keep-fit classes she used to organize at the Police Club! Gerttie is blessed with good health and two great sons, Che and Tyler both of whom are happily married and each has a daughter. Che's wife runs a wonderful dance school here in Bermuda, and he works for Esso, Bermuda. Tyler is now an American citizen and serves in the U.S. Navy.
Gertie is photographed here with her favourite nephew, Craig Cannonier, who also happens to be Premier of Bermuda since his Party, the OBA, won the general Election on 17th December 2012. Also in the photo is Craig's beautiful wife, Antoinette. When asked how she felt about her nephew being Premier, Gertie was bursting with pride because she practically raised Craig and always treated him as one of her own sons.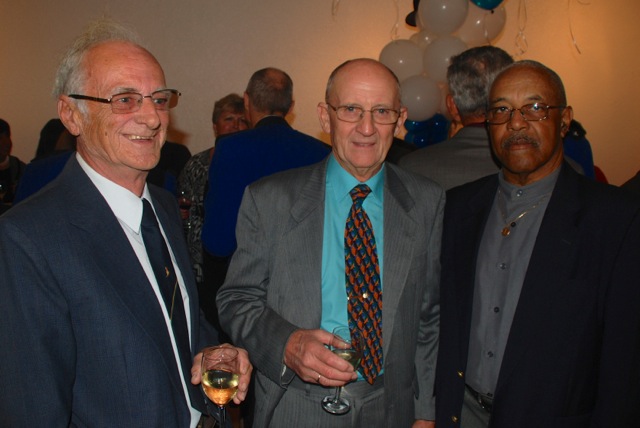 Neil Anderson, Dave Cook and Reese Bartley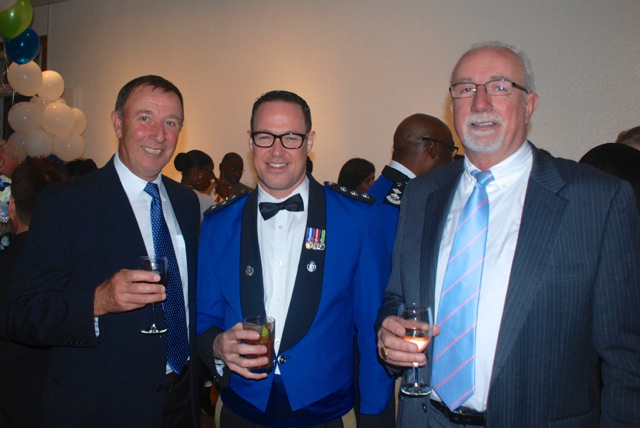 Keith Cassidy, Chief Insp Nick Pedro, and Charlie Mooney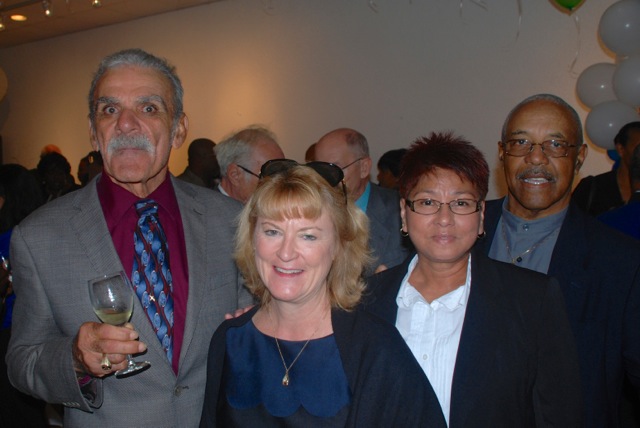 Eddie and Trish Foggo with Gilda and Reese Bartley
Literally everyone who served in the Bermuda Police from the 1960's through the 1980's will remember Eddie "Boxhead" Foggo and Reese Bartley. Both retired after reaching the rank of Inspector. They are photographed here with their respective wives, Trish and Gilda. Both former officers serve on our ExPo Committee, Reese as Vice President and he is always very actively involved in all of our functions. Eddie retired from the Force in 1988 and went on to work for many years as chauffeur for the U.S. Consulate. Eddie is now retired and has some health issues, having been diagnosed with Alzheimer's in 2011. We suspect that anyone recalling working with Eddie will always picture him on his police motor bike, either in Motor Cycle Section or on the Police Motor Cycle Display Team where he was a key member for many years.
Reese has also had some recent health issues having been diagnosed with stomach cancer, but he did not require surgery and was treated with chemo and radiation. At latest report he was completely clear, and although he requires further regular check-ups Reese is back at work as the Maintenance Supervisor for City Centre Properties where he has responsibility for three major properties in the City Hall area. Reese makes a point of visiting the Police Recreation Club on Thursdays and Fridays whenever possible and he always enjoys meeting up with old friends who gather there for a few beers on Thursday afternoons. For any former colleagues living abroad who are planning to visit Bermuda, we always suggest that you take the time to visit the PRC on a Thursday afternoon to meet up with old mates.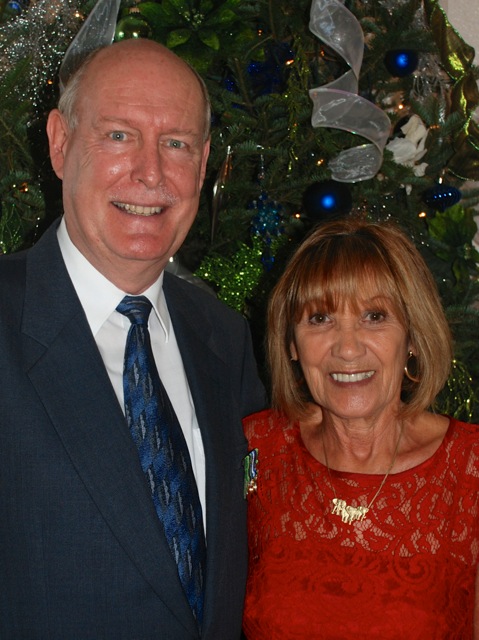 Roger and Lita Kendall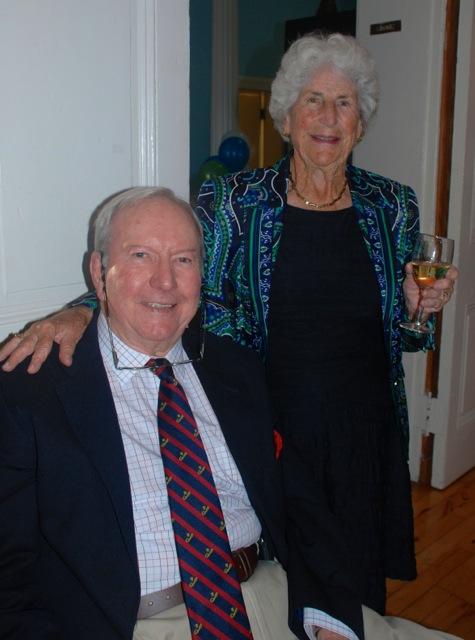 Dave and Felicity Lunn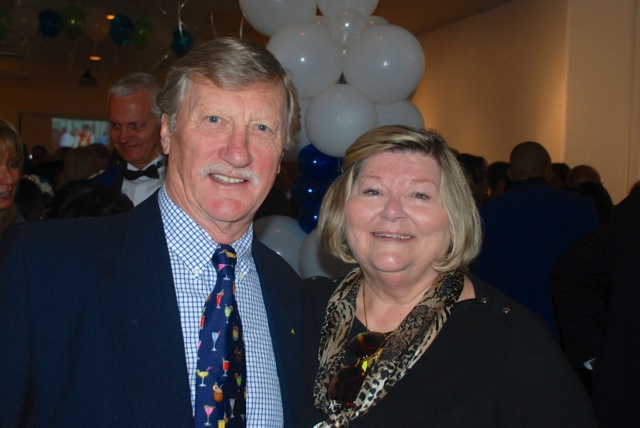 Rex and Pam Osborne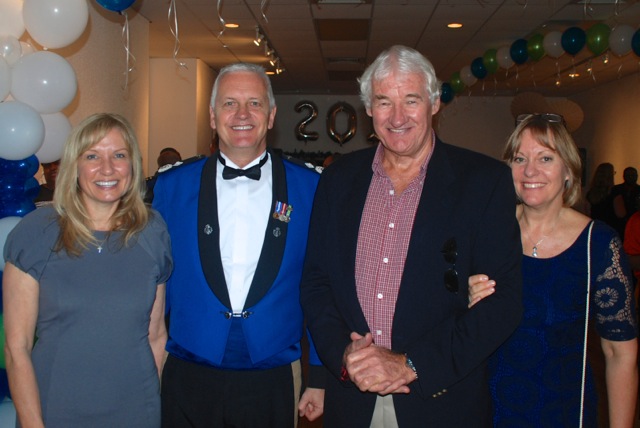 ACOP Paul Wright and Mrs Wright with Alex and Margaret Armfield
Philip and Dot Midgley - For those who can cast their memories back some 40 years or more we are sure that many of our colleagues, especially those who served in Western Division will remember Philip (Keith) Midgley, who served in the Prison Service for 10 years from 1972 – 1981 before leaving Bermuda and settling in Derbyshire, England.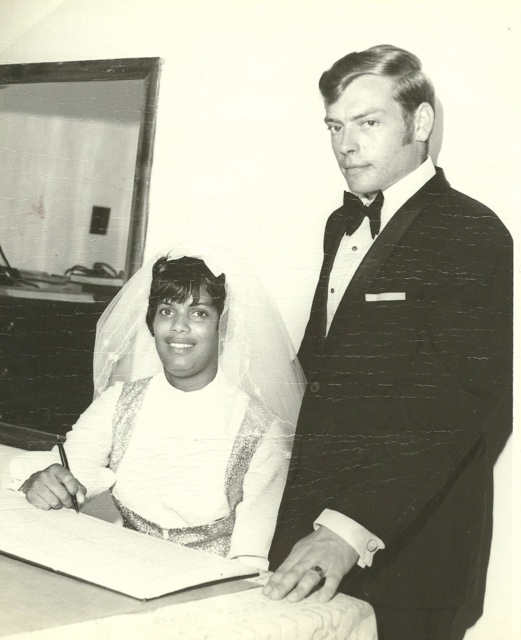 Dot and Philip Midgley on their wedding day in 1972

Philip married Bermudian, Dorothea "Dot" Simons in 1972, and the two of then were well known to many of our police colleagues, as well as nursing staff at KEMH where Dot worked as a nurse. Philip played darts for the Police Team, and they both have fond memories of so many of their police friends, including Paul Singh, Graham Alderson, Robbie Aldred, Dave Barber, John Greatrex, John (Coco) Eve, Jerry Lyons, Brian Malpas, Foster Burke, Ed. Bailey, and Clyde Burgess to name just a few.
"Dot" recently heard about our website through Jo Higham (Barry Higham's former wife), and she has written to say that she and Philip have had a great time reading about old friends, some of whom they are still in touch with and some they haven't heard about for years.
Philip has also written to say, "Dot put me onto the website and I see so many friends that I played darts with or against. She even downloaded the list of names and I can't believe how many I know, and also some who are not on the list."
Philip tells us that he is now finally retired from Rolls Royce's after being made redundant twice and having gone through 2 years of long term sickness. Fortunately, he had his own personal private nurse and lots of "TLC" to help him through the rough patches!
Philip and Dot are both keen to renew old friendships and have provided us with their email address and contact details in Derbyshire. Philip is also on Facebook (proving that he is moving with the times!). If you would like to get in touch with Dot and Philip please contact us through This email address is being protected from spambots. You need JavaScript enabled to view it. or write a comment below.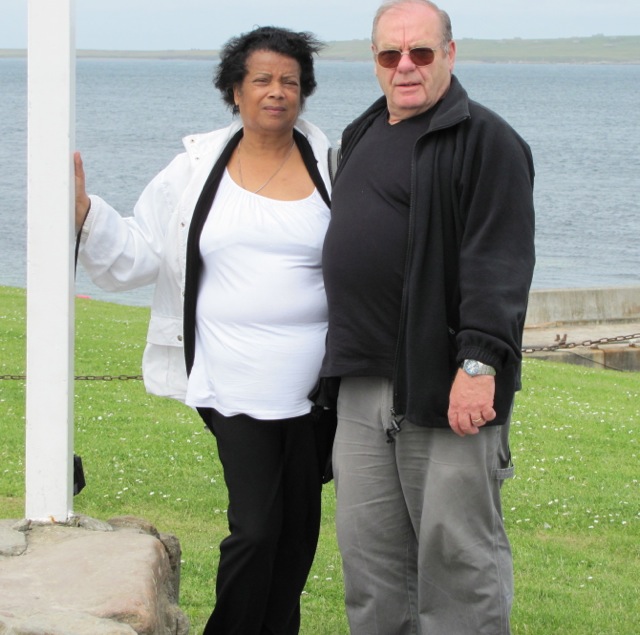 Dot and Philipon a recent holiday
Editors note - A few years ago my daughter Joanna had just started working as a new intern at a hospital in Derby when she heard a senior nurse speaking to someone and immediately realized that she had to be a fellow Bermudian. Without hesitation Joanna asked her "Hey girl! Are you 'blue and blue' or 'red and blue'?" Fortunately Dot is an avid 'blue and blue' supporter which, to anyone not familiar with Cup Match, means that she is a St. George's fan. The two struck up an immediate friendship and are still in touch with each other although I had no idea who Dot was until she emailed me just a couple of weeks ago.
Tom Christie -
We recently heard from Tom Christie who served in the Bermuda Police from 1964 to 1966. Tom sent us a photo of himself in uniform along with two other guys who served with him in St. George's, Alan Kennedy and Geoff Wilson. Tom recalls that he was born the same month and year as Alan, and both came from Edinburgh.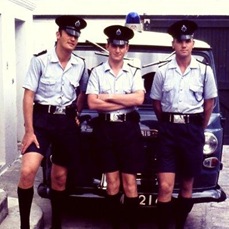 P.C's Alan Kennedy, Tom Christie & Geoff Wilson circa 1965
Tom says, "I served first in Hamilton staying at Prospect Barracks, and then transferred to St Georges for about 18 months. I really have a clear memory of the time, particularly the Belco riot and its aftermath.
"As I recall, morale became a bit low among serving officers at that time and a great number of us left the Island in the year or two after the riot.
"Geoff Wilson, I believe joined in 1964 and left in 1965 or 1966. He was originally in the Police in Northern Rhodesia prior to coming to Bermuda and left to join the Northern Territory Police in Australia. I heard but cannot confirm that he went with the Australian Army to Vietnam. I think Andy Bermingham also came from Northern Rhodesia Police before Bermuda and may recall Geoff.
"I occasionally look up the Bermuda Royal Gazette and am shocked at regular headlines of gangs, drugs and gun crime and hard to relate modern Bermuda to the Bermuda of my memory. I recall a lovely tranquil paradise and I do not want to change that memory.
"One question; I particularly recall "Doc" Hall (Gladwin Clinton Hall) as the Sergeant in charge of my shift in St. George's. I really thought he was a great sergeant and he was great at teaching ex-pat recruits about how Bermuda Police dealt with situations. Is he still well? If so, please give him my best regards. I also send best wishes to all those I served with during my 3 years in Bermuda."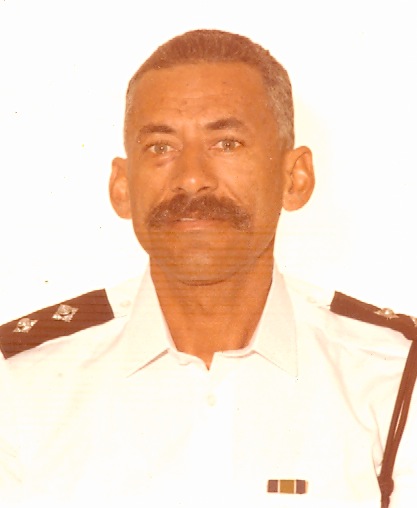 Inspector Gladwin "Doc" Hall
Editors note - We will pass on best regards from Tom to "Doc" Hall who retired as an Inspector, became an M.P. for a while and is still moving around at breakneck speed from his home base in St. George's, and is always on the move! "Doc" has never changed and is as interesting to chat with now as he was whilst serving. We believe that "Doc" was and is one of our most unforgettable characters to serve in the Bermuda Police.