Ex-Bermuda Policeman's "Royal" daughter
meets Her Majesty Queen Elizabeth and Prince Philip
Anyone who worked out of St. George's Police Station in the early 1970's will no doubt remember P.C. John Headey who was stationed in Eastern Division from 1971 and 1977. John hails from Yorkshire and while in Bermuda he met and married his wife Susan (nee Brown) who was then working at the Bank of Bermuda. (CLICK HERE for article on John in our Latest News 2012 column - scroll down to the entry dated 31st March)
Their daughter, Lena was born here and surely no-one could ever have imagined then that after the family left Bermuda and returned to the UK young Lena would go on to become an internationally famed and beautiful actress who currently stars as Queen Cersei Lannister in the very popular HBO series, Game of Thrones.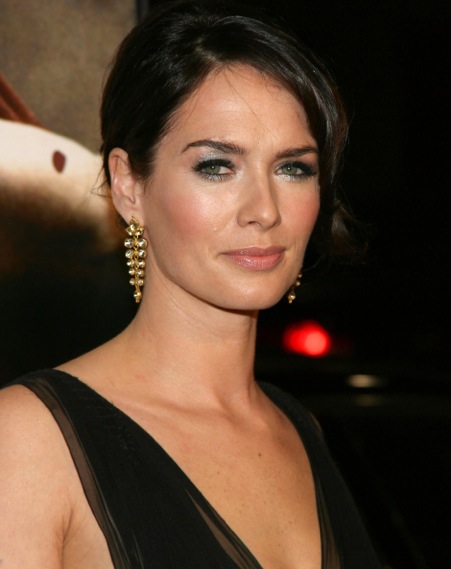 When we last heard from John a couple of weeks ago Lena was visiting her parents in Yorkshire, along with her son Wylie, after spending the previous two days in Belfast. Although she was in Belfast for final preparations for the filming of the 6th - and possibly final - series of Game of Thrones, Queen Cersei was thrilled when The Queen and Prince Philip visited the main set in Belfast. The Royal visit was covered by the Daily Mail (CLICK HERE for the article) and the article includes several shots of Lena and other cast members with the Royal visitors. Lena admitted to being nervous but said that Her Majesty was simply charming, commenting that the (Iron) Throne 'looked very uncomfortable'.
John informs us that filming starts at the end of July and his family is planning a holiday before then, although he is not at liberty to divulge the destination because Lena now tends to get recognised wherever she goes, so a little diplomacy is necessary to avoid fans and the press. John actually wondered whether it was him who was attracting the crowds - but we think not!
John adds, "Susan and I remain in reasonable health, although a few weeks with our 4 year old grandson may have some effect on that!
Our regards to all old colleagues and friends, and our best wishes particularly, to Peter Stubbs.
A footnote to regular contributor Terry Cabral.....do you remember our win on the Football Pools?. I still have the Rolex I bought with the proceeds.
Editors note - Bernews also published an excellent article (CLICK HERE to view it) about Lena and her connection with Bermuda on 29th March 2012.