Served as Constable 1953 - 1957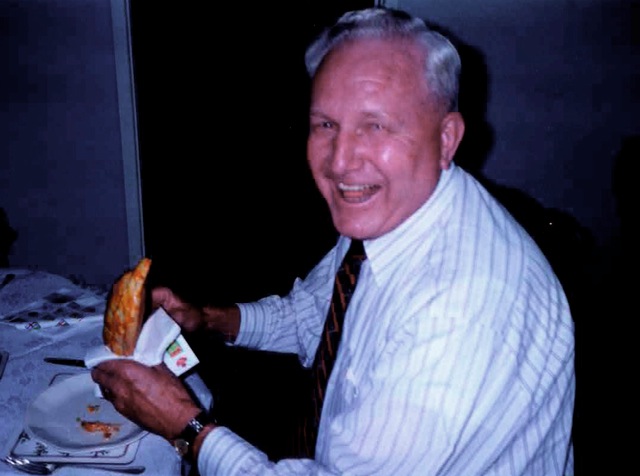 Frank and his favourite food - Cornish Pasty
devoured during a visit to Penzance in Cornwall 1993
In 1949 I joined the Cornwall County Constabulary and was sent to do my training at the Police Training School at Bridgend, Glamorganshire, Wales.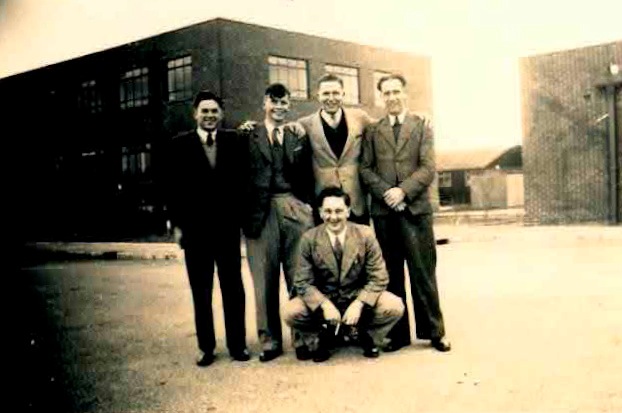 Frank (3rd from left standing) at the Police Training Centre,
Bridgend, Wales, in April 1949
Upon completion of my training I was posted to St. Ives, Cornwall, England, just 14 miles from my home in Penzance. The quarters at the Police Station were deplorable so after a few months I boarded with a couple who operated a bakery and a café. Policing in St. Ives was very interesting. I enjoyed my first posting. While in St. Ives an experience I enjoyed immensely was volunteering in the Lifeboat, the Eliza Stych. Exciting and rewarding!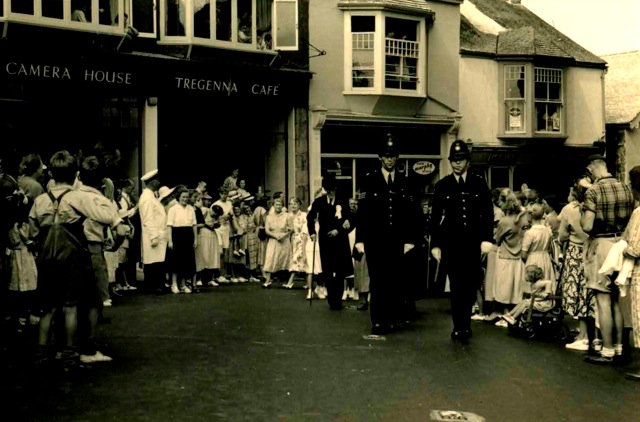 Young Constable Frank Maddern, right, and Sgt. Charles Richards
lead the
Centenary Parade to Knills Steeple, St. Ives, Cornwall, England, in July 1951.
Like a true Cornishmen, I began to get itchy feet. I saw an ad in the Police Review magazine (1953) wanting recruits for Bermuda. I applied and within a very short period my application was accepted. On the same plane, winging our way to Bermuda and also joining the Bermuda Force, were Derek Griffin, Gordon Dinham, and Eddy Jones. We were met at the Bermuda airport by a police officer and driven to the Police Barracks, Hamilton. Upon arrival we were served breakfast. Breakfast – what's going on here? - then we realized the time change!
The thing to do when off duty was to go to the beach. Being a very fair-skinned lad, I almost immediately suffered a severe sunburn. There wasn't any way I could wear the wide webbing belt to my uniform. I was sent to the Health Department and the doctor wrote me an exemption slip from duty for several days, which not please Supt. Percy Miller in the least.
I also enjoyed playing rugby for the Police and the Bermuda Athletic Association.
In September 1953, I was on point duty in the famous Bird Cage on Front Street in Hamilton when I spied a young lady riding a Mobylette, which she parked outside the Bank of Bermuda. She is for me, I thought. Several days later I made myself known to her and from then on we became an item. Elizabeth's parents invited me to live with them, which I readily accepted as the conditions at the Hamilton Police Barracks (then located on Victoria Street behind where City Hall now stands) were anything but desirable. Bermuda was truly paradise for me now!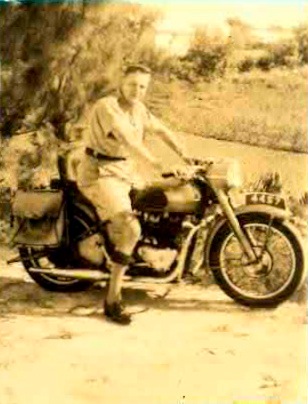 P.C. Frank Maddern leaving Shelley Bay for
work
on his police motor cycle in 1954
I met and enjoyed working with some really good blokes, fellow policemen. Point duty was alright, but I really enjoyed Traffic Patrol. One day I had just collected Elizabeth from work – she was on the back of my motorcycle – but before she had time to hold on to me I spied a "wanted" person. I gunned the motor and gave chase and left Elizabeth sitting in the middle of Front Street. Only her pride was bruised, and I arrested the culprit.
The highlight of my career with the Bermuda Police Force was being selected with a group of officers to provide security for the Big Three Conference being held at The Mid Ocean Club. I was particularly excited about seeing Sir Winston Churchill, whom I greatly admired, as well as President Dwight D. Eisenhower and Premier Laniel of France. Sir Winston was very casual about security and advised the police officers to relax and get themselves a drink. We felt there was a bit of overkill with security as the corners of the roof of the hotel were knocked off and search lights and machine guns were mounted on these areas. I am a collector of Churchill memorabilia and my regret is I didn't get a "stogi" of Sir Winston's.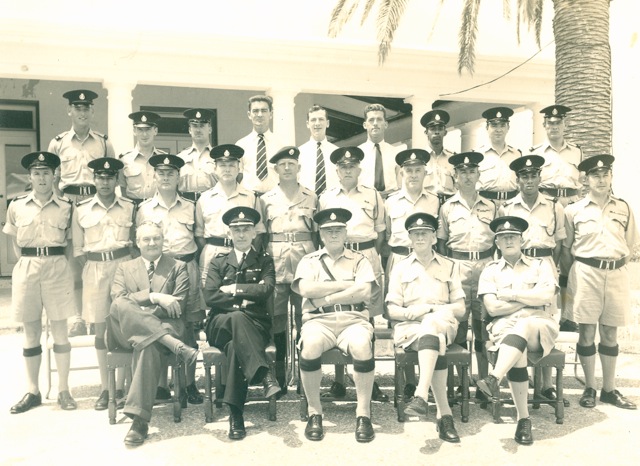 Training Course Members and Seniuor Officers - 1955
Top row (l-r) Pc's A.J. Tony Saunders, Douglas Hebberd, J. Curtis, L.M. "Nobby" Clark,
Jack K. Shaughnessy, Howard Dill, John M.Cafferkey, and R. Hodgson
Centre Row - Pc's H. Lyness, Neville Phillips, Sgt L. McPherson, Pc Frank Maddern,
Sgt Major Passmore (D.C.L.I.)
Insp J.M. Brown, Pc M. Ferguson,
Sergeant Robert "Bob" Ball, Pc E. Durrant, and Sgt J. Cribbin
Front Row - Chief Supt C.J.R. Newing (CID) Mr. E. Barker (Training Officer, Lancashire County
Constabulary),
Commissioner R. G. Henderson, M.V.O.,
Deputy Commissioner M.B. Parker, and Supt Percy Miller
Police Club Dances were fun, also those at Elbow Beach and Bermudiana Hotels. After a Mount Saint Agnes Alumnae Dance at the Bermudiana Hotel, Tony Beacon in his Beacon News Reel wrote, "One couple is oblivious to all dancers around them – Constable Frank Maddern and pulchritudinous Elizabeth Outerbridge." Several days later, Tony Beacon stated in his column, "Spring really came to Bermuda over the weekend!! Strolling happily hand-in-hand down the Rue de la Front, Saturday noon, with eyes only for each other – the lovely Bank of Bermudadorable Elizabeth Outerbridge and her favourite Constable Frank Maddern – one of the Island's nicest guys." So-o-o-o in December 1954, Elizabeth and I became engaged and in June 1955 we were married. In October 1956 our first daughter was born.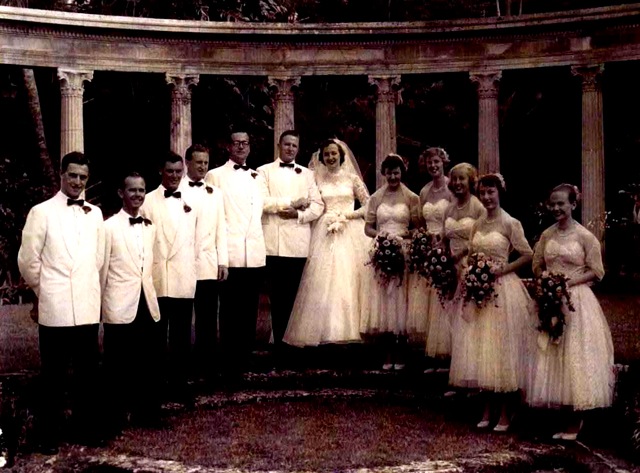 Frank and Elizabeth (Outerbridge) Maddern's Wedding Party
l-r Derek Brashier, Jack Outerbridge, Barry King, Harry Cox, Bert Outerbridge, Frank and Elizabeth,
Jessica Cox, Bobbii (Cooper) Cartwright, Margaret Stallard, and Hetti Vickers
Photo taken in the sunken gardens at Deepdene Manor, Smith's Parish, on June 16, 1955.
I remained in the Police Force until 1957. Shortly before resigning, I was one of several police motorcycle escorts for Governor Alex Hood. We assembled at Government House to escort the Governor to the Opening of Parliament. "Alright men," shouted Sgt. Johnny Marshall, "Simonize your watches and follow me 20 yards in front!" This was followed by much laughter!
After resigning I managed Pearman Watlington's Office Equipment Division, which was challenging and enjoyable and I learned a lot.
Our second daughter was born in August 1961. After resigning from PW's in 1964, I opened Frank's Office Supplies on Bermudiana Road, with Elizabeth as my office assistant. Mike Lohan and Bill Bryan visited us often as they purchased office supplies for the Bermuda Police Force.
1968 found our family, along with my cherished mother-in-law, taking a 3 week cruise and emigrating to Victoria, British Columbia, Canada. We purchased our home and I went to work for Monk's Office Supply, and later, Victoria Book and Stationery. I opened my own business, Trelawney Enterprises (Advertising Specialties) in 1980.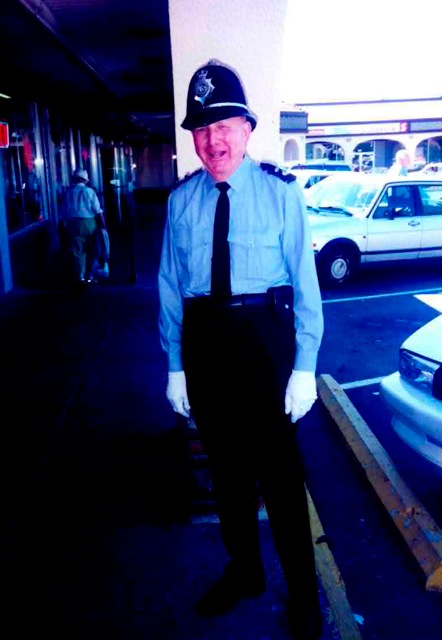 What's this? A Bermuda "P.C." in B.C. !!!
Although Frank left the Bermuda Police Force in 1957, he was sighted in his full Bermuda Police uniform attending the Official Opening of his eldest daughter's gift shop, "Calling All Cards" in the Shelbourne Plaza, Victoria, BC in 1996. Frank had the onerous task of directing customers into the shop, and was approached by two ladies who asked, "Did you bring him all the way over here from England just for this Opening?"
Editor's Note - Frank is obviously wearing his winter uniform. He should, of course, be wearing a short-sleeved shirt and Bermuda shorts!
In my older age I am now retired and Elizabeth and I are living happily in Victoria, BC, with our two daughters and their spouses, 6 grand-daughters and 1 grand-son living just a few minutes drive away from us. We are truly blessed to have them all here in Victoria.
Frank and Elizabeth enjoying a family picnic in Victoria, BC, in 2010
Editors Note - The above article and photographs were kindly submitted by Frank's granddaughter, Janna Maddern, with the assistance of her grandmother Elizabeth who interviewed Frank and wrote down his reminscences. His niece, Sandra Outerbridge was the person who made contact with us about her favourite uncle.
21st August 2015
Editors note - I called Elizabeth Maddern in BC today and she informed me that Frank passed away on 1st February this year at the age of 87 after a bout with flu. I passed on sincere condolences to Elizabeth and the Maddern family on behalf of all the officers who knew and worked with Frank.