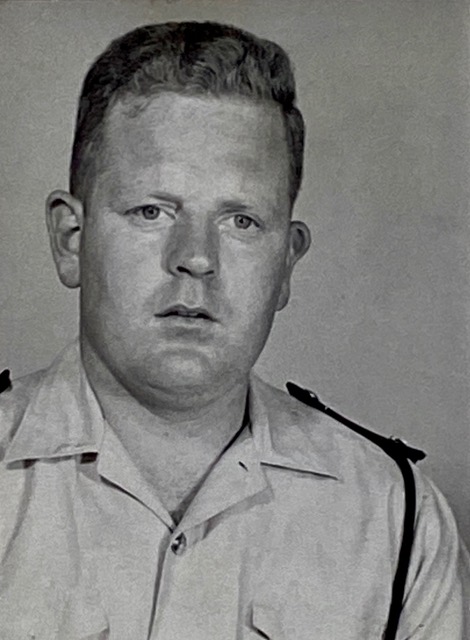 Young P.C. 232 Richard "Dick" Cuddihy
I was born on the 7th June 1935 in Wembley, London to Irish parents. When war broke in 1939 we returned to Ireland and settled in Freshford, a small village in County Kilkenny close to both parents home. I did the usual growing up, educated to Leaving Certificate level, similar to A levels, and 2 years later joined An Garda Siocanna, the Irish Police Service in 1954.
In 1961 I was transferred to border duty which included many freezing nights on border duty. I figured there must be an easier way and started researching. A colleague told me Mike Palmer had left the station 12 months previous and joined the Bermuda Police service. I wrote to him and he confirmed I was making the right decision. I applied to Crown Agents got the interview passed the medical and was on my way to a great future.
I arrived in Bermuda at about 6am on a lovely October morning in 1961 with my "crombie topcoat" on my arm never to wear it again. My flight was via Gander where snow was piled 6' high beside the runway. I was met by Sgt. Tommy Doyle in his Bermuda shorts and taken to my quarters in the chalet in the grounds of Admiralty House. I was picked up at 11am and taken to HQ and sworn in.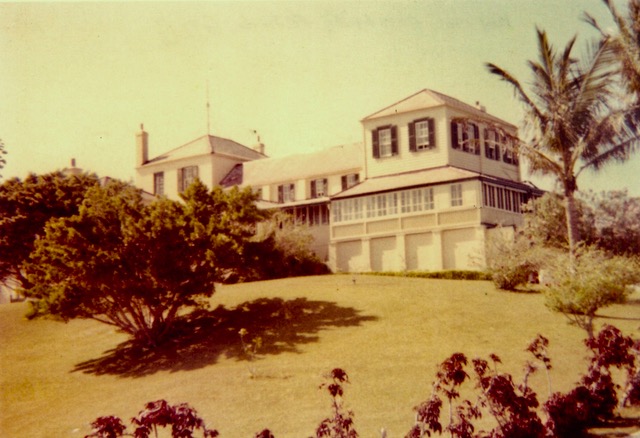 Admiralty House in the early 1960's
I spent my first week with George Hammond who was in Traffic and got a good view of this beautiful island which was going to be my home for the next number of years. My first day in uniform was the 11th November and I was detailed to do point duty on the junction of Burnaby Street and Church Street to stop all traffic when the House of Assembly clock struck 11am and to observe the silence.
I was stationed in Central doing all the usual routine duties like the birdcage, Government House, and general patrol. I have one vivid memory of being on the beat, I think it bordered Parliament Street and Queen Street. There were various "Points" where I was supposed to be "on the hour" where Sgt. Jim McNiven would meet me. One of those was the top of Queen Street and I was standing on the left hand sidewalk instead of the right. He gave me a right old rollicking in his best Scottish accent.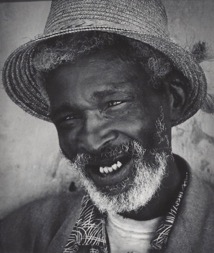 The irrepressible "Weatherbird"
I was eventually given the position of driver of the "Paddy Wagon" and one of my tasks was to take Weatherbird to the back of town the morning the Queen of Bermuda docked because of his shouting at Albuoys Point. Not a good impression for the tourists. Weatherbird was harmless but the Black Rum set him off!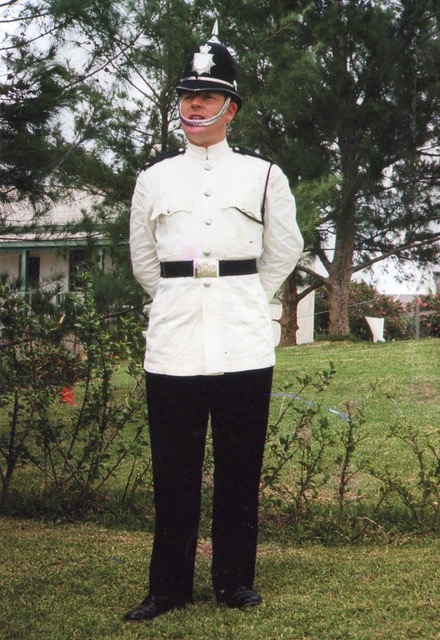 P.C. Dick Cuddihy in ceremonial uniform
for Queen's Birthday Parade 1962
My girlfriend from Dublin paid a short visit in April 1962 after attending her sister's wedding in New York and I proposed under Neptune at Admiralty beach (how romantic) and we were married in Dublin in September 1963.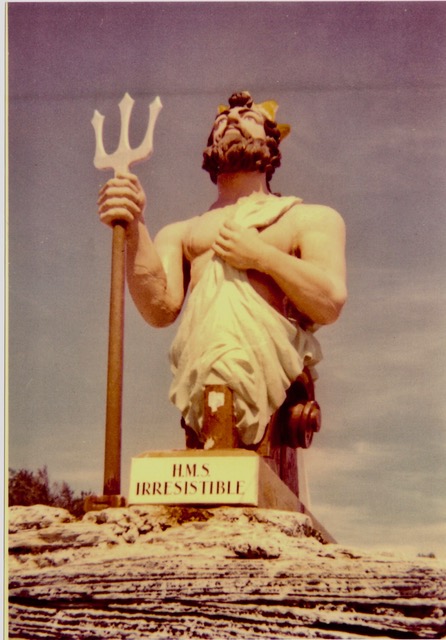 Neptune (mast head from H.M.S. Irresistible)
stands guard over the dock at Admiralty Cove
We lived in Prospect married quarters with some well known neighbours such as Derek Taylor, John Edwards, JCP Hanlon, Ronnie Mullen, Willie Woods, Mike Woods, Mike Palmer ,Tom Cassin, Derek Singleton, John Joe Sheehy, Joe Colton, Clive Donald, Johnny Mullin, John Cafferkey, Jim McNiven and Derek Fletcher. There are 10 Irish in that list and if Derek Singleton is still about there's two of us left otherwise I'm the last man standing.
Editors note - We understand that John Cafferkey is still with us and living in Canada.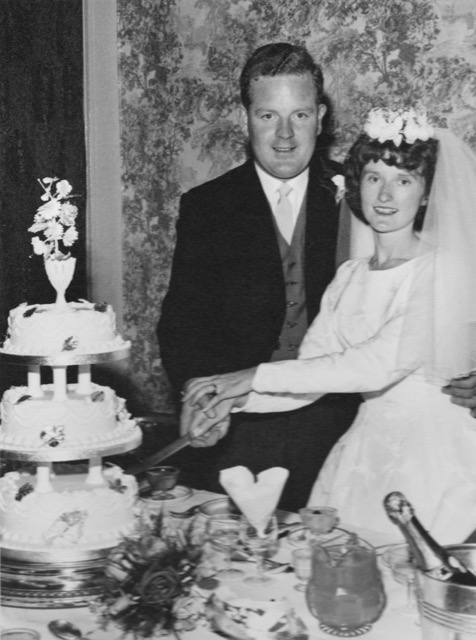 Dick and Dorothy on their Wedding Day - September 1963
I left the Bermuda Police on 31st October 1967, after serving for 6 years, and on my return to Ireland I initially joined Sun Life of Canada. 3 years later I took up a position with Mercer, a multinational insurance and pensions brokerage. I retired in 1997.
Editors note - Dick attended a Grand Bermuda Reunion held in Edinburgh in March 1986 when this photo was taken. You can read more about the reunion on our website at http://expobermuda.com/index.php/who-when-where/109-araregettogether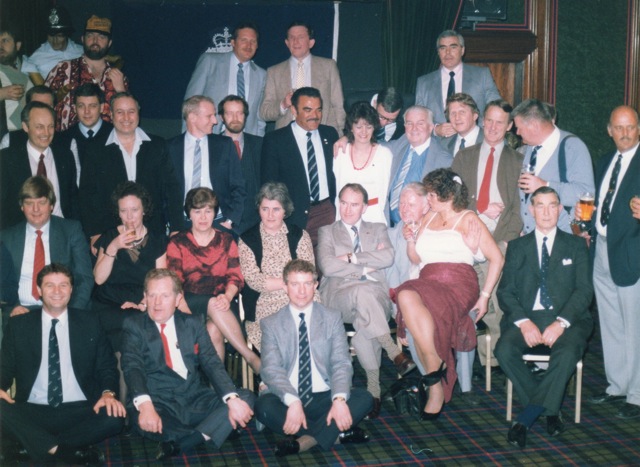 Grand Reunion held in Edinburgh in 1986
Standing rear, from L:- Al McNaughton (half face), Dave Shakeshaft, Kevin Hamilton,
Gordon Farquhar, Jim Hanlon (bending over), Mike Jent.
Standing middle, from L:- John Napier, Clive Dewhurst, *5 Andy Drybrough, Doug Rogers,
Eddie Foggo, Maureen Connor, John Mullan, I think Tony Watson, Mike Burke,
Joe Colton, *6 Don't know who he's hiding, Brian Malpas.
Sitting rear, from L:- Pete Swann, Marion Lewis (Gwyn's wife), *7 Christine Muspratt,
*8 Margaret Lester-Card Colton, Gwyn Lewis, John Mulholland with *9 Unknown bird
on knee (believed to be a lively bus conductress named Anita,
*10 Bill Sherwood. Sitting front:- Bob Kinnon, Dick Cuddihy, Ian Graham.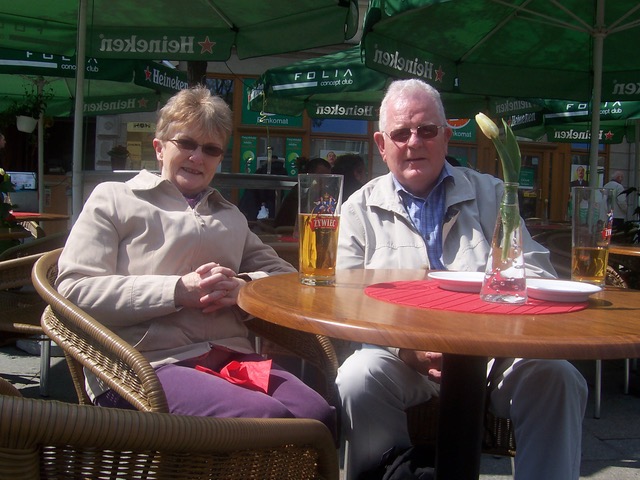 Dick and Dorothy holidaying in Italy
Since then Dorothy and I have holidayed all over Europe, North and South Africa and Australia. and visited Bermuda three times including a visit to the P R C. Our daughter Sheila was born in Bermuda. She is married to Bobby with 3 children living in London. Our son John born in Dublin married to Natasha has 2 children and lives across the road from us. His children are aged 11 and 7 and we adore them, they visit us all the time.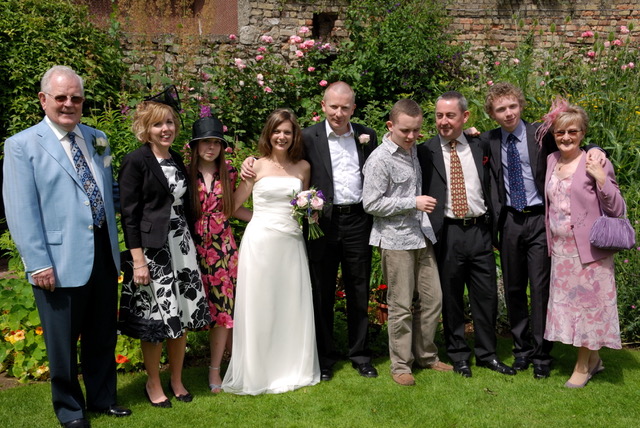 Dick and Dorothy with their family at John and Natasha's wedding
(l-r) Dick Cuddihy, Sheila Deegan (daughter) , Cathryn Deegan (granddaughter),
Natasha Cuddihy (Bride), John Cuddihy (Groom), Robert Deegan (grandson),
Bobby Deegan (son-in-law)Peter Deegan (grandson), and Dorothy Cuddihy
Dorothy and I are in good health and enjoying retirement , My mobility isn't very good, I use a frame to get around and gave up golf some years ago. I keep up to speed with Bermuda, reading the Royal Gazette regularly and now I enjoy reading the expobermuda website. Its lovely to get all the news, Roger, keep up the good work.