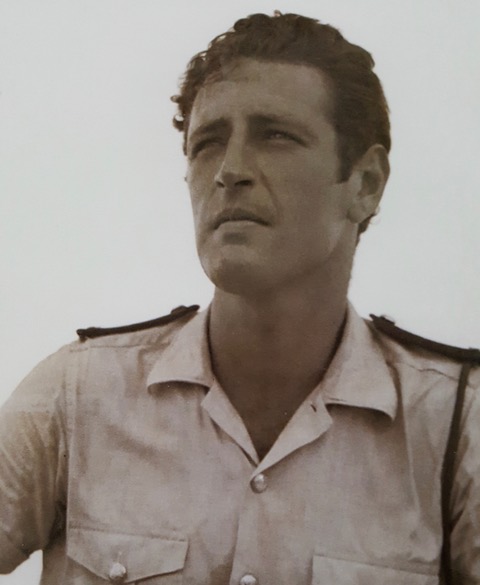 Young P.C. Chris Reynolds-Hole
Chris was born in Wimbledon, London, in November 1942, and lived his early life in Devon with his parents. He then attended boarding school until his mid-teens during which time his young sister, Vicky, was born.
After leaving school, Chris joined the Merchant Navy for a short time before attending the Royal Naval College at Dartmouth where, after a year, he was happy with the mutual agreement that the Royal Navy and he were not suited!
He chose to pursue his love of the sea by teaching sailing on the river Dart and crewing on the Yacht Mirandis around the Mediterranean.
In 1965 Chris joined the Bermuda Police Force and eventually was a member of the Marine Section.
Editors note - Chris arrived in Bermuda on 6th January 1965, along with a group of new recruits from the UK, and he attended Basic Training Course #6 from January – April 1965 *.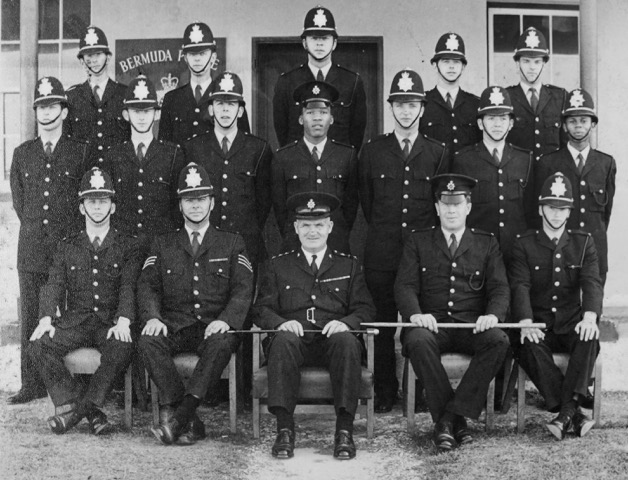 Basic Training Course #6 January - April 1965
Top Row (l-r) Paul Butterworth, Kenneth Bent, Barrie Meyers,
Charles McDonald, Niall (Neil) Hunter
Middle Row - Christopher Reynolds-Hole, James Robertson, David Cann,
Hiram Edwards,
John "Barry" Smith, Paul Farrell, Leroy Jones
Seated - William Webb, Sgt Derek Taylor, Chief Insp. Roy Chandler,
P.C. Andrew Heggie (Instructor), and James McIlwain
This was also the year he met his wife Fiona on a blind date set up by mutual friends. Fiona was nursing at King Edward V11 Hospital. They married back in the UK in October 1966, and returned to Bermuda in those same roles for a further 4 years. They lived at "Heytor Cottage", South Shore Road, Devonshire.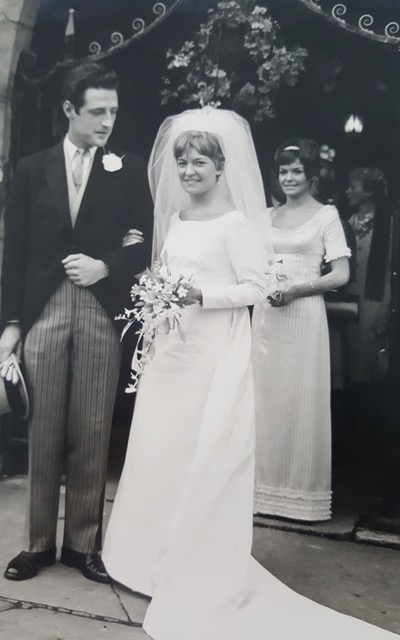 Chris and Fiona on their wedding day - October 1966 in Sussex
In 1970 their daughter Joanna Claire, was born. When Jo was six weeks old, the family relocated to Virgin Gorda in the British Virgin Islands where Chris started up and managed a Marina which was part of the Rockefeller Resorts. It was an idyllic life in the sun for the next six years during which time, in 1974, their second daughter, Sara Louise was born.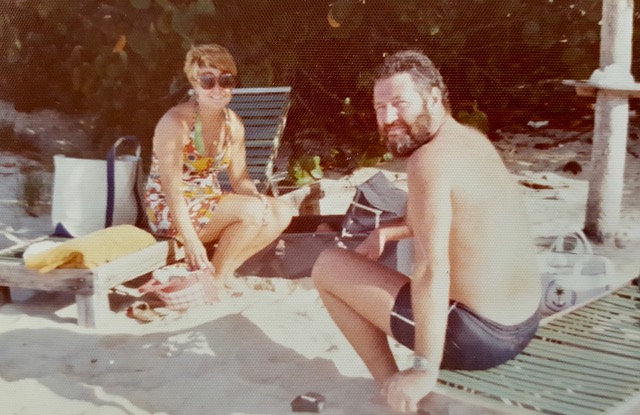 Fiona and Chris enjoying the beach in the Virgin Islands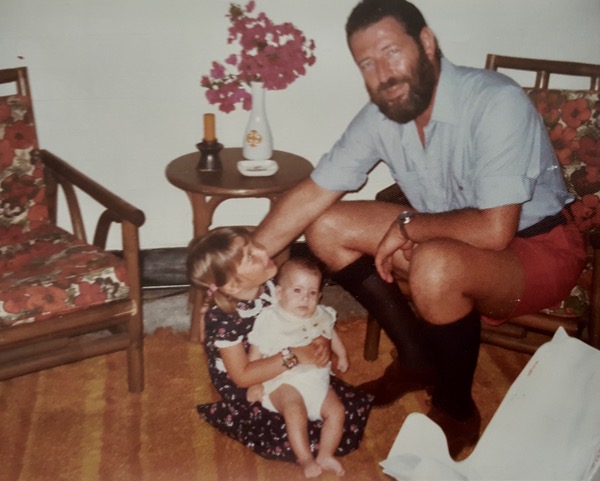 Chris with his two beautiful daughters, Joanna and Sara, at their home in the Virgin Islands
Chris and Fiona decided to return to the UK in 1976 for Jo and Sara to attend school, as there were no schools on the island at that time. So, in 1976 Chris got a new job managing Bradwell Marina in Essex and the family settled to life in nearby Maylandsea, Essex.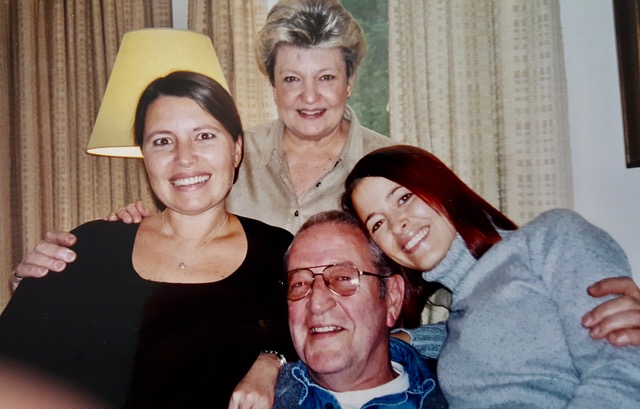 Chris celebrating his 60th birthday with Fiona and their two daughters Joanna (left) and Sara
While the girls were growing up, Chris managed various other Marinas in the area and enjoyed the role of River Warden at Maldon Quay on the River Blackwater before retiring in 2006.
In the years after he retired, Fiona and Chris had the pleasure of seeing both Jo and Sara married and subsequently present them with 4 beautiful Granddaughters ---Jessica, Grace, Evie and Anna whom he called his "baby souls" and gave him such joy and pride.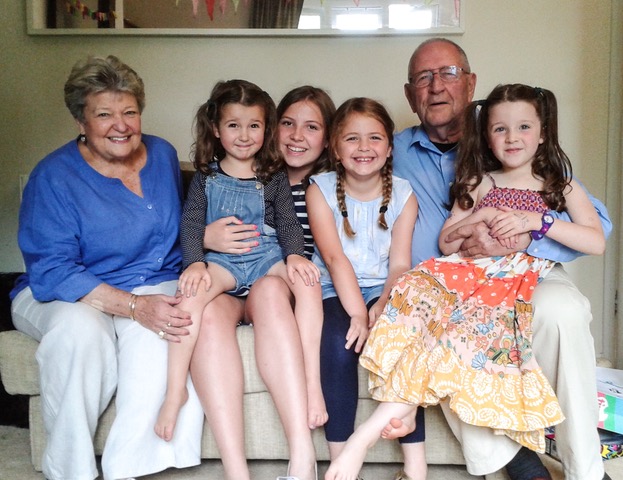 Chris and Fiona with their four lovely granddaughters in 2015
(l-r) Fiona, Anna, Jessica, Grace, Papa Chris, and Evie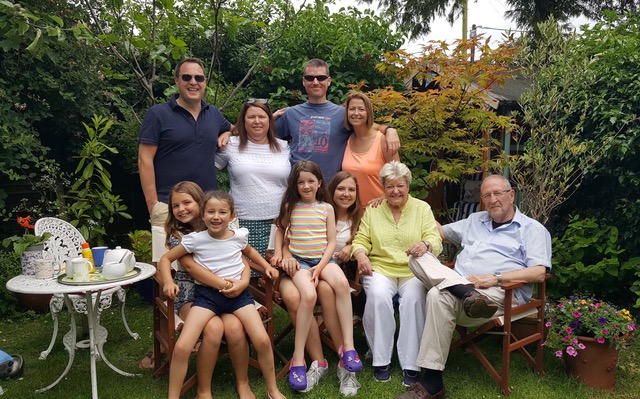 "Our Whole Family!"
Chris and Fiona get together with all their family
Standing (l-r) Ed and Joanna, Cliff and Sara
Seated - Grace, Anna, Evie, Jessica, Fiona and Chris
Chris came in with a bang on 5th November 1942 and slipped away from us peacefully on June 22nd. He was a kind, quiet and gentle man, lovely husband and wonderful father and Papa with a wicked twinkle in his "slit eyes"! We will miss him always and hold him in our hearts forever.
Editors note - Unfortunately, we have not been able to locate a file for Chris in the Police Register so we have no information about his various transfers, but we understand that he worked for a spell in Central Division, Hamilton Police Station, before being transferred to Marine Section, where by all accounts, he was an excellent mariner who was very well liked by all who served with him.
18th October 2018 - We have just received the following comments from former Inspector Dave Garland who was OIC Marine Section when Chris was transferred to the Section, and from former P.C. Keith Lovell who worlked with Chris in Marine Section.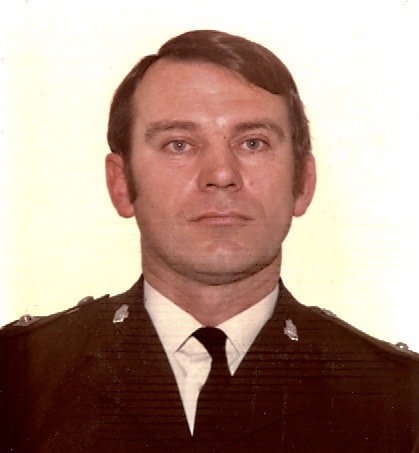 Inspector Dave Garland OIC Marine Section
DAVE GARLAND - Chris was a young P.C. stationed in the City when I first met him and I was OIC Marine Section. He asked me if there was any chance of him getting onto the Marine Section. I had a meeting with him at the section office and found his background to be ideal. He had attended a nautical school and he had boat handling experience. I recommended that he be considered for our Section.
A few weeks later Chief Inspector "Nobby" Clark approved the move and Chris arrived at Marine Section. I introduced him to Keith Lovell as I figured they would be compatible. It worked out very well and I know he and Keith became good friends.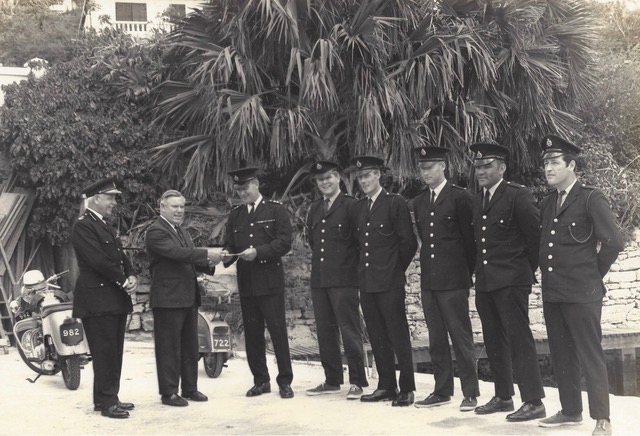 Members of the Police Marine Section receive their Pilot's Licences from
Mr. Stanley Gascoigne, Director of Marine and Ports*
(l-r) Commissioner of Police George Robins, Stanley Gascoigne, Chief Inspector L.M. "Nobby" Clark
P.C's Gerry Swales, Keith Lovell, William "Willie" Woods, Eddie "Boxhead" Foggo, and Chris Reynolds-Hole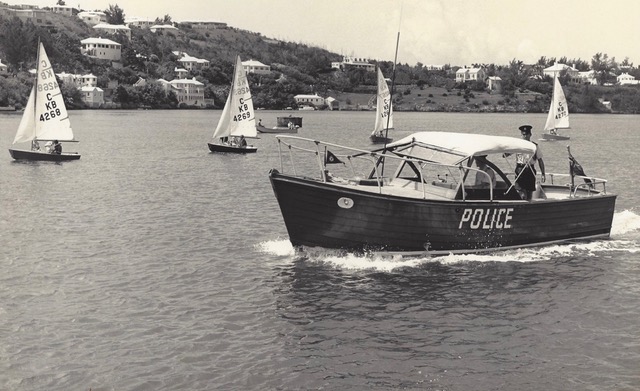 P.C's Keith Lovell and Chris Reynolds-Hole patrolling
the waters of Hamilton Harbour in Blue Heron
I liked Chris and found him to be a lovely fellow. We had a good ongoing friendship, so much so that when my son was born we named him Christopher James.
Chris was quite a wary guy! To give you an insight into Chris's 'waryness', he was on the Blue Heron next to the dock and I said, "The Commissioner would like me to mention to you ……" and before I could say another word he gave me a look and said, "What have you said to the Commissioner about me?" "I assured him I hadn't said anything about him - except to describe an incident the previous Sunday when he and I had towed in a boat from outside North Rock. He immediately asked, "Yes, well what's that got to do with me?" I reminded him that the boat we had towed in was owned by a Member of Parliament, Mr. L.P. Gutteridge who had offered us £50 each which we had declined. I had then suggested to Mr. Gutteridge that he send a donation to Chief Inspector Clark to be put in the Police Benevolent Fund. I explained to Chris, "Well he wishes to praise us both for our actions and there will be a note to your file." His immediate response was, "So, they keep a file us!"
Chris always came to work with a flask of coffee which he sneaked drinks from all through his shift. One day I nagged him about it and asked him to share some of his coffee. "You won't like it" he kept saying so I kept it up till he poured me a drop in the flask top. It tasted like pure sugar with just a drop of coffee to colour it. He told me he put four or five spoons of sugar in it. That was the last time I ever asked to share his coffee!
We were good friends, and Sue and I visited Chris and Fiona a couple of years ago at their home in Essex. He was the bailiff for the county at that time.
KEITH LOVELL - Chris and I worked for some time together in Marine Section and he was always a pleasure to work with. He had an excellent knowledge of boatmanship and was a totally reliable partner. We got on very well together and I remember that one year Chris and "Fi" joined my wife Jade and myself on a holiday when we flew south to join one of the "Banana Boats" the Federal Palm or the Federal Maple, that plied the Leeward and Windward Islands. We were all newly wed, and Chris and Fi were good company, happy and lots of fun to be with. Happy memories.
Editors note - Both Dave and Sue Garland, and Keith and Jade Lovell send their sincere condolences to Fiona and family.
* PILOTS LICENCES - There is a background story about the above photograph of those constables receiving their Pilot's licences! Sgt. Dave Garland was in charge of the Police Marine Section at that time, and he had recommended to "Nobby" Clark - himself a keen boat man - that something needed to be done to raise the standards of the Marine Section by making it a pre-requisite for all members to possess a "C" Pilots Licence. "Nobby" agreed and Dave ran a course at Training School to for that very purpose. Chris was a new member of the Section and had just a week to pass the exam, which was taken by all of the constables above AND "Nobby" Clark. All passed with flying colours! When Dave moved to the Government Fisheries Department he did the same for their staff, and last year he completed 40 years teaching marine courses at the Bermuda College.