A POLICEMAN'S BERMUDA ROMANCE
Constable John Harry Isaiah TYERS
(1898 - 1971]
FORMER BERMUDA POLICE OFFICER JOHN McQUAID WHO SERVED IN BERMUDA BETWEEN (Sept 1963-1969) WROTE TO SAY:
I recently came across a fascinating piece of tittle-tattle in a Sheffield newspaper, having been attracted to a by-line which read:
'POLICEMAN'S BERMUDA ROMANCE' Dated January 27th of 1927. I became increasingly interested as I was not until then aware that serving British cops were being recruited so long before my short sojourn on the Island in the 1960's. The official website of the Bermuda Police Service soon confirmed for me that recruiting from England did indeed occur as early as 1920.
'The First Overseas Recruits
In 1920 the Force underwent another major reorganization.
The Police Establishment Act 1920 empowered the Chief of Police, Mr. J.H. Semphill, to recruit young men in England and that is exactly what he did. Eighteen men were selected from the five hundred applications received and they arrived in Bermuda in August of that year. Five were ex-Royal Marines and the other thirteen ex-United Kingdom Police Officers. The new Force now numbered forty-six.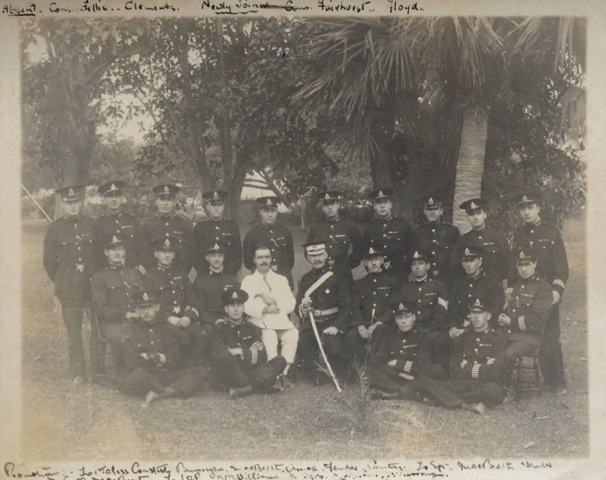 First batch of overseas recruits - 1920
Chief of Police Mr. J.H. Semphill is seated 5th from left with ceremonial sword
The new recruits arrived by steamer which berthed in Hamilton and after docking they were marched off to Hamilton Police Station (yes, the same building which we use today!) Literally within hours of arrival some of them were detailed to walk the beat.
Having just arrived in a foreign country (five of them without any Police training whatsoever), is it hardly surprising to learn that one of them became lost and had to ask a road sweeper the way back to the Police Station!'
JOHN WENT ON TO SAY:
It was the sub-headlines of the article which were certain to encourage me to read on:
'Arrested on Honeymoon' and 'Imprisonment Sentence for Bigamy'
Well, who wouldn't read on! I produce a reprint of the item in its entirety below which is pretty well self-explanatory as to the man's plight. I have also produced two other clips, both from Australia, where in Melbourne his cunning plans were to unfold so rapidly.
I have searched a little further and can confirm that the policeman in question was a John Tyers, a transport police officer, born in Yorkshire in 1901 [actually, born in Lincolnshire in 1898 – see below] and legally married to Martha Jane Dobson – then a widow – in Bradford in June of 1920. (From what I can discover, she was several years older than him). The date he travelled out to Bermuda by steamer is not clear but it seems that his wife stayed behind in the marital home in Yorkshire, though there were apparently no children to the marriage.
JOHN FURTHER WROTE:
Chislaine Bennett was born about 1905 in Ormskirk, Lancashire and would have been around 20 years of age when she was known to be holidaying in Bermuda, where she was to take up the acquaintance of Pc Tyers. She sounds as if she was of good stock (rich) and he seems to have latched on to her like the English coppers often did. He sneaked her address from her bank-book in the post office and when she returned to her home in Maghull, Lancs, she was soon to be followed by an obviously smitten suitor – (I wonder if he'd deserted' from the Police?).
In June of 1926 the two were married at her home Registry Office. Three weeks after this 'marriage', the couple set off for a honeymoon in Australia and apparently, straight into the arms of the local bobby in Melbourne.
Chislaine – also known as Christine – sounds like an interesting lady and pretty obviously not short of a few pounds. Very soon after his arrest she is reported to have married in June 1945 to a William H. Hood in Liverpool, England, though this marriage did not last much longer as Ghislaine died in 1957 in Liverpool aged just 45; her William died ten years later in Liverpool, aged 60.
A titillating tale perhaps, but I wonder if the records at Prospect hold any references to this bold adventurer from so long ago. I would love to know. John and Martha (Dobson) re-united eventually and lived the rest of their lives in Bradford where both died in the latter half of 1971 – in Bradford.
END OF JOHN McQUAID'S SUBMISSION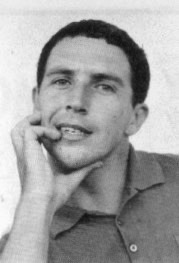 Following on from John's request, I commenced enquiries to more accurately identify Constable John Harry Isaiah Tyers. Both the 1901 census (when aged 2) and that of 1911 (when aged 12) corroborate his birth year as 1898 - in Brant Broughton, Lincolnshire; NOT in Yorkshire as indicated above.
[His father's name is recorded as John Henry Tyers].
A comparison of the extant public records revealed the following birth registration options. [Only the expensive purchase of a certified copy of Tyers' birth certificate will verify the true version however.]
1. John Harry Isaiah Tyers born June 1898 Brant Broughton, Lincolnshire to John Henry Sleath Tyers
& Florence Gertrude Tyers
2. Harry Tyres b. 1st Q 1898 Lincoln, Lincolnshire
3. John Harry I. Tyers b. 2nd Q 1898 Newark, Nottinghamshire
1901 CENSUS

: @ Bassingthorpe, Lincolnshire, England
Name
Relationship
Age
Where born
Jno Henry Tyers Head 39 Collywestern, Northampton
Florence Gertrude Tyers Wife 38 Skillington, Lincolnshire b. 1863 nee Johnson
Edward Tyers Son 15 Grantham, Lincolnshire b Sept 1885
Grace Tyers Dau 12 Grantham, Lincolnshire b 16.05.1888
Bertha F. Tyers Dau 10 Grantham, Lincolnshire b 1890
Priscilla E. Tyers Dau 7 Denton, Lincolnshire b 19.08.1893
Vera Clementine Tyers Dau 5 Brant Broughton, Lincolnshire
John Isaiah Tyers Son 2 Brant Broughton, Lincolnshire b 1898
Kathleen R M Tyers Dau 0 Bassingthorpe, Lincolnshire
[An eldest child, not shown on above census, may have been Eliza Maud C. Tyers born June 1883]
1911 CENSUS: @ Brant Broughton, Lincolnshire
Name
Relationship
Age
Where born
John Henry Tyers Head 49 Colleyston, Northampton Groom/Worker
Vera Clemantina Tyers worker at home 15 Brant Broughton, Lincolnshire
John Harry Isaiah Tyers Son 12 Brant Broughton, Lincolnshire
Kathleen Rose Marian Tyers Dau 10 Bassingthorpe, Lincolnshire
1916, December 11 – John Harry Isaiah Tyers engages in the First World War effort in a Short Service Attestation at Lincoln, Lincolnshire, England. He is aged 18 years and 8 months and gives his occupation at that of 'Beltmaker' and states that he is unmarried. Service number: 28668.
1917, January 18 – Tyers is appointed to the 1st Battalion, Brigade of Grenadier Guards.
In 1917, a British Army Service Record (1914 – 1920) Transcription shows the birth town of Brant Broughton, Lincolnshire, England for John Harry Isaiah Tyers – Service No. 28668.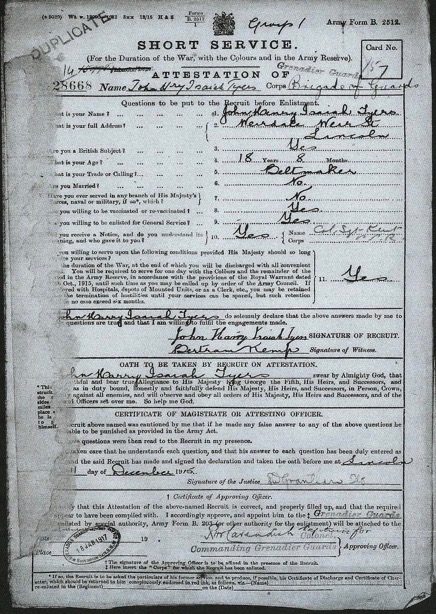 British Army Service record for John Harry Isaiah Tyers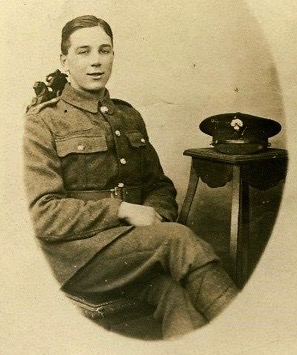 in the uniform of the Grenadier Guards about 1916 -1917
This photograph is stamped on the reverse by the London photographer
Gordon Studios, 208, Kings Road, Chelsea SW
Source: Susan Cook to whom thanks are given

A 'cut' from a family photo of Harry Tyers
together with his parents, brother & 5 sisters
The Courier [Dundee]
1920, June 7
A BROUGHTY VISITOR
Mr. J. Howard Sempill, chief of police and Provost Marshall General of the colony of Bermuda, formerly chief constable of Broughty Ferry, is at present in this country recruiting for the Bermuda police force. Mr. Sempill renewed his acquaintance with Broughty Ferry by a visit over the weekend.
Sourced by John McQuaid to whom thanks are given.
1920, June 21 – Marriage (1) after Banns, of John Harry Isaiah Tyers (25) Bachelor to Martha Jane Dobson, Widow, in North Bierley, Bradford, Yorkshire, England. [St. John's Church, Parish of Clayton,
County of York]
He gave his occupation as Police Constable and his address as 30 Cobden St, Clayton, Yorkshire. His father, John Tyers is described as 'Gentleman'.
Martha Jane (30) is described as a widow of 18 Cobden St, Clayton, Yorkshire
https://familysearch.org/ark:/61903/1:1:2628-4T9
https://familysearch.org/ark:/61903/1:1:262L-BZY

1921 CENSUS: No gain – 100 year rule applies
1925, July 9 – Sailed under the name JOHN H. I. TYERS from Liverpool bound for Bermuda on S.S. "OROPESA"
Details obtained from ship's passenger list include:
Aged 27 Male Born 1898 Not accompanied by wife Occupation – Bus driver
Last address in the United Kingdom: 3 Ramsden Place, Clayton, Bradford, Kingsfield.
Contracted to land in Bermuda. Country of Intended Future Permanent Residence – W Indies
[Considering he gave his occupation above in July 1925 as that of 'bus driver' then all indications are that he became a member of the Bermuda Police shortly after his arrival on the island in that year]
Photo courtesy of the Allen Collection
BRITISH OCEAN LINER OWNED BY PSNC
OPERATED BETWEEN LIVERPOOL AND SOUTH AMERICA
BUILT 1920 AND SUNK 1941 BY GERMAN SUBMARINE U-69
IN THE WESTERN APPROACHES
The Royal Gazette and Colonist Daily
1925, 28 December
INVESTITURE OF THE CHIEF OF POLICE
This morning at 11.30 in the grounds of the Public Buildings His Excellency, the Governor will formally present J. H. Sempill Esq., Chief of Police with the insignia of the O.B.E.[sic] awarded to him by His Majesty the King, for services rendered Bermuda, on the occasion of the last Royal birthday.
The date is a happy one for it is eleven years today since Mr. Sempill arrived in the Colony, and during that time we have witnessed the reorganization of the whole Police Force and watched it grow to its present splendid state of efficiency. There will be many friends of the Chief's present today to see him honoured and the occasion will be marked by the biggest parade of Police ever seen in Bermuda.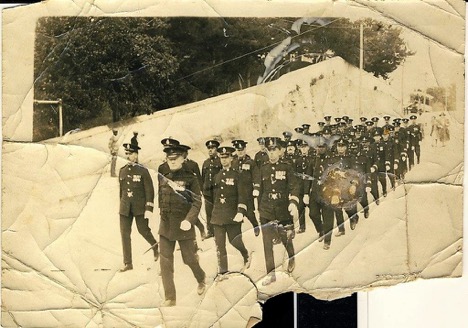 This photo has a faint stamp on the reverse
I think it says from G Allen Fraser…. Allen Hurst Building, Hamilton, Bermuda
"To Mother & Dad, From Your Loving Son Harry 28-12-25"
Photo and comment source: Sue Cook
[I concur with Roger's opinion on the above photo when he states:
"I'm almost sure it is Court Street judging by the wall on the left which has to be the House of Assembly eastern wall". As reported below, the parade is led by Inspector W.N.T. Williams].
EDITORS NOTE - Unfortunately, this photo has been quite badly damaged over the years since 1925. We would be delighted if anyone could trace a better copy of it.
The Royal Gazette and Colonist Daily
1925, Tuesday, December, 29
CHIEF OF POLICE DECORATED
INVESTED WITH M.B.E. BY GOVERNOR
Yesterday morning in the grounds if the Public Buildings, Hamilton, the Chief of Police, Mr. J.H. Sempill, was invested with the insignia of the M.B.E. [sic] by His Excellency the Governor, Lieut.-General Sir J. J. Asser. The ceremony was witnessed by a very large and representative crowd of spectators, and was performed in the presence of the Police Force, who paraded 50 strong under the command of Inspector W. N. T. Williams. They were drawn up two deep on the north side of the Cenotaph, facing the Public Buildings, with the Chief of Police in front of them, and the Governor took up a position near the flagpole for the function.
His Excellency was attended by Brigade-Major Imbert-Terry, R.A. and Capt. Hoskyn, A.D.C., and Col. Briggs, C.R.E., was also present. Among the spectators were the Hon. H. Henniker-Heaton, Colonial Secretary; the Hon. K.J. Beatty, Chief Justice; the Hon. Major T.M. Dill, Attorney General; Major R.W. Appleby, Police Magistrate, Central District; the Rt. Rev. the Bishop of Bermuda; Mr. J. Robertson Honey, American Consul; Hon. S.S. Spurling, C.M.G., M.C.P., Hon. J.P. Hand, M.C.P., and other members of the legislature; the Wor. A.W. Bluck, M.C.P, Mayor of Hamilton; and the business community was also well represented.
On his arrival, His Excellency inspected the Police Force, and then, taking up his position near the flagpole, read the Charter of the Order and pinned the decoration on Mr. Sempill's breast. He afterwards made a short speech. "About 11 years ago," said the Governor, "it was felt that the Colony was not exactly what it ought to be, and a search was made for a police officer of high qualifications to take up the work, and the choice fell on Mr. Sempill. He was man with a long apprenticeship in police work, and had good service to his credit. It was proper that that day should have been chosen, the 11th anniversary of Mr. Sempill's arrival in the islands, for him to receive this decoration, conferred on him by His Majesty the King "in appreciation of the faithful manner in which you have carried out your task undertaken 11 years ago. You have certainly rendered a good account of yourself," added the Governor.
It gave His Excellency great pleasure to have the honour of making the decoration, because he had looked through many records of the early days and the years following Mr. Sempill's arrival, and so he understood the situation which obtained in those days as far as public security was concerned, and what obtained today. He gathered from those records, and those of the Police, that the Force was very different to what he saw before him that day.
The first thing that Mr. Sempill had realised on taking up his position was that he had got to surround himself with a Force of honest and reliable men. It was not an easy task, and was work which entailed careful thought and consideration and much time, because he not only had to select men but had to wait and see whether he had been wise in his selections. But thanks to his good judgement and quality of dealing with men and his understanding and long experience, he had by careful selection and by eliminating those unsuited to the profession, Mr. Sempill now had command of a Force which the Governor had no hesitation in saying was a model to any other country. That was not only His Excellency's opinion, but visitors from the Dominion and other Colonies spoke in the highest terms, while visitors from other countries highly commended the Police Force, while the officers of the Services, the Navy and the Army, spoke of them in the highest terms.
His Excellency complimented them on that high state of efficiency. Any man, he added, could build up a Force, but he would not get the best unless he had the whole-hearted support and good-will and loyalty of the men, and it was largely due to that state of affairs that Mr. Sempill stood before them to receive the decoration.
In conclusion, the Governor hoped that each member of the Force, now that this high state of efficiency had been reached, would strive to maintain it and to uphold the good name they had won, that they would be a credit to their Chief, to Bermuda, and the British Empire. (Applause)
This ended the investiture, and the Police Force, a very smart looking body of men indeed, marched from the Public Buildings, via Front and Reid Streets, back to the Police Station, where they were dismissed.
[It remains unclear at this writing whether Commissioner Sempill was awarded the M.B.E. or the O.B.E.]
The Royal Gazette and Colonist Daily
1926, Saturday, January, 16th
Although there were several cases down on the criminal calendar this morning [Friday, January 15th] yet only one was tried as this case took up the entire morning. This was an assault case and was rather unique in the annals of criminal procedure of Bermuda inasmuch as the defendant was a Police Constable.
The complainant was Harry Hugh Hayward, a youthful barber of Queen Street; the defendant was John Henry Isaiah Tyers, a member of the Bermuda Police Force, and the charge was that of assault under section 269 of the Criminal Code. Mr. J. R. Conyers appeared as counsel for the prosecution, and Mr. H. Villiers Smith was counsel for the defence. After four witnesses for the prosecution and two for the defence had been examined and cross-examined, and the learned counsel had summed up, the Magistrate announced he would give his decision at ten o'clock next Monday morning.
Briefly the facts were that at about 12.20 a.m. of the 2nd inst Hayward, accompanied by a woman companion, entered the precincts of Victoria Park and took up a poetic position on the fresh green grass. According to Hayward they stretched out on the sward on their sides each with an elbow supporting a head and facing one another. Ten minutes later this interesting situation was interrupted by the approach of Police Constable Tyers, (whose duty it was to patrol the park in order to see that all visitors were well on their way to their homes for the hour was late), by flashing his electric torch upon them. This led to a scramble on the part of the pair to gain their feet after which a conversation ensued between them and the Constable. The question of their being under arrest and to a visit to the Police Station was gone into. According to Hayward he had a hand bag in his right hand and called to girl; "Hold this for me!"
The next thing Hayward knew was that he found himself back on the ground with, as he said, a bruised and injured jaw, and which he alleged was the result of a blow from the Constable's fist. Hayward said his cheek was cut inside and he could not eat for two days and suffered considerable pain; but there was no medical evidence forthcoming to show the seriousness of the wounds. Hayward got up with the Officer's assistance and, as he said, ran off to look for witnesses leaving the girl in the Constable's care. She pleaded for release so successfully that he let her go. She then joined Hayward who took her home. Later on that morning and again in the afternoon Constable Tyers met Hayward, once outside the American House and again in Hayward's shop when the affairs of the early morning were touched upon.
That night about 8 o'clock Hayward decided to take action and made a report to the Police and later on laid a formal charge before the Magistrate.
Constable Tyer's story differed greatly from that of Hayward's. He claimed that the law was being broken and it was his duty to interfere whereupon Hayward passed a blow at him which caught him on the chest and in return he pushed him away with his arm and Hayward fell down, but he denied striking him, as Hayward had stated. He had acted in self-defence and had he really struck him Hayward would not be able to be in court today. Constable Tyers said that while he did not make a note of the matter in his official note-book he did not report the occurrence at the Police Station when came off duty at 4 a.m. as he took advantage of the privilege of a Police Officer had in using his discretion, and it was not until Hayward had made his complaint that Tyers told his story.
As to the chivalry in the complainant dragging the girl as a witness into court in a case of this kind is entirely a matter of opinion, but in all the main points she corroborated Hayward's story.
Mr. Conyers in his summing up for the prosecution drew attention to the gravity of the charge which might as well be a case for the Supreme Court rather than a summary one especially where a Constable was concerned. The Magistrate quite concurred in this but said he would treat it summarily.
Mr. H.V. Smith made careful review of the main points in the case on behalf of the defense in which he spoke of the bearing and demeanour of his client when giving his evidence, and the trial ended when the Magistrate announced he would reserve his decision until Monday morning next.
The Royal Gazette and Colonist Daily
1926, Tuesday, January 19
There was a very large calendar awaiting the Magistrate's attention this morning, [Monday, January 18th] some fourteen cases criminal and civil. The majority of these cases were set down for last Friday but owing to a protracted trial of an assault case they were put over until today.
This assault cases was brought on a charge made against JOHN HENRY ISAIAH TYERS, white, a member of the Bermuda Police Force, by Harry Hayward, white, a barber on Queen Street. This morning the Magistrate gave his decision; he made a careful review of the evidence and found the defendant guilty and convicted him accordingly. But before he passed sentence he wished to confer with the Chief of Police in order to ascertain what penalty, if any, he would receive at the hands of his department.
Witnesses came in for some rebuke because they refrained from telling the truth which was rather misleading in arriving at the facts of a case. The defense was that of Self-defense which in the opinion of the Magistrate was not sustained. He spoke of the bad effect it had on the Police Force when an officer acted hastily and without foresight in striking an alleged offender. Sentence will be passed on Wednesday morning. An account of this trial appeared in last Saturday's issue of this paper.
The defendant, a Police Constable, is charged with having unlawfully assaulted one Harry Hayward on the 2nd instant.
It appears from the prosecution that shortly after midnight on Friday 1st inst. the complainant accompanied by a female who has been called Miss Smith, and will be called so in this judgement, entered Victoria's Park and sat on the grass in a secluded part of the Park. A few minutes after the defendant who was patrolling the Park, saw the two persons, and ordered them to leave the Park and threatened to arrest them and take them to the Police Station. The complainant and Miss Smith started to leave but both objected to going to the Police Station, saying that they had done nothing. Some altercation took place, when according to the complainant's story the defendant struck him on the mouth and knocked him down. As a result of the blow the complainant's lip was cut and he suffered considerable pain for a couple of days. The complainant's story is corroborated by Miss Smith.
Sergt. Major McBeath, Bermuda Police Force, gave evidence that on the 4th instant the defendant stated to him that he had struck the complainant with his fist but that he had done so in self-defense. There is no doubt that the assault was committed and the question really is, whether or not it was committed in self- defense, and if so, whether more than sufficient force necessary to repel an assault either contemplated or actual, was used.
The defendant testified that the complainant had first struck him. His evidence on this point was:
"The man said to the girl 'Take hold of this bag' at the same time passing me a blow with his right hand and caught me on the chest. He stepped in at me to pass the blow and I put my left hand up and pushed him away. He fell on the ground."
It is unfortunate that witnesses when giving evidence so frequently fail to observe the oath which has been taken, namely not only to tell the truth but to tell the whole truth. In this case the evidence of the complainant was distinctly misleading to the Court. He stated that after he had been knocked down Miss Smith pleaded with the defendant whereupon the defendant said: "All right I'll let you off this time. Do not let me catch you here again." And he then continued "Miss Smith and I then left and I took her home." It was only after a considerable amount of questioning by the Court that the complainant admitted that he ran out of the Park leaving Miss Smith and the defendant in the Park and that some minutes later she joined him in Cedar Avenue. I particularly mention this because very often the Court is materially assisted in arriving at a conclusion by what might at first seem to be a matter of slight importance. In the present case if the parties had left together as stated and as the Court was led to believe, I might have had some doubts, apart from the evidence, as to whether, if there were an assault, such assault was as serious as stated. The fact that the [defendant] ran away (to seek a witness as he stated, but which I consider to be untrue) might easily warrant the assumption that an assault of a more or less serious nature had been committed, and that the complainant, being in fear, had taken the opportunity of running away from further damage.
There was no idea on the part of the complainant of getting away to avoid being identified as he was already known to the defendant. The general rule of law with regard to self-defense is that if an assault is threatened, as by raising a hand against another within a distance capable of the latter being struck, the latter may strike in his own defense to prevent it, and, although unnecessary, violence must not be used. If a person strike at another, the person struck at is justified in using such a degree of force as will prevent a repetition of the assault. Judging from the evidence I do not think that the complainant either attempted to or actually did strike the defendant.
It does not seem reasonable to suppose under the circumstances that there are any reasons why the complainant should assault the defendant, nor does it appear that there was any ground for the assault by the defendant on the complainant, except possibly that the defendant, by means of the words used by the complainant to Miss Smith, namely "Hold this bag," may have imagined that he was about to be assaulted. In my opinion these words alone were not sufficient to justify the assault and the assault therefore cannot be considered as having been committed in self-defense. I come to the conclusion that the defendant acted hastily and ill-advisedly, and without due forethought and so committed the assault complained of. In my opinion the failure of the defendant to report the matter to the Police and his subsequent visits to the complainant were made with a view if possible to effect a settlement without criminal proceedings and that the visits were not made solely with the object of ascertaining Miss Smith's name. Such action by a Police Constable is entirely reprehensible. The defendant as a Police Constable is a Guardian of the Peace, and as such should be ever mindful of the prestige and reputation of the Force to which he belongs, and it is acts of this kind which lower the confidence which the Public should be able to repose in persons who constitute the Force.
For the above reasons I consider the defendant to be guilty of the assault complained of, and he is accordingly convicted. Before passing sentence I propose to confer with the Chief of Police in order to ascertain the effect of this conviction on the future of the defendant and so that in any sentence to be inflicted regard may be had to any such effect.
R.W. Appleby, J.P.
The Royal Gazette and Colonist Daily

1926, Thursday, January 21
This morning [Wednesday, January 20th] the Magistrate passed sentence on JOHN HENRY ISAIAH TYERS, a member of the Bermuda Police Force, who was convicted last Monday of assaulting Harry Hayward, a barber of Queen Street, in Victoria Park, during the early hours of the 2nd inst. He was sentenced to pay a fine of £5 or go to gaol for two months at hard labour in default of payment.
In the issue of yesterday the Magistrate was given in full, sic. a typographical error was committed which is herewith corrected. The Paper said, "The defendant ran away" whereas it should have been, "The Complainant ran away."
1926, February 17
Police Headquarters
Hamilton.
Letter of Resignation
From Constable J.H.I. Tyers
To the Chief of Police
I respectfully ask leave to resign my position as a constable of the Bermuda Police Force, to take effect from 31st. March 1926.
My reasons for resigning from the Force is the desire to return to England early in April to my children.
I have the honour to be Sir,
Your obedient servant
J.H.I. Tyers (Signature appears)
Police Constable
1926, March 10 No. 119 a.
From The Chief of Police
To the Colonial Secretary
I have the honour to forward for the information of His Excellency the attached report received from probationary Constable J.H.I. Tyers in which he asks permission to resign his appointment. This is the Constable who was recently prosecuted for an assault the particulars of which are contained in the report accompanying my minute No. 17 of 9th January, 1926. I do not think that Tyers would ever be a success as a Police Constable, and I recommend that his resignation be accepted with effect from 1st April, 1926.
2. His appointment papers are attached hereto.
J.H. Sempill (Signature appears)
Chief of Police
Source: K.I. Bermuda Archives
(from the Colonial Secretary records, 2260/3) Police Constables, Resignations 1926 – 28.
1926, April 3 – Sailed as a Transit passenger from Bermuda under the name of HARRY I. TYERS on the S.S. "ORDUNA" bound for Port of New York arriving on April 5, 1926
1926, April 7 – Sailed from New York bound for Southampton, England on S.S. "ORDUNA"
Details obtained from ship's passenger list for US Immigration purposes include:-
Aged 30 Male Married Police Officer
Last permanent Residence: - Brantford
Address of nearest relative or friend in country whence alien came:
30 Cobden St, Clayton, Brantford, Yorkshire, England
[Could this address and the relative named refer to his wife Martha and to their home address in Yorkshire?]
Height: - 6' -. Fair complexion
Passage fare paid by: - Self
Final destination: - Brantford
Place of birth: Lincolnshire
https://familysearch.org/ark:/61903/3:1:33SQ-G5MR-KH?i=281&cc=1923888 Image 282
https://familysearch.org/ark:/61903/3:1:33S7-95MR-LK?i=282&cc=1923888 Image 283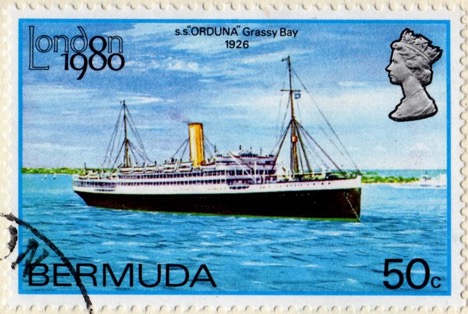 AT GRASSY BAY, BERMUDA 1926
1926, May 12 – Marriage (2) of John Harry Tyers to Ghislaine / Thislaine Rosy Bennett in Ormskirk, Lancashire, England
https://familysearch.org/ark:/61903/1:1:QVZT-6TSV
And
1926, 2ndQ – Marriage of John H Tyers to Ghislaine R Bennett at Ormskirk, Lancashire, England
http://search.findmypast.co.uk/record?id=bmd%2fm%2f1926%2f2%2faz%2f001186%2f136
[The name Ghislaine later reads as Thislaine on a 1926 ship's passenger list – see below. Could be a typo]
1926, June 5 – John Harry Tyers sailed on the S.S. "ANCHISES" from Liverpool bound for Melbourne via Las Palmas, Capetown & Australian Ports
Details obtained from ship's passenger list include:
Aged 28 Male Born 1898 Shown as accompanied by wife whose occupation is not shown
Last address in the United Kingdom: ℅ Smith Wood & Co.
Country of Last Permanent Residence – England
Country of Intended Permanent Residence – Australia
Travelling with John H Tyers was:
Mrs. Thislaine R. Tyers Aged 21 English Occupation not shown
Last Address in the United Kingdom – 21 Water St. Liverpool
Country of Intended Permanent Residence – Australia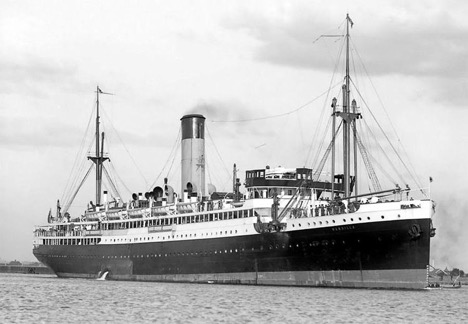 A BRITISH PASSENGER / CARGO VESSEL OWNED BY THE 'BLUE FUNNEL LINE'
BUILT 1911 AND BOMBED BY GERMAN AIRCRAFT IN FEBRUARY 1941 W.N.W. OF IRELAND
1926, July 24 – John Henry Isaiah Tyers was arrested in Melbourne, Australia under the Fugitive Offenders' Act on a provisional warrant of arrest for bigamy offences in England.
BIGAMY CHARGE – EXTRADITION OF ENGLISHMAN
John Henry Isaiah Tyers, aged 28 years, was brought before Mr. A. A. Kelley, P.M., at the City Court yesterday on a warrant issued under the Fugitive Offenders' Act, in connection with a charge of bigamy. The warrant was issued in England, and was endorsed on Friday by Mr. Justice Schutt.
Detective O'Keefe said – Tyers was arrested on a provisional warrant in Melbourne on July 24. This is an indictable offence in England, and the maximum penalty is imprisonment for seven year. I produce the original warrant for Tyers's apprehension. I saw Tyers at the detective office and asked him whether he were the defendant named. He replied, "Yes."
I read to him a copy of the marriage entry of Ghislaine Rosy Bennett and John Harry Tyers, showing that they were married on May 12, 1926 in Lancaster. I produced also a copy of a marriage entry showing that Tyers and Martha Jane Dobson were married on June 21, 1920, at Bradford. Tyers said that he was the person mentioned in the certificate.
Mr. Kelley (to Tyers) – I commit you to prison to await your return to the United Kingdom.
Accused – I am not contesting the extradition. May I be allowed bail?
Mr. Kelley – No.
1926, November 23 – Arrived on the S.S. "EURIPIDES" at Port of Southampton having embarked in Melbourne, Australia – [a sailing time of between 46 and 50 days]
Mr. John H. Tyers 3rd Class travel. Gave his proposed address in the UK as Brant, Broughton Nr Newark, Notts. Occupation: Police Officer. Aged 28
Also recorded in the ship's passenger list:
Mrs. Ghislaine Tyers 1st Class travel. Occupation: Housewife and aged 21. Gave her proposed address in the UK as 8 Bold Place, Liverpool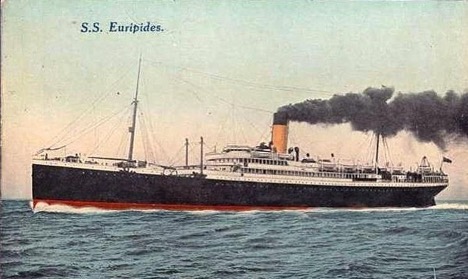 1926, Ghislaine Rosy Bennett married (2) Augustine George White in Victoria, Australia
'while in Melbourne she [Ghislaine] married (2) George White' [from whom she divorced in 1935]

The top half of a photo signed 'Harry'
On the reverse is the word 'Grace' who is his sister.
LEEDS MERCURY
1926, 25 November
TRANSCRIBED BENEATH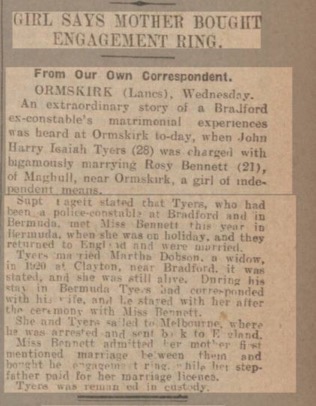 GIRL SAYS MOTHER BOUGHT ENGAGEMENT RING
From Our Own Correspondent
ORMSKIRK (Lancs), Wednesday. An extraordinary story of a Bradford ex-constable's matrimonial experiences was heard at Ormskirk to-day, when John Harry Isaiah Tyers (28) was charged with bigamously marrying Rosy Bennett (21), of Maghull, near Ormskirk, a girl of independent means.
Supt. Pagett stated that Tyers, who had been a police-constable at Bradford and in Bermuda, met Miss Bennett this year in Bermuda, when she was on holiday, and they returned to England and were married.
Tyers married Martha Dobson, a widow, in 1920 at Clayton, near Bradford, it was stated, and she was still alive. During his stay in Bermuda Tyers had corresponded with his wife, and he stayed with her after the ceremony with Miss Bennett. She and Tyers sailed to Melbourne, where he was arrested and sent back to England. Miss Bennett admitted her mother first mentioned marriage between them and bought the engagement ring, while her step-father paid for her marriage licence. Tyers was remanded in custody.
YORKSHIRE EVENING POST
1926, 29 November
TRANSCRIBED BENEATH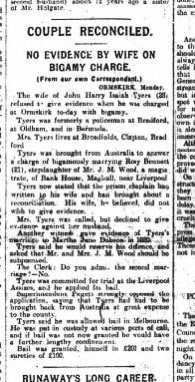 NO EVIDENCE BY WIFE ON BIGAMY CHARGE
ORMSKIRK, Monday. The wife of John Harry Isaiah Tyers (28) refused to give evidence when he was charged at Ormskirk, today with bigamy. Tyers was formerly a policeman at Bradford, at Oldham and in Bermuda. Mrs. Tyers lives at Broadfolds, Clayton, Bradford.
Tyers was brought from Australia to answer a charge of bigamously marrying Rosy Bennett (21), stepdaughter of Mr. J. M. Wood, a magistrate, of Bank House, Maghull, Bradford.
Tyers now stated that the prison chaplain had written to his wife and had now brought about a reconciliation. His wife, he believed, did not wish to give evidence. Mrs. Tyers was called, but declined to give evidence against her husband. Another witness gave evidence of Tyers's marriage to Martha Jane Dobson in 1920. Tyers said he would reserve his defence and asked that Mr. and Mrs. J. M. Wood should be subpoenaed.
The Clerk: Do you admit the second marriage? – No.
Tyers was committed for trial at the Liverpool Assizes, and he applied for bail.
Superintendent Pagett strongly opposed bail, saying that Tyers had had to be brought back from Australia at great expense to the country.
Tyers said he was allowed bail in Melbourne. He was put in custody at various ports of call, and if bail was not now granted he would have a further lengthy confinement.
Bail was granted himself in £200 and two sureties of £100.
LEEDS MERCURY
1926, 30 November
PARTIALLY TRANSCRIBED BENEATH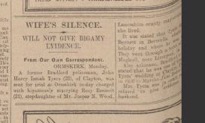 WILL NOT GIVE BIGAMY EVIDENCE
From Our Own Correspondent
ORMSKIRK, Monday. A former Bradford policeman, John Harry Isaiah Tyers (28) of Clayton was sent for trial at Ormskirk today charged with bigamously marrying Rosy Bennett (21) stepdaughter of Mr. Jasper N. Wood …………………………….
DUNDEE EVENING TELEGRAPH
1926, 1 December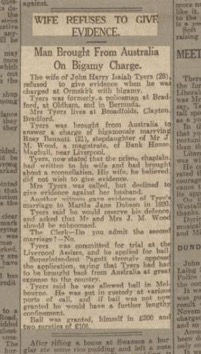 WIFE REFUSES TO GIVE EVIDENCE
MAN BROUGHT FROM AUSTRALIA ON BIGAMY CHARGE
[EXCEPT FOR THE HEADLINE –
THIS TEXT IS IDENTICAL WITH THAT ABOVE IN 'THE YORKSHIRE EVENING POST' OF 29 NOVEMBER 1926]
[UNKNOWN SHEFFIELD NEWSPAPER]
1927, January 27
POLICEMAN'S BERMUDA ROMANCE –
ARRESTED ON HONEYMOON – IMPRISONMENT SENTENCE FOR BIGAMY
A Bradford ex-policeman's romantic experience in Bermuda had a sequel at Liverpool Assizes yesterday, when John Harry Isaiah Tyres (28), described as a motor driver, pleaded not guilty to bigamy.
Mr. N. H. Goldie, for the prosecution, said the facts were simple, but in some respects extraordinary. While serving as a railway policeman at Bradford in 1920, prisoner met his lawful wife, who was then a widow, and who now expressed a desire not to give evidence against him. Some year later, accused went to Bermuda and, while in the police force there, became acquainted with a young girl of independent means, named Christine Rosie Bennett, whose home was at Maghull, near Liverpool, and who had gone to Bermuda for a holiday trip. Miss Bennett returned to this country, and was followed shortly afterwards by the accused. They met again and went through the form of marriage at Maghull Parish Church. Three weeks later the two sailed for Australia, but when the ship arrived at Melbourne Tyres was arrested and sent back to this country where the charge of bigamy was made against him. The girl, said counsel, appeared to console herself very quickly, for she met a Mr. George White in Melbourne and married him.
Mrs. White, a stylishly dressed woman, who said her age was 21, corroborated counsel's statement, adding that accused told her he was single. While she was in the cable office at Bermuda accused came in and looked over her shoulder and got her address, and that was how the acquaintance started. She denied that when she discovered he was married that she attempted to commit suicide, and said it was he who threatened suicide because he said he was so fond of her.
Prisoner in his address to the jury denied that he used to telephone Miss Bennett at ten o'clock in the morning in Bermuda, and said he met her every day and that every night when he was on night duty she met while on his beat. "When she told me that she was unhappy, I told her life was too short to be miserable." Continuing his address prisoner said these proceedings had brought him back to his senses and were likely to prove a blessing in disguise. "My wife has taken me back and I think that proves I have not been such a bad husband to her."
Prisoner was found guilty, and was sentenced to four months' imprisonment with hard labour.
THE AUSTRALIAN
1927, February 5
CONSTABLE COMMITS BIGAMY – Australia
A former Bradford policeman, John Harry Isaiah Tyers, aged 28 years, who bigamously married Miss Rosy Bennett following a courtship on his beat in Bermuda in 1920 [probably should read 1926], was sentenced to four months' imprisonment. He was arrested in Melbourne, whence he was brought to Liverpool for trial. The prosecutor remarked that Miss Bennet had apparently been quickly consoled, because while in Melbourne she had married George White. Tyers gave evidence that when a fellow constable suggested that he was already married, Bennett replied, "I do not care. Married men are the best." The judge expressed the opinion that Bennett had not suffered greatly.
https://www.myheritage.com/research/record-10450-48926635/age-melbourne-vic#fullscreen
1927, April 8th – Mrs. Ghislaine Rosy White aged 21 sails from the Port of London on board the S.S. "NALDERA" bound for Melbourne, Australia. She traveled 1st Class and gave her last address in the UK as 8 Bold Place, Glasgow. She appears to be travelling alone.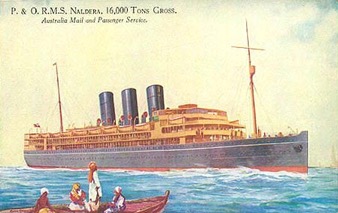 1929, July 8th – Mrs. Ghislaine White aged 24 arrives at the Port of London from Melbourne, Australia via. Cape, on board the S.S. "ULYSSES" On this occasion she is accompanied by Master William White aged 1 year and she states her proposed address in the UK to be Bank Lodge, Maghull, near Liverpool. Ghislaine travels 1st Class.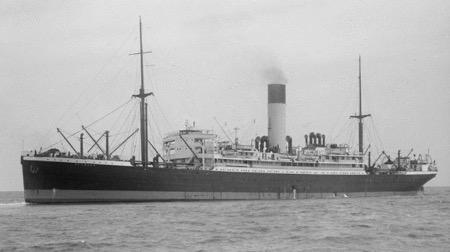 Photo courtesy of Allan C. Green Collection
British Steam Passenger Ship
Torpedoed and sank on 11 April 1942
1935
Reference: J 77/3465/5721
Description: Divorce Court File: 5721.
Appellant: Ghislaine Rosy White otherwise Ghislaine Rosy Bennett
Respondent: Augustus George White.
Type: Wife's petition for/of nullity [wn].
Date: 1935
Held by: The National Archives, Kew
Legal status: Public Record(s)
Language: English
Closure status:
http://discovery.nationalarchives.gov.uk/details/r/C8078986
1939 REGISTER TRANSCRIPTION
Tylers Household (2 People)
At 15 The Avenue, Bradford C.B., Yorkshire (West Riding), England
John H. I. Tyers - born 04 April 1898 - Male - Tramway Overhead Linesman & Motor Driver – Married
Martha J Tyers - born 08 November 1887 - Female – Unpaid Domestic Duties – Married

Source: www.Findmypast.com
1945, 2nd Q – Marriage (3) of Ghislaine R Bennett to William H Hood at Liverpool South, Lancashire, England

This photo is dated 29.09.1949 and was taken by the Bradford & District Newspaper Company Ltd
at the Earl of Harewood's wedding. Harry was obviously restored to favour by then,
as the wedding was held in London and attended by the Royal Family
Photo and comment source: Sue Cook
1971 - Interestingly, both Martha Jane and her husband John Harry I Tyers appear to have died in the same 3rd Quarter of 1971 in Bradford, Yorkshire. Death certificates and the details contained therein would be required to show the actual dates and causes of death for each of them. See below.
There is a death registration in 1971 (Jul-Aug-Sept) in district of Bradford, Yorkshire of a John Harry I. Tyers born 04 April 1898 Vol 2b page 239 - buried Bradford.
https://familysearch.org/ark:/61903/1:1:QVCB-MNP8
There is a death registration in 1971 (Jul-Aug-Sept) in district of Bradford, Yorkshire of a Martha Jane Tyers born 08 November 1887 Vol 2b page240 - buried in Bradford.
https://familysearch.org/ark:/61903/1:1:QVCB-MNPD
http://search.findmypast.co.uk/record?id=bmd%2fd%2f1971%2f3%2faz%2f001102&parentid=bmd%2fd%2f1971%2f3%2faz%2f001102%2f106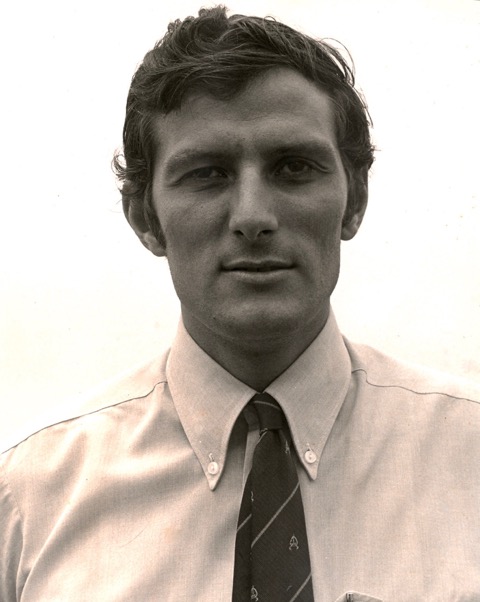 Retired Superintendent George Rose
This article researched and compiled by George F. Rose – 2017