The Police Marine Section is now an integral part of the Bermuda Police Service, but Marine Section owes its existence to the efforts of two young English police constables who arrived on our shores in 1961.
Dave Garland and Derek Jenkinson had both served in the Royal Military Police, and they struck up a friendship when Dave joined the East Yorkshire Police after his military service and was posted to the town of Filey which happened to be Derek's home town. The two Yorkshiremen became close friends and they decided to apply to join the Bermuda Police. Derek was accepted but as a non-police officer he first had to attend a police training course at the Metropolitan Police College at Hendon. Derek arrived in Bermuda in January 1961, and Dave followed in April the same year. Ironically, they both made Bermuda their permanent homes.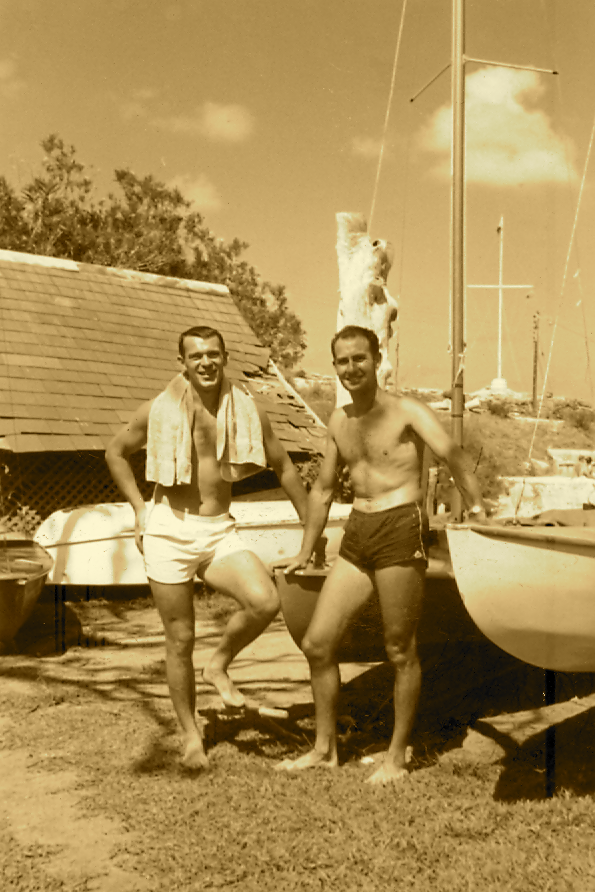 PC's Dave Garland and Derek Jenkinson at Admiralty House
Dave recalls that in the winter of 1961 he noticed a growing number of incidents occurring in, on and around the Island that required Police attention, including a theft from a boat that he was required to investigate. He also recalls being asked to assist the then Harbourmaster, Captain Burns, in conducting his annual moorings checks in Hamilton Harbour despite not having a boat to do so.
Yorkshiremen have never been known for their reticence, and the two young constables submitted a report to Commissioner of Police, George Robins, recommending that the Police Force should have its own police boat and offering to build one themselves. As Dave says, "Here we were in Bermuda which is completely surrounded by the sea, and with maybe a thousand boats in Bermuda's waters, but not a single police boat." They were advised by Commissioner Robins that there was no funding available for a boat, but not about to be put off the idea, Dave spoke with Captain Burns who set him up to meet with the then Secretary of the Corporation of Hamilton, Herman Leseur, who agreed to raise the matter at the next Corporation meeting.
Within a week the answer came back that the Corporation was willing to donate 125 pounds towards the cost of building a police boat. That was too small a sum for such a task, but Dave and Derek quickly drew up plans for a boat they were prepared to build, and submitted another report to Commissioner Robins for permission to proceed with their project. Mr. Robins gave his approval and the two constables were given the go ahead to build it at Admiralty House which at that time was being used as police barracks.
As explained by Dave, "We started scrounging round for any materials we could lay our hands on to save money, and we even bought our own tools." In addition to their cash donation, the Corporation supplied other materials, and the two constables were also able to get their hands on two second-hand 35hp Evinrude outboard engines from the Marine Board. Derek was a very talented marine mechanic and was able to strip down both engines so that he could completely rebuild one good one.
Dave and Derek started building the boat in April 1962, and it was completed and ready for launching on 4th June the same year. The official launching took place at Admiralty House boat slip, with Commissioner Robins' wife, Lou, breaking the traditional bottle of champagne across her bow as she named the Bermuda Police Force's first ever boat "BLUE HERON".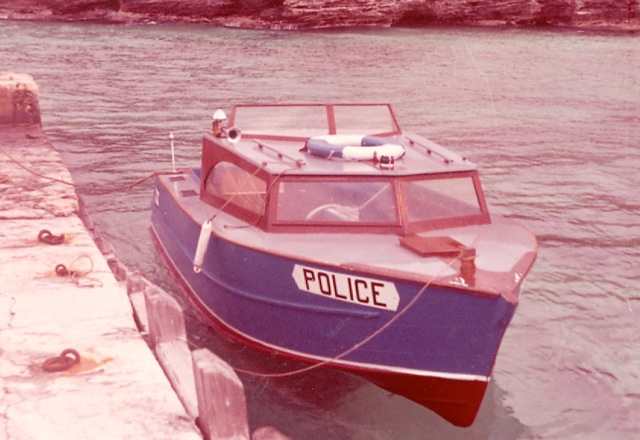 Blue Heron is completed and tied up at the Admiralty House dock
Believe it or not, neither Dave nor Derek were asked to crew BLUE HERON which went into service just a few weeks later for the 1962 Newport to Bermuda Yacht Race. Derek was subsequently posted to the Traffic Department, and went on to become one of our finest ever Driving Instructors (and a Firearms Instructor), while Dave was posted to Cycle Squad, although he later served as the Sergeant and then the Inspector in Charge of Marine Section.
When first approached by Superintendent L.M. "Nobby" Clark to take charge of Marine Section, Dave recommended that all Marine Police Officers should be required to have a Pilot's Licence, and he specifically designed a course which he gave to literally dozens of his fellow police officers.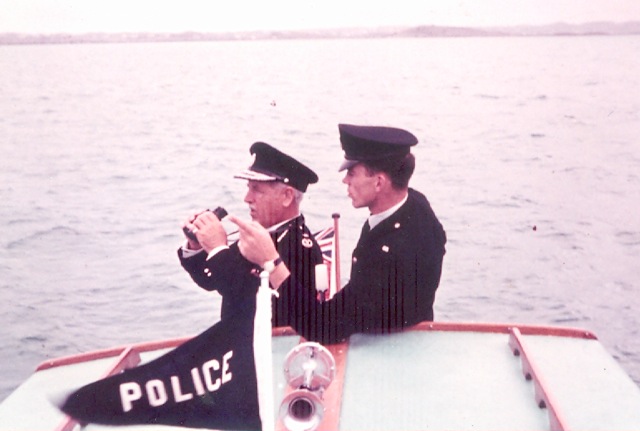 P.C. Dave Garland takes Commissioner Robins for a spin in Blue Heron
After leaving the Police Force Dave worked for almost 7 years for the Department of Agriculture and Fisheries as their Fisheries Inspector. To this day he still uses his maritime skills teaching Navigation at the Bermuda College.
It would be interesting to compare the cost of any of the current police boats with the 125 pounds it cost to build the BLUE HERON, not including the elbow grease and expert knowledge provided by two lads from Yorkshire.