Cann Anyone Identify the Celebrities and the Constable?
We had no trouble identifying two of the three guys in this photo. The charismatic guy on the left is our own Dave Cann (du Cann) who was working as a Sergeant in Traffic Control at the airport when the other two men was passing through. The guy in the middle is, of course, Tom Jones, who visited Bermuda several times and performed in the late 1960's at the Forty Thieves club to packed audiences every night. We had a problem identifying the third man, with someone suggesting that it was the entertainer P.J. Proby, but we made exhaustive enquiries by questioning Tony Brannon, the son of Terry Brannon who ran the Forty Thieves Club, and Tony immediately recognized him as Tom Jones' bodyguard, Dave Thomas. Ironically, it was our own Dave (Dai) Thomas who thought it might be P.J. Proby.
We wonder how many of our former colleagues can recall the incredible array of first class entertainers who performed at the Forty Thieves Club when it was thriving as Bermuda No. 1 nightclub.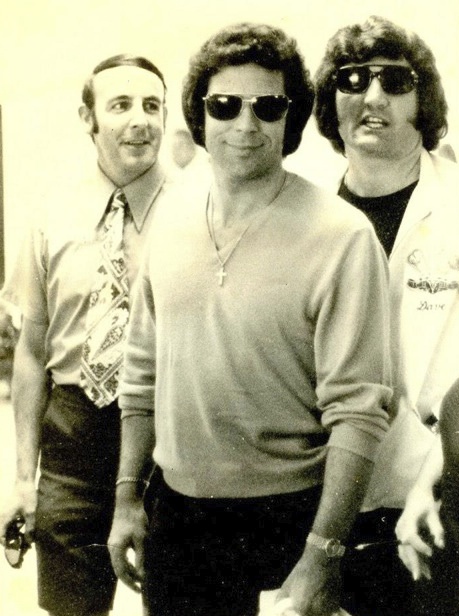 D/Sgt Dave Cann (du Cann) checks out the hairstyles of Tom Jones (centre)
and Dave Thomas as they pass through the airport circa 1969