Former P.C. Richard "Dick" Naylor is one of the young men and women who joined the Bermuda Police in 1971, 50 years ago, and we're delighted that in response to our appeal for input from any of those 69 officers who are still with us, to write and let us know where they are and what they're doing these days, he is one of the first to do so.
P.C. Richard "Dick" Naylor
Served from 1971 - 1977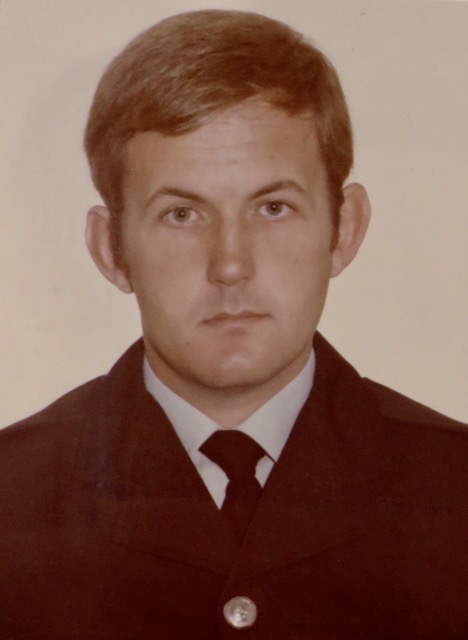 Young P.C. Richard Naylor in 1971
I joined the West Yorkshire Constabulary in 1969 and did my training at Pannal Ash just outside Harrogate. On graduating I was posted to Wath upon Dearne which sounded like a rural area!
On arrival I was told that the largest coking plant in Europe and Manvers Colliery were on my beat, an eye-opener for a country boy but a great place to learn the trade. The local sport seemed to be relieving British Rail of its copper wire and feeding the same coin through the gas meter.
Wath was in Rotherham Division and the Constable who was on radio control at that time was one Derek Smith, (retired as Chief Inspector in St Georges and now sadly passed on I believe) who let slip that he had applied to the Bermuda Police. Having seen my fair share of the mining industry I thought "not a bad idea."
On the 5th November 1971, I was on a BOAC Boeing 707 heading for Bermuda where I and the new guys were met by Barrie Meade, taken to Prospect and took the localization course for four weeks.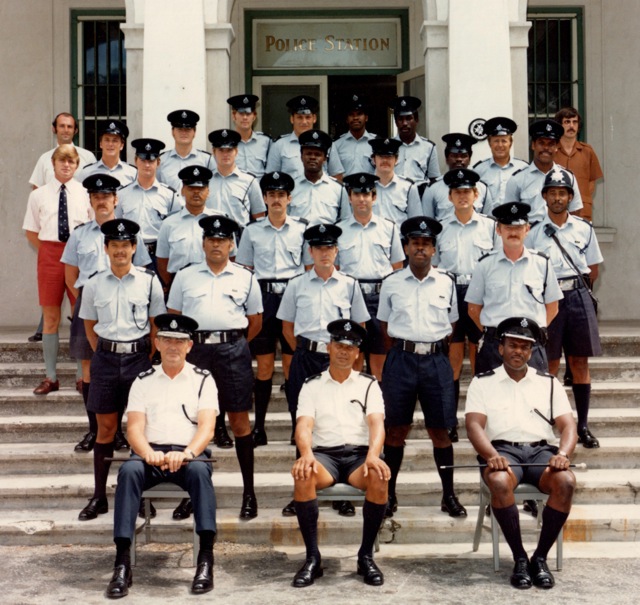 Western Division - circa 1973
Back Rows (l-r) Dai James, Damian Willcocks, Colin Hopkins, Mike Scully, Ben Linton,
Ishmael Daniels, Peter Counsell & Alan Barker
4th Row - Dave Barber, Chris Bowerman, Keith Melville, Foster Burke,
Donald Grant?, Ryvan Campbell, Clyde "Tango" Burgess
3rd Row - Bill Buchanan, Mike Phillips, Harry Mesham,
Keith Bird, Dick Naylor, Howard Dill
2nd Row - Louis Griffiths, Sgts. Neville Phllips,
Mike Rickards and J.T. Simmons, John Eve
Front Row - COP L.M. "Nobby" Clark, Inspector Hilton Wingood,
and Superintendent Fred "Penny" Bean
Following this I was posted to Western Division with Steve Peterson and took up residence in Barracks on Watford Island. (ideal as I was into boats) I spent six years out west on general patrol and Divisional Clerk, married Giovanna an Italian girl in 1976 and we moved to Western Canada in 1977.
I served as a Peace Officer with the City of Calgary until my retirement in 2007.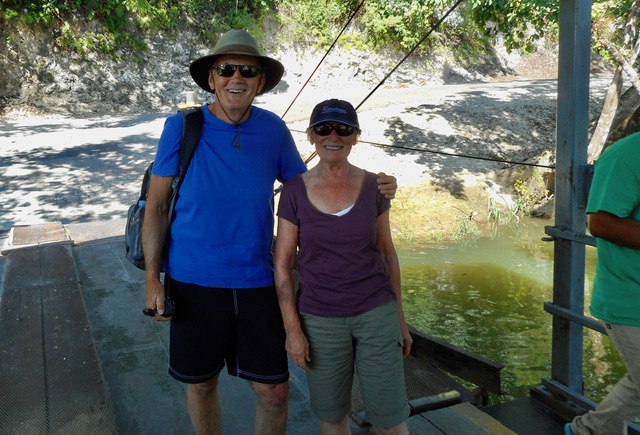 Dick and Giovanna take a ferry at Chaa Creek, Belize in 2016
Since then we have spent our time hiking, snowshoeing and travelling. I sail on the west coast and I skied for a few years but the older I got the faster I skied so stopped before I became a statistic.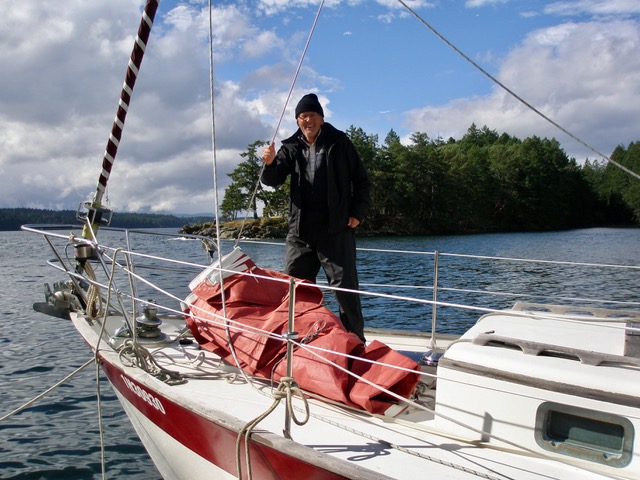 Dick doing what he loves - sailing in the Southern Gulf Islands, west coast Canada
This year has been spent dodging the covid virus and hoping for an end to the Pandemic, hopefully things will improve and we can all get back to normality.
All the best to the ExPo crowd.
Richard Naylor (exPC185)