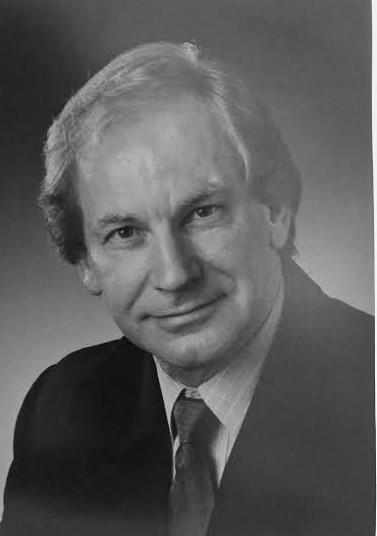 Detective Sergeant Ernest McCreight
"Constable McCreight, this is Superintendent Nixon of the Bermuda Police, do you have your bags packed, you're flying out on the 1st of March."
A short telephone conversation that was to change my life in ways I never dreamed possible.
I was an apprentice draughtsman working out of Park Gardens in the Charring Cross area of the city overlooking Kelvingrove Park when I decided that I wanted to join the Police. I had always been an outdoor person, hitch hiking around Scotland staying in Youth Hostels so the job held great appeal to me then.
I joined the Glasgow Police in August 1968 and although I lived in the housing estate of Garscadden in the western suburbs of the city I was posted to work in the east end which housed the notorious hard areas of Bridgton Cross, Duke Street, Gallowgate and London Road. Celtic Park was also in the area and with me living in the west end I thought I would have been posted nearer to home in the south side where I was brought up until the age of ten before moving out of the tenements to the new estate of Garscadden.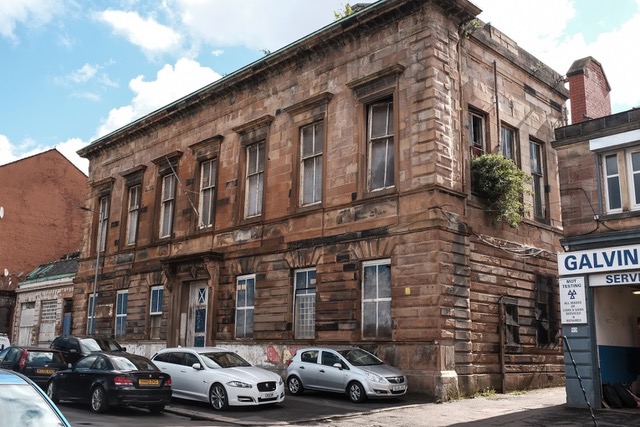 The old East End Police Station - now abandoned
There would have been the added attraction of working near Ibrox Stadium and doing duty there every other week and watching the Rangers play but instead I had Celtic Park as one of my beat duties.
I grew up a ten minute walk from Ibrox Stadium and think I was seven or eight when I started supporting Rangers and getting lifted over the turnstiles to watch them play.
It was ironic that sometime in 1970 someone of the Celtic persuasion broke into Ibrox Stadium and set fire to a section of the stand. Fortunately there was not much damage done but it was thought that there could be a reciprocal attack done to Celtics stadium. The authorities at Celtic asked if they could have a policeman posted inside the ground for a few nights. Who was asked to guard against this possible arsonist, yes, yours truly, the biggest Gers fan in the station.
I was given a key to enter by a side door and told to walkie talkie in every two hours to say all was well. As I had no access to the interior of the stadium it was pretty boring so to pass the time I would go onto the field, run up and down to the Celtic end, swerving past imaginary players and crack in some great goals. I took some great penalty goals and celebrated in good style at the Celtic end. If there had been CCTV cameras operating at that time it would have made for some hilarious viewing seeing a copper in full uniform prancing around on the park waltzing past imaginary opponents.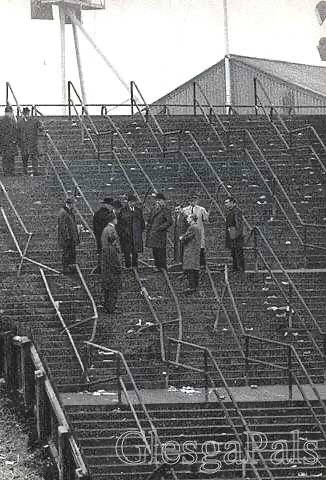 Ibrox Stadium at the rear where disaster occurred
As I write this on the 2nd of January 2021 it is the 50th Anniversary of the Ibrox disaster where 66 people were killed leaving the ground after a Rangers Celtic match. I was at the game with my pal standing in the terracing below the fateful stairway 13 and when Celtic scored with a minute to go. Eddie said to me lets go but I had the remains of a can of lager and said, "let me finish this". So we stood a few more minutes and in that time Rangers kicked off and immediately scored an equalizing goal.
After our celebrations we made our way up the terracing to Exit13 where we were met by a huge crush of people at the exit so we both climbed a wooden fence, scrambled down the grass embankment passing a young boy lying in the grass whose face was a deathly colour.
It was only when I arrived home around three hours later than usual that I saw on television the mounting death toll. I've often thought how close we both were to being in that horrible deaths crush.
I'm in the dormitory at Tulliallen Castle, the Scotland Police training Centre with eight other probationary constables doing our second stage training and we are discussing our futures and which areas of policing we would like to work. One guy says he is going to apply to join the Bermuda Police where you could be accepted after serving a probationary period of two years in a British Force. I was immediately very interested but first thing I had to do was find out where Bermuda was. I knew it was some kind of millionaires paradise but I liked everything I read and decided this is for me and sent an application to join the Bermuda Police.
Sadly one of the young constables, Charlie Taylor who shared that barrack room with me was tragically axed to death in 1976 when two deranged mental patients Robert Mone and Thomas McCulloch escaped from Carstairs institution after killing a male nurse and another inmate. One of them lay on the M74 feigning injury and unfortunately the first car to stop was PC Taylor and his partner. Charlie was axed to death and his partner escaped. The pair made off in the police car and were eventually captured in Carlisle after hijacking another van and stabbing the driver.
I attended an interview in mid-January 1971 at Tintagel House in Piccadilly Circus where I was interviewed by Superintendents Oliver Trott and Joseph Nixon. The interview itself was pretty uneventful. As I weighed only 160lbs, my waist size then was 29in and I had to stretch to get to 5ft.8" Superintendent Nixon said to me, "There's not much to you". I said, "It's deceptive I'm actually quite strong". At this time Oliver Trott, who until then hadn't really said anything chipped in. " Pc McCreight in Bermuda it is an offense to use offensive language in a public place. What would you do if a big black guy came up to you on Front Street and started swearing at you, telling you to go back where you came from".
I said, "A big black guy".
He said, "Yes a big black guy".
"Well if he was as big a black guy as you say then I would have to call for assistance."
"Good answer" he then nodded off.
That just about ended the interview and as there was a Nationwide postal strike in Britain I was told I would be phoned when a decision was made.
Early February I was home ready to go on the late shift 2pm -10pm when I received that unforgettable phone call. I was ecstatic, I ran upstairs to tell my mother, who was happy for me but cried. My older sister by two years had immigrated to America a few years earlier to work as a nanny and now I was also leaving home. Sadly my sister and her husband were killed instantly in a head on crash with a drunk driver of a pickup truck on July 4th 1988.
I knew Sandy Duncan from the Glasgow Police. We were on different shifts but worked a few nights together where the late shift doubled up with the night shift on weekends to clear out the pubs and deal with the rowdies. I hated clearing out the pubs at weekends. I was working with big coppers, some of whom came down from the highlands, big teuchters and when we went into pubs at closing time I could feel all the eyes on me and my face getting more flushed by the minute.
Standing next to these big guys with my oversize coat and my hat too big, resting on my ears and I would hear some wee smart-arsed ned in the pub referring to me say," Hey Angus have you got your boy oot wi ye the night." Embarrassing.
So as I didn't like clearing out the pubs and the older cops didn't like 'having the boy with them' I found myself on my own around 11pm one Friday night working the Gallowgate. As I passed a butchers shop and Grocers on the ground floor of a tenement I thought I heard voices from within the shuttered butchers shop. I turned my Pye pocket radio off and listened carefully and sure enough I could hear the whispers of two men. I went around the rear of the shop but couldn't see any sign of a break in so I climbed the steps to the first floor landing and saw that a great hole had been chiseled away from the floor giving access to the shop. After calling for assistance CID and uniform arrived and we arrested two guys not only for breaking into the butchers shop but also for breaking through a wall to the adjacent grocery store.
I heard no more about the case as they pleaded guilty but some months later as the shift paraded on duty the sergeant read out from General Orders that I had been awarded a Chief Constable's commendation. ……For not being in the pubs at closing time and staying alert. This was met by a little round of applause and stamping of feet.
So Sandy Duncan and I sat together on the flight out to Bermuda on 1st March smoking our Hamlet cigars and blowing smoke rings, with a glass of whisky, wondering what lay ahead in our new venture.
We were met at the airport by Inspector Dave Parsons and Sergeant Dick Murphy. As we were being directed to the Kombi I remember Sgt. Murphy saying to me, "What's that you're carrying". I had an Olivetti typewriter in a plastic case and he said, "Ah you won't be needing that". We get to headquarters, offload our cases in our salubrious new dwellings in McBeath block and told to meet up again in the Police Club where Inspector Parsons held court, buying us all Heinekens, which I remember cost 33cents. With a Police Inspector buying me drinks I was already thinking, "I'm going to like this place."
After two weeks of localization course I had two weeks of walking the beat in Hamilton. I remember my first day in town with Moby Pett walking on Front Street, sun shining, everything is bright and clean with lovely pastel coloured shops and Moby rubs his hands, shakes his head and sighs, "Five year contract. No problem". The other thing I remember is walking the beat with Pete Shaw and the tourists taking pictures of us with our bobby helmets and one of them saying, "Oh look at the little one, he is so cute. Pete is 6'4" and I am 5'8' and a bit. After that I told Pete to go across to the other side of the street!
A couple of weeks in Hamilton and I was transferred to Somerset and get a nice two room apartment in the ground floor of the barracks adjacent to the bar. Luxury compared to the barracks at McBeath block.
My sergeant then was Malcolm 'Chalky' White, later sacked and subsequently locked up in Britain for unlawful carnal knowledge of the daughter of his Bermuda girlfriend.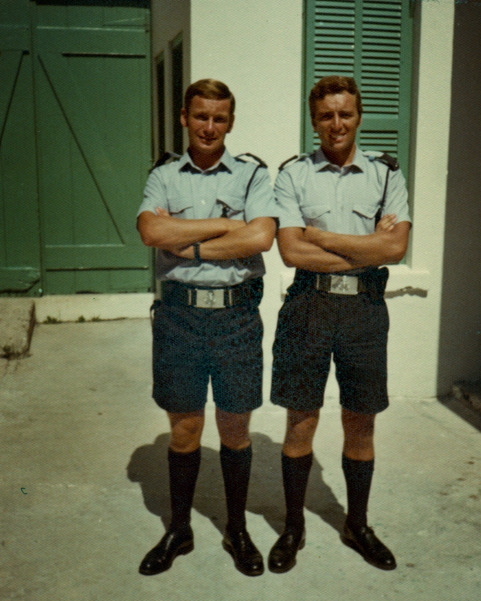 P.C.'s Ernie McCreight and Jim McInnes
On the watch was Peter Clemmett, Jim McInnis, Gordon Bolah, Raphael Honore and Jake Stimson. Jim McInnes was an ex Glasgow cop and I just loved working with Jimmy. He was just a funny guy and had me cracking up about some of the things he got up to both in Bermuda and Glasgow.
Although Jimmy only arrived in the summer of the previous year he had since married Janice, a nurse at the hospital and left with Janice in November returning to her native Canada. I was so saddened to see him leave. We have remained great friends and they have visited us many times. This reminded me of something Inspector Parsons said in training school. "If you want to stay here and get married, don't marry a Canadian, they all want to go back to Canada". I stored this advice.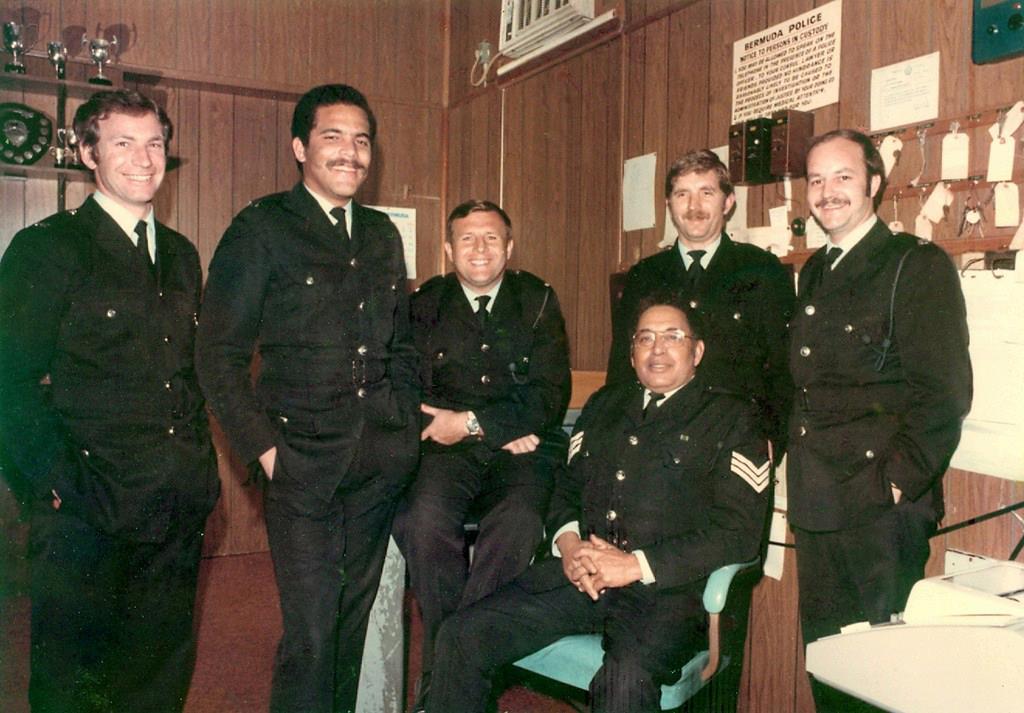 Somerset Police Station
(l-r) Ernie McCreight, Kendrick Shillingford, Davie Kerr,
Sergeant Neville Phillips, John Kandziorka, and Howard Cutts
At the beginning of May 1971 I left Somerset on my Lambretta scooter to watch an International game between Bermuda and Mexico at the National stadium and as I was early I stopped at the Paraquet restaurant for a coffee and sandwich. Joyce Gunn, a nurse at the hospital came into the restaurant with a girlfriend who had just arrived a few days earlier and introduced me to Barbara who was to become my wife.

Barbara was a midwife and almost from the time we were introduced we were a couple. In the summer of 1972 we travelled across the States by Greyhound Bus which at the time was $100.00 for an unlimited travel monthly pass. From San Francisco we flew to Hawaii for eleven days staying at three of the islands and getting engaged at the then Coco Palms hotel on the garden island of Kawaii.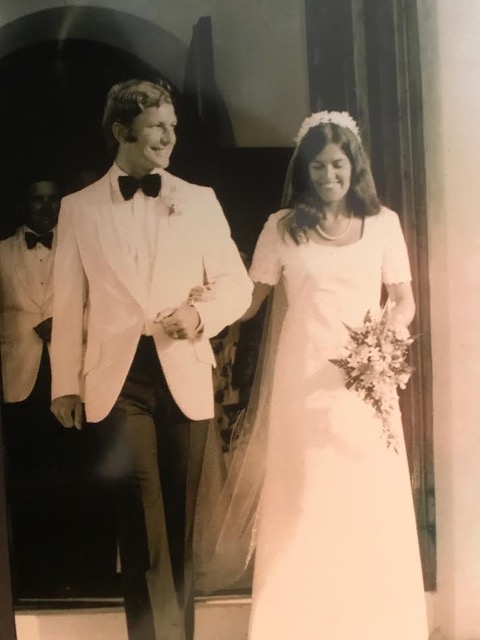 Ernie and Barbara on their wedding day - 1973
We married on the 18th August 1973 and have been happily married for 47 years with two lovely daughters and three fabulous grandchildren.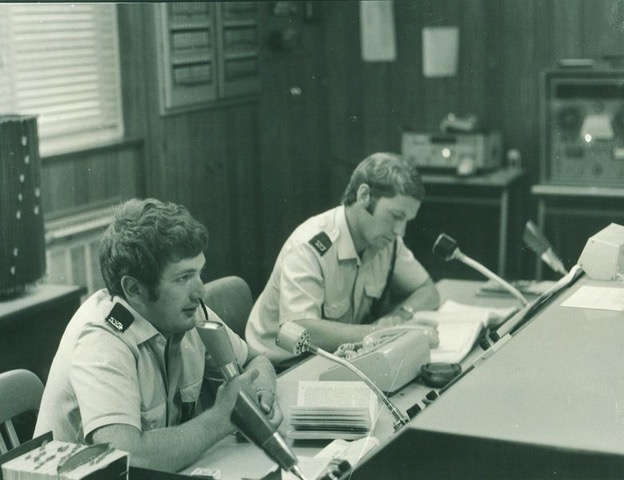 P.C'S Steve Rollin and Ernie McCreight manning the desk at COMOPS
I spent a few great years working in traffic with Steve Rollin, Roddy Barclay, Martin Pearson, Stan Francis and Sergeant Mike Burke.
Steve and I worked together a lot and one night in Tango six a call went out that a prisoner by the name of Jimmy Downie had escaped from Casemates. He was serving a life sentence for murdering his mother, Florence Ethel Ray. Evidently they had being drinking in a bar all afternoon and for some reason found themselves off the road in Parson Lane, Devonshire having sex. When his mother apparently ridiculed him he struck her on the head with an object and killed her.
A car had also been reported stolen at the same time from Dockyard and its make and number was broadcast.
We are driving up Tee Street, Steve driving when the car appeared just in front of us with one person driving. I call it in and we are driving on Middle Road at the Arboretum when we decide to put the bells and whistles on and stop it. He took off, turned into Happy Valley Road, left onto Hillsdale Avenue and then left to Hibiscus Lane then left again onto Middle Road. Sgt Garrod had pulled his car across Middle Road and we thought we had him but he swerved up the curb and carried on. He turned up Shelton Road before ditching the car and making off. About three police cars were parked behind him with sirens blaring.
This was about 11o'clock at night and the whole of Cavendish Heights must have been awakened. We are searching around for him and Sgt Dave Cook found him crouched under a hedge. We went to the Police Club after knocking off to have a few drinks and back slaps. Bill McKenzie compliments me on the good chase commentary which I was quite proud off because I was calm. But the only reason I knew all the little streets around Cavendish Heights was because Steve lived there and I would always pick him up and drop him off for refs.
I always had an interest in photography and with Peter Clemmet who had moved to SOCO the interest grew until I was developing and printing black and white pictures from home.
When Peter left to return to England I applied for the vacant photography position. A few weeks later I was in the yard at Raffic Department when Chief Inspector Derek Taylor call out to me, "Hey Mac, where do you want to work?"
"SOCO".
"Start Monday at 9 o'clock".
"Yesssssss" That was October 1975.
In the mid-seventies there was very little photographic education available. Unlike now where everything you want to know about the subject is on You Tube. I found crime scene photography to be fairly straightforward. Touch nothing, move nothing and just light and record everything in sharp focus from front to back, and have a strong constitution. So once you knew what your flash exposures were it was easy. Night shots were a little more complicated illuminating long stretches of road in road accidents but because you were a "photographer" you were asked to take portraits of the Commissioner, senior officers and even the Governor at Government House.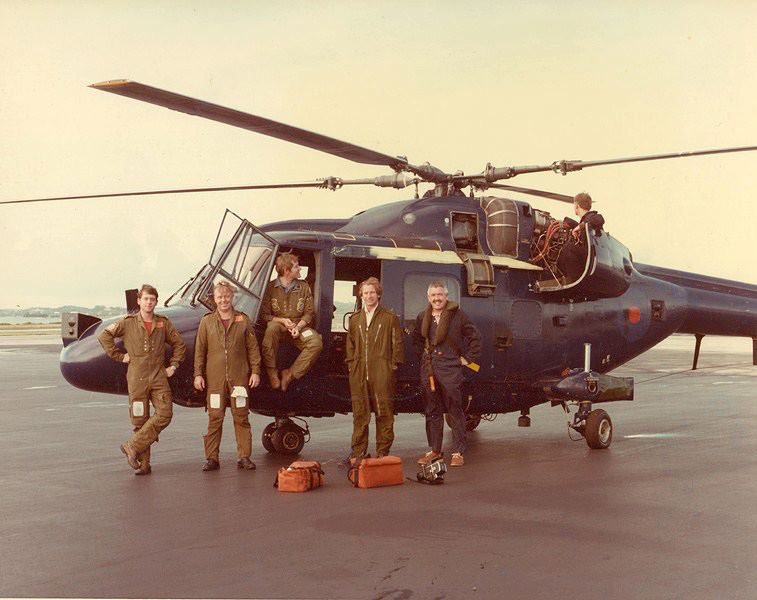 Ernie and Paul Farrell took a helicopter ride to update
aerial shots of the Island courtesy of the Royal Navy
I wanted to learn and be a good confident photographer, knowledgeable to handle any assignment so over a three years period I paid for eleven week long courses covering various photography subjects at The Winona School of Professional Photography in the States.
There is no police training for this, setting up portrait lights with lighting ratios and arranging people in flattering poses. You can't just tell a senior officer to stand or sit over there with no direction and blast them with light from a flash.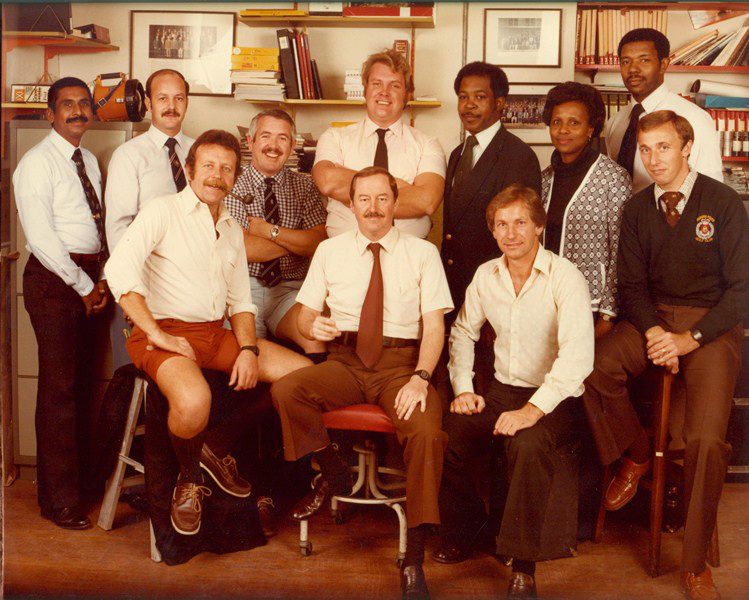 Scenes of Crime Department
Back row - Ashmead Ali, Howard Cutts, Paul Farrell. Graham Alderson,
Cal Christopher, Aideen Fletcher and Theo Providence
Front row - Rod Barclay, Dave Chew, Ernie McCreight and Keith Cassidy
I captained the Police football team for a few years before being head hunted by Rick Richardson who was coaching Warwick United in the 1st Division. At the time I wasn't sure if it would be looked upon favourably so I told Rick to have a word with the Commissioner Nobby Clark and if he said it was OK then I would join. Of course the Commissioner was delighted that I was mixing within the community and I had a very enjoyable season playing in midfield for them. Unfortunately the team broke up after that season and I went on to play for Hotels International.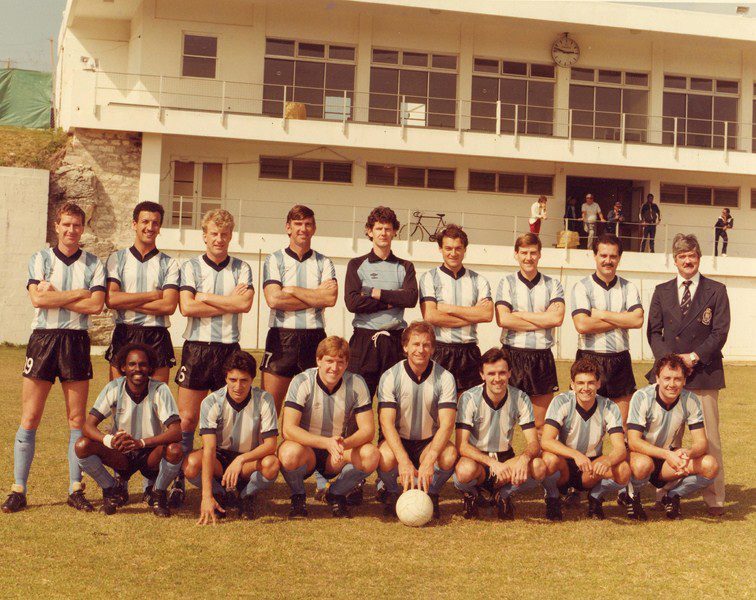 Prospect FC League and Knockout Winners 1986
I then finished my career with three great seasons playing in the Commercial League with Prospect FC where we won the league in three consecutive seasons and a Challenge Cup.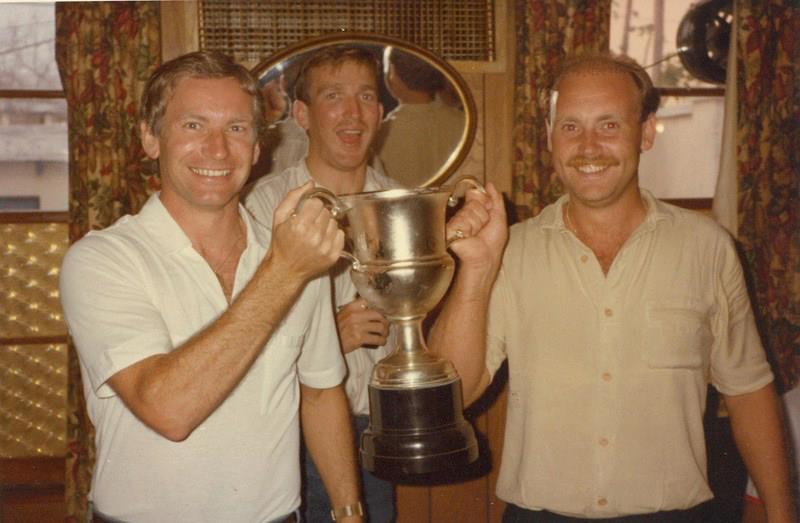 Ernie and Donnie MacMillan at the Police Club with the Knockout Cup
with Dick Parker in the mirror!
Editors note - This wasn't the first trophy Ernie has ever won as Team Captain. He was captain of his school football team at the age of 10 when they won the league shield. He remembers his mother dragging him along to the local photographer for a photo. Could this have sparked his later interest in photography?!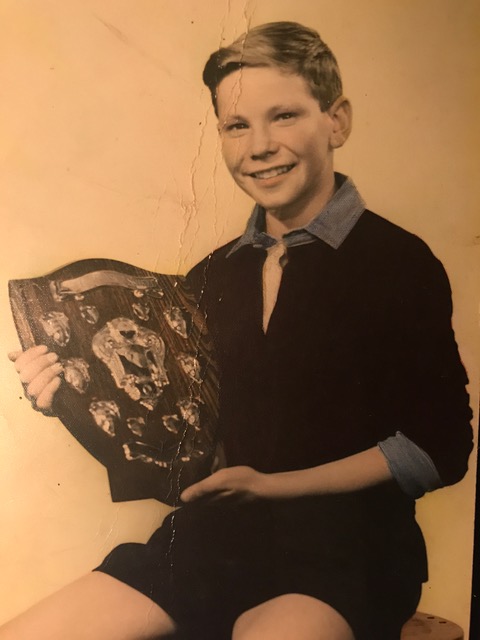 10 year old captain Ernest with his league Shield
I took up road running in my thirties, something I never really enjoyed while playing football in my twenties but grew to love it and when playing in the Commercial League I was fitter than I had ever been. There was a period where I wanted to compete in the New York marathon and I think from May through August one year I ran back and forth from my home in Southampton to Police Headquarters. In total about 12 miles only to be told I had to attend Supreme Court as a witness with the dates colliding with the marathon.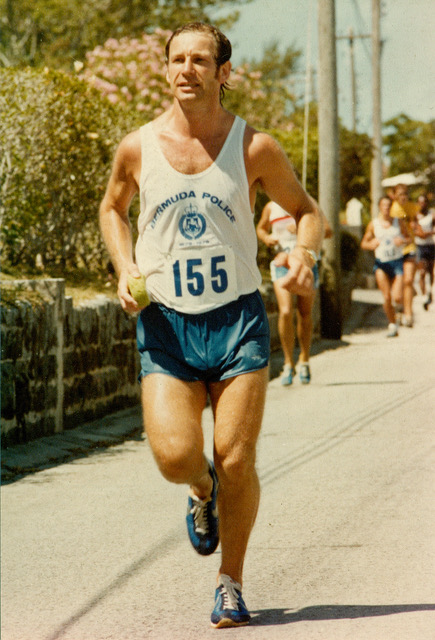 Ernie running the May 24th Half Marathon
I did complete the May 24th half marathon on two occasions and then took up cycling, regularly cycling early Monday and Thursday mornings before work with long runs on Sunday with John Tartaglia. John still cycles regularly and plays golf with me on Wednesdays.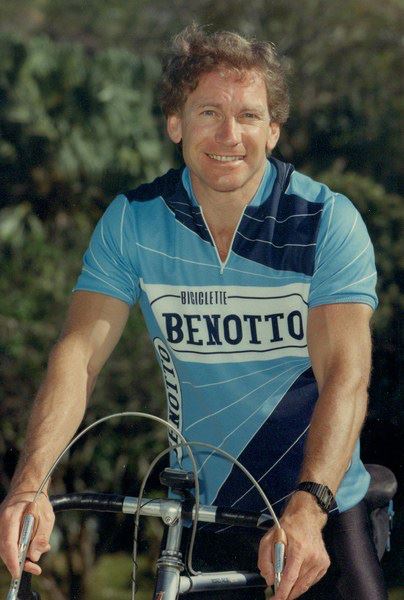 Ernie takes up cycling
I was promoted sergeant in 1982 and thoroughly enjoyed working in the Crime Scene department, being at the heart of all major crime but I started to think more about what I would do on retiring and after discussing it with Barbara I decided to give myself a head start and resigned in December 1988 at 40 yrs old to start my photography business.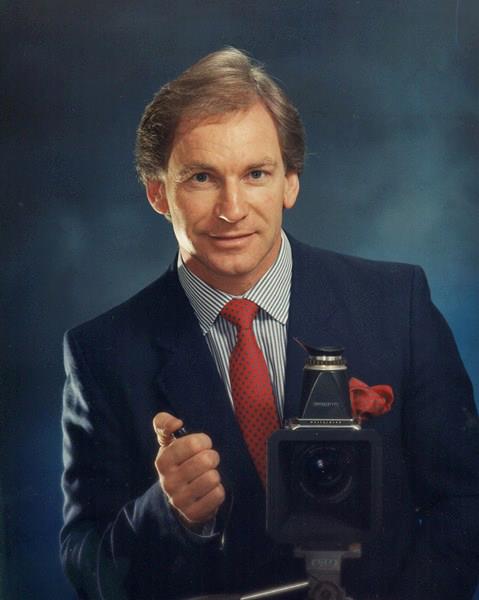 Ernest McCreight - Photographer
I have had a great career in photography and met some wonderful people, dignitaries and celebrities. The highlight has to be spending three days getting exclusive access to Michael Jackson and Macaulay Culkin when they visited and stayed at the Hamilton Princess. I was privileged to take family photographs on two occasions for Michael Douglas, his father Kirk and the wedding of Michael's mother Diana to US congressman Albert Webster at Christ Church Devonshire.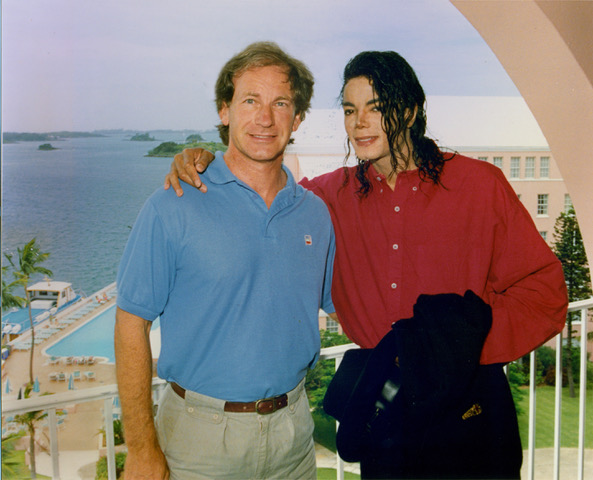 Ernie with Michael Jackson at Hamilton Princess Hotel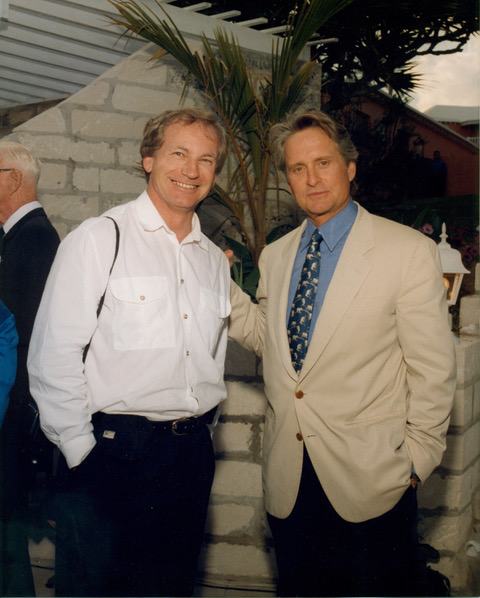 Ernie with Michael Douglas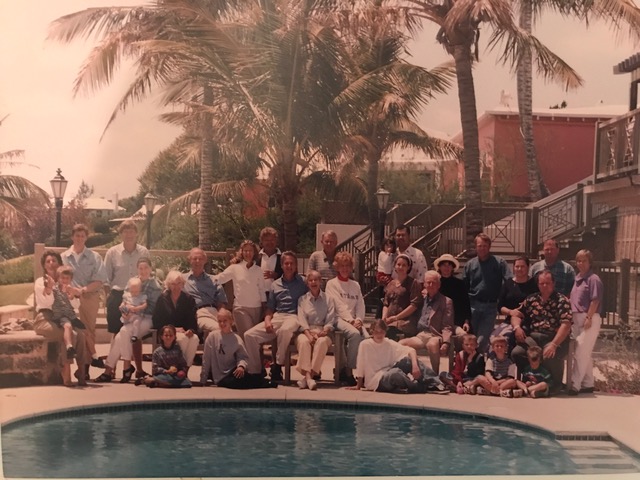 The Douglas Family at a family gathering at Aerial Sands
Barbara and I have been very fortunate to have a loving family, and to have them all living here in Bermuda.
We have two daughters Nicola and Lauren. Nicola runs the Yellow House Nursery on Church Road, Southampton. Lauren teaches at Warwick Academy and is married to Kiran, and we have three grandchildren, Tristan 10 Annabelle 9 and Sienna 5. The grandchildren all attend Warwick Academy.
All three are artistic and involved in a variety of sports, dance and music. It's a joy to watch them develop their own personalities and we consider ourselves fortunate to have all three of them so close to us here in Bermuda.
Kiran owns the Par-La Ville Pharmacy in Hamilton. He is a Londoner, came here around 2004 to work for the Phoenix Group before opening his own store in 2015. Kiran is a great guy despite being a Celtic fan and we spent a memorable weekend together in Glasgow two years ago with hospitality seats in Club Europe for a Rangers v Celtic game.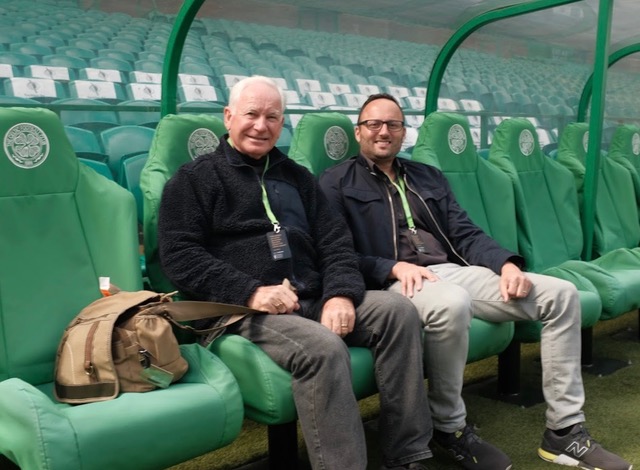 A slightly uncomfortable Ernie trying to look relaxed while sitting
in the substitutes dugout at Celtic Park with son-in-law Kiran
I showed him around the East End of Glasgow where I worked, culminating in an official tour of Celtic Football Club followed by an impressive lunch overlooking the stadium.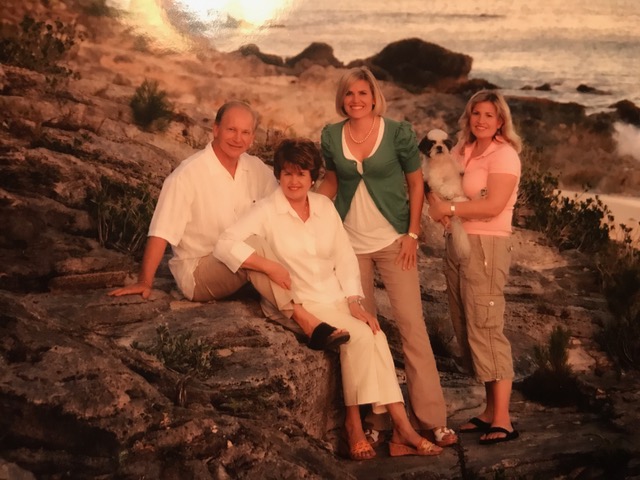 Ernie and Barbara with Lauren and Nicola and their
Shih Tzu Sam at Warwick Long Bay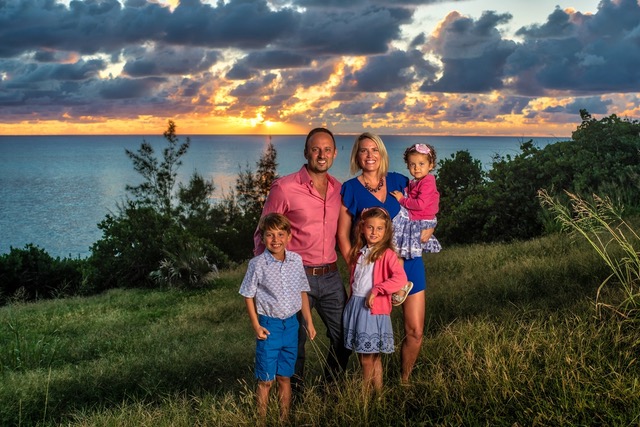 Kiran and Lauren with Tristan, Annabelle
and Sienna at Whale Bay, Southampton
Up until Covid 19 I was still busy, doing all the internal work for the Fairmont Hotel, photographing weddings, families, Conventions but now I feel just about retired and can concentrate more on improving my golf game. It's been a magnificent fifty years in Bermuda and hopefully a good few more to come.
Editors note - In November 2012, Ernie had a chance meeting on Victoria Street in Hamilton with the Late Mr Ira Philip, a distinguished Bermudian historian and writer who had recently published his latest book "CHAMP - The one and only Alma Hunt", about one of Bermuda's finest ever sportsmen who had a brilliant cricketing career in Scotland. Ernie wanted to commend Mr Philip on his book, and the two struck up a conversation about James Symon, the legendary manager of Rangers Football Club during the 50's and 60's. It turned out that "Champ" Hunt and James Symon developed a close friendship, with both of them having playing together for the Scotland cricket team. On one notable occasion they played against the Australian team in Dundee where both gave a good account of themselves.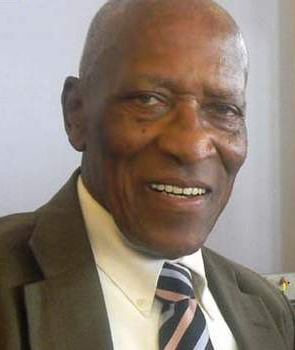 Mr. Ira Philip
As a result of their casual conversation on Victoria Street, Ira wrote a very interesting article about their chance meeting which was published in the Royal Gazette on 24th November 2012. CLICK HERE to read the Royal Gazette article. Mr. Philip concluded the article with the words, "I need hardly state how indebted I am to Ernest McCreight for his ... admiration and interest in a compatriot in his adopted homeland."