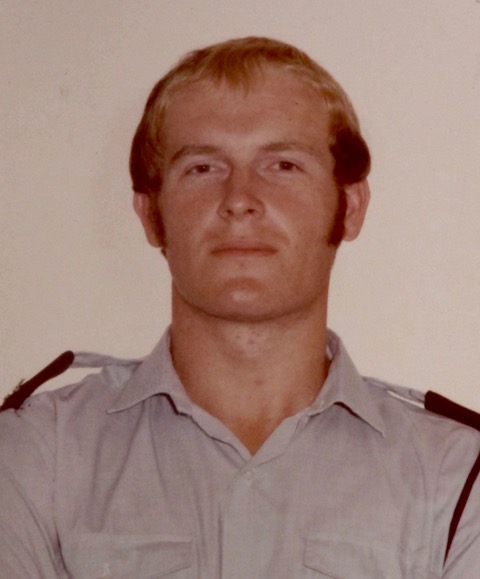 Young P.C. Ian Kittle
Ian Kittle was born in 1953 in Southend-on-Sea, Essex, England. He was raised there till he was 16 years of age.
In 1969 he interviewed and was accepted into the first Police Cadet recruit class for the Essex & Southend-on-Sea Constabulary's brand new Cadet college in Chelmsford, Essex. This was a two year residential program of schooling, physical activities, drill and community activities like the Duke of Edinburgh's Award Scheme. It was opened by Princess Anne.
The third year, until one turned 19, was on secondment to local police divisions, hospitals, borstals and Outward Bound programs. Ian sailed on The Captain Scott for his Outward Bound course.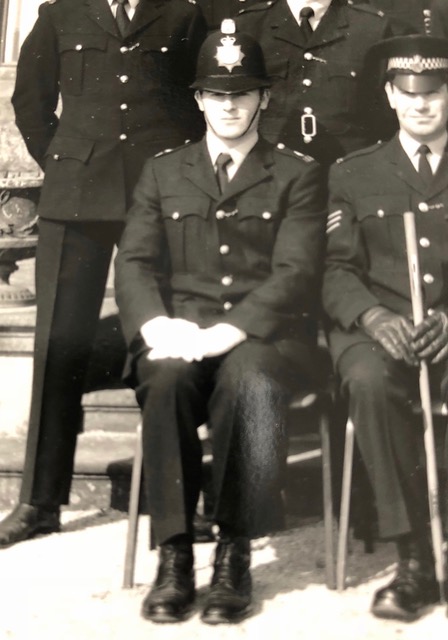 P.C. Ian Kittle at Enysham Hall
Police Training Centre - 1972
In March, 1972, Ian attended the Enysham Hall Police Training Centre for the 16 week Constable Training Program. Following this Ian was posted to the Sub-Divisional police station at Maldon, Essex where he served 3 years as a Constable in Uniform Patrol. The department then changed its name to the Essex Police.
In late 1974 Ian had completed his Probation and read in the magazine called The Police Review, that the Bermuda Police Force was recruiting Constables for their department. Based upon little else than an encyclopedia description of Bermuda and a young person's zeal for life, he applied for this position, attending an interview in London with Chief Superintendent Sykes, the first black person he had ever talked to. (being raised in Southend-on-Sea, there were no black people in his locality. Some Bermudians may find that hard to believe, but that was the reality for Ian)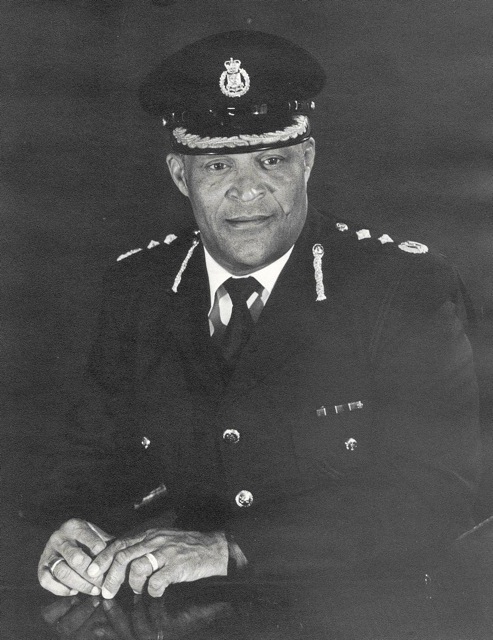 Chief Superintendent Syke Smith interviewed literally
hundreds of potentional recruits and was
always a highy popular senior officer
Ian has written the following:-
"I remember Superintendent Sykes to be a most charming man who earned instant respect by his manner, attention to detail and his personality. I must have responded appropriately as in February, 1975, I found myself on an aircraft to Bermuda to join the police.
My first recollections of life in the Bermuda Police Force were being met and transported to Prospect, Hamilton Police Headquarters by Chief Inspector Dave Parsons. He looked a typical old school officer with his moustache and parade ground voice. I met my first colleagues Steve Smedley and Mick Ross on the flight over.
My diary recollections were completing numerous forms the next day and a football match in the evening. During the next day the clinic and bank were visited, fingerprints and photographs taken followed by a trip in a transit van around the island. The next day Sergeant Ian Scotland showed us around the western end of the island. That afternoon we witnessed a crowd control exhibition in riot gear.
Fun recollections were hiring our first mopeds and tearing around the island exploring everywhere. Rum Swizzle experimentation and swimming in February!
Bermuda Police Induction Course - 1975
Top (l-r) PC's Alan Smith, Space - due to injury to Alan Cleave !
Steve Smedley, Paul Cranage & Peter Giles
Middle row: Mike Ross, Dave Adams, Peter Gimson,
Angus MacDonald & Gerry Benson
Seated: Ian Kittle, Graham Alderson. Sgt Barry Meade, C/Insp Dave Parsons
Sgt Ian Scotland, PC's Alistair Delanzo and John Wright.
(Editors note - Unfortunately, it was not the usual routine to have photos taken of Induction Courses so this is an exception. However, if you attended an induction course for experienced police officers recruited from overseas we would be delighted to publish them.)
The Induction Course started on 10th February 1975 with classes on the Bermuda Constitution and the court system. In days following subjects covered were motor laws, accidents, criminal code powers of arrest, Summary Offences Act, and firearms training with no ear protection!!!!!!! (Not a good move causing a lifetime 'ringing ear'!)
On 16th February, 1975, the Queen and Prince Phillip visited the island and involved immediate duties by all officers, whether they knew where they were or not. I can recall being on roundabout duty near KEMH.
My first police duties were in Hamilton Division working foot-beats with Constables Dennis Gordon and Archie Husbands and town-car patrol with Constable Paul Deans. The famous Birdcage traffic point duty was conquered but unfortunately not documented by a photograph.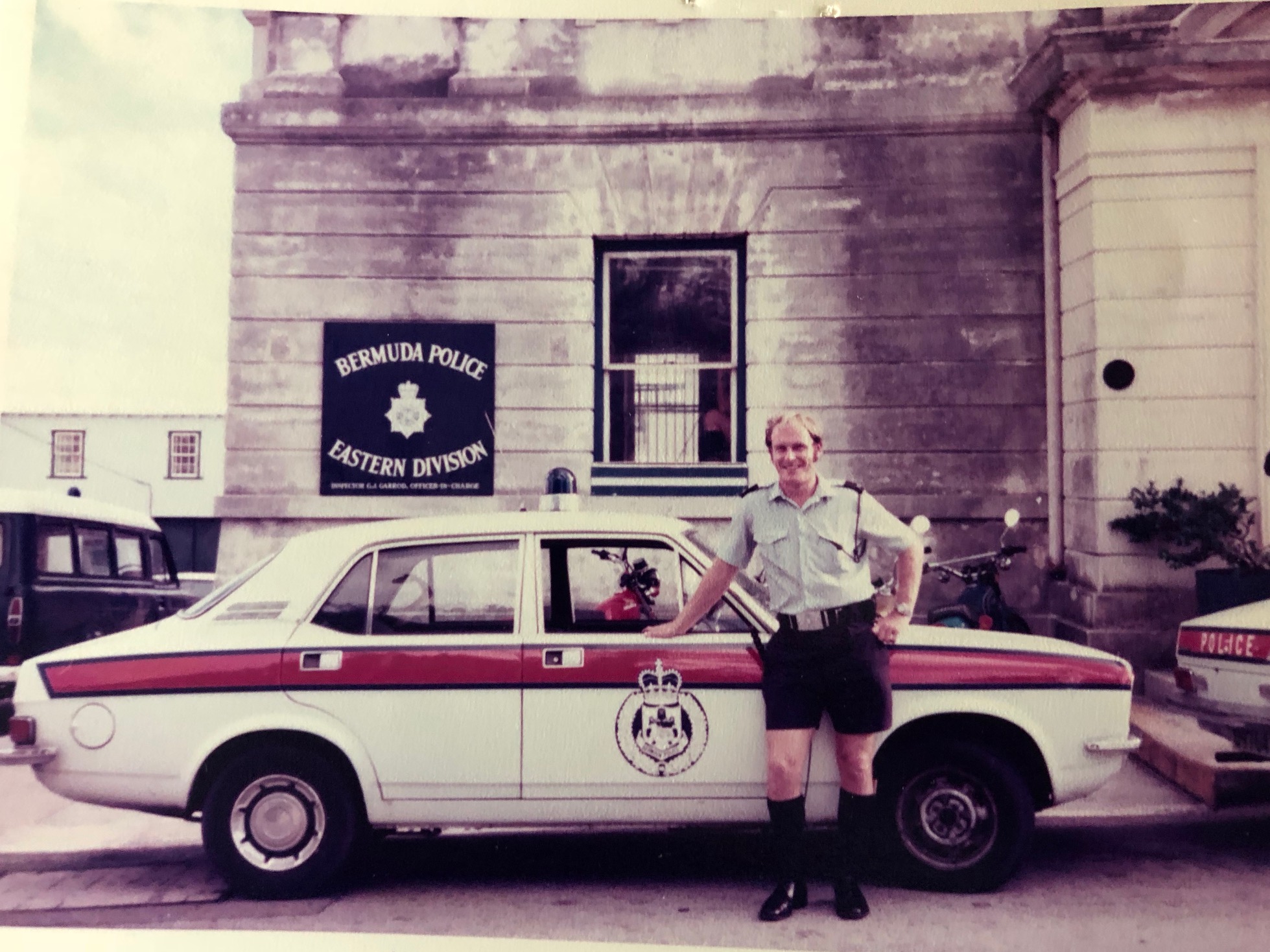 P.C. Ian Kittle with his patrol car outside St. George's Police Station - 1975
On 28th February I was posted to St. George's Division. First impressions of the old police barracks were horrific spending time cleaning and arranging ones room. One could see the stars at night through the roof! The Officer in Charge was Inspector Joe Colton. First mobile Patrol was with Tony Smith, and foot-beats with Lincoln Pratt.
On 6th March, I was transferred to Murder Squad with Mick Ross due to the Margery Wade murder. Partnered during that time with Terry Cabral, Dennis Ramsey, Jerry Benson, Kim Inngeman, Dudley Swan and Sinclear White,
Around June, 1976 I was seconded to the Beach Squad, a very unique bureau within the police. As well as doing observations for thefts on the beach and catching flashers, much of the time was spent trying to catch gay males performing unlawful acts with other gay males at the quieter areas of the public beaches. They were very organized in their methods of protecting themselves and it was quite the experience playing hide and seek!
1st December, 1977.
Relates to the beginning of the Bermuda riots, vividly remembered by officers who worked "the thin blue line" as the newspapers described it. Diary entries from those days noted," At 8 am we were on standby at the Training School all day. The final plea for mercy was declined which immediately started the rioting in the City of Hamilton. Sections 1,2,3,4 and 5 under Inspector Red Hebberd were rushed down into the city and took up an extended position on Court Street and Queen Street. A large mob had gathered, throwing missiles and setting fires to vehicles. We kept them back with CS gas and rubber bullets. It was just 15 odd men holding them off from Front Street. My guts were churning as we stood on the line in riot gear all night until 7 am. We were exhausted but the guys stood up well.
2nd December, 1977
5 hours sleep and we returned to the same location at 4 pm, our Section consisting of Coggie Gibbons, Pete Giles, Ian Morrison, Malcie Smith, Earl Kirby and Providence Dublin. The police line stayed there until relieved at 4 am. It was fairly quiet. Returned to St. George's to sleep.
3rd December, 1977
Slept until 1.30 pm. A sudden emergency call up of officers began at 2.30 pm and rushed to the Court Street, junction with Victoria Street. A large agitated mob was on Court Street a short distance from the police riot lines. They were burning vehicles and hurling objects at police, some armed with Machetes. Superintendent McMaster ordered the firing CS gas and rubber bullets to keep the mob back from the police line. Curfew time of 5.30 pm arrived and it started to rain heavily. We stood in it for over 2 hours on the barricades. Relief officers led by Inspector Wingood attempted to advance down the street towards the mob but had to retire. Duty finished at 4 am".
I had the pleasure to work on Sergeant Arthur Bean's shift in St. George's. A total gentleman, respected and admired by all.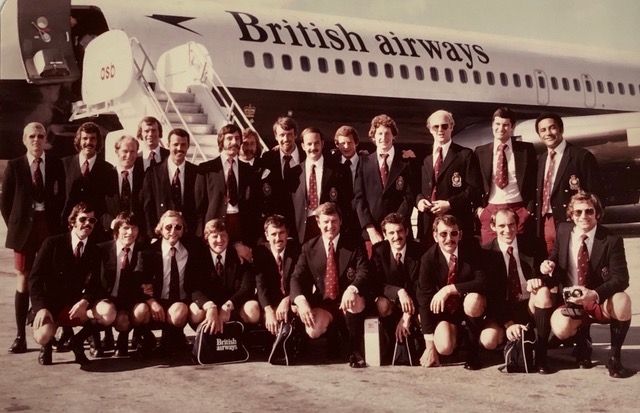 Police Recreation Club Team leaves for soccer tour to Florida 1976
Standing (l-r) Alan Cleave, Les Pearson, Ian Kittle, Paul Deans, Ralph Lindo, D. Evans, D. Walker,
J. Walsh, Howard Cutts, John Latoszek, C. Mitchell, Frank Woods, Iaian Morrison, Arthur Bean.
Front row - Eric Robinson, N. Morgan, M. Taylor, Jack Richards (Coach) Mike Rickards,
Andy Hall (Manager), Harry Mesham, J. Harper, Adrian Robson, Ernie McCreight.
I met my Canadian born wife, Linda, while I was in Ottawa, Ontario in 1977 attending as Best Man at the wedding of Ex Bermuda Police Officer Steve Smedley. This led to a one and a half year long distant relationship with visits to Bermuda by Linda, and to Ottawa by me.
In April, 1978, we got engaged and held a wonderful party in the St. George's PRC. Numerous photographs record this event.
Our wedding was held in Ottawa, Ontario on 19th May, 1979 with both families in attendance. Guests from Bermuda were Peter Giles, Stuart Kirkpatrick, Peter Gimson and Mike Phillips.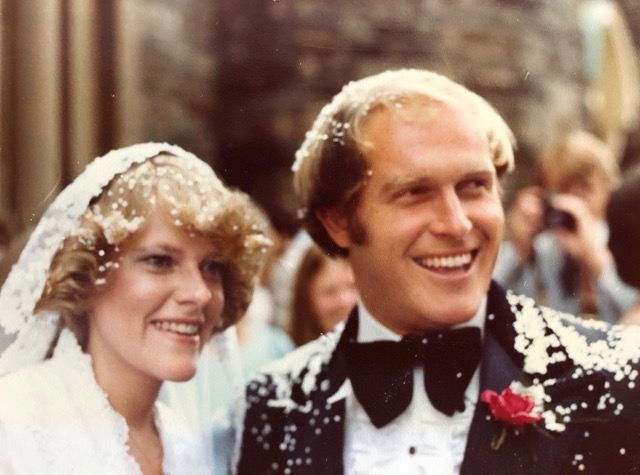 The Happy Couple on their Wedding Day
Ian and Linda with their bridal party - 19th May 1979 in Ottowa
I resigned from the Bermuda Police on 26th July, 1979, emigrating to Canada and residing in Ottawa. I made attempts to join a local police department without success. I was then employed in the Ontario Correctional Service as a Correctional Officer working at the Ottawa Carlton Correctional Centre. I completed probation and shortly after, in December 1980 resigned, accepting a position as Constable with the Peel Regional Police, a Municipal department bordering Toronto.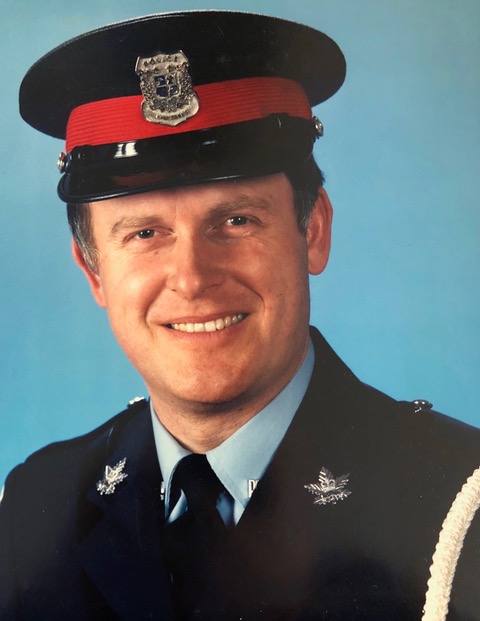 Officer Ian Kittle - Peel Regional Police
I served 32 years with this department in Uniform Patrol, Traffic Safety Bureau, the Review Office and finally at the Toronto Pearson International Airport. My first training officer there was Ex Bermuda police officer Andy Lavery. Also at this department were Ex-Bermuda constable Jeff Baker, Peter McNulty , Ian Ganson, and Des Rowland.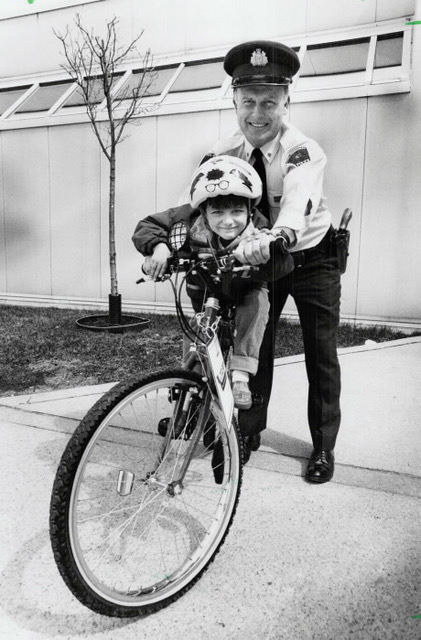 Officer Ian Kittle featured in a Toronto Sun photo
providing road safety advice to a young lady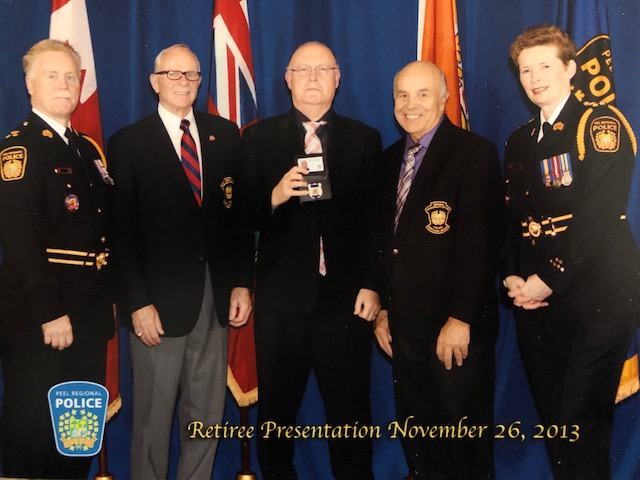 Ian's official retirement presentation - November 2013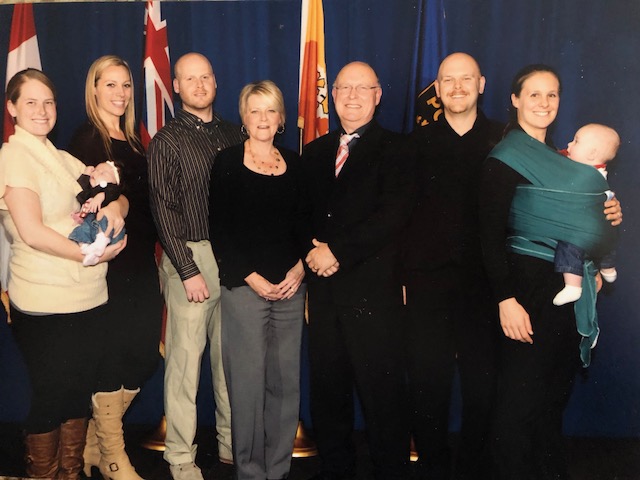 Ian and Linda Kittle with their family at his official retirement presentation
I retired in 2013 and settled with Linda in Palgrave, Ontario, just north of Toronto. We have raised 3 children, two sons and one daughter. Nathan, our youngest son is a Prisoner Escort Officer with Peel Regional Police.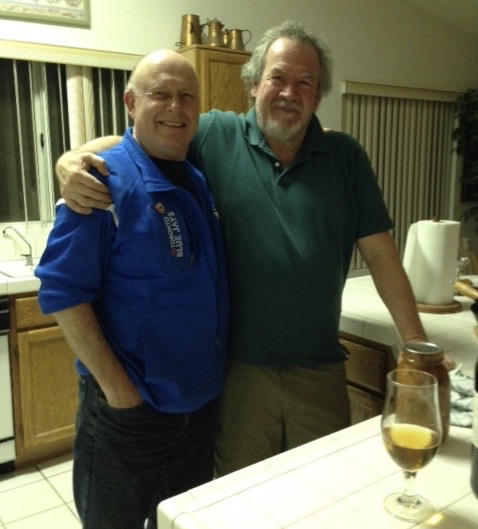 Ian Kittle and Paul Bradshaw
Ian meets up with former colleague, Paul Bradshaw,
in March 2017 in Arizona after a 37 year gap.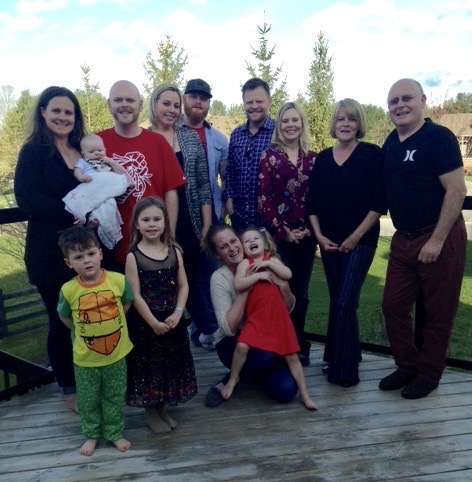 The Kittle Clan
Back row (l-r) Esther & Dain Kittle holding their daughter Saoirse, Siobhan & Nathan Kittle,
brother-in-law David Burgess with his wife Sarah, Ian & Linda Kittle.
Front row. Keenan Kittle, Avalena Burgess, Daughter Kiri-Lyn Kittle with her daughter Kayleen Ball.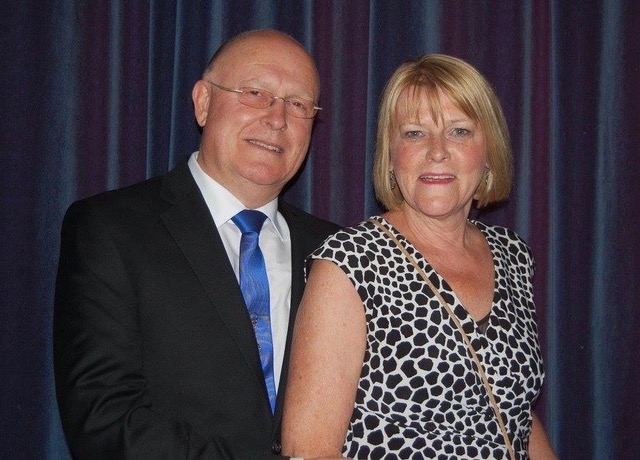 Recent photo of Ian and Linda - 2018