P.C. Stephen Bond
Served 1969 - 1977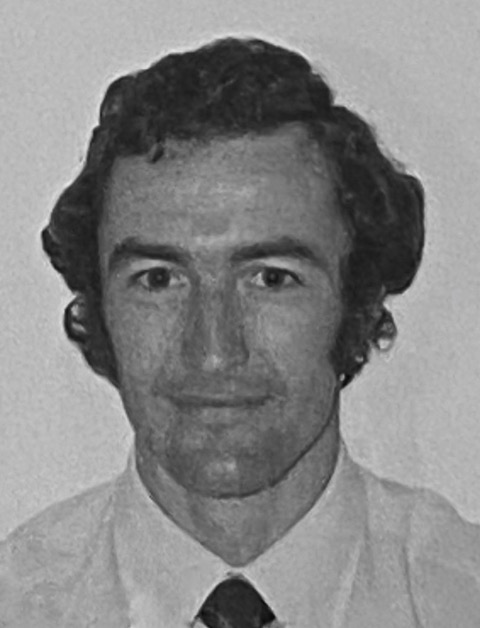 Young D.C. Stephen Bond
I came to Bermuda in May, 1969, with 11 others who were all UK policemen recruited in the UK. I was from sleepy Lincolnshire, as was Mervyn Willy, another of the 12.
Having spent the cold winter on foot and mouth patrol and turkey patrol, pre-Christmas it was a bit of an eye opener to have sunshine almost daily!
Another revelation was the Friday after we arrived there was a "special" night at the PRC put on by Mount Gay rum. Needless to say, we managed to sample a few of the free offerings.
On the following Monday we started the 2 week induction course at the Training School. During that period, we all managed to pass the motorcycle test and trotted off to Bank of Butterfield where we signed our names to a loan for £200.00 which was the price of a new Lambretta scooter. Mine, No 8510 was subsequently stolen from outside the house I was living in and never recovered.
At the end of the course, together with John Wilkins, Malcolm Tarte and Brian Morgan, I was posted to St Georges, where we lived in the single men's quarters above the Police Club. Davey Anderson was across the hallway.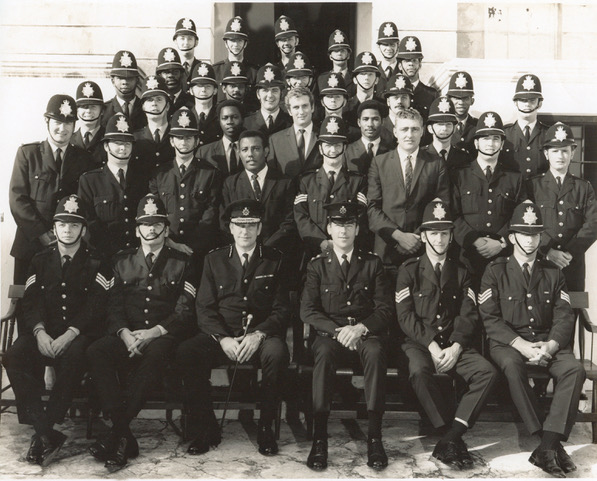 Eastern Division Personnel - 1971
P.C. Stephen Bond is 2nd from left on the top row
After about 12 months on the beat in St Georges I was made parish constable for Hamilton Parish. This was probably the best time for me as I was able to organise my own work, my own hours and found it very satisfying. It was during this time that I received a Commissioner's Commendation from Nobby Clark.
Editors Note - Stephen was awarded the Commissioner's Commendation in November 1972 for "zeal, persistence and initiative" shown during the investigation of a series of prowling cases that occurred between January and November 1972.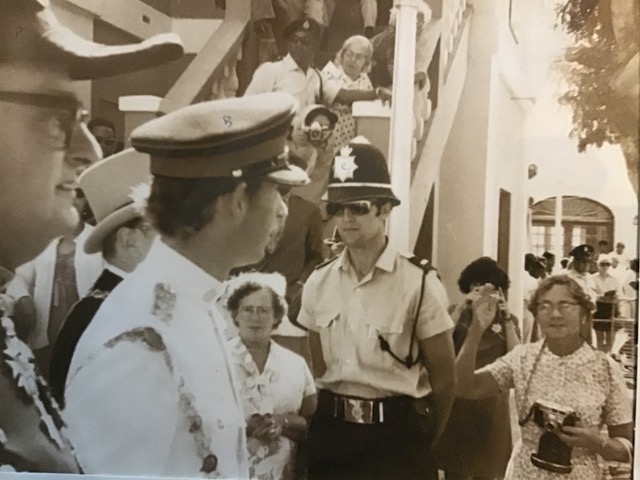 Young P.C. Stephen Bond almost rubs shoulders with HRH Prince Charles
in King's Square, St, George's in late October 1970
Following my stint on Parish duty I was drafted to Special Branch at the airport and a short period in close protection, following the assassination of the Governor Sir Richard Sharples and his ADC.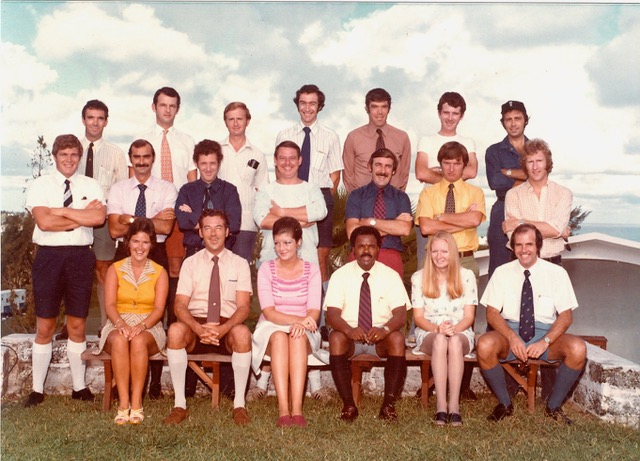 Special Branch - circa 1974
Top row (l-r) Andy Bermingham, Alistair Reid, Neil Cox, Steve Bond,
Robin Henagulph, George Rushe, John Instone
Middle row - Bill Butterworth, Steve Petty, Mike Chitty,
Tim Willis, Dave Cann, Barry Smith, Colin Mackenzie
Seated - Leslie Whittaker (civilian secretary), Peter Stubbs,
Caroline Strother (civilian secretary), Lenny Edwards, Yvonne Yates, John Graham
In my first year in St Georges I met Norma who was Coordinator for Pre-Vocational Studies at the Bermuda Hotel College. We married in 1971 in St Peters Church, in St Georges (50 years coming up) and have one son and two grandchildren aged 9 and 12.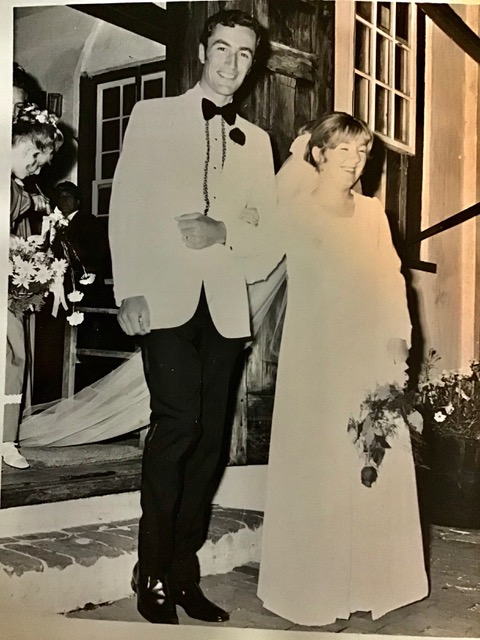 Stephen and Norma on their wedding day at
St. Peter's Church, St. George's in 1971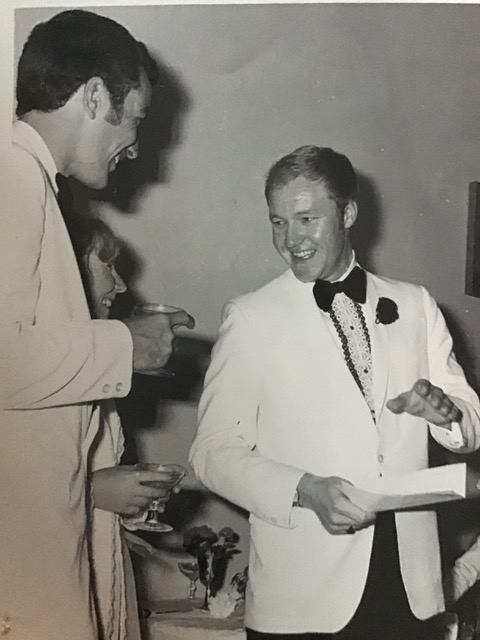 The bride and groom are still smiling as
Best Man "Willy" Hart delivers his speech!
We decided to leave Bermuda in 1977 and returned to the UK with the intention of opening our own restaurant. Unfortunately the property we thought we had secured in North Somerset did not work out so, after a number of interesting diversions, door to door insurance sales, pumping gas etc, we bought a local village shop and post office in Somerset, just outside Taunton. Although this was not a "career" move it did prove that we could both work together and live together, so after 18 months moved on again to a small, 6 bedroom hotel in Wales not far from Methyr Tydfil, on the edge of the Brecon Beacons. Here we became known as the place to go for food in the area.
5 Years on and it was time to move again. This time to Bridgend. A market town midway between Cardiff and Swansea and just 5 minutes from the sea in Porthcawl.
We bought a Grade II* listed house in a derelict state. It was literally standing up on props but after 18 months of manual labour and some very skilled help, we opened The Great House Restaurant. It was in the Guides within months and was noted as one of the best restaurants in South wales. 6 years in, we added rooms and became a restaurant with rooms. Our customers have included HRH The Prince of Wales, J Dennis Hastert, Speaker of US House of Representatives, the Japanese Ambassador to the UK, Gertie Cannonier (whilst on a UK course and visiting nearby South Wales Police Headquarters) and many household personalities.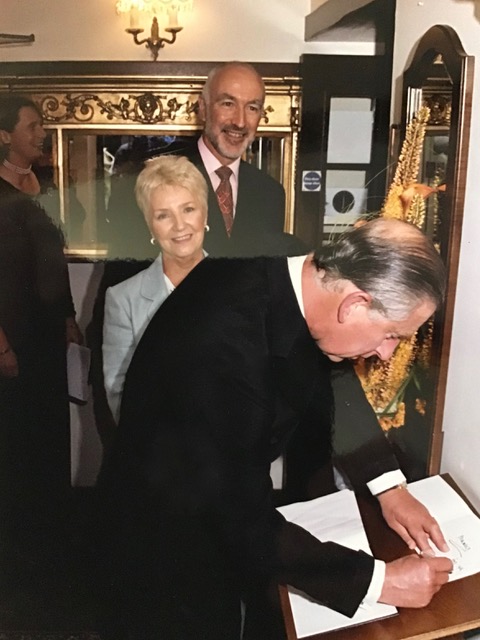 Stephen and Norma welcome HRH Prince Charles to The Great House
for the 2nd time. Quite a change of scenery since young P.C. Bond
first "met" The Prince of Wales in King's Square, St. George's in 1970
Finally, after 32 years at the Great House and nearing my 70th birthday, we retired from the Hotel/restaurant business. As most people do, we took a big trip, taking in Alaska, Vancouver, LA (my sister was living there) and on to Las Vegas to see my best man, Willy Hart.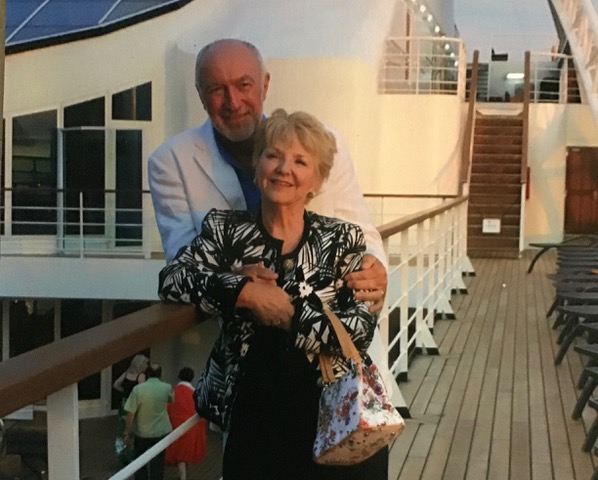 Stephen and Norma on a well earned cruise
During my life I have run for relaxation and pleasure. I have completed a number of half marathons both abroad and in the UK. I completed the London Marathon on 2 occasions, the last being 2015 at age 67 in a "good for age" time, (sub 4 hours) the high point in my athletic accomplishments. I still run in competitions with my local running club, for which I am also the Treasurer.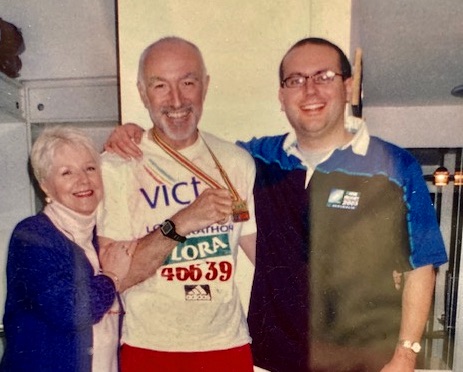 Stephen proudly shows off his running medal
We continue to live near Bridgend and, having time to fill, have done a little property renovation but more recently I have become a Nordic Walking instructor. This means that I have a regular 4 classes a week, walking in the countryside with like-minded people enjoying the great outdoors and we have such wonderful outdoors in Wales. We are 5 mins to the beach, 25 mins to Cardiff or Swansea and about 45 mins from the Brecon Beacons.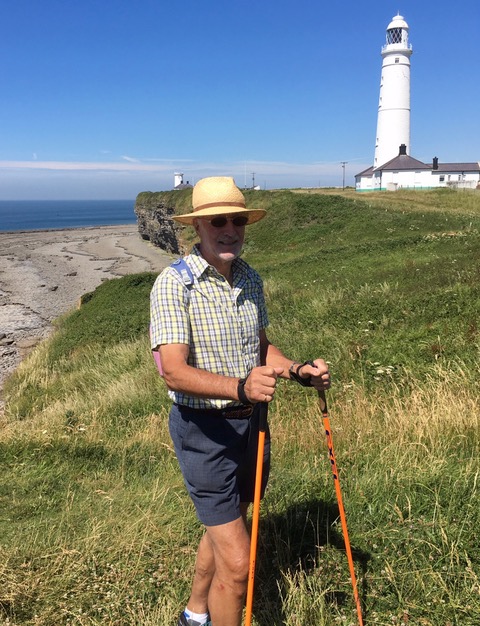 Stephen keeping fit as a Nordic Walking instructor
Huw Lewis, ex Bermuda Reserves and an ex colleague of Norma's, lives about 30 minutes away and we are in touch frequently.
We see our son and our 2 grandchildren and the rest of the family regularly, although they live in Southampton, London and Somerset so we spend a fair amount of time "on the road".
We are always happy to see anyone from the "old" days who might be passing through.
Scratching the old grey matter I think the following were the 11 others who arrived with me in 1969:-
John Wilkins
Brian Morgan
Editors Note - Sadly, we have lost three of our colleagues above - Kevin Brennan, Bill Buchanan and Merv Willey. Two of Stephen's intake are still resident in Bermuda - Rex Osborne and Peter Counsell. We last heard about John Copas and Clive Crossman from Dave du Cann who now resides in New Zealand and who saw John and Clive some 20 years at which time John was Head of Security for Air New Zealand, and Clive was serving in the New Zealand Police. We would love to hear about the rest of the guys who arrived in Bermuda with Stephen back in May 1969.