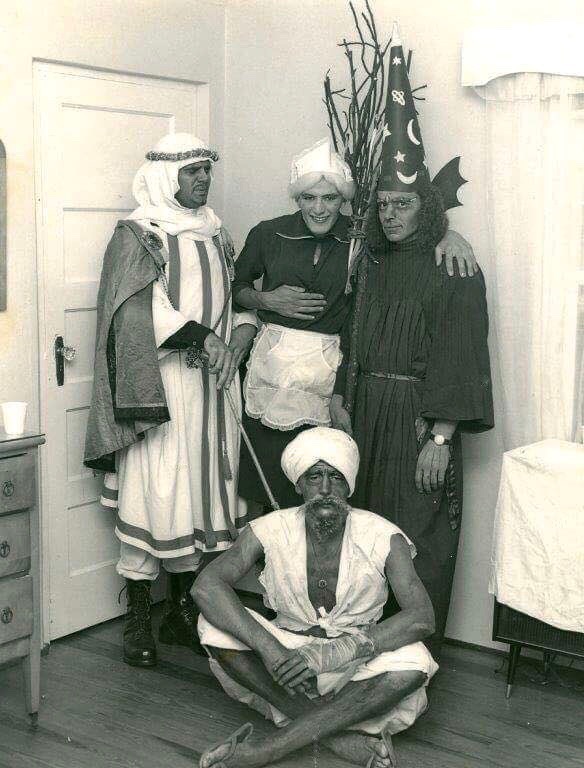 Halloween Party at Faraway Cottages - 1966
(l - r) Jack Rouse, George Rose, Mike Jent,
Seated - Indian Fakir
This was quite a photo and it wasn't long before the names starting coming in, with Terry Cabral quicjly spotting Jack Rouse, George Rose and Mike Jent, and he eventually also identified our India fakir, Mike Caulkett, who was the master of disguise. More of Mike in a moment.
Three of the four guys in the photo are still with us, with the two Mikes, Mike Jent and Mike Caulkett now living in England, while George Rose has settled here in Bermuda, or should I say, St. David's Island!
George tells us the event was a Halloween Party held at 'Faraway Cottages' in Warwick, at the home of John and Anna Mulholland. The party was attended by many members of the Police Drama Group who had been dressed and "made-up" elsewhere by the Wardrobe and Make-Up staff from the Drama Group.
George has written to say, "Anna had been Assistant Producer for the Police Drama Group's rendition of "Journey's End" at the City Hall Theatre between November 9th - 12th 1966. This play was a sincere tribute paid on the stage of City Hall to the men who fell in the World Wars. The stage scene was impressive and was laid in a Dug-out in the British trenches just before the battle of St. Quentin, March, 1918."
Mike Jent later married John Mulholland's sister Elizabeth who was Wardrobe Mistress, with Mike playing the part of 2nd Lieutenant Trotter.
Publishing this photo cannot be complete with a special mention of Mike Caulkett's brilliant portrayal of an Indian fakir, complete with his own bed of nails which, it has to be said, were all "sharp as nails"! And yes, Mike even lay on it during the evening without any discernable injury as can be seen in this photograph.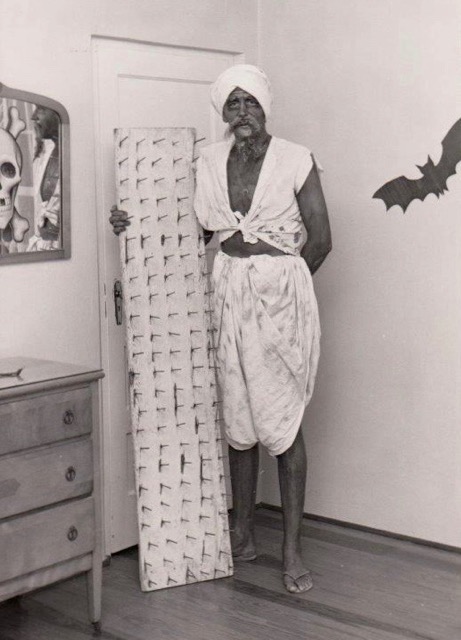 Our Indian Fakir and his bed of nails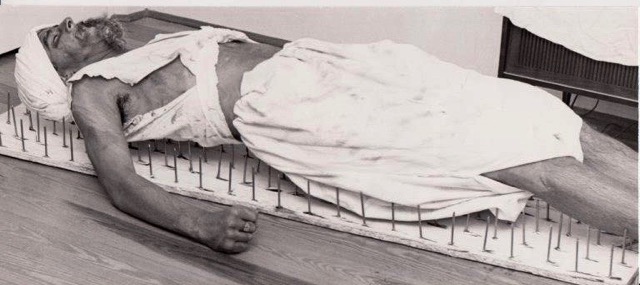 Not so fake after all! Mike Caulkett demonstrates the
art of making your bed - then lying on it.
Mike has since sent us the following additional photos taken at the same Halloween Party, and we invite you to help us identify all those who are featured in them:-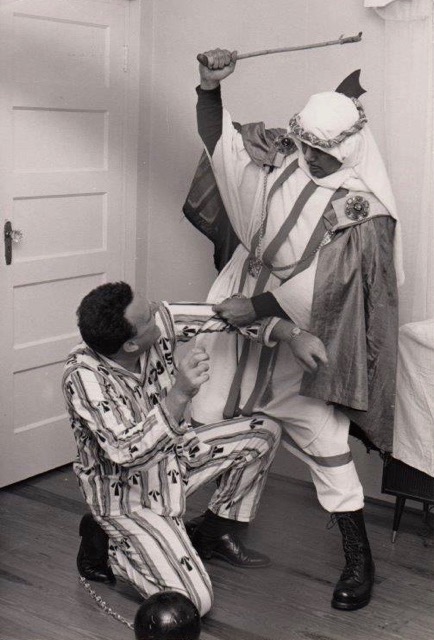 Photo 1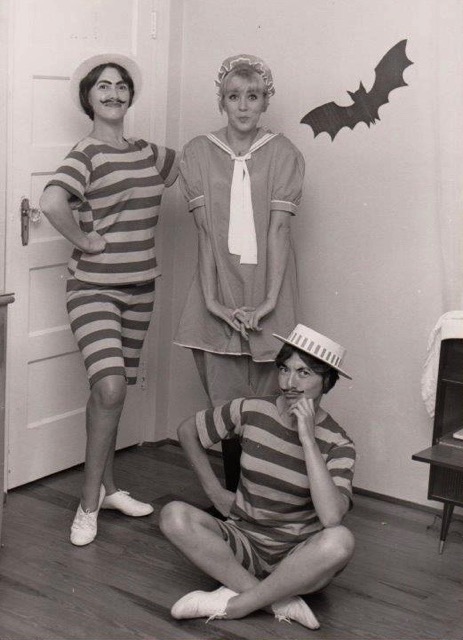 Photo 2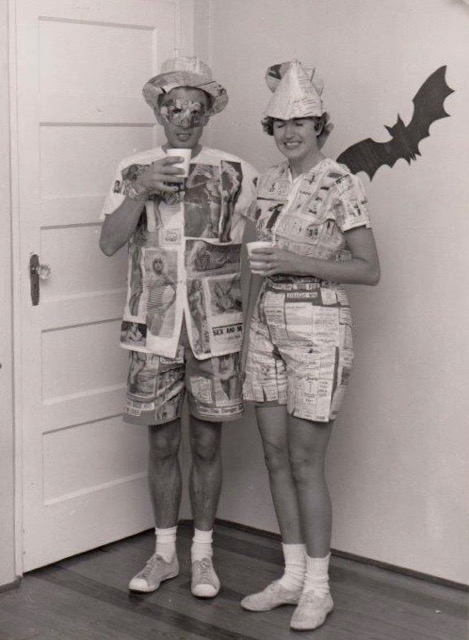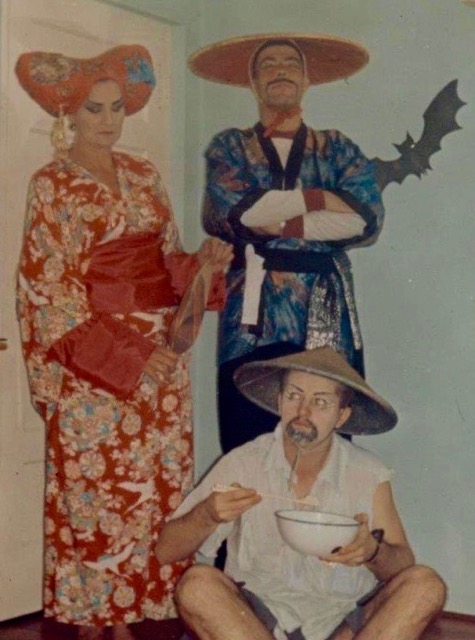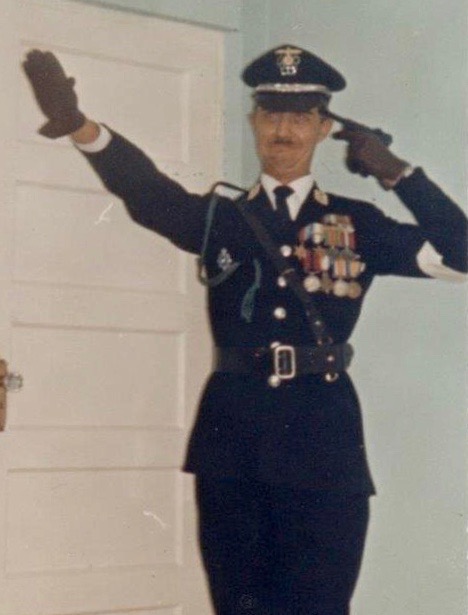 Photo 5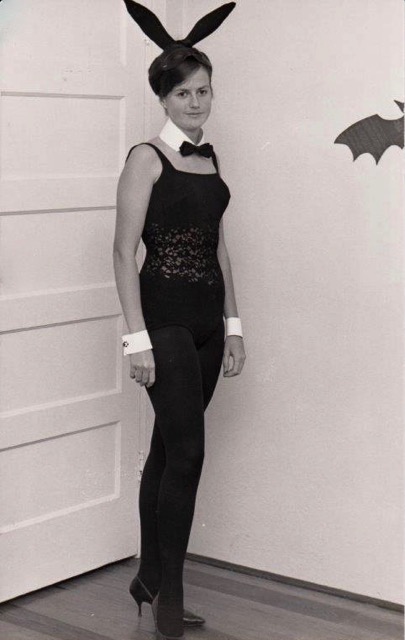 Photo 6
Editors note - For several years I have been trying in vain to persuade Colin "Dusty" Hind to write up a history of the Police Drama Group for our website. By coincidence, I happened to see him a few days ago and we chatted about the Halloween Party, and about his personal involvement as a co-founder of the Police Drama Group along with another young police officer, Ron Shelley, who went on to have a distinguished career in show business in New York. You can read a little more about Ron in our Keeping in Touch column 2012 in an article dated 14th September which can be found at http://expobermuda.com/index.php/keep-in-touch/31-kit-3-1-12
As a member of the drama group I have to say it was a real privilege to take part in several brilliant plays put on at City Hall Theatre, with the vast majority of the cast and crew being members of the Police and their wives or girlfriends.
After a little arm twisting "Dusty" has kindly agreed to get together with me in the near future to draft up an article on the history of this multi-talented group.
It would be most helpful if anyone who took part in these productions would provide us with their own recollections and any photos they might still have. Perhaps the following photos above from that Halloween Party will help to get creative juices flowing!