Inspector Arthur Rose
Bermuda Police 1951-1979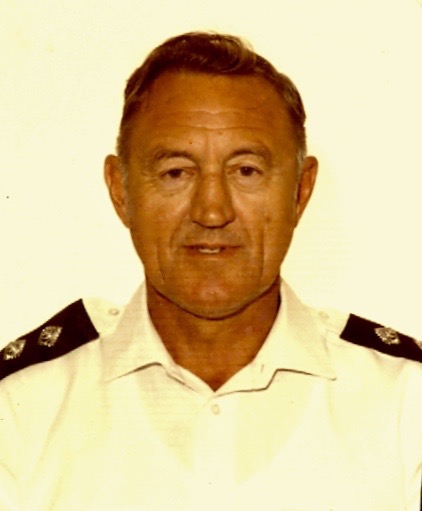 Inspector Arthur Rose
I was born on 27th March 1924 in Hastings, Sussex, where I was raised and attended school. After leaving school I worked in a variety of jobs until I was called up at the age of 18 and enlisted in the Army with the Lancashire Fusiliers in the middle of the War, in 1942.
I served mainly in India in an Infantry Regiment until I was de-mobbed in 1946. After leaving the Army I again worked in a variety of jobs until I saw an advertisement in a British newspaper for the Bermuda Police Force. I applied for the job and was interviewed by the Crown Agents in London after passing a medical by a Harley Street doctor. I was accepted for the job, and interestingly, I was recruited as a "European Constable 3rd Class" because at that time we were considered to be a part of the Colonial Police Force.
I arrived in Bermuda on 23 April 1951, after sailing from Liverpool to Bermuda on the Reina del Pacifico along with Duncan McBeath, and another recruit named Petrie from Scotland who later joined the Police in Australia.
Our training consisted of a few rather haphazard lectures given by Inspector Leonard Fearis who had also been a soldier during the War and had taken his discharge in Bermuda. The lectures were held over a period of 2 weeks in the gymnasium in the old police barracks located on Victoria Street (now part of City Hall Car Park). My first posting was to Hamilton on the beat, and they were probably much the same beats as they are today. I think there were 6 different beats. In those days we didn't have to patrol the Hamilton Docks or do guard duty at Government House. Our pay as a Police Constable when I first started was 44 pounds a month, and our Mess bill was 14 pounds a month. Beer at that time was a shilling a bottle!
My first Sergeant was Sgt. Harry Fisher - a Bermudian - and I lived in the barracks on Victoria Street along with about 30 other single policemen – all expatriates. The barracks were located behind where the City Hall is now. I have a photo of a group of us sitting outside the barracks showing (l-r) Frank Walsh from Ireland, Derek Taylor, Raymond Barnwall, Ian "Crash" Kane from Scotland, , P.C. Brown, myself, Ken Morris, and Clement "Clem" O'Brien from Ireland who married an American girl and went to live in Boston. I believe that Raymond Barnwall's official title was The Rt. Hon. and he was a member of the Irish aristocracy. He worked for a while as a dog handler with Frank Farmer.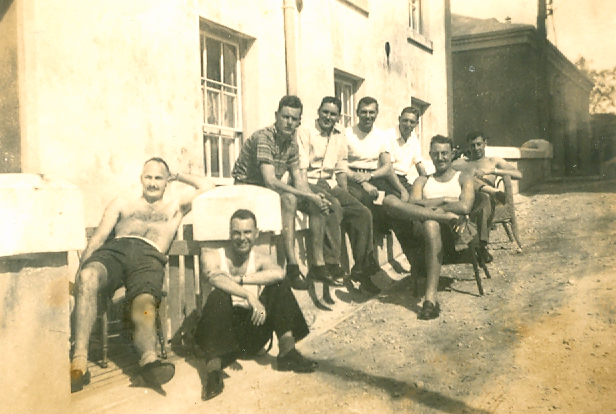 Arthur Rose and group outside the Police barracks on Victoria Street.
l-r Frank Walsh (Irish), Derek Taylor, The Rt. Hon Raymond Barnwall (member of Irish aristocracy) ,
Ian "Crash" Kane (Scottish) , Brown, Arthur Rose, Ken Morris,
Clement O'Brien (Irish). Married an American girl and moved to Boston)
My closest mates at that time were Red Hebbard and Ron Steele. 'Nobby' Clark was also living in the barracks. He had been recruited after first working in the Department of Agriculture as a gardener. The Commissioner at that time was J.S. McBeath. He wasn't particularly friendly but I got on okay with him.
Back then we wore a navy blue uniform with a closed neck during the cooler months, and in summer we changed to a grey, lighter uniform with long trousers. Yes, it was hot, and the only air conditioning we had then was to open a window! Our uniforms had brass buttons that had to be polished and cleaned on a regular basis and we were issued with a button stick which you would slide under the buttons to clean them and avoid getting polish on your uniform.
I spent my first 2 years on the beat in Hamilton. I worked with Howard Mitchell, Milton Cholmondely and 'Bunkers' Bean. Milton was a really great guy and he was very strong – ideal if you were involved in a "dust-up". 'Bunkers' was a real gentleman and many of the older people will remember him as a good cricketer, and later as a cricket commentator. 'Bunkers' was the first person to show me around the beat in Hamilton and he was a pleasure to work with.
Another great character I worked with was P.C. "Pip" Carter who was an outstanding rugby player and he also knew how to party! I recall that he could down a glass of beer without taking a gulp. (Arthur thought that "Pip" had returned to England and that when he died his ashes were sent to Bermuda to be scattered at Admiralty House which was used as single men's quarters for a few years. However, we have since heard from Pip's wife, Diane ("Dee"), that she and Pip settled in Houston, Texas, not England, and that Pip's ashes were not brought to Bermuda. We spoke to Arthur about this and he coudn't remember who it was who's ashes were sent to Bermuda.)
I found most of the people I worked with were good guys and I have very fond memories of those early days.
After working on the beat I became Station Constable at Hamilton Police Station for about a year. In those days the Station Constable had the same duties as a Station Sergeant, and would be in charge of the Station whenever the Watch Sergeant went out on patrol. My opposite numbers at that time included "Taffy" Lewis who later left the Force to work for B.O.A.C., and "Jock" Carlisle who went on to join the Hong Kong Police.
I was then transferred to be the Paget Parish Constable. At that time there was no Parish Sergeant. We all came under the Sergeant on duty in Hamilton. Every Parish had a Parish Constable. We used to deal with complaints, domestic disputes and a wide variety of minor offences on our patch, and to be best of my recollection we didn't have a Parish Constables Office.
After arriving in Bermuda I had started playing football, first for BAA, and then we formed a Police team. Prior to this the only football game the Police ever played was the annual "Cops versus Robbers" match against members of the business community. I was one of the original members of the Police Team that included Alan Harker, Chuck Renaud (a Canadian) who was our goalie, Jack Hamm, Ted Burton and Tony Saunders who transferred to the Prison Service as did several other policemen. They were seconded into the Prison Service where they were paid an extra 10 pounds per month.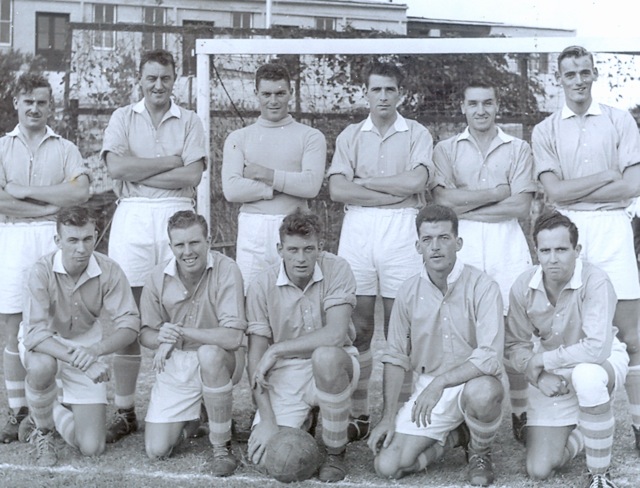 Police Football Team - Circa summer 1955 taken at BAA Field
Top Row (l-r) Jack Curtis, Arthur Rose, Barry King, Jim McNiven, Jack Ham, Tony Saunders.
Bottom Row (l-r) James McMasters, Bugsy Harker, Rick Hodgson, Jack Shaughnessy, David Parsons.
Photo was taken at BAA Field
I think it was me who first organized the Police football team. In those days there were two leagues, one for white players and one for coloured players. We used to play in the white league against teams like Nationals, Pembroke Panthers and Southampton. I played centre half. I can remember that when we started we used to play in our undervests – no football shirts. One of our supporters was Mr. Dunkley, the grandfather of Senator Michael Dunkley, and the owner of Dunkley's Dairy. I remember him asking one day why we played in undervests. When we told him it was because we couldn't afford shirts he went out and bought us all blue shirts which we really appreciated.
I always enjoyed my sports and in addition to playing in the Police football team I also played a few times for the Police rugby team organized by Bob Railton who was a former professional Rugby League player - I think it was for Whitehaven.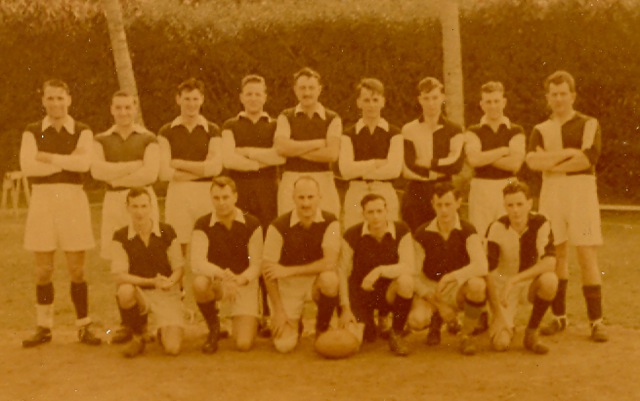 Bermuda's first Police Rugby Team – taken in July 1954 at BAA Field
l-r Back Row - Robert Railton (Capt) (former professional for Whitehaven), Jack Ham, Bill Freeman, ? Arthur
Rose, Peter Jackson, ?, Jim McMaster, Collins (left to become Master at Arms on the Queen of Bermuda)
Front Row - Ted Burton, White, Frank Walsh, Charles Giltrap ,
John Joe Sheehy, The Rt. Hon Raymond Barnwall.
The photo I supplied is our very first Police Rugby Team taken at BAA Field (it is dated July 1954). We only played rugby once in a while, and it would usually be against visiting Royal Navy Ships. The players I can remember in the photo were Back Row (l-r) Bob Railton (Captain), Jack Ham, Bill Freeman, (unknown), myself, Peter Jackson (he married a Bermudian girl and later qualified as a doctor before moving to the Bahamas where I stayed with them while I was on a squash tour), (unknown) Jim McMaster, P.C. Collins (he left the Force to become a Master at Arms on the Queen of Bermuda), and Front Row - Ted Burton (who was very fast on his feet), P.C. White, Frank Walsh, Charlie Giltrap (who left the Force to go to Kenya), John Joe Sheehy, and the Rt. Hon. Raymond Barnwall.
I'd played a little bit of squash as a young man in Hastings and when the Police took over Prospect there was a squash court behind the barracks. In fact there was a group of civilians playing there before the Police moved to Prospect and I started playing with them. One good squash player was Hal Dale who was also a good tennis player. We also had quite a few policeman start to play and it wasn't long before we had a very good team. Clive Donald was excellent, and there was Alan Waddicor, Ian Scotland, and myself, and later Roger Sherratt. We would play in matches against visiting Royal Navy teams and I can't ever remember us losing against them.
I also played a lot of tennis with civilians such as Hal Dale, Jack Lancaster, Bobby Barritt, and Ernie Stemphill, the head of American International who became my regular doubles partner. I carried on playing tennis after I retired from the Force.
After the barracks on Victoria Street were pulled down we lived in the old army barracks at Prospect for about 4 years until they built Henderson Block opposite headquarters. The rules then were that single men usually lived in the Police barracks, but you could live out and they would give you a monthly rent allowance of 10 pounds. But even in those days in was an expensive business finding somewhere to rent. I lived for quite a few years in the new Henderson Block where the rooms were about 10' x 8' and we had to share toilets and shower facilities.
After working in Parishes I had a variety of jobs; as Supreme Court Officer, working in Prosecutions, at Police Headquarters (pen pushing), and in Eastern Division. I was eventually promoted to Sergeant and spent most of my service as a Sergeant, first in Hamilton, and then in St. George's where I had to move to the St. George's barracks, before being transferred back up to Hamilton. I then worked as the Supreme Court officer and while there I was promoted to Inspector. I eventually worked as 2 IC in Traffic before retiring after 28 years in the job.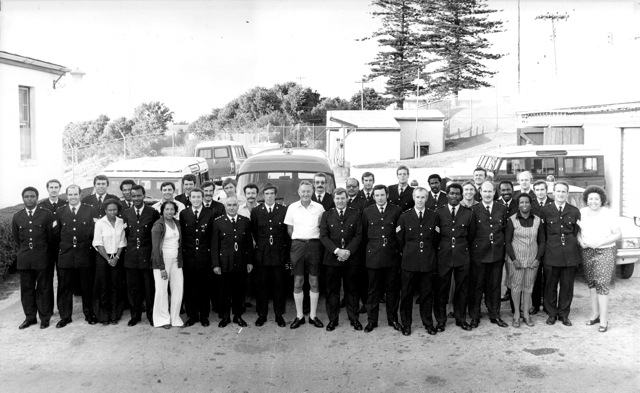 Traffic Division taken in November 1978.
Back Row (l-R)Anthony Taylor, Roger Brydon, Hiram Edwards, John Instone, George Rushe,
David O'Meara, John Baxter, Nicky Bolton, Charlie Mooney, Mike Phillips , Barry Higham,
DaveSmith, Laurie Phillips, Pater Walgate, Gordon Farquhuar, Gary Murrell,
Frank Wood, Lyndon Lewis.
Front Row (l-r) Dennis Gordon, John Graham, Brenda Lewis, Orson Daisley, Dee Tavares,
Roger Beschizza, Chief Inspector Ernie Moniz, Inspector Robin Henagulph,
Inspector Arthur Rose, Andy Hall, Stephen Peterson, Roger Sherratt,
Archie Husbands, Roger Kendall, Esther Smith, Mike Burke, Carol Royer.
After retirement from the Police I worked for about 10 years at Stevedoring Services, and then part time for Pembroke Paint with former policeman, John Swift. I've been back in England now for the last 2 years, back in Hastings in Sussex. It's not too bad, but I must say it's not like Bermuda.
I don't know what it's like in the Force now but during my time I felt that we had a great spirit and camaraderie. I worked with some great guys and in fact I would say that most of the men and women I came across in the Bermuda Police Force were a pleasure to work with.