I attended school in Ripon, Yorkshire, England, and on leaving I joined the North Riding Police as a cadet in the information room at Northallerton.
After National Service serving as a Military Policeman in Cyprus, I returned to the North Riding force, being posted to South Bank near Middlesbrough.
Two years later a group of us decided a change was needed, so Ken Norman, Mick Green, Chalky White, Geoff Saunders and I applied for the Bermuda Police Force, and we were all accepted. Ken and I were the first to go in August 1960, followed by the rest in the next few months.
On arrival in Bermuda we were met by several other ex-North Riding policemen, led by Jim Woodward, Tom Oliver and Mike Kelly. Ken and I were posted to Hamilton - what a difference to South Bank - except for drunks/rummies like "Weatherbird"!
One comical incident occurred when on night shift we found the Court House open. Knowing the Sarge would probably have got his head down we decided the best way to secure the building was to make ourselves comfortable on the long padded benches. The next thing we remembered was being woken up by the cleaner at 8.30am!!
I was later transferred to the Traffic department working with Peter Stubbs and George Goddard.
In 1963 I attended a driving course at Hendon, in the U.K. On return I worked in the Training School. Together with my normal traffic duties I did a stint on a motor cycle, working mainly with the "incorrigible" Willie McCracken. I returned to the cars and had a regular mate [and still a good friend] Roy Livesey.
One of our finest hours was being awarded a Commissioner's commendation for pursuing a Triumph Spitfire driven by two American servicemen, reaching speeds of up to 85mph. It's frightening when the speed limit was so low (20 miles an hour)! During this time I was also a member of the Motor Cycle Display team.
As relief driver for the Governor of Bermuda I drove for the big three conference of Prime Minister Harold MacMillan, President Kennedy and the Russian President Mr Kruchev. I also rode as motorcycle escort to numerous world leaders including the three American Astronauts Glenn, Aldrin and Shepherd, for Lord Mountbatten, and for Emporor Hailee Salassi. Exciting times!
During this time I had met Betty Gladwin, a Northallerton girl, who was working at the TCD, and we were married on March 4th 1961 at St. John's Church in Pembroke.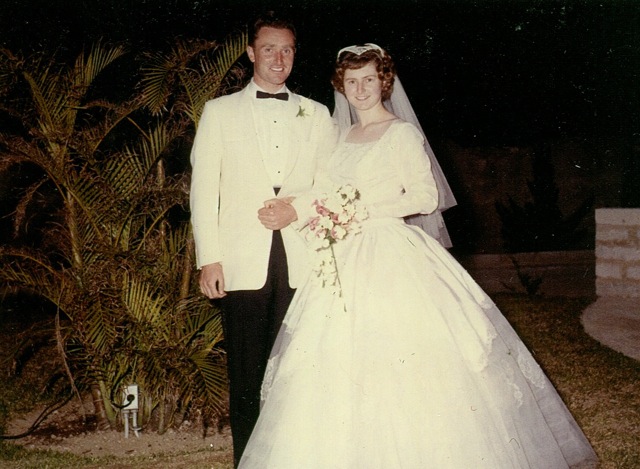 Jim and Betty on their wedding day.
Shortly after we were married Bet went to work for Harnett and Richardson, and after my first contract she moved again, this time to Pitt and Company.
Our first daughter Karen was born while we were living in Bermuda.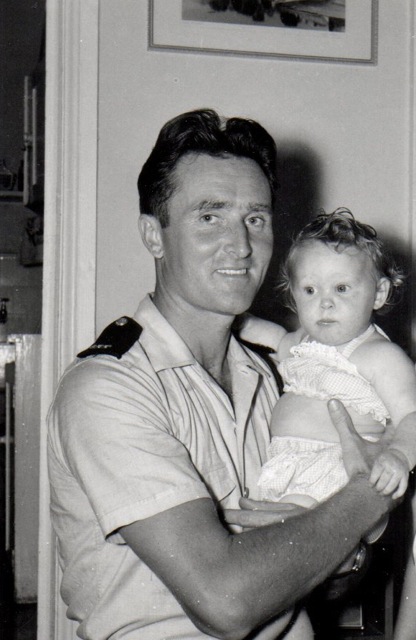 Jim with Karen at their home on Mary Victoria Road, Prospect.
Work was almost second fiddle to sport. I was very lucky to represent Bermuda at both cricket and football, playing against numerous touring and international sides. I played football for the Bermuda tream against Tottenham Hotspur, Crystal Palace, Iceland, United States, Danny Blanchflower's eleven [including Sir Stanley Matthews].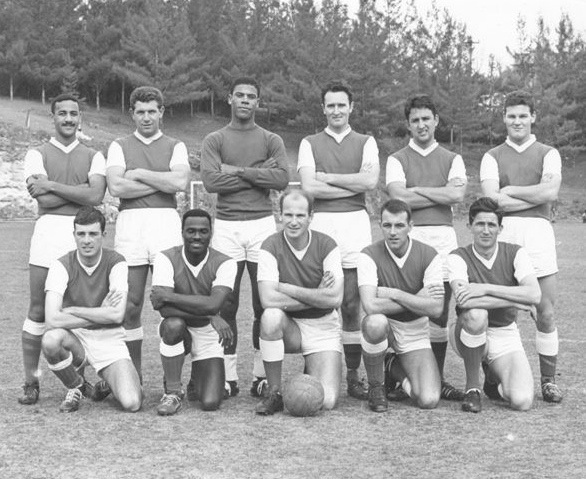 A superb Police Football Team (possibly the best ever) who beat YMSC
in a Cup Game in 1967
to end YMSC's 2 year unbeaten record.
Standing (l-r) Arthur Bean, Ray Banks, Clyde "Tango" Burgess, Ray "Sleepy" DeSilva, Mick Hill
Kneeling - Mike "Dagwood" Rickards, Del Trott, Clive "Fury" Donald, Jack Crane (Captain), and Alan Wyatt.
On the cricket scene I represented Bermuda against New Zealand, the West Indies captained by Sir Garry Sobers, Yorkshire, and the Stuart Surridge eleven led by Tom Graveney. I also toured Canada with Chummy Hayward's Eleven - 'The Bermuda Wanderers'.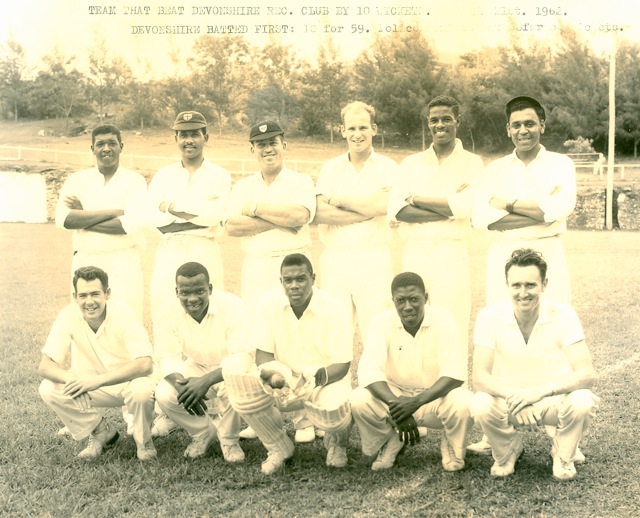 Jim (kneeling right) was a regular member of the Police Cricket Team (Photo taken 1962),
represented Bermuda on numerous occasions, and was chosen to play in the Annual Cup Match Classic.
Top row (l-r) Eugene "Buck" Woods, Neville "Maverick" Darrell, "Sony" Roberts, Clive Donald, Marcus Packwood, Lynn Hall
Kneeling - Colin Chiswell, "Socks" Dill, Campbell Simons, Aaron Scott, and Jim Lyons
On the cricket scene I represented Bermuda against New Zealand, the West Indies captained by Sir Garry Sobers, Yorkshire, and the Stuart Surridge eleven led by Tom Graveney. I also toured Canada with Chummy Hayward's Eleven - 'The Bermuda Wanderers'.
One of my everlasting memories of playing cricket in Bermuda was hearing Clive "Fury" Donald coming in to bowl, sounding more like a race horse coming in to finish a six furlong race, with the crowd roaring "come through Fury, come through"!
I remember playing at Nationals against the New Zealand test team en route to England. I opened with Stromboli Faries. He was known as a stone-waller, and on a forward defensive prod shot, Dick Motts the opening fast bowler, sent down a bouncer and hit Stromboli hard on the side of the head. There were no helmets in those days. The ball flew over the wicket keeper for six and Stromboli stood there waiting for the next ball. The New Zealanders were dumb struck.
I was going along nicely when Michael Collinge the fast left arm bowler, bounced one, hitting me on the chin. The ball flew to square leg, and I was given out caught. Next stop for me was a visit to King Edward Hospital for stitches. The nurses swore that not having anesthetic would help the healing with little scarring, and to ask the doctor when she came in. She agreed, and promptly applied ten stitches with no pain relief. The said doctor was George Hammond's then girlfriend - Carol! To give Carol and the nurses their due, true or not, it did heal well and left very little scar tissue.
Highlights of my cricketing days in Bermuda were many high scores, BCA Award for Outstanding Player of the Year, topped off by being the first Englishman chosen to play in the Annual Cup Match at St. George's. That was in 1965, when Frankie Bento and I were playing in the trials. I had done well and was asked by both Somerset and St. George's if I would consider playing for them. I chose St. George's because I thought that in Calvin "Bummy" Symonds they had the best skipper. As fate would have it, just before Cup Match I played in a football match against a visiting Royal Navy ship, HMS Blake, which was the flagship for the West Indies fleet, and had my nose so badly broken during the game that I finished up having to wear a full face mask and unfortunately I had to withdraw from Cup Match.
Needless to say, I have many great memories of my sporting activities while in Bermuda.
We returned to England in 1966 initially settling in Suffolk, where our second daughter Jayne was born, before returning to Redcar where we still remain, along with Karen, Jayne and spouses, plus our two grandchildren, Emma and Robert.
I bought The Regent Driving School and finally joined the newly formed Teesside Ambulance Service in 1974. Starting as an outpatient driver at Redcar I soon qualified as an emergency driver and moved to Guisborough station. After being promoted to Shift Leader I took several courses and gained my duel teaching certificate in Ambulance care and Driving Instruction, working in our local training school and the regional school at Keithley.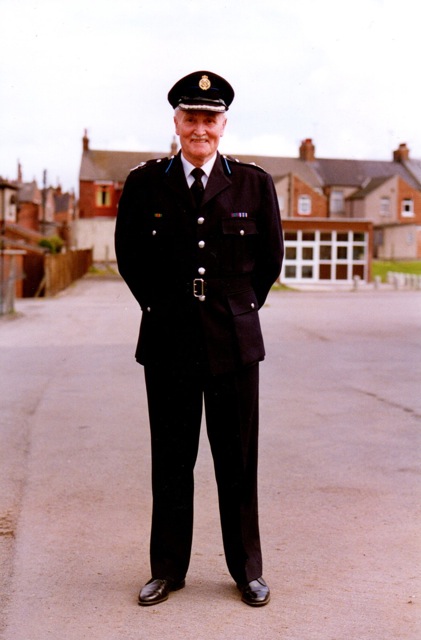 Jim as Principal Ambulance Officer taken circa 1996
when he represented the Cleveland Ambulance Service
at Her Majesty The Queen's Garden Party at Buckingham Palace.
I finally left training and moved to management, taking over as Station Officer at Redcar and taking several more courses. Promotion followed, taking over three large stations, then being made Division Commander of the Southern Division, and finally to Principal Ambulance Officer [Deputy Chief] a position I held until I retired.
During this time I had continued with my sport but had added Fox Hunting, breeding, showing and judging Rabbits!
On retirement I continued to work on a self employed basis, and when I started to slow down I did Health and Safety First Aid at Work, training around the whole of Yorkshire. My final 18 months were spent as a Trainer for the Great North Air Ambulance, until retiring permanently in 2011.
As far as health is concerned I have had two heart scares, cancer of the vocal chord and skin cancer, farmers lung, and the legs and hips play up, but I have been very lucky and still "keep my powder dry"!
I keep in touch with Roy Livesey, Ken Norman and Tom Oliver, a lifelong friend Mick Green having sadly passed on 12 years ago. Mick served from 1960-1963 in St. George's.

But what of others? I often wonder about the whereabouts of my former colleagues in Bermuda such as Jack Crane. Colin Finnegan. Dave Gillory, Ian Douris. Andy Dryburgh, Andy Heagie, Ron Shelley, Mike Burke, Arthur Bean, Harold and Ernie Moniz. Jack Rouse. Geoff (Tony?) Harper, Jeff Payne. Clive Thompson. Dave King. Mike Wood. Ian (Keith or Bill ) Pratt, and many more.
Editor's Note - One of the purposes of our website is to help us all keep in touch with each other and keep everyone informed about where we are and how we're all doing these days. We have numerous enquiries about former colleagues and will try to keep you all better informed as we move forward. Regarding Jim's enquiry about some of his former colleagues, we believe that Jack Crane is living in Scotland; Colin Finnegan died a few years ago; we have no information about Dave Gillery (another excellent sportsman while in Bermuda), or Ian "Baby" Douris (who can ever forget "Baby Dour") although we believe he might be living in the U.S.; not sure about Andy Dryburgh, but Andy Heggie and his wife Pat are living in Australia; we have no information on Ron Shelley, but we're in touch with Mike and Carolyn "Cam" Burke who settled back in Jersey in the Channel Islands (see entry in our Keeping in Touch section); Arthur Bean is well and still residing in St. George's where he's a verger at St. Peter's Church; Harold Moniz is fully retired and leads a quiet life (we very seldom see him out), whil Ernie Moniz and his wife died a few years ago; Jack Rouse returned to his native Fiji on the Fletcher Christian (see article by Mike Caulkett in our Interesting Articles section) but he is also no longer with us; not sure about a Geoff Harper, but Tony Harper - one of our two brilliant runners - is believed to be living in the U.K. while our other brilliant athlete, Jeff Payne, still resides here in Bermuda, sells real estate, and seems to be as fit as ever; have no information about Clive Thompson and Dave King; Mike Wood was living in in Western Canada when we last heard from him a few years ago; we don't know about an Ian Pratt, but Jim is probably referring to either Keith Pratt (former head machanic in charge of the Police Garage) who is no longer with us, or Bill Pratt who we hear is living in the U.K. with his wife Pat. If we have made any mistakes with this information please write and let us know so we can quickly correct it. The best way to make sure our information is accurate is to contact us and let us know how YOU are doing!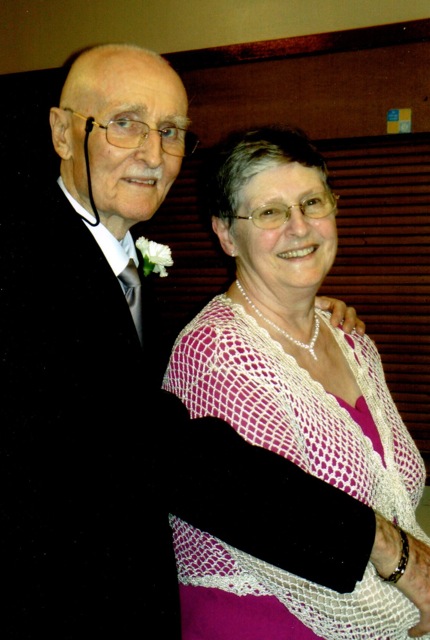 Jim and Bet celebrate their Golden Wedding Anniversary in style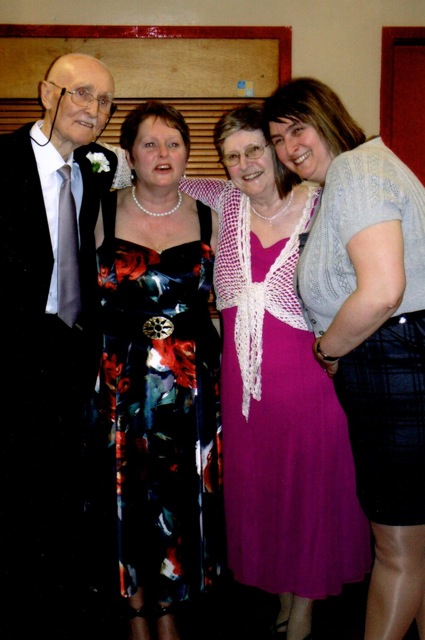 Jim and Bet with their two daughters, Karen (left) and Jayne.

Regarding the website I heard about it from Ken Norman who forwarded details to Bet and myself. We are both finding it excellent and interesting, and have both enjoyed many happy memories. We very much look forward to its continuing success.
Regards to all those we knew and met while in Bermuda.
Jim and Betty Lyons.