Served from 1957 - 1978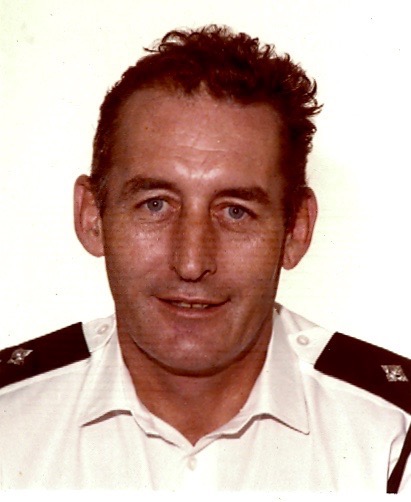 Inspector Sean Sheehan was one of those rare human beings who became a legend in his own lifetime. An Irishman through and through, he joined the Bermuda Police Force in February 1957 after serving in the Irish Constabulary (The Garda) for 3 years in Dublin.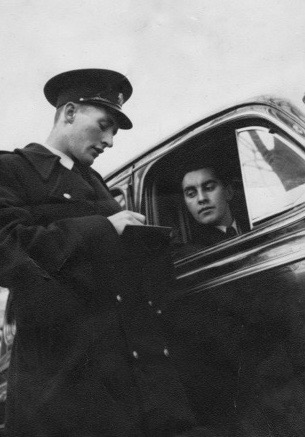 Constable Sean Sheehan issues a ticket while serving in The Garda
Sean arrived on the same plane as Peter Stubbs and Taffy Alder and for their first year or so in Bermuda they were housed in the former staff quarters behind the old Hamiltonian Hotel which had burned to the ground in 1955. The staff quarters were located on Victoria Street at the junction with Washington Street in Hamilton, and according to Peter Stubbs, they were in terrible condition with holes in the room doors, missing window panes and dreadful furniture.
Sean's first posting was to Central Division on the beat in Hamilton. This was at a time when expatriate officers recruited in the U.K with no previous police experience would attend a 3 months Basic Training Course at Mill Meece in Staffordshire before coming out to Bermuda. Peter Stubbs had just graduated from Mill Meece but Sean, as an experienced officer, would simply have been provided with perhaps a copy of the Road Traffic Act (cars had been prohibited in Bermuda until after the war ended in 1946) and the Hamilton Traffic Ordinances, and would then have hit the streets of Hamilton. According to Peter, Sean had a "really strong pure Irish accident, difficult to translate but he was without question an excellent policeman".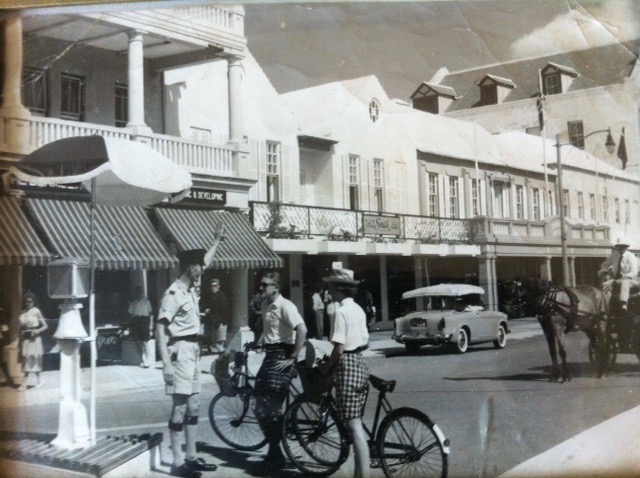 Young P.C. Sean Sheehan directing traffic at Heyl's Corner while answering questions
from visitors on pedal cycles. This is in the days before the birdcage, and at a time when
horse and buggeys and taxis with a surrey on top were a familar sight in Hamilton
Within a matter of days both Sean and Peter had bought themselves "Ambassador" motor cycles - sold by the Island Trading company on Victoria Street, owned and run by Colonel Sankey. Sean is photographed below outside the Victoria Street barracks along with his motor cycle. The Triumph in front him is believed to have belonged to George Goddard.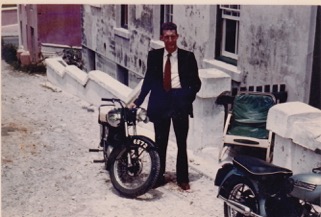 Sean Sheehan stands outside the old barracks on
Victoria Street next to his new Ambassador motor bike
The state of the outside of the building appears to match the state of the interiors!
Sean attended a short "refresher course" in June 1958 along with several other recruits from Ireland and a few Bermudians. After just over a year on the beat, Sean was transferred to the Parishes where a police officer needed to be self motivated and would deal with a variety of incidents occurring in his Parish.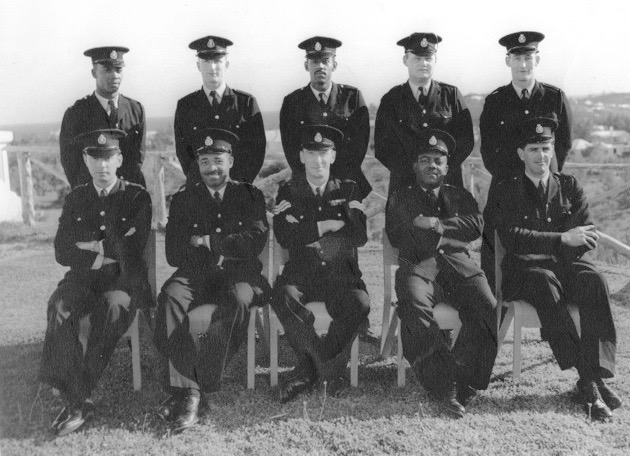 P.C. Sean Sheehan (top right) attends a Refresher Course at Prospect
in June 1958. Can you identify the other officers in this photo?
Sean and his fellow single officers were always required to live in Police Barracks so it must have been a huge relief to them when the Duke of Cornwall's Light Infantry moved out of the Prospect Military barracks in 1959, at which time the former military buildings were converted to Police Headquarters, Police Club, Traffic Department, Police Training School, and single men's quarters.
Coming to Bermuda was no doubt a huge move for Sean but 4th October 1960, was a pivotal day in his police career as he was transferred to the newly formed Cycle Squad set up to combat the growing problem of cycle thefts (stealing or removing cars was almost unheard of in Bermuda) and speeding.
It was a right of passage for young Bermudians to own an auxiliary cycle - a 50 cc bike - when they turned 16 and they would invariably race around the Island at breakneck speeds, that is, until the Cycle Squad was created and the officers in the squad were issued with much more powerful motor cycles. Teenagers did everything possible to increase the power of their auxiliary cycles, including fitting them with a gear system which was strictly illegal, but enterprising young lads would fit their bikes with a system controlled by a small "pin" that they could pull out and throw away if they were being chased by the police.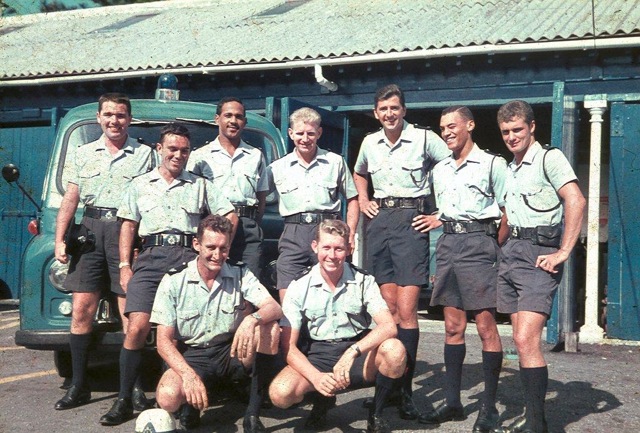 Cyce Squad in its Glory Days
Standing (l-r) Dick Murphy, Andy Bermingham, Neville Darrell,
Tony Watson, Mike Caulkett, Gary Perinchief, Dick Johnson
Kneeling - OIC Sean Sheehan and Geoff Hunt
Sean was in his element! We have no idea if he ever drove a motor cycle or a car in Ireland, but he took to riding in Bermuda like a duck to water! He was said to be completely fearless and would chase speeders up and down Bermuda's narrow roads and tracks – and never give up. To this day (2016) old men talk about those days in the 1950's and 1960's when "Sheehan" was a legendary Cycle Squad officer.
But "Sheehan" also had a great reputation as a fair police officer who treated those he dealt with with respect, although it has also been said that young offenders would often confess to having stolen or removed cycles, or cycle parts, after one of Sean's interrogations which would always be lengthy and usually involved being asked to swear on their mother's grave that they were innocent! It was also said that Sheehan must not only have kissed but also "hugged" the Blarney Stone" because he sure had the gift of the gab!
Sean spent the next 4 years in Cycle Squad where he was promoted to Sergeant in October 1962. His investigative skills were clearly evident as he was transferred to C.I.D. in 1964, but a year later he returned as the Sergeant in charge of Cycle Squad until 1966.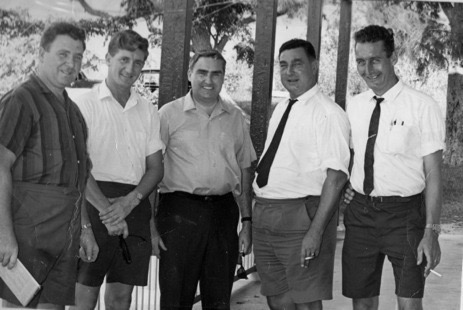 Sean's early days in CID
(l-r) John Cafferkey, Willie McCracken, Bill Sherwood (on attachment
from New Scotland Yard) and Sean Sheehan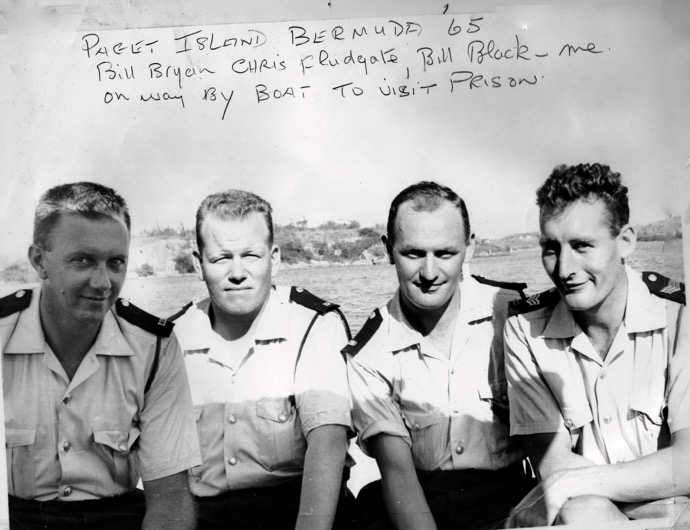 Heading out to the Junior Training School at Paget Island - 1965
(l-r) Bill Bryan, Chris Fludgate, Bill Black and Sgt Sean Sheehan
After a 4 year stint in CID from 1966 – 1970 Sean was Sergeant in charge of Central Parishes during which time he was promoted to Inspector in December 1971 and spent time in charge of the Mobile Reserve, then in the Murder Room and CID before spending his latter years of service in Central Division as Inspector at Hamilton Police Station.
During his service in the Bermuda Police Sean received numerous commendations as follows:-
16 February 1959 - Commendation awarded to Constable Sheehan for zeal and efficiency;

10 February 1950 - Commendation awarded to Constable Sheehan for zeal and efficiency;

5 January 1961 - Commendation awarded to Constable for zeal and efficiency (arresting 39 people involved in 51 cases of cycle removing from 4 Oct - 31 Dec 1960;

18 August 1964 - Commendation awarded to Detective Sergeant 43 Sheehan for perserverance in investigation of larcenies

28 January 1965 - Commendation awarded to Detective Sergeant Sheehan for Investigation and Interrogation and being congratulated by His Lordship the Chief Justice.

28 January 1965 - Commendation awarded to Detective Sergeant 43 Sheehan for persistent and excellent interrogation in a robbery case;

June 1966 - Commendation awarded to Detective Sergeant 43 Sheehan for "zeal and initiative investigating a series of B and E's committed by a gang of juveniles;

15 April 1968 - Commendation awarded to Detective Sergeant 43 Sheehan for Intelligent appreciation and diligent enquiries;

24 July 1968 - Commendation awarded to Detective Sergeant 43 Sheehan for zeal and initiative;

10 April 1969 - Detective Sergeant 43 Sheehan for a thorough investigation in a complicated series of 44 cases of theft and false accounting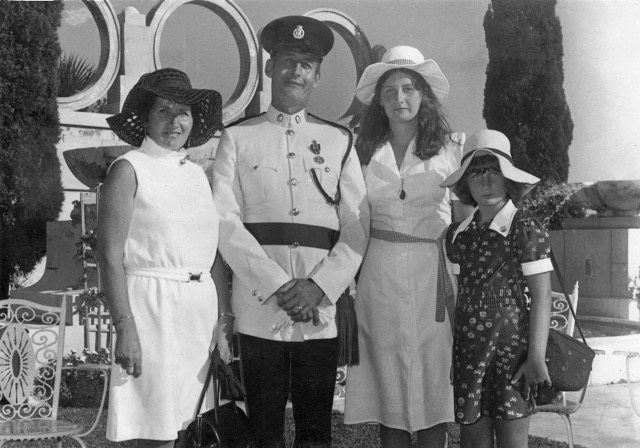 Inspector Sean Sheehan attends Government House to receive his 25 year Long
Service Medal (l-r) Patricia, Sean, Cliona and Aine (complete with their hats!)
Throughout his police career Sean was a popular and outgoing officer who socialized with everyone, and it would also be fair to say that he loved to have a drink – or two!
The following photos of believed to have been taken during Sean's retirement "Do" in the Officers Mess at Prospect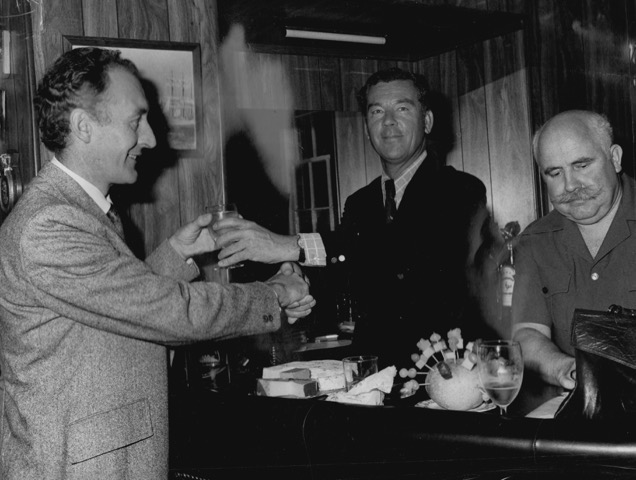 Inspector Sean Sheehan receives congratultions from Inspector Peter Stubbs with
Inspector Dave Parson also behind the bar at the Officers Mess, Prospect.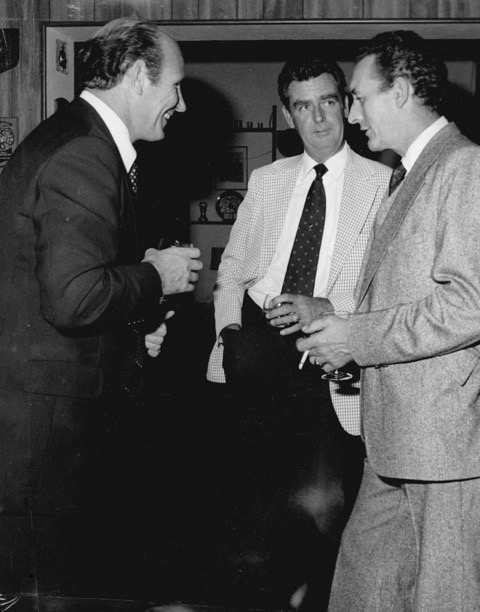 Sean (right) chatting with Detective Chief Inspector
Clive Donald and Inspector Jerry Harvey
Following his retirement in 1978, Sean returned to his native Ireland with his wife Pat and their two daughters, Aine and Cliona. Sadly, Sean passed away in his beloved Ireland in March 2008 after being diagnosed with prostate cancer. surrounded by his loving family. His daughter, Aine, says that he retained his sense of humour and twinkle in his eye throughout his illness. Aine returned to Bermuda on vacation in 2013 to meet up with old friends, and during her visit she promised faithfully to write a tribute to her father for our website.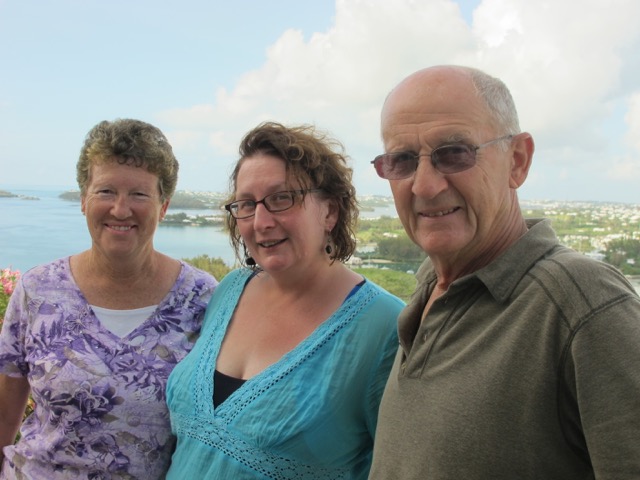 Aine meets up with Patsy and Dave Cook during her visit to Bermuda in 2013
We were delighted to receive the following from Aine in early April 2016.
Tribute to Sean Sheehan by Patricia, Cliona Aine Sheehan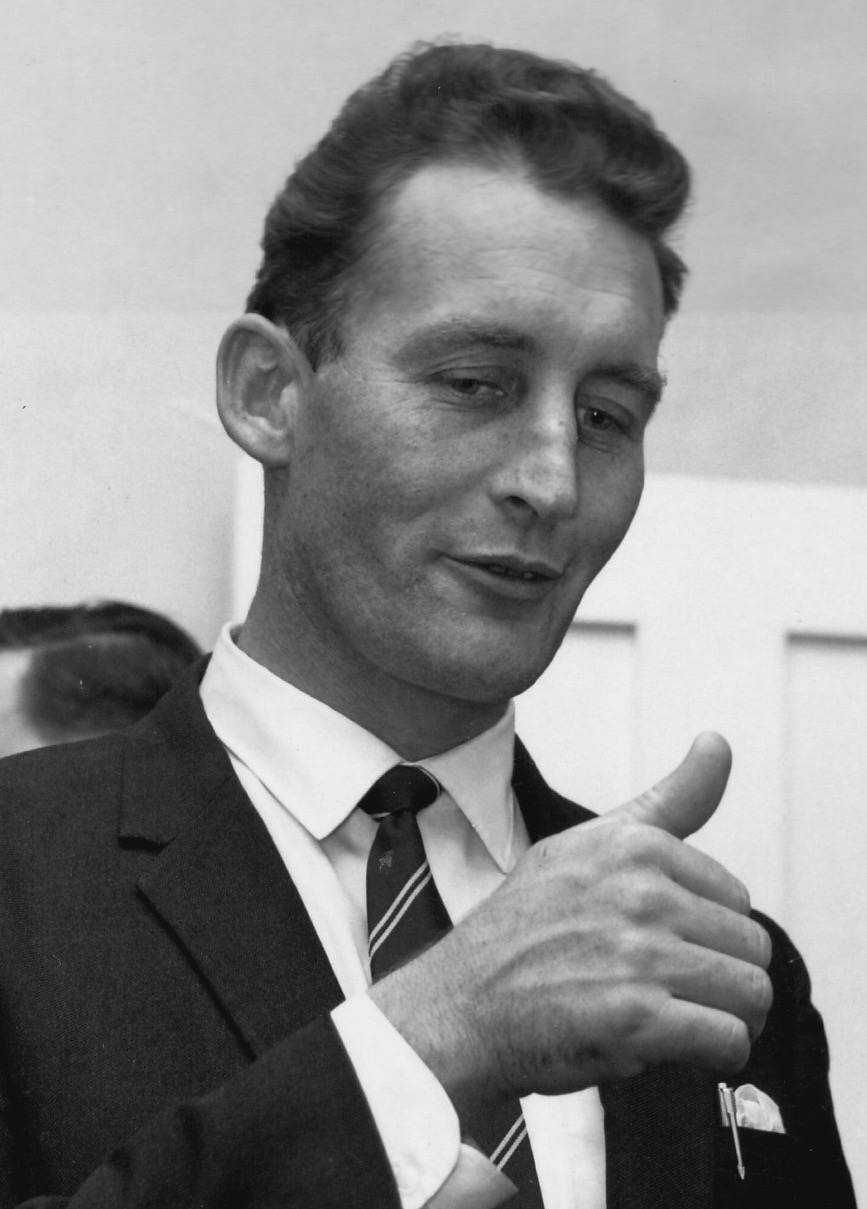 Sean Sheehan - could he be related to Paul Newman?!
Sean (official name John Gerrard) Sheehan was the first born child of Bridget and Denis Sheehan on the 22nd October 1933 in Caherciveen, Co. Kerry. He was educated in Caherciveen to the age of 18 and did the equivalent of todays Leaving Certificate. Whilst in junior school the head teacher realising that Sean's strengths did not lie in mathematics asked him to tutor the younger children in the Irish language. Sean was a fluent Irish speaker – both ancient and modern.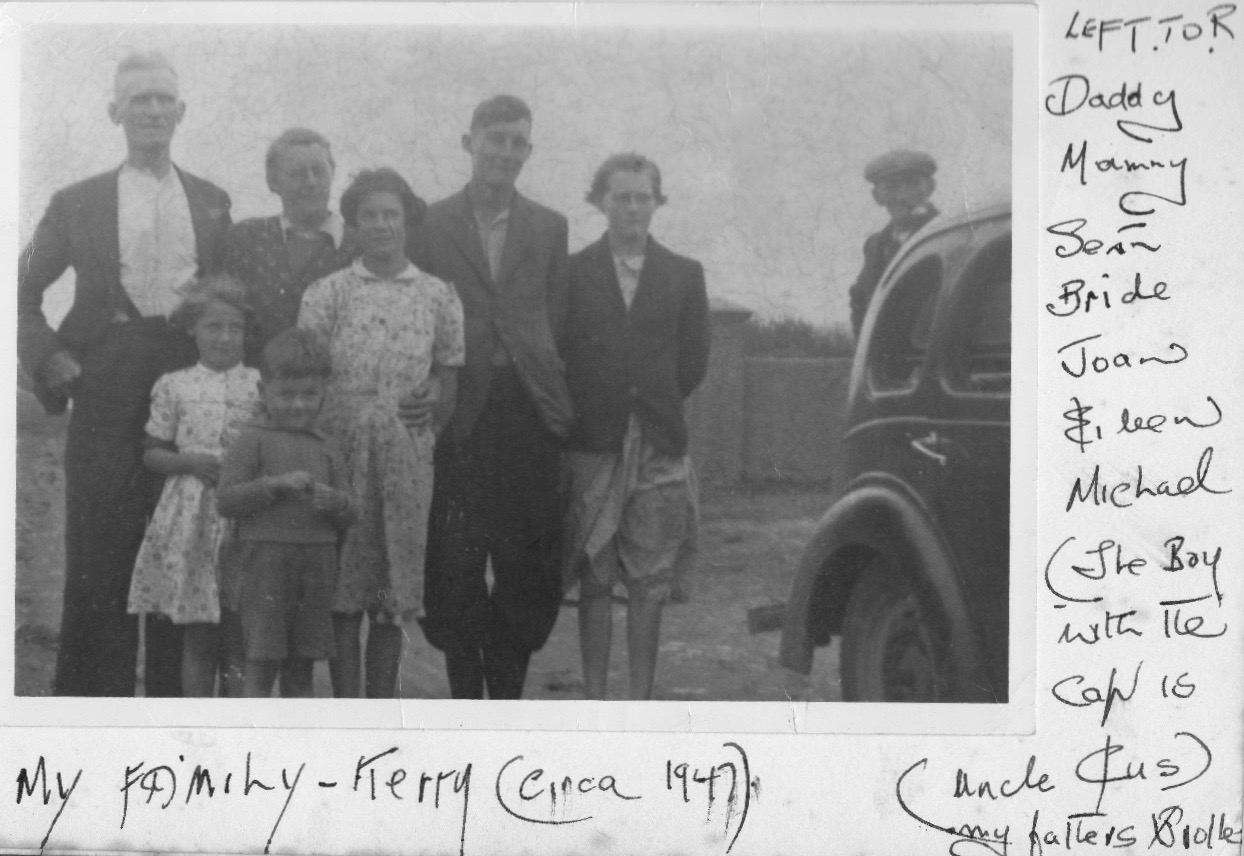 Young Sean Sheehan (middle back row) with his family in Kerry circa 1947
Once Sean graduated he decided it was time to explore the world, so he packed his bags and went to his aunt's in London, England. Believe it or not he got a job in a Glass factory, which was to the amazement of some. Following this job Sean never could stand the sound of breaking glass! During his time in London Sean got to see the Queen of England crowned on June 2nd 1953.
It was just after this that his father, Denis, contacted him to return home to apply for the Garda as they were recruiting. He had always been told that the Garda was an excellent career choice so he travelled back to Ireland and joined the Garda on 26th May 1954 and was stationed in Rathmines, Dublin.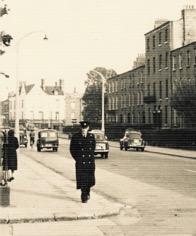 P.C. Sean Sheehan pounds the beat
in Lower Rathmines, Dublin
Life changed when he was talked into buying a ticket for a Charity Dance in the Four Provence Dance Hall (Four Pros – stands for Ulster, Lenster, Connaght and Munster). Here he asked a young Patricia Kelly to dance.... and anyone who knows Sean Sheehan, knows he has two or three left feet. Amazingly, even though she could barely understand him (with that beautiful Kerry accent) and the fact that he couldn't dance, Patricia agreed to see him for a date the next week.
If Patricia had any doubts, these were alleviated when she turned up an hour and a half late and he was still there waiting patiently with a large bunch of flowers – a theme that would recur during their long and very happy marriage.
Soon after this, Sean started to consider his future and felt there were no incentives to stay in the Garda as the pay was very low. So low he had to buy his own bicycle and he went up to the mountains on his days off to cut turf to earn extra money. So Sean decided to apply for two jobs: a job with the Railways in Africa; or the Bermuda Police Force. Sean got an interview for both jobs in London. Patricia lent him the £5 to get him to London! Sean was offered both jobs so he decided to toss a coin to make his decision and Bermuda won! Thank goodness!!
Sean resigned from the Garda in early February 1957 and flew over to Bermuda on 22nd February to start his new life with the Bermuda Police, living in the barracks on Victoria Street in Hamilton just behind where City Hall is now located.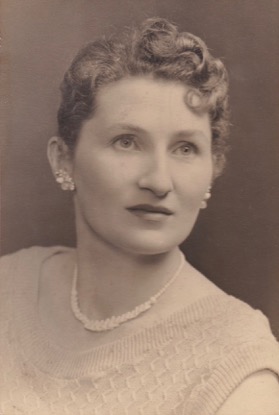 Young Patricia Kelly before she flew to Bermuda to marry Sean
He continued to write to Patricia and after asking her Mother and Father for her hand in marriage, Patricia agreed to marry Sean and arrived in Bermuda by ship a year and a day later. Before she left for Bermuda Patricia agreed to go and meet Sean's parents in Caherciveen. She went by train from Dublin on the old train track that was carved through the mountain which can still be seen from the road today. Sean's parents met her in the "car" - a pony and trap - and they whisked her off to Sean's family home. Patricia knew when she met Sean's family she had made a good choice. They made her feel very welcome and were delighted with Sean's choice. Patricia was working in Dublin as a hairdresser, and the Chemist who owned the salon said the match was a great one – the hard working people of the north combined with the brains of the south! Although Sean always said Patricia was the brains of the outfit!
Patricia and Sean were married on the 19th June 1958 in St. Theresa's Church in Hamilton. Best man - Bill McCormick (http://expobermuda.com/index.php/tan/115-billmccormack) Celine Cafferkey - Matron of Honor and Sandy Powell gave Patricia away. They honeymooned in Somerset and life began for the new couple.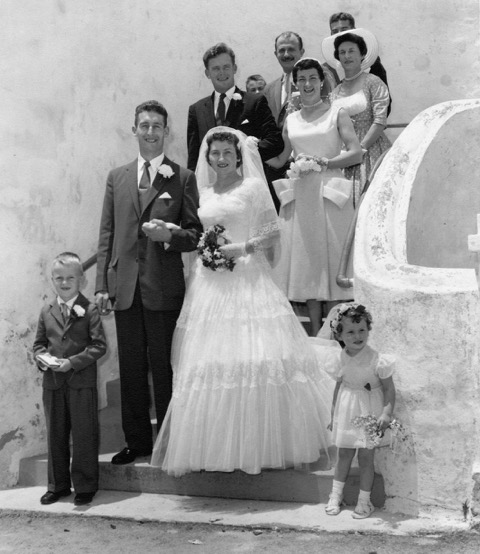 Sean and Patricia are the picture of happiness on their wedding day
Their first home was #3 Frog Lane and there were many 'get togethers' at Frog Lane.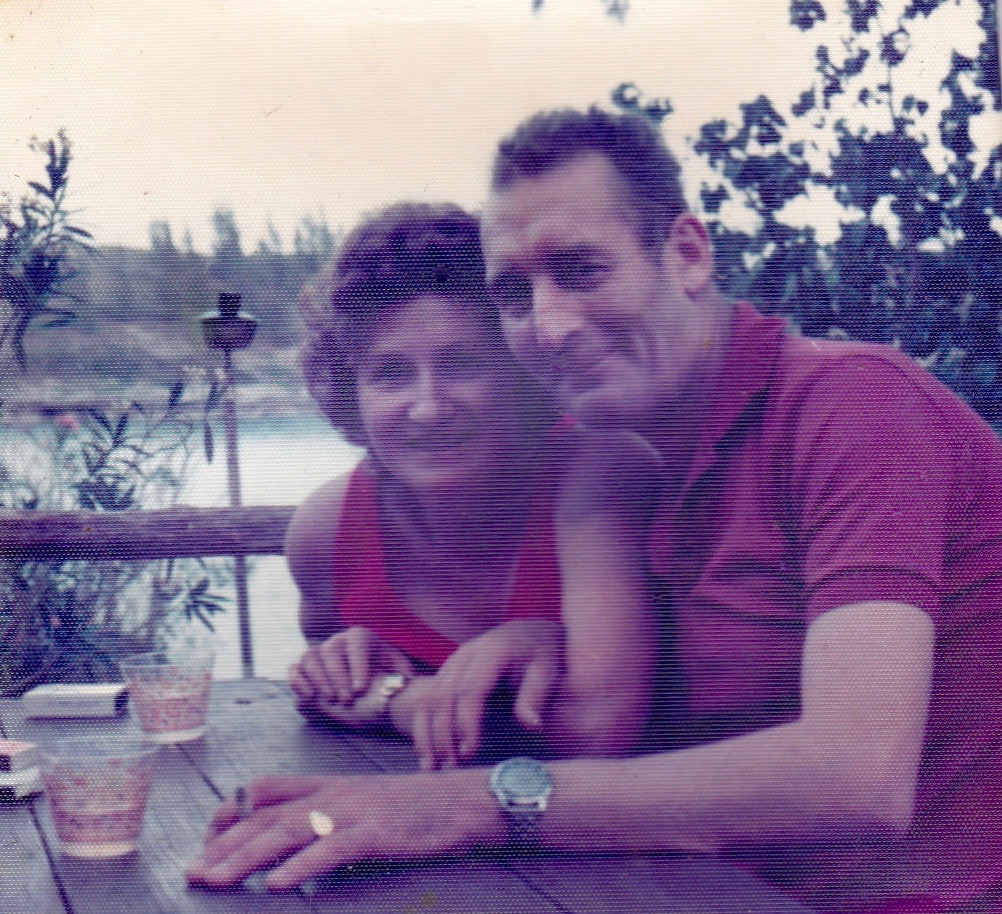 Patricia and Sean during their early days together in Bermuda
Bill Smith (
http://expobermuda.com/index.php/tan/54-wsmith
) recounts some special moments, especially the occasion of the birth of Sean's first daughter, Cliona in Ireland. On the issue of the creation of Cycle Squad, Bill recalls,
Sean's first significant role in the police was the 'Cycle Squad'.
"

Sean Sheehan, Eric Simpson and yours truly (Bill Smith) became Cycle Squad. Given a Triumph 500 each, plus a Morris J4 van and an office next door to Traffic at Prospect, the challenge was in place."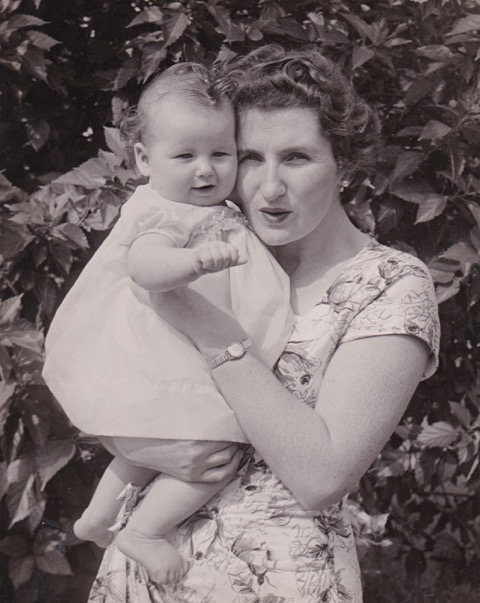 Patricia hugs her beautiful new baby Cliona - October 1960
And here is a quote from someone who vividly remembers Sgt Sheehan - "When I was a teenager in the 1960's my peers and I feared Sgt Sean Sheehan. He and his cycle squad members were everywhere all the time it seemed. Although we did such things as have illegal gears in our mopeds (with a 'setup' to immobilise if necessary), speeding and recklessness was something we thought twice about because Sgt Sheehan would invariably show up and catch us. Basically, his high profile presence on the roads kept us honest. None of us wanted our bikes impounded, which happened often if there was even a hint of excessive noise." Red Onion http://www.limeyinbermuda.com/2005/11/getting_tough_w.html
Bil Smith also mentions the arrest of an aspiring young actor with a direct connection to Bermuda: "College Weeks were a challenge and one memorable arrest was that of a certain Michael Douglas for "Taking and Driving Away" a livery bike that was not his rental. Talking to his movie actor father, Kirk Douglas, by telephone, it was decided that the youth should not be charged but was to be taken directly to the Airport and told to leave Bermuda." Michael's mother was a member of the Dill family and was also an actress.
Sean and Pat's first child, Cliona Eileen, was born in Ireland on the 18th April 1960 and they were blessed with their second daughter Aine (Patricia-Anne) who was born in Bermuda on the 15th January 1965.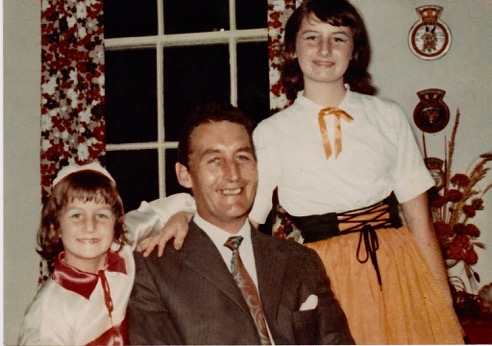 Sean with his beloved daughters Aine (left) and Cliona (right)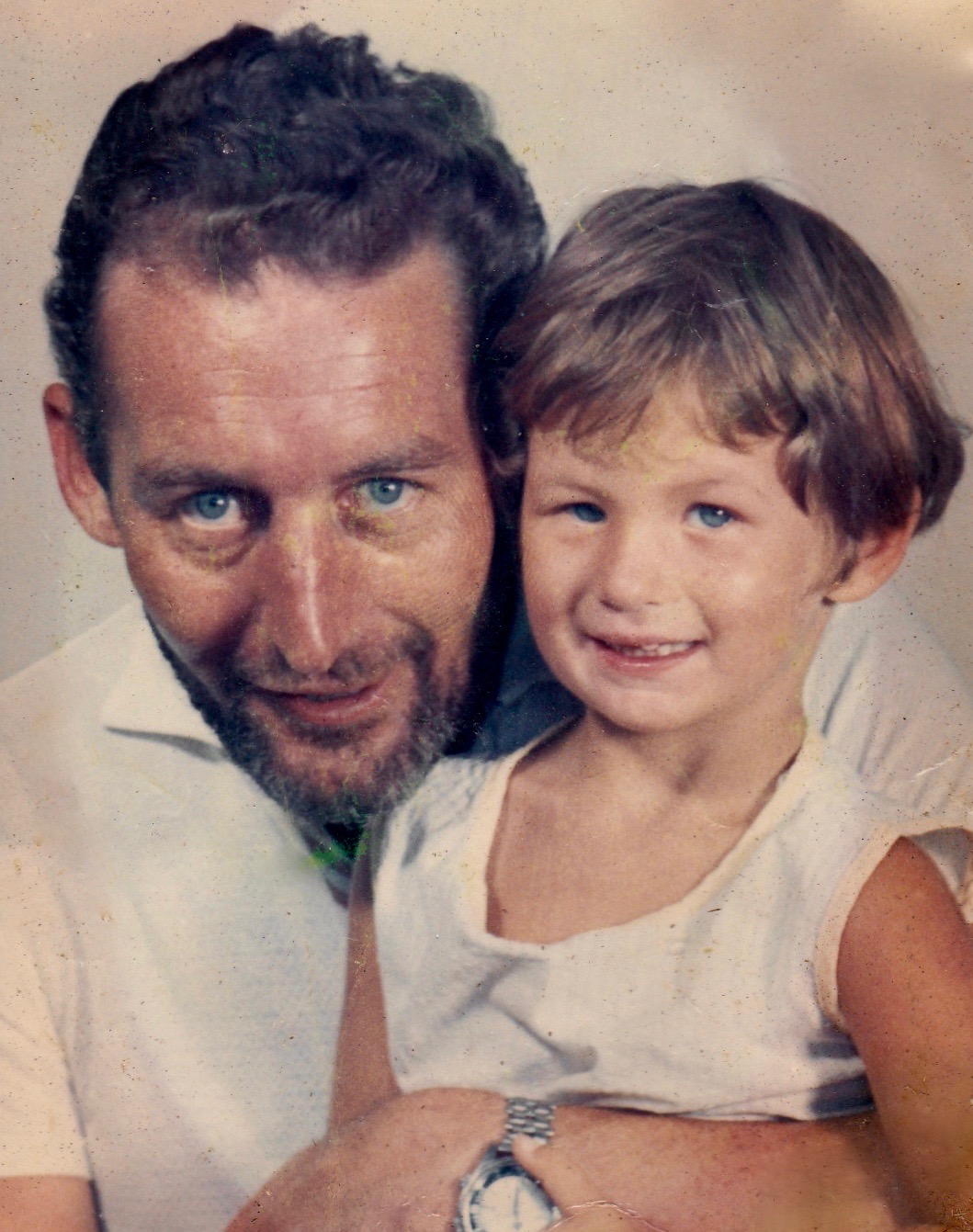 Sean with Aine
Yes, that a beard he's trying to grow!
Sean retired in 1978 and he, Patricia, Cliona and Aine returned to Emyvale in Ireland in April 1978. Sean got a job as regional organiser for the first Census in Ireland for some time. Patricia went back to do a bit of hairdressing. Sean went from the Census job to selling sports bags for a family business. He turned out to be a great salesman as he was too honest to lie about the goods he was selling so it was a good job the bags were well made! He would travel the country getting orders and would invariably get lost. It's a good job Bermuda was so small as a sense of direction wasn't Sean's strong point!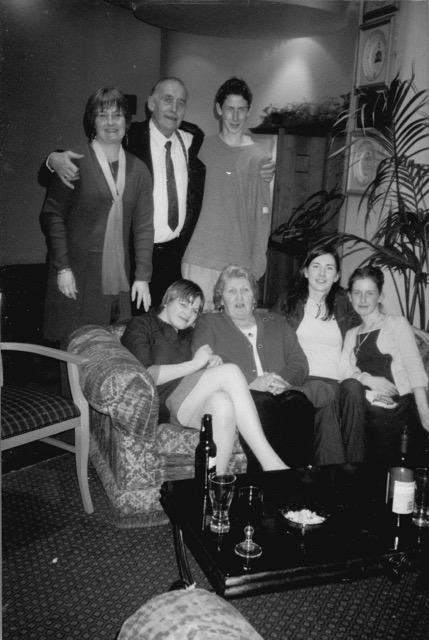 Sean surrounded by his family
Top row (l-r) Cliona, Sean and Stephen
Seated - Larena, Patricia, Corena and Cathy
Photo taken at Cathy's Confirmation in Galway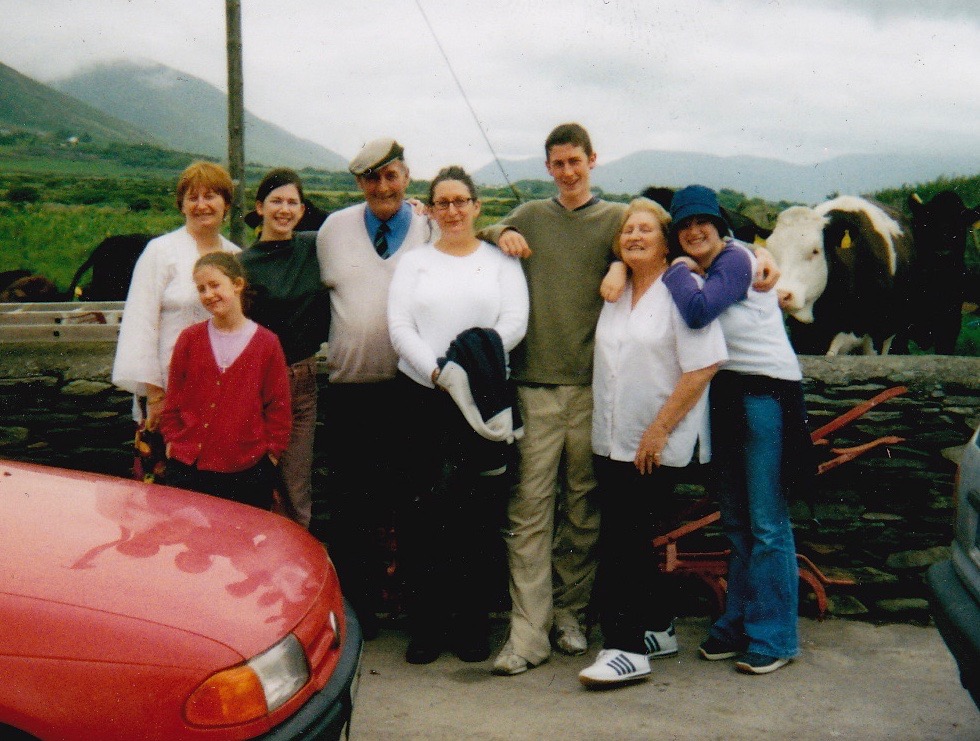 Sean and Patricia and family visit Sean's sister, Aunty Bride, at Ballycarbery Castle
Farm in Kerry which she owns. Click here for a link to Ballycarbery Castle
Sean's last job was as caretaker of the local village junior school. We still meet people today who remember him around the school and all he did in his own time while he was there. He was well respected and liked in the whole of the village and the surrounds of Emyvale.
Sean was diagnosed with prostate cancer and died on 2 March 2008. His last three weeks were spent at home with his whole family around him to care for him. He was himself (as they say here in Ireland) until the end. Keeping his sense of humour and the twinkle in his eye.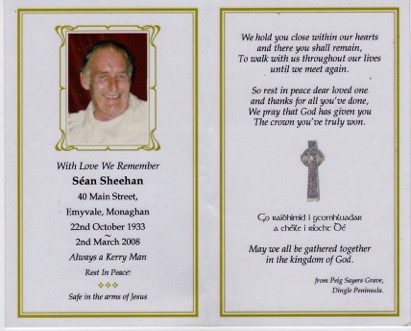 Sean's Mass Card
People still talk about Sean in the village and the respect they held for him was demonstrated during his three day wake and his funeral.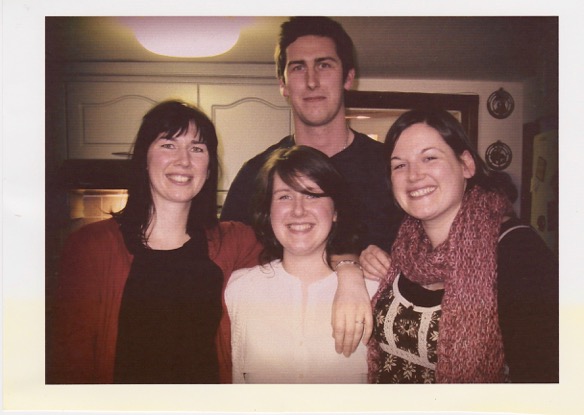 Sean's grandchildren Corena, Cathey, Larena and Stephen
We, Sean's family, miss him everyday. He was some character!
Patricia, Cliona and Aine Sheehan