THREE "MOD" SQUAD DETCTIVES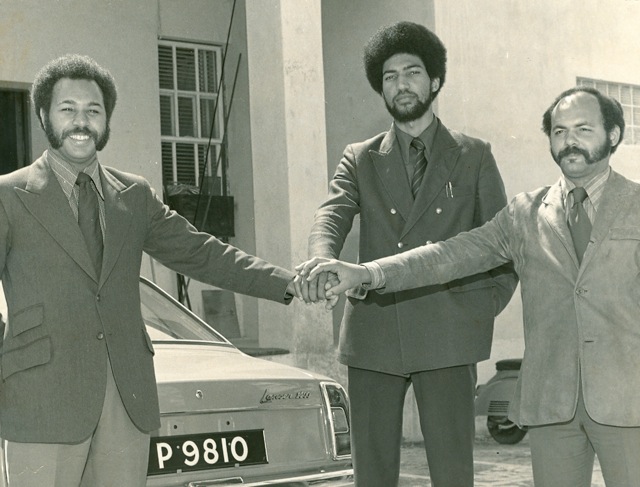 We pointed out that our previous photo featured a "motley crew" from Cycle Squad, and that this latest photo features a rather different "squad" from about the same time period. We asked you to identify these three young men and tell us what they were doing at this time in the 60's. We also asked if you could tell us anything about the car in the background.
We could, of course, have consulted with any, or all three of the young officers in this photo, all of whom are still active and on Island, but we received a couple of very helpful emails from Davie Kerr and Terry Cabral who both nailed the identity of our three detectives.
Davie Kerr wrote to say, "The Three Musketeers are (l-r) Eddie Bailey, Carlton "Socky" Adams, and John Harvey; the photo was taken outside "Clock Block", and the car is one of our first Mitsubishi Lancers. I would, therefore date this photo mid-1973 to early 1975, as the Lancer was not produced until 1973 and we went over to all-digit licence plates in 1975, and at a guess all three were working with Murder Squad in the aftermath of the G.H. assassinations and the Shopping Centre murders."
Terry Cabral also correctly identified Eddie, Carlton and John, and was sure it was in the early 1970's despite the fact that we suggested it was from the 60's. Both Terry and Davie must be right about it being taken in the 1970's, and Davie nails it down even closer - to between mid-1973 and early 1975. When it comes to numbers we are certainly not going to argue with Davie but we think he may be wrong about the photo being taken in front of Clock Block.
Terry has pointed out that P9810 was "Gruff's" car (Superintendent Frank Hammond) and we believe the photo was taken in front of his office on the ground level of the Police Headquarters Building. Case closed!