This had to be the largest number of people we have ever featured in "Who, Where and When"! It wasquite a challenge for any one person to identify everyone in it, particularly when one person is completely hidden from view - apart from his hat. We wanted to know who is in it, where, when and why was it taken. We provided two enlargements to assist you, and we suggested that you name them as they appear in these enlargements. Some of you made a valiant effort in our Comments section below.
24th June 2015
The photo was kindly provided to us by a longstanding member of our civilian staff, Brenda Johnson, who I'm sure will be remembered by everyone who worked in Operations Division from the the late 1970's through to today. Brenda also provided us with a handwritten caption listed the names of everyone in it.
The photo was taken in 1979 on the front steps of City Hall in Hamilton, and is of all the staff then working in Traffic Division (Operations). It was no doubt taken at the time of the Police Centennial celebrations, with the Police Force having been established 100 years earlier in 1879. Listed below the photo are the names of everyone present that day.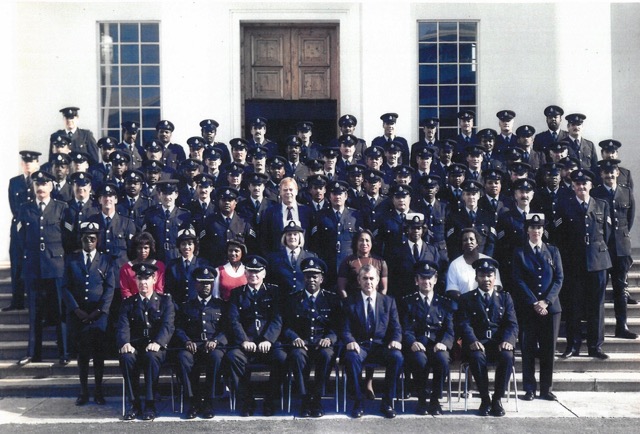 Traffic Division (Operations) personnel on the steps of City Hall in Hamilton - 1979
Back Row (l-r) Andy Boomer, Hatton Philips, Volney Welsh, Richard Austin, Ian MacMillan,
Peter Hall, Martin Johnson, Paul Towlson, Mark Jones, Ian "Flash" Halfield, Glyn Brown, Trevor Knight.
6th row - Glyn Jones, Richard Basden, Ken Lewis, Robbie Aldred, Brian Robinson, Mervin Dickinson,
Charlie Dorrington, John Hoefkens, Chris Spencer, Cal Fox, Paul Singh, John Moore.
5th row - Russell Matthews, Phil Gardiner, Trevor Brown, Steve Symonds, Roger Marshall, Stuart
Pybus, Mike Rhodes, Gary Staines, Owen Marsh, Geoff Piggott, Gary Osbourne, Vallance Holder,
John Skinner and Stuart Mason.
4th row - Michael Jackman, Bill Henderson, Gary Young, Neil Topping, Andrew Rollins, Kevin "Boogie" Knights, Roosevelt Maronie, Andy Hancock, Sam Lashley, Davie Kerr, and Paul Wright.
3rd row - Charlie Mooney, Terry Maxwell, Devonish Small, Neal Richardson, Tim Wolfe, James Howard.
2nd row - Steve Taylor, Barrie Mancell,
George Babb, John Van de Weg, Dave Ashurst, Norman
Ingemann, Dale Thornton, Ray Bell, and Keith Pratt.
1st Row - Esther Trott, Brenda Johnson, Andrea Browne, Marjorie Amos, Dee Tavares, June Pitt,
Esther , and Cathy Dorrington.
Front row - Dennis Brookes, ACOP Lennet "Lenny" Edwards, DCOP Clive Donald, COP Frederick "Penny" Bean, ACOP Harold Moniz, Derek Jenkinson, and Hiram Edwards.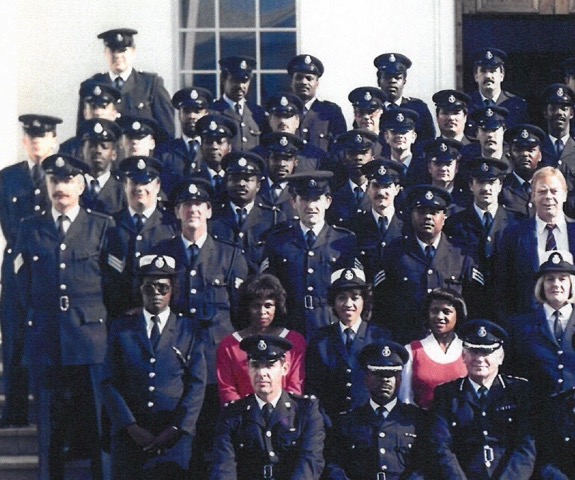 First Group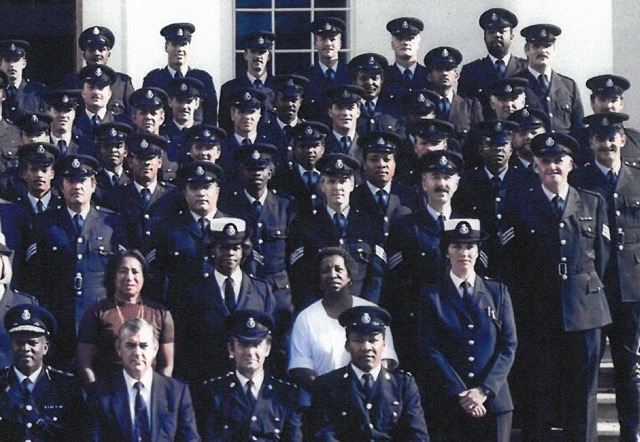 Second Group