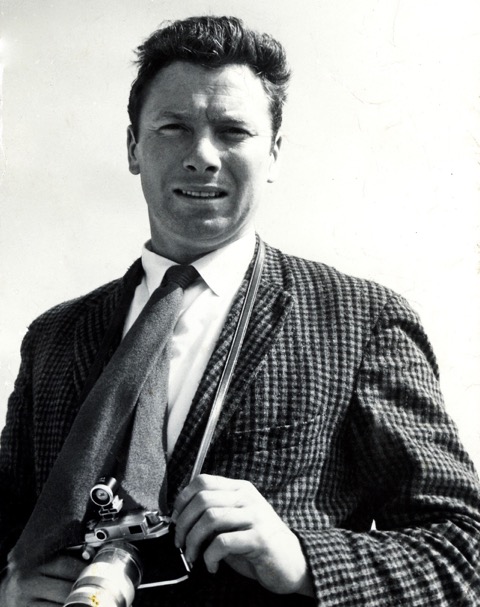 Young P.C. Ron Mullan worked in C.R.O.
after postings to Hamilton and St. George's
3rd November 2017
Completely "out of the blue" we recently heard from former P.C. Ron Mullan who had served here in the Bermuda Police from July 1960 to November 1963 before heading to the United States with his wife Anne who had been working here as an airline stewardess. Ron and Anne met here and married in Massachussets in 1962. The couple settled in the San Francisco area. Ron heard about our ExPo website from Ken Norman some time ago, and decided to email us. I suggested that he write something for our Then and Now column and was delighted to receive the following article along with some excellent photos. Ron is still in touch with two other former Bermuda P.C's - Denis Byrne who lives in San Francisco (not the other Denis Byrne who recently died in the U.K.) and Tom Oliver who gets together with Ron whenever Tom is visiting the West Coast. Tom has also written an article for our "Then and Now"column which you can read at http://expobermuda.com/index.php/tan/244-tomoliver
Here is the story of Ron Mullan:-
----------------------------------------------------------
"I came across the Bermuda Ex Police Officer's Association site on the Internet recently and remembered Ken Norman told me about it a couple of years ago. I never made contact since I have nothing of much interest to tell anyone other than the hazards of sliding down the razorblade of life like everyone else, but here it is.
At age eighteen I joined the RUC (Royal Ulster Constabulary) in 1955 and on graduation from the training academy was assigned to the City of Armagh, mainly because of my football background and the County Armagh team did very poorly in the County Football Championship. I played for the RUC National team in the Amateur League and made the mistake of asking for a transfer to Belfast to avoid travelling from Armagh to Belfast each Saturday to play football. It was 1957 and the IRA was in full attack mode and found myself assigned to the division responsible for searching for IRA and providing security for the Northern Ireland Prime Minister, Sir Basil Brooke.
During 1958 and 1959 working conditions became much worse mainly because of the IRA. The division I was attached to performed ordinary duty but were on call to respond to incident sites regardless of having performed a full day on duty. I became frustrated and my discontent escalated when performing traffic stops one evening in the snow on Cave Hill on the outskirts of Belfast. It was my turn to stand in the road and wave a red flashlight side to aside with the hope the approaching vehicles were not holding a cell of IRA personnel. The theory in practice worked well almost all the time; the driver of approaching vehicles, seeing the red colored flashlight, would stop and comply with the request to provide identification and allow a search of the vehicle. I thought for a moment; a vehicle approaching with IRA members on board would not be all that impressed with a waving red flashlight and most likely uninterested in stopping, providing identification or allowing a search of the vehicle.
During other frustrating events, I noticed a police gazette type magazine found in most police stations advertising positions in various police departments in Britain and the Colonies. I applied for a position with the Crown Agents in London and by the Summer of 1960 was the only police officer on a flight to Bermuda.
Editors note - Although Ron was the only Bermuda Police officer on his flight there were four other new recruits who came over from the U.K in July - Stanley Wragg, John "Boob" Travers, Robert O'Shea and Alan Wyatt.
Dave Parsons picked up Ron Mullan at the airport
Disembarking from the flight and enveloped by the unfamiliar heat, I cursed the fellow in Belfast who sold me the supposedly lightweight clothing suitable for the tropics. I was met by Dave Parsons and he transported me to police headquarters and my room where I was greeted by the largest cockroach I had ever seen scuttling across the room and under my bed.
Now in uniform sans side-arms I was assigned to Government House controlling traffic entering and leaving the estate. Standing under a palm tree and enjoying the sunshine an Inspector, I cannot remember his name, came by and introduced himself. He apologized for the dull uninteresting duty to which I responded, not at all dull and uninteresting. Where did you serve before coming here? Belfast I replied? Raising his hand in a sort of salute he said, "I completely understand."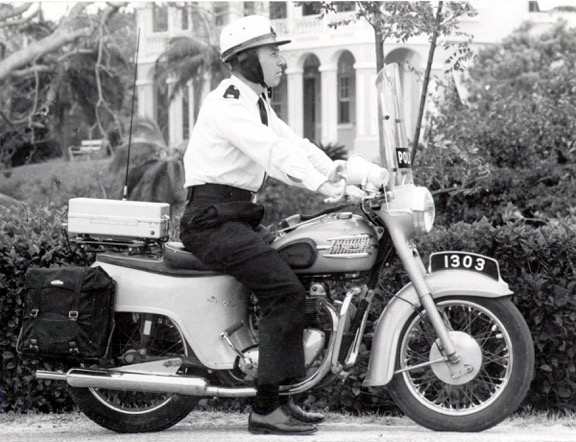 Young P.C. Ronnie Mullan patrolling on his Triumph motor cycle
Bob Irons was in CID and I believe ex RUC and served in Kenya before coming to Bermuda. He took me around the Island and introduced me to a number officers and interesting locals. I did normal duty in Hamilton and taught Vic O'Neil how to walk a beat. 'Tiny' Wakefield usually acted as station officer and gave every appearance of efficiency.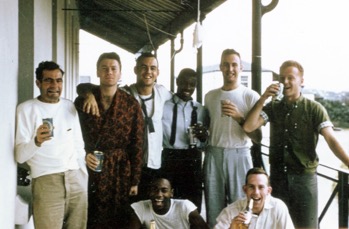 Relaxing on the verandah at St. George's Police Barracks
Ronnie Mullan is 2nd from the left in dressing gown. Can you recognize anyone else in this photo?
Next, I was assigned to St. George as duty driver. There I met Willie Woods, a tall lean quiet man, Ex RUC and we enjoyed a black and tan together on many occasions. Willie Woods and I became good friends, Anne and I attended Willie's wedding and Joe Colton was best man. Willie introduced me to a career he ran parallel with his employment with the Department. He invited Denis Byrne and myself to a job site to earn extra money. It turned out to be a quarry where we were given sledge hammers to break up large pieces of rock to be made into blocks of some kind. Denis and I lasted until lunch time and decided we would retire.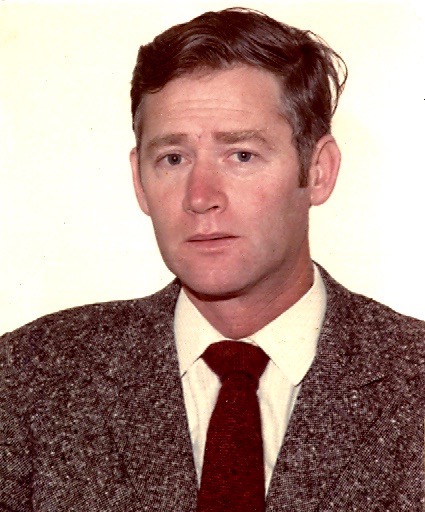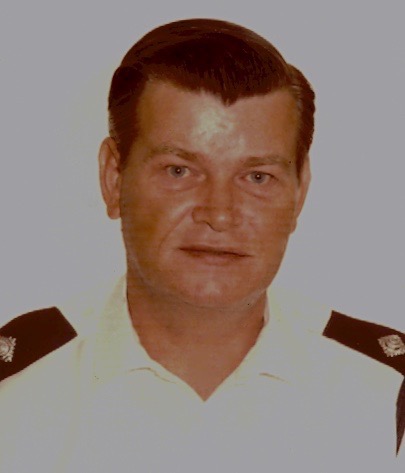 William "Willy" Woods Inspector Joseph "Joe" Colton
There are other amusing stories involving Willie Woods but they are best left unpublished.
The Symonds murder occurred in St. George while I served there. P.C. (Freddie) Aubrey and I placed Mr. Symonds into custody and took him to Fort St. Catherine where he identified the machete involved in the murder of his wife, then to Old Military Road where he identified the auxiliary cycle he stole after escaping from prison. It might have been the perfect murder since the prison guards were unaware he had escaped and he could have easily returned to prison after the murder.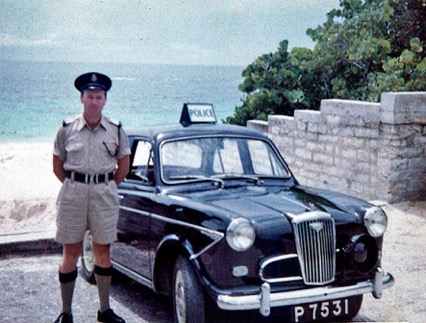 Ron Mullan with his Wolseley police car at Elbow Beach
public entrance
which has hardly changed since the 1960's
After St. George's, I was assigned to traffic and recall Jerry Hamm building a radio command unit that was quite effective and we learned the 10-call system. Inspector John "Tug" Wilson was in charge of Traffic and very popular with the constables. I have a vague recollection of three or four young men escaping from the detention center and could not be found for some time. I had Andy Dryburgh riding with me as a passenger when we came across the young men on Reid Street. Instead of running when we appeared they came over and wanted to turn themselves in. We drove them to Parliament Street where they were returned to detention. We were congratulated on 'a great piece of police work' although we did not try to dramatize the arrest.
One evening Tom Oliver and I were in our patrol car taking a break at Flatts Village. We observed a Volkswagen coming down the hill and thought it was P.C. Colin Finnegan and decided to follow him and turn on the siren and lights. I was driving and turned on the siren and emergency lights and the driver immediately took off. It turned out to be a stolen Volkswagen and we gave chase until the driver made a wrong turn and crashed into a coral wall and we made an arrest. Again, we were congratulated 'on a great piece of police work' although we had no idea the car was stolen.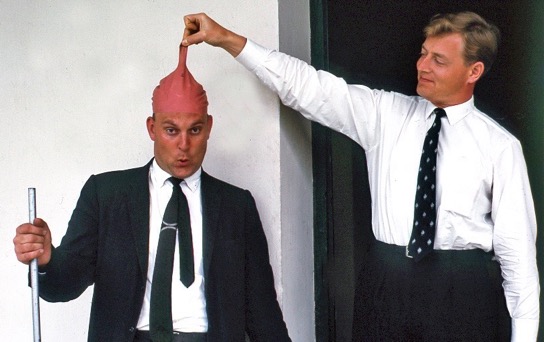 Two members of C.R.O. John Logan (right) examining the F--t cushion on top of Mike Wood's head
After traffic, I was assigned to the Criminal Records Office staffed by Inspector Johnny Mullan, Detective Sergeant Les Waddell, John Logan, Mike Wood and Bob Stewart. I believe Bob Stewart and myself are the sole survivors of our group.
EDITORS NOTE - The following two photos were sent by Ron, but with very little information about his sporting activities. He was a very accomplished football player when he arrived on Island having played in the Royal Ulster Constabulary national team and he quickly became a member of the Bermuda Police team playing as inside forward. I asked both Dave Garland and Mike Burke about Ron's football prowess and both desrcibed him as an excellent player. Dave and Mike both played as centre forward in the Police team and both independently stated that he helped them to score goals. The caption under the Mid Ocean News article of 24th October 1961, mentions that this Police team were the defending BFC Champions.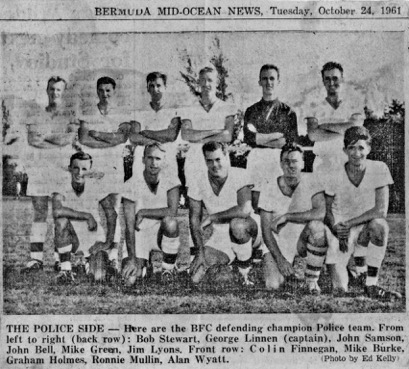 Police Football Team - October 1961
(l-r) Back Row - Bob Stewart, George Linnen (Captain), John Samson, John Bell, Mike Green, Jim Lyons.
Front Row - Colin Finnegan, Mike Burke, Graham Holmes, Ronnie Mullan, and Alan Wyatt.
(Missing from the team for this game was Barry King who, according to Mike Burke, was a top goalkeeper.
Mike says this team lost very few games, if any, that he can recall.)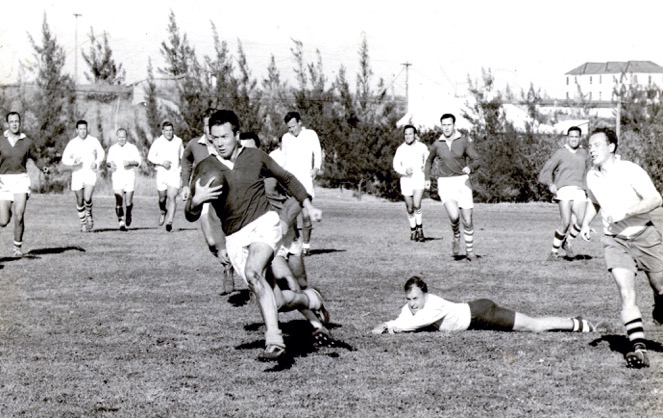 Ronnie Mullan on the move!
Ron was also an excellent member of the Police Rugby Team and is seen here with ball in hand on the move
in a match played against BAA at Boaz IslandThe Police team played in blue shirts. Police players in the
photo are from left to right - Bob Tanner, Andy Heggie, Harry Ramsey immediately behind Ron, Dave Lunn and
Derrick Wiggins. Mike Watson (in white jersey) is also just behind Ron,
and these two met in Germany after both had left Bermuda.
My wife Anne was a stewardess (I guess now known as flight attendants) and we married in Massachusetts in 1962.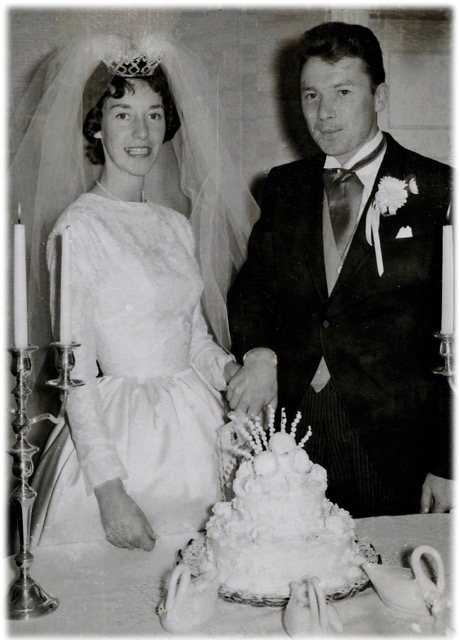 Ron and Anne celebrate their wedding in 1962
By the end of 1963 I completed my contract and we decided, like others before and after us, to move on. Anne was pregnant at the time and had gone back to Ireland to have our first son Paul. We have a second son, Tom, born in 1971. In 1963 I left Bermuda for the United States aboard the Ocean Monarch given a nice sendoff by a number of my friends. I was a typical emigrant as the Ocean Monarch sailed into New York Harbour.
We had decided on San Francisco so after clearing immigration in New York I caught a Greyhound Bus and headed for San Francisco. I had to find a place to live, get a job and prepare for Anne and Paul's arrival. Tom Oliver and Denis Byrne had left Bermuda a few months before and kindly allowed me to stay with them until I found a place to live. Tom and Denis have remained good friends since those early days in San Francisco.
In 1977 we left San Francisco, bought a home in Burlingame, a small town about Seventeen miles south of San Francisco, where we still live. Unfortunately, in 2012 we lost our first son Paul in a fatal accident. Neil Jones and Barry King had settled in San Francisco earlier and worked for an investigation firm that specialized in Workman's Compensation cases. I got the job conducting surveillance. of people claiming an injury and unable to work, surveilling their activities and taking motion pictures to deny their claim. When I got the job, I provided evidence of prior employment with my discharge documents from both the RUC and Bermuda Police. Unfortunately, I kept both documents in a briefcase left in my car parked outside my apartment, of course the briefcase was stolen.
Surveillance was hectic, nerve wrecking work and I got out as soon as possible. I set up a commercial photography studio photographing wine products; bottles and glasses of wine for wine company advertising. My winery client was bought out by a larger vintner that had their own graphics and photography departments. End of my photography career.
One of my former colleagues at the investigation company I had worked for needed a place to set up his new investigation business. I rented my studio loft to him and his partner and from time to time did some investigation for them. They did maritime defense cases and often required locating maritime personnel who travel the world. On one case I travelled to Japan and South Korea tracing a missing seaman. Doing more and more investigation, I decided to take the California State Consumer Affairs Exam and obtained my Private Investigation License in 1975.
My investigation business was set up the same year working exclusively for Law Firms specializing in personal injury cases. One case involved an American man who drowned during a Fishing-Camp trip in the Northwest Territories and I found myself in Yellowknife amongst oil drillers, Eskimos and the Northwest Mounted Police. Forty-two years later on September 30th this year (2017) I finally retired.
Sometimes in reflection I think of the time I spent in Bermuda and the people I met and served with and wonder where and how everyone is faring so many years later. I was surprised when I read the Association's long list of deceased officers then realized fifty-seven years had passed since I served there; a sobering thought.
Bermuda was a great experience for me and will always be thankful for the memories and remember my time there as an exciting and important part of my life. At the grand old age of eighty I look back now and think of the beauty of it all.
Anne and I play golf together, I ride my road bike a couple of times each week to keep in shape and every now and then we go back to Ireland on vacation. I believe my life's journey can best be described by a Douglas Adams quote from 'The Long Dark Tea-Time of the Soul: "I may not have gone where I intended to go, but I think I have ended up where I needed to be."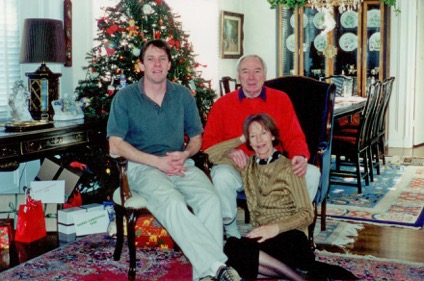 Ron and Anne with their son Paul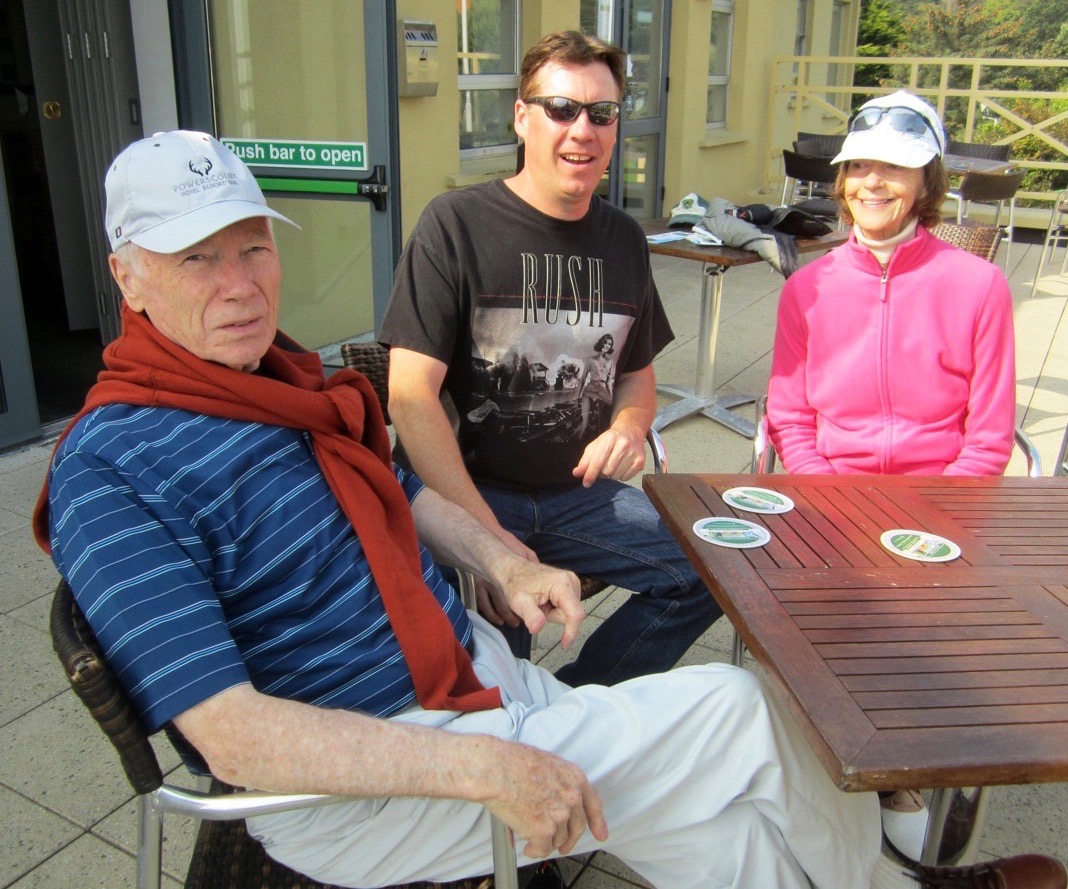 Ron and Anne relaxing with their son, Tom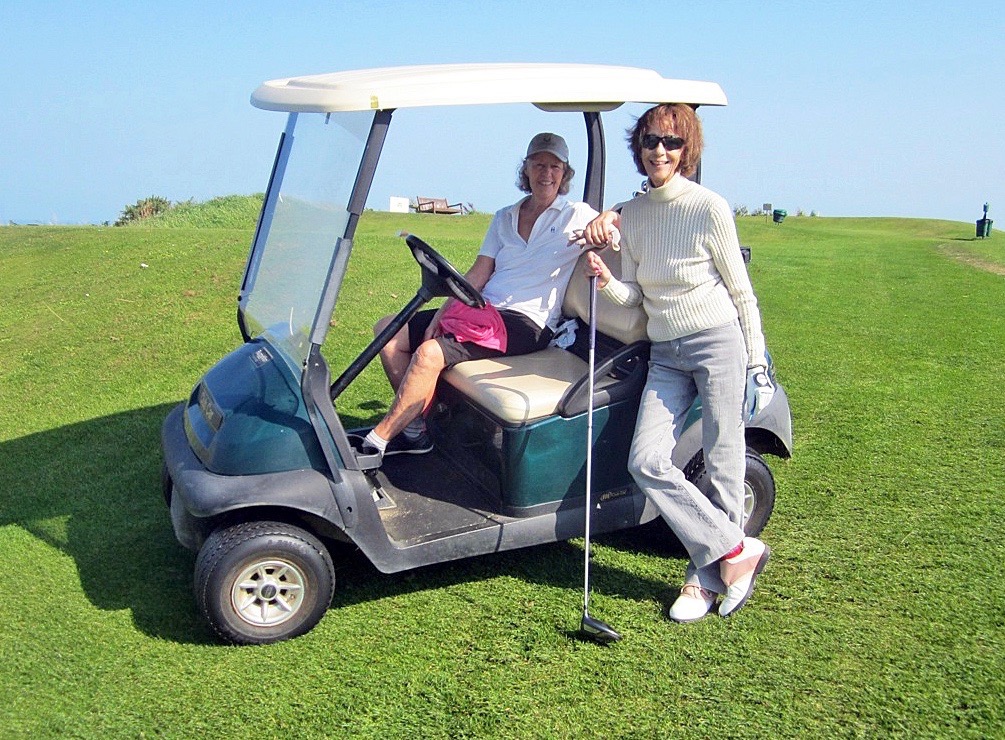 Anne (right) enjoys playing golf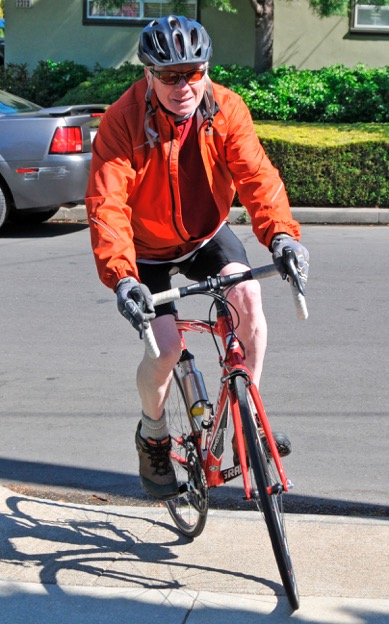 Ron still manages to keep fit with his cycling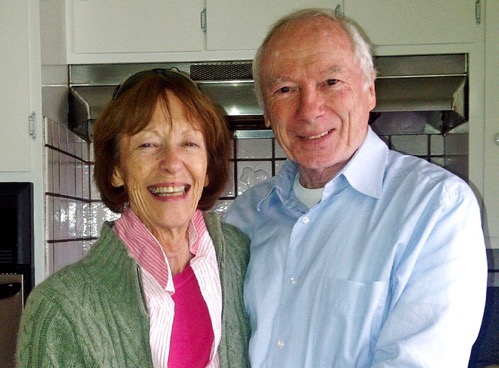 Ron and Anne Mullan have been happily married for 54 years after
meeting here in Bermuda when Ron was a young police constable
Editors note - Ron has provided his email address which I would be happy to provide to any of his former friends and colleagues who would like to get in touch with him and Anne.