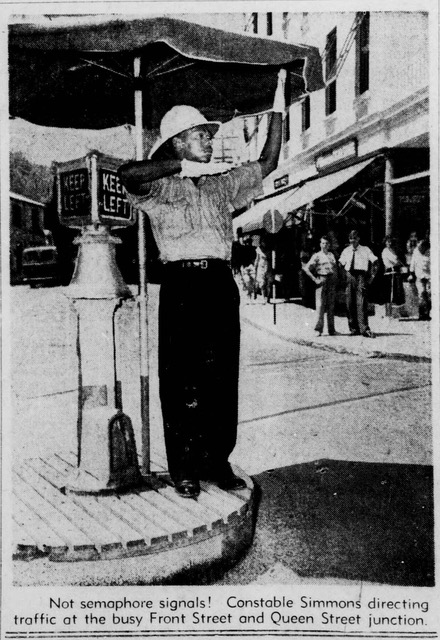 P.C. Hubert Simmons working his magic!
In early 2015, I wrote an article for the "Hall of Fame" column on our ExPo website about the Late Inspector Hubert Simmons who passed away in his 90th year in December 2014. At the time of his passing Hubert was one of our senior retired police officers having joined the Bermuda Police in June 1950. Although I knew Hubert to speak to and was aware of his passion for golf, it wasn't until I interviewed his lovely wife Lois "Pie" and members of his family, along with his old friend, retired Commissioner Frederick "Penny" Bean, that I came to know what a fascinating character Hubert was, and just how popular he was with his fellow members of the Bermuda Police Service.
However, I had heard that as a young constable, Hubert gained a reputation for his unique and balletic style when directing traffic on Heyl's Corner. It was said that P.C. Simmons had a special talent that quickly established him as a very popular tourist attraction! He loved directing traffic at Heyl's Corner and developed his own unique, highly animated style, always accompanied by his winning smile. He became a great favourite with both tourists and locals and was often captured on home movies and clicking cameras. Hubert no doubt contributed to the legend that our "birdcage bobbies" were the most photographed police officers in the world.
When interviewing his wife Lois for our "Hall of Fame" article, she indicated that she first spotted Hubert when he was directing traffic at the birdcage in 1953 and marvelled at how "sharp" he looked. He clearly made an indelible impression on young Lois because the two were married two years later and remained happily married for over 60 years.
Lois was able to provide me with a well-worn copy of an article from the (Sunday) Royal Gazette dated August 5th 1951, headlined, "His Traffic Technique Tickles the Tourists" about young P.C. Simmons and his ability to attract an audience of admirers whenever he was directing traffic at Heyl's Corner. You can view the Royal Gazette article and our "Hall of Fame" article about Hubert on our website at http://expobermuda.com/index.php/latesthof/342-hubertsimmons
In February 2021, Gerri Crockwell posted a photo on the "Old Bermuda: Our Island, Our History" of an unknown constable directing traffic at Heyl's Corner around 1950 wearing a flat cap rather than a "bobby hat". Several viewers asked about when police officer's first started to wear "bobby hats" in Bermuda, and that is another story! Very briefly, we have photos of police officers dating back before 1900 wearing "bobby hats", and I posted the photo of Hubert featured in the Royal Gazette article in which he's wearing a white or light coloured "bobby hat" but the copy was not the best.
Two of our ExPo colleagues, John Skinner and George Rose have been actively involved for at least the past two years in conducting extensive research into our police history and they have written an exellent series of articles of great historical importance to the BPS and our wider community. During their research they have become expert at searching for historical information at the Government Archives and through the digital newspaper archives stored at the Bermuda Library, so I asked John Skinner if he might be able to provide a better quality copy of the 1951 article about young P.C. Hubert Simmons. Within hours John produced not only a better copy of the article, but the whole page, together with a written transcript of the article as shown below.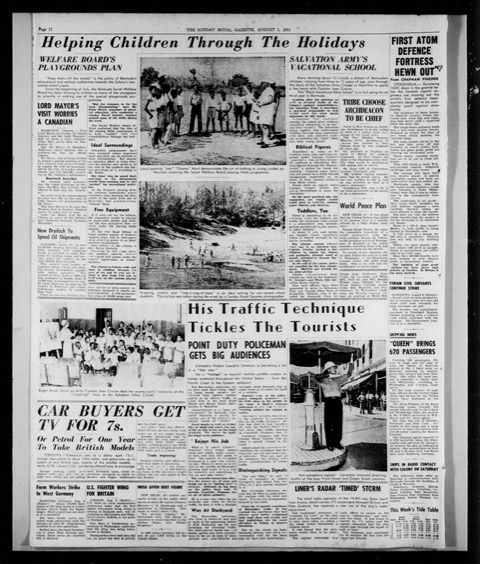 Page 12 of Royal Gazette August 5th 1951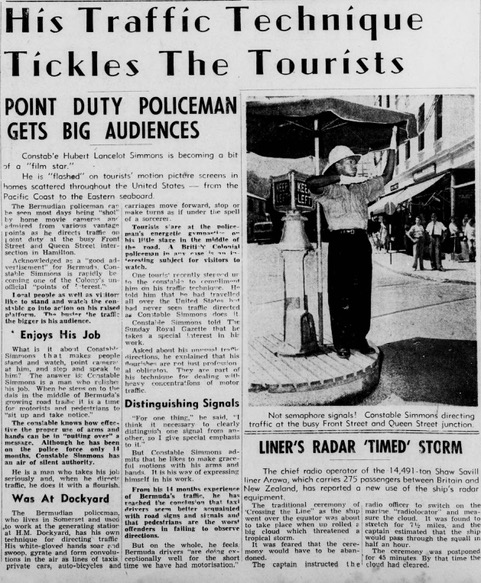 Article about P.C. Hubert Simmons
The photo of P.C. Simmons heading this article is blown up from John's copy of the newspaper article, and just in case anyone has difficulty reading the article, here it is in print as kindly provided by John Skinner.
His Traffic Technique Tickles The Tourists
POINT DUTY POLICEMAN GETS BIG AUDIENCES
Constable Hubert Lancelot Simmons is becoming a bit of a "film star."
He is "flashed" on tourists' motion picture screens in homes scattered throughout the United States —- from the Pacific Coast to the Eastern seaboard.
The Bermudian policeman can be seen most days being "shot" by home movie cameras and admired from various vantage points as he directs traffic point duty at the busy Front Street and Queen Street intersection in Hamilton.
Acknowledged as a "good advertisement" for Bermuda, Constable Simmons is rapidly becoming one of the colony's points of interest."'
Loyal people as well as visitors like to stand and watch the constable go into action on his raised platform. The busier the traffic, the bigger is his audience.
Enjoys His Job
What is it about Constable Simmons that makes people stand and watch, point cameras at him and stop and speak to him? The answer is: Constable Simmons is a man who relishes his job. When he steps on to the dais in the middle of Bermuda's growing road traffic, it is a time for motorists and pedestrians to "sit up and take notice."
The constable knows how effective the proper use of arms and hands can be in "putting over" a message. Although he has been on the police force only 14 months, Constable Simmons has an air of silent authority.
He is a man who takes his job seriously and, when he directs traffic, he does it with a flourish.
Was At Dockyard
The Bermudian policeman, who lives in Somerset and used to work at the generating station at H.M. Dockyard, has his own technique for directing traffic. His white-gloved hands soar and swoop, gyrate and form convolutions in the air as lines of taxis, private cars, auto-bicycles and carriages move forward, stop or make turns as if under the spell of a sorcerer.
Tourists stare at the policeman's energetic gymnastics on his little stage in the middle of the road. A British Colonial policeman in any case is an interesting subject for visitors to watch.
One tourist recently stepped up to the constable to compliment him on his traffic technique. He told him that he had travelled all over the United States but had never seen traffic directed as Constable Simmons does it
Constable Simmons told The Sunday Royal Gazette that he takes a special interest in his work.
Asked about his unusual traffic directions he explained that flourishes were not just professional obligations. They are part of his technique for dealing with heavy concentrations of motor traffic.
Distinguishing Signals
"For one thing," he said. "I think it necessary to clearly distinguish one signal from another, so I give special emphasis to it."
But Constable Simmons admits that he likes to make graceful motions with his arms and hands. It is his way of expressing himself in his work.
From his 14 months experience of Bermuda's traffic, he has reached the conclusion that taxi drivers seem better acquainted with road signs and signals and that pedestrians are the worst offenders in failing to observe directions.
But on the whole, he feels Bermuda drivers "are doing exceptionally well for the short time we have had motorisation."
_________________________________________
I sincerely believe that P.C. Hubert Simmons can claim to have been "The Ultimate Bobby in the Birdcage! Having said that I should point out that although police officers were directing traffic at Heyl's Corner for many years after the introduction of motor cars in 1946, it was not until August 1962 that a covered stand was installed at Heyl's Corner which had been designed by the then City Engineer Geoffrey "Dickie" Bird, and which from then on was aptly known as the "Birdcage"! You can read all about the Birdcage in our Expo article "Bobbies in the Birdcage at http://expobermuda.com/index.php/lia/219-bobbiesinbirdcage
We have also published an article "The Most Photographed P.C. in the World" http://expobermuda.com/~bermyxpo/index.php/who-when-where/573-most-photographed-in-the-world showing a series of old photos of bobbies directing traffic - what little traffic there was during the early days of cars arriving in Bermuda! In most of these photos the constables are wearing those white "bobby hats" as worn by Hubert.
It would seem that during the 1960's and since then some constables wore flat caps and other wore their bobby hats. I believe this may have been up to personal preference to some degree but it could also be because some P.C's were carrying our duties as duty driver so they would be weating flat caps, and they would sometimes also be required to perform duty in the birdcage. If you happen to have any photos of either ourself or anyone you know direct traffic in the birdcage we would be more tha happy to publish them.