Thomas Joseph Gallagher
30th December 1942 – 12th January 2013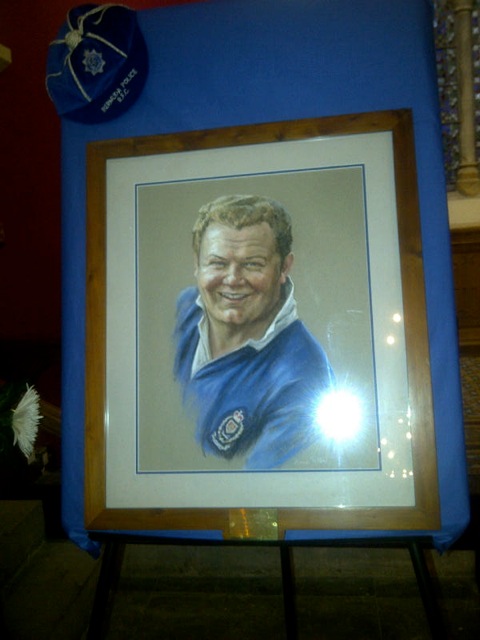 Tom's portrait in Police Rugby kit
displayed at his Thanksgiving Service
If ever there was a person who deserved the accolade of Honorary Bermuda Police Officer, it has to be "Tom" (Thomas Joseph) Gallagher. Anyone associated with rugby in Bermuda during the 1960's and 1970's will know of Tom's exploits both on and off the rugby field as a outstanding member of the Police Rugby Team.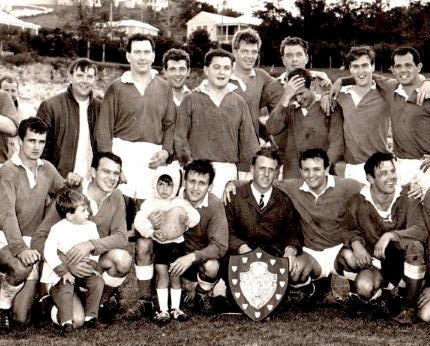 Tom Gallagher (centre) in the victorious 1967 Police Rugby Team
after winning the Nicholl Shield
A quintessential Irishman, Tom who was born on 30th December 1942, was a larger than life character in every sense of the word!
We were all deeply saddened to hear of his death after a long illness at his home in Irleland on 12th January 2013.
A group of ex-Bermuda Police Officers and other friends from Tom's Bermuda's days attended his Thanksgiving Service held at Holy Trinity Church in Ballylesson on 18th January (see photo below).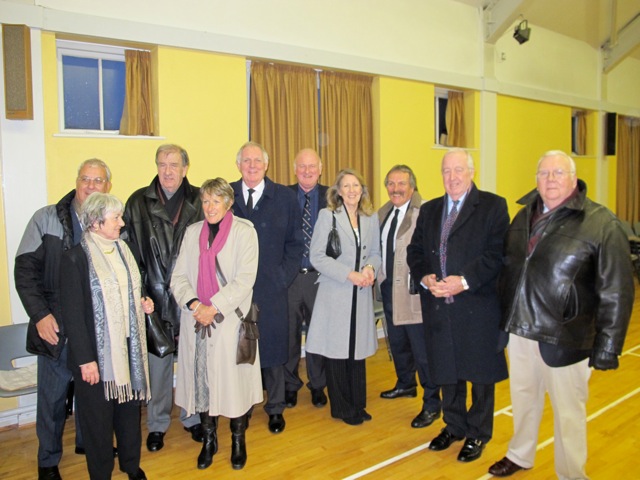 The Bermuda Contingent at Thanksgiving Service
(l-r) John Price, Mrs Ackroyd, Ian "Paddy" Ackroyd, Annie Price, Billy Nixon,
John Eve,
Pat and Mike Hummel, Dai Thomas, and Dave Woodcock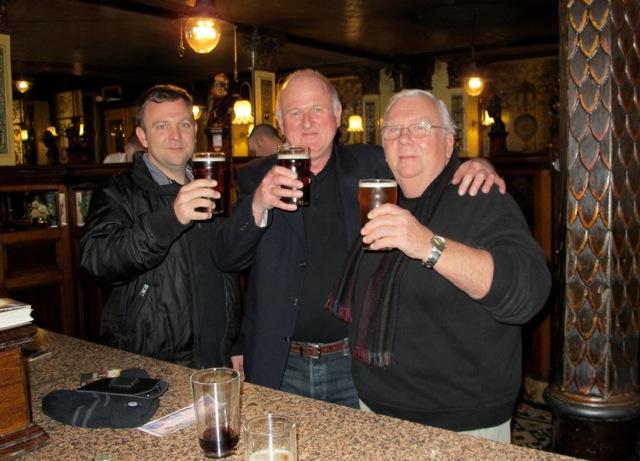 John "Coco" Eve (centre) and Dave "Woody" Woodcock (right) along
with Junior "Woody" (left)
down a pint in memory of Tom
His good friend John Price was asked to say a few words at the Service which is printed below, along with comments sent to his wife Helen from his old Bermuda colleagues.
THOMAS JOSEPH GALLAGHER
I have been asked by Helen to say a few words about Tom from his Bermuda friends.
I first met Tom when we were working together at The Bank of Bermuda and it was Tom who introduced me to the Bermuda Police RFC. I remember in one of my first games alongside Tom I was given rather a lot of attention from some opposition fatties at one point but suddenly there was a blue blur coming in from around 30 yards away to land a few good ones and save the day-yes, it was Tom.
We grew to be good friends through the rugby & the Bank, Tom being very helpful on both counts in teaching me the ways. In all honesty, Tom was the one guy who really helped me improve what few rugby skills & nowse I had, even though we competed against each other for selection for years. He kindly agreed to be my best man when Ann & I got married in Bermuda in 1971 and, even though he & Helen had only moved into their new house "Uisge Baugh" a few days previously, they both insisted we had the reception there. That outgoing friendliness and help were to be a common thread through all our years together in Bermuda and we are both grateful for their company, help & friendship over the years.
As for rugby tours from Bermuda, I must mention the introduction to pints of gin & tonic, as organised by the wee man on our trip to Boston. None of us Faded Blues will forget Tom's contribution to our rugby education. He is probably now coaching those Faded Blues that he has joined in that great rugby club in the sky, along with his old mate, John Leonard Williams (aka Sospan and Stradey).
The following notes have been sent from some of his old Bermuda mates:
Bill Nixon - living life in the fast lane, "I'll have a pint of gin and tonic. After the lobster, I'll take the T-Bone steak! and what's on the sweet menu tonight?" moderation, moderation in everything!!!
Norman Wilson - Helen and I will be thinking of Tommy and Helen and all the Gallagher family on Friday. Tommy was a big man with an even bigger heart and we will miss him dearly.
Pat O'Riordan - Please say goodbye to the Legend.
Jeff Baker - To say that he was larger than life, brings me back to many years ago, Tommy was playing for Ireland and I was playing for Bermuda select. I managed to get a breakaway with only Tommy to beat. I did a wonderful side step to go around him, but cut it a bit too close to him and we collided and I bounced off him and Ireland won the game
Ken Vanthal - The old favourites - pints of gin and tonics at the PRC and playing against him. I think he was the most difficult opponent to tackle head on I have ever come across - fast, heavy and low centre of gravity. Most unpleasant experience! Have a rib sticking out on the left side after Tom obtained revenge after my late tackle in the Irish Sevens 1973. Just one of those rugby things. A permanent memory of him.
Dai Thomas - Pints of gin & tonic and lobsters for starters, He was the leading light in the Bermuda Murphia which in the 70's started the Paddy's Day trend of shipping internationals out from the old country to ensure victory - the first being Tom Kiernan. His passion for the game and the blue shirt. His deadly boot ensured the success of the Police on many occasions and his habit of taking surprise short penalties from a few yards out baffled the opposition and referees for years.
Bill Butterworth - He was a great guy, the life and soul of the party. I loved to hear him tell a story, he always had a great knack of being inclusive, he would draw you into the event, the tale, the story, by a, " you remember don't you" or it was " we were playing..." or "...you passed me the ball ...". He had a gift, he was a great raconteur and his repertoire of songs was without match - maybe O'Riordan could come close but not sure. In another age he would have been a Bard, I thinks that's why he had that big staff he started using. And who wouldn't have wanted him on their team. Whether at fullback, with sure hands and a big boot or at standoff, crashing through the opposition 15 yards to 10 yards out from the line he was unstoppable. An amazing story teller, a songster, a drinking companion, rugby player, team mate, coach and lifelong friend.
I am sure that he and "Sospan" (Johnny Williams} are getting the Faded Blues organized.
Phil Every - As you know Tom was a marvellous raconteur. I recall the following on a tour from Bermuda to London Welsh in April 1999. I accompanied Tom and John "Stradey" Williams in a taxi from our hotel at Putney Bridge to London Welsh. Tom was sat in the front passenger seat and throughout the journey he was in fine form with his jokes, stories and commentary on various incidents. When we arrived at the London Welsh clubhouse, the taxi driver couldn't stop laughing and said that he had never enjoyed such good banter and wit and that there was no charge for the fare.
My thoughts will be with Tom, Helen and you all on Friday.
Norman "The Raj" Rennie - I have already sent Helen an email with my memories but say goodbye to Tom for me.
Steve Rollin - I have some good memories of Tom, particularly when he was the second team coach. He used to make me run around that field until I thought I was close to death. I guess he is drinking vodka and scotch with Johnny Williams now in that big rugby club in the sky.
Jim Duke (New York)- I played alongside the Big Fella for a Bermuda team and, realising I had a long way to run to score after receiving a pass from him, I dutifully gave it back to him, forcing him to run 50 meters or more to score, which he did and, touching the ball down he continued to keep going, ending up behind a tree, and when I arrived to see if he was o.k. he was setting a world record by having multiple fluids coming out of every orifice on his body and I do mean every orifice, including his ears! He had spent the night before in the "DRUM", pounding pints of gin and tonic as was his wont.
Sam Lewis (Teachers Rugby Club) - Please convey our sympathy to Helen and family and we'll be thinking of her. I expect that he will be up on that big field in the sky selling a few dummies and making some amazing three yard breaks as he goes over in the corner for another try.
Barry Shailer (Bank of Bermuda) - I well remember Tom working in the Bank & duelling with Stan Chetkowski. Tom was about the only guy I have known who could tell funny stories at a dinner party from the start to the finish of the evening.
You will have no shortage of contributed anecdotes so I will just note that he was larger than life in every sense and his memory will remain so for his many friends
Alan Caunt (Bank of Bermuda)- Tom was larger than life in many ways
Dave Walker (mutual friend)- I have so many vivid memories of the big man but overall it was the kindness that he and Helen showed to Auli and myself back in the 70s that I will never forget. They were a unique couple. I imagine he will be raising one of his 'Pints of G & T' and looking down at you on Friday.
Just a few comments from a huge gallery of friends that Tom enjoyed along the way and whose lives were enriched by knowing him. I'm sure all his friends from the Bermuda days will raise a glass to him later, say Slainte and will live with memories of him. They all want to give Helen a big hug and will be thinking of her today, as the other half of a great partnership.
As the ancient poet wrote: 'Many people walk in and out of your life but only true friends leave footprints in your heart.'
To finish and please forgive my pronunciation ---- Slán agus ádh mór ort, Thomas Joseph
Contributed by John Price
We have passed our sincere condolences to Helen and she has promised at some point to send us the eulogy she gave at Tom's Thanksgiving Service. We understand from reliable sources that Tom wanted to make sure everyone present remembered his funeral - it blew a freexzing cold blizzrad on there way and out of the church. We also heard that Helen was a brave lady and gave a moving eulogy for Tom at the Service. (We have requested a copy). Arnold Todd's (Bank of Bermuda) daughter, Robin, also gave a tribute to Tom from a Bermudian angle.
We have also been advised that Helen will be arranging a memorial service in Bermuda later this year and wqe will keep you informed of the date and venue.
We welcome any additional comments in the Comments Section below, or you can email them to us at expobermuda.com