This section of our website is designed for two reasons. Firstly, we have a number of photographs where we are not sure who is in them, when or exactly where they were taken, so we are seeking your input in helping to identify them. The second reason is that we want to check your memory cells to ascertain if they are still working!
We will eventually be placing an addtional photograph here every few weeks and asking you to assist us. We would also ask that if you have an unusual photograph that you think is suitable for "WHO, WHEN AND WHERE?" please forward it to us by email, either in JPG or TIFF format to This email address is being protected from spambots. You need JavaScript enabled to view it.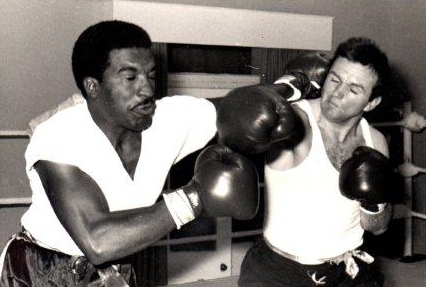 In the meantime we invite you to brouse through the following photographs and let us know if you can tell us "WHO, WHEN AND WHERE?"
Yes, we know it's two of our former colleagues having one heckova fight, but who are the two men, where was this Night of Boxing held, and what year was it?
Everyone who wrote about this photograph correctly identified the two protagonists as Curtis DeGraffe and Pat McBride who had a terrific fight during the first ever Evening of Boxing held at the Police Recreation Club in March 1969. For more information on this fight and the history of the annual Police Boxing tournaments CLICK HERE or go to Interesting Articles for "The First PRC Boxing Tournament - 1969. If you have your own reminiscences of any of the annual Police Boxing Tournaments you can forward them, and any photos you might have, to This email address is being protected from spambots. You need JavaScript enabled to view it.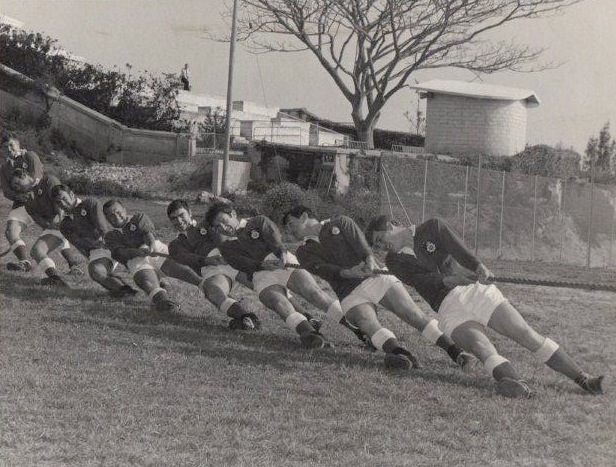 This might be an uphill battle! Not too hard to guess what they're doing, but who's pulling, what are they pulling, where, when and why? Davie Kerr is automatically disqualified due to the fact that we only need their names, not their Force numbers, telephone numbers, bike numbers or car numbers!!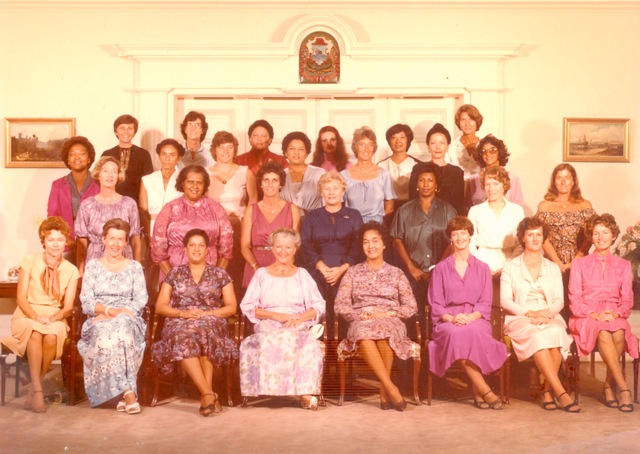 A very special group of ladies but what was the occasion, who were the hosts, when was it taken, and can you name all these ladies?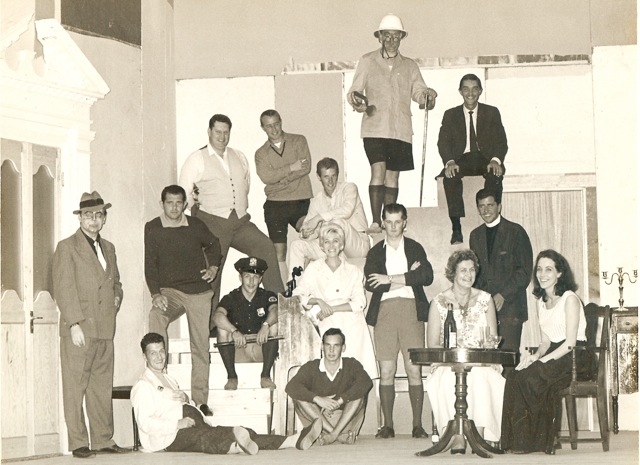 Now here's a zany group of characters - presumably all on stage - but can you identify the cast, where this was taken, and what was the name of the production? We've had some crazy characters in the Bermuda Police but the guy with the bugle wearing a pithe helmet has to be close to the top of the list
We heard from Dave and Penny Long on 6th April 2013, who had to wrack their memories but were collectively able to identify everyone in this photo which they were able to pinpoint to the cast of the Police Drama Group production of Arsebic and Old Lace performed at City Hall Theatre in May 1965. Dave and Penny pointed out that the zaniest character at the top isnnone other than Mike Woods (CRO photographer). Others on the top row (l-r) are John "Tiny" Wakefield, Pete Rose, Roger Sherratt, and Dave Long. Middle row (1-r) John Mulholland, Jack Rouse, John McQuaid, Anne Summers (Mulholland), Peter Parnell, and Mike Caulkett. Sitting (l-r) Eric "Wee Eckie" Laing, Bernie Burrell, Eileen Armstrong, and Jenny Wyatt.
We pointed out that all of the persons in the photo below, with the possible exception of the lady in the group, had served in the Bermuda Police. But we wanted to know who is in the photograph, where was it taken, and what was the purpose of this get together?We pointed out that all of the persons in the photo below, with the possible exception of the lady in the group, had served in the Bermuda Police. But we wanted to know who is in the photograph, where was it taken, and what was the purpose of this get together?
Former Bermuda Police Officers hold reunion in Canada
We've had a number of responses from our former colleagues, including Bill Smith, Connell McBurnie and Tim Burch, all of whom are in the photograph, as well as several other former BPS officers, and we have to say that the three men who appeared in the photo barely passed our "memory test". They scored just over 60%. It was Pat McBride who finally provided all the names and we were admiring his prodigious memory when he sent us the source of his information - an article that accompanied the photograph in an old copy of the Police Magazine dated - Winter 1972. Full marks to Pat.
The photograph was actually taken during a reunion of ex-Bermuda police officers held at the Holiday Inn in Etobicoke near Toronto in 1970.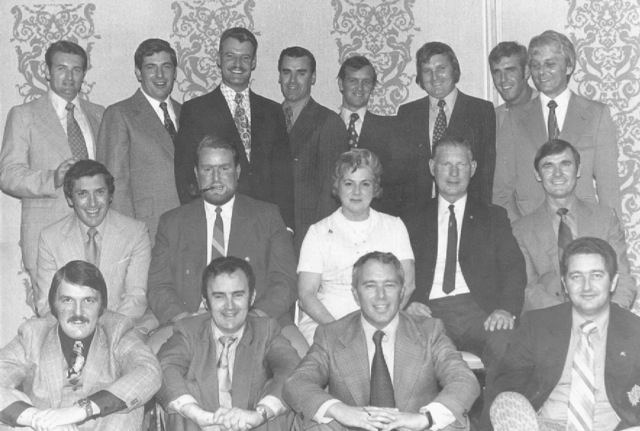 Top Row (l-r) John Millington, Ian Mitchell, Connell McBurnie, Bill Smith, Clive Thompson,
Duncan Gourlay, Ron Woodhouse, Peter Jackson.
Middle Row - Malcolm Santer (Pharmacist, member of PRC and Rugby Team), Barry "Tim" Burch,
Mrs. Joan Williams, Frank B. Williams, Bob Curnow.
Bottom Row - Dave Needham, Tom O'Sullivan, Peter Rose, Ken Norman.
Angus Brown's 40th Birthday celebration in Central CID
This photograph was taken from a wonderful collection of Bermuda Police related photographs on Ernie McCreight's Facebook page. We mentioned that it featured a group of rather boisterous men and women, most of whom share something in common and we asked you to assist us in figuring out who is in it, where it was taken, and when or why was it taken?
Dave Cook helped us out by identifying everyone in the photograph but he wasn't too sure what the group was celebrating. The group is mainly detectives and civilian staff who were serving in Central CID in November 1985. It took a little detective work to discover why the celebration, and the answer came from George Rose, who remembered that he had a copy of the photo, and when he checked the back of the photo he had noted that it was taken at a party celebrating Angus Brown's 40th
birthday held in the Central CID office in Hamilton.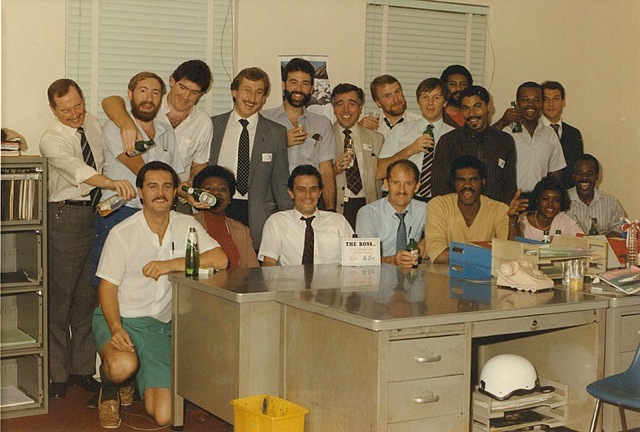 The Boys with "Greens"!
Rear l-r Dave Chew, Graham Mitchell, Nick Jamieson, Peter Giles, Keith Senior, Cyril Plant,
Angus
Brown,
David Cart, Franz Williams [afro] Sylvester Augustine, Michael Douglas, John Tartaglia.
Kneeling - Rai Harrison, Carol Holdipp, George Rose, Dave Cook,
Ben Linton [deceased], Belinda Wilson, Miquel Medford.
A 'Motley Crew' from Cycle Squad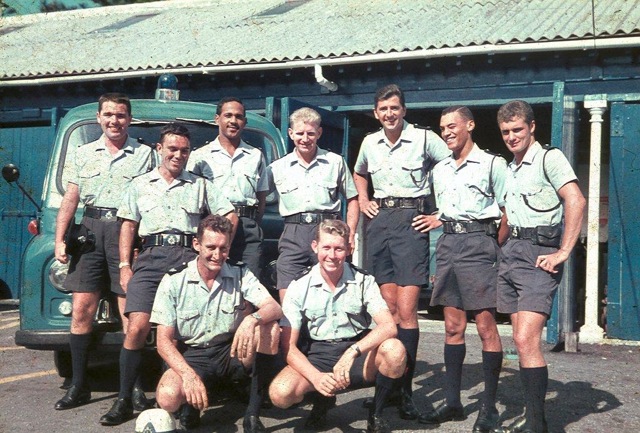 We told you that this motley crew was clearly assembled at the Traffic Department, Prospect, but we wanted to know who they are, which "squad" were they in, and when was this photograph taken? We also mentioned that one of these officers was spending his 50th wedding anniversary in the Canary Islands when we first published the photo in March 2012 and wanted to know which one he was.
In this case we had excellent information from a variety of sources, including Terry Cabral in the U.S. and from Davie Kerr in Scotland, identifying our "motley crew"! They are, of course, the Cycle Squad crew identiified as (l-r standing Dick Murphy, Andy Bermingham, Neville Darrell, Tony Watson, Mike Caulkett, Gary Perinchief, and Dick Johnson, along with (l-r kneeling) Sergeants Sean Sheehan and Geoff Hunt. To narrow down when the photo was taken we consulted with Mike Caulkett who provided us with the image from his slide collection, and he remembers being transfrred into Cycle Squad in July 1965. On checking the slide he discovered that it was dated September 1965 by the devlopers so this photograph was taken between July and September 1965'
And if anyone had been checking our KEEPING IN TOUCH column closely you would have noticed that we ran a brief story about Geoff Hunt heading off to the Canary Islands with his wife, Olive, in the Spring to celebrate their 50th wedding anniversary. We later had word that they had a wonderful trip, and shortly after their return to the UK Geoff kindly sent us an excellent article with accompanying photos for out THEN AND NOW column (CLICK HERE to read the article).