Which Division is this? Western
As we stated, there was no prize for guessing which Division this was - Western Division taken in front of Somerset Police Station. We initially gave the approximate date as 1972-1973 but as a result of further investigation, incuding an email from an old friend of Damian Willcocks' in the Staffordshire Police, we are now sure that the earliest date for the photo must be early or mid 1974. From the input received both from our comments section and from Mike Phillips we believe we can correctly identify everyone except the guy standing between Foster Burke and Ryvan Campbell. See caption below the photo.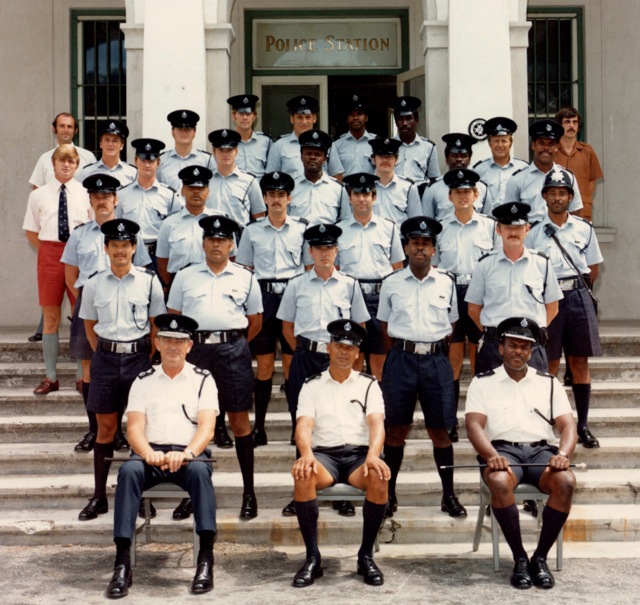 Western Division - 1972 or 1973
Back Rows (l-r) Dai James, Damian Willcocks, Colin Hopkins, Mike Scully, Ben Linton, Ishmael Daniels, Peter Counsell & Alan Barker

4th Row - Dave Barber, Chris Bowerman, Keith Melville, Foster Burke,

Not yet identified

, Ryvan Campbell, Clyde "Tango" Burgess
3rd Row - Bill Buchanan, Mike Phillips, Harry Mesham, Keith Bird, Dick Naylor, Howard Dill
2nd Row - Louis Griffiths, Sgts. Neville Phllips, Mike Richards and J.T. Simmons, John Eve
Front Row - COP L.M. "Nobby" Clark, Inspector Hilton Wingood, and Superintendent Fred "Penny" Bean
Editors note - We made real progress on identifying everyone in this photograph after receiving an email from Ann Phillips on behalf of Mike on 24th October advising that Mike believes the three men to his right (when looking at the photo) are Harry Mesham, Keith Bird and Dick Naylor. Mike has also identified the guy to the immediate right Foster Burke as Ryvan Campbell. .
In order to assist in picking people out we included this blow up of the officers in the middle of the group. We are still wanting to confirm the identity of the constable standing between Foster Burke and Ryvan Campbell (the guy with the ginger moustache). Sadly, we are aware that at least 4 of these former colleagues are no longer with us - "Nobby" Clark, Neville Phillips, Ben Linton, and Damian Willcocks.
We would be pleased to hear from anyone else in the photograph as to where you are and what you are doing these days. We can advise that the following are still here in Bermuda - "Penny" Bean, "Jellybean" Wingood, Dave Barber, JT Simmons, Mike "Dagwood" Rickards, Mike Phillips, Howard Dill, Pete Counsell, Dai James, and Louis Griffiths.