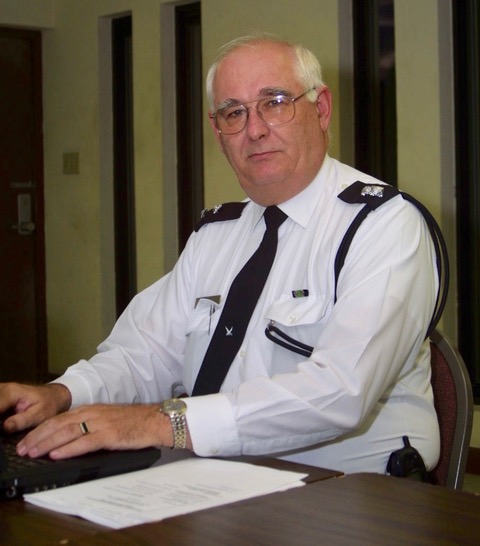 Inspector John Skinner
This article was originally written by Retired Inspector John Dale who used it at John Skinner's retirement function. Additional information has been added by John Skinner.
John Henry Skinner was born in 1948 in Brighton in Sussex, England, the only son of Ernest George Skinner, an Engine Driver, (Railway Engineer for our North American cousins!) and Nancy Alice Skinner, a Post Office Telephone Operator. Four years later, his sister, Susan was born. As a youngster, John and his family relocated to Kenya, where his father was employed by East African Railways and Harbours.
On a trip back to the UK on board the DURBAN CASTLE, they had to travel through the Suez Canal three days after Gamal Abdul Nasser nationalised the Canal. This was a stressful time for the adults on board, but did not interfere with the children's fun. Susan had developed chicken pox the day after leaving Mombasa so the family was moved into quarantine at the stern of the ship. The crew rigged a canvas paddling pool, in which John and Susan spent many happy hours.
In 2014, John found a record of the trip in an official document online. It recorded that M.V. DURBAN CASTLE (17,381 tons) under the command of Captain Cambridge arrived in Tilbury, London on 13th August 1956. The ship disembarked 168 adults, 64 children and 4 infants, who had 'embarked at a port outside of Europe'.
The family moved to the village of Southease in Sussex where Nancy Skinner worked for Vice Admiral John Derwent Allen CB and his family. As Captain Allen he was mentioned in Dispatches for his actions at the Battle of the Falkland Islands in 1914. (If you are interested an extract from his diary is printed at http://www.gwpda.org/naval/j0600000.htm). John was given the book 'Our Island Story' by Adm. and Mrs Allen and this book sparked John's interest in history.
During John's early education he moved between nine educational institutions in both Sussex and Kenya, from 1953 and 1962 before settling into Sussex again.
In 1964 John became a Police Cadet in the East Sussex Constabulary and started in the Operations Room, where he probably gained the impetus and the liking for communications, which was to become so much part of his professional life in years to follow. East Sussex Cadets spent one day a month at Bowles Mountain Gymnasium near Crowborough. This was for initial training in preparation for Outward Bound Courses.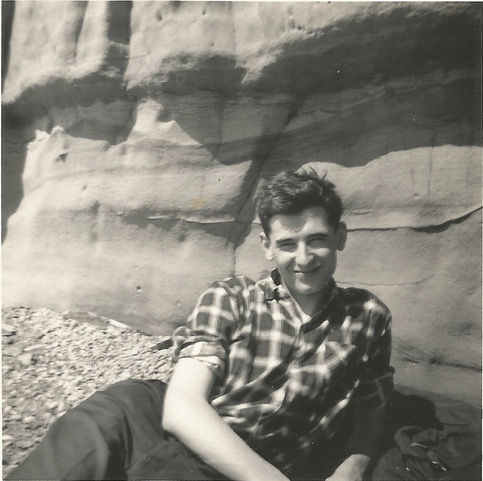 Young Cadet Skinner at Bowles Mountain Gymnasium
At that time John's father was a Traffic Warden in Newhaven, Sussex. His mother was a Special Constable (Reserve in Bermuda) in the town as well. East Sussex Police set up a photo shoot of the three of them with Sussex Express and County Herald. The newspaper ran a photo with the caption. 'They often meet on the beat in Newhaven'. That was the one and only time that happened.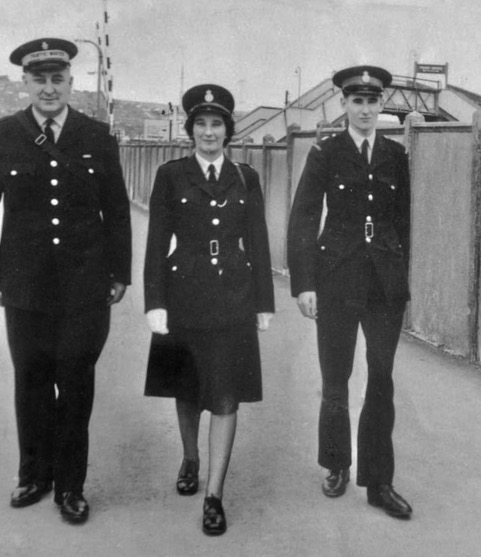 The Skinner Family in uniform
(l-r) Ernest Skinner (Traffic Warden), Nancy Skinner (Special Constable)
with their son, Cadet John Henry Skinner in Newhaven
John attended Eskdale Outward Bound School in October 1966. On 21st October the whole school was placed on standby to respond to the tragedy in Aberfan, Wales where 116 schoolchildren and many of their teachers died when their school was buried under a slag heap. The Outward Bound School was stood down before their departure.
On 3rd April 1967, John became a Police Constable in East Sussex, first in Bexhill and later in Hove. John was very active with the St. John Ambulance, gaining his adult certificate and instructor's certificate. His sports were swimming, ten-pin bowling, cricket, motoring, climbing, shooting and snooker.
John was well thought of in Sussex and they were sorry to see him go. Mr. Clay one of his references said "I have found that John is and always will be conscientious in anything he does. I can highly recommend him and will be sorry to see him go".
In July 1972 John joined the Bermuda Police Force as a Constable. Of the intake of 18 only John and Dave Cooper remain on island, and in recent times Philip Bermingham has returned to become a part time resident.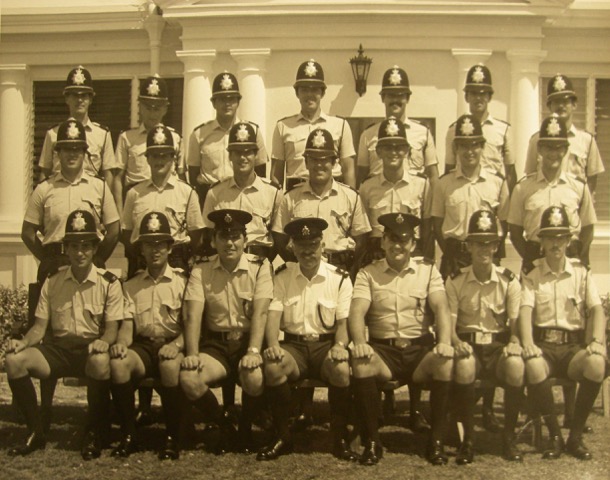 Bermuda Police Localisation Course July - August 1972
Front Row (l-r) - 344 John Challis, 355 David St. John, Sgt 12 Richard "Dick" Murphy,
Inspector David Parsons, Sgt 30 Patrick McBride, 279 Robert Durman, 270 David Cooper
Middle Row - 349 Michael Richardson, 281 Michael Dewar, 284 Peter White,
272 Brian Callaghan, 351 Michael Ball, 319 John Skinner, 296 Colin Cocker
Back Row - 317 Dale Thornton, 329 John "Stuart" Craig, 396 Douglas Proctor,
309 Philip Bermingham, 299 Terence Allebone, 313 James Brodie, 297 Peter McNulty
He spent a few months on the beat in Hamilton, where Alan Kennedy was his first Sergeant. He then spent seven months in Somerset. On March 10th 1973 he was returning to Somerset Mess when he saw several police vehicles leaving Somerset on emergency runs. He called in from the Mess to find that the Governor, Sir Richard Sharples had been assassinated. As there was only one phone in the Mess, in the Bar, he camped out there and passed the word as others returned to the Mess. At this time he was crewed with Mincy Rawlins. The Murder Squad had taken all but one of the Somerset Cars, leaving one Cortina, a Kombi and a Land Rover for uniform patrol work. Who drove when John and Mincy were partnered was simple. John did not like the way Mincy drove Kombis and Mincy did not like the way John drove cars!!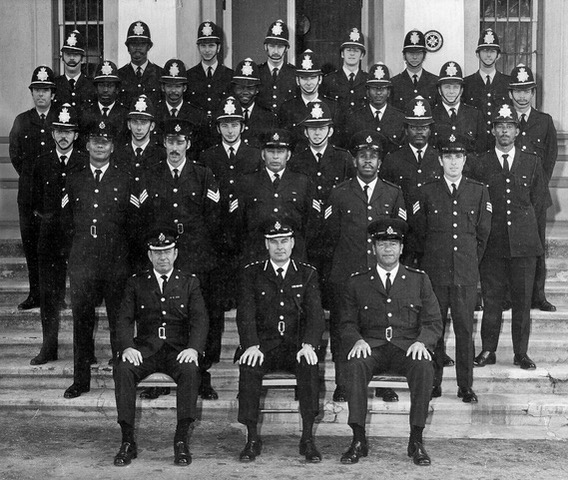 Western Division - 1973
Young P.C. John Skinner is 5th from left on the second from top row
After his return to Central, in the wider community, John became an Instructor with the Bermuda Police Volunteer Cadet Scheme and later a Civilian Instructor with the Bermuda Sea Cadet Corps. He took up Scuba Diving and eventually became Training Officer of the Bermuda Sub Aqua Club.
John transferred to Traffic in 1975. In those days there were three or four double manned crews. Each crew rotated through the three Traffic Areas and the Operations Room on a daily basis.
One late shift in Tango Five John collected his partner, Stuart Craig, from Ops where he had been covering the first refreshment periods. As they approached the Stop Sign at the junction of Montpelier and Middle Roads, John was gradually braking to slow down, when they heard the sound of a car engine revving hard behind them. A Peugeot was rapidly coming up behind them. It hit them square in the rear and the engine continued to rev up which resulting in Tango Five being pushed towards Middle Road. John had to brake for both cars and luckily stopped before entering Middle Road.
Stuart called in the collision and requested a Sergeant attend. Their Sergeant, Mike Burke was covering Channel One so he could not attend! John went to the Peugeot where the driver told him that he was taking his female passenger to Hospital as she had been stabbed in the stomach. She was conscious and appeared to have the wound under control, so John returned to the car to request an ambulance. On returning to the Peugeot, the lady told John that the driver had just stabbed himself in the stomach with a pair of scissors. Stuart was surprised when John requested CID and a second ambulance. They would have loved to be a fly on the wall in Ops when that call went in.
It turned out the couple had recently separated and the lady went around to the man's house to show off the new car that her mummy had just bought her. He then stabbed her and decided to take her to hospital. They never found out why he rammed Tango Five, nor why he stabbed himself.
In 1976 John was transferred to Radar Unit where he worked at various times with John Baxter, Roger Kendall, David Ashurst and Stuart Craig. That was an enjoyable time but there was no pre-planned overtime so duties had to be arranged around court date.
The planning the week before, especially when teamed with John Baxter went something like this: "When are our Rest Days?" "Monday and Tuesday". "When do we have Court?" "Monday 2pm." "OK Rest Day on Sunday! 1pm-9pm on Monday." "Next Court?" "3pm Tuesday". "OK Saturday Rest Day and 2pm-10pm on Tuesday." "Next Court Date?" "11am Wednesday; 11am Thursday none on Friday". "Anything else in the calendar?" "John Skinner Dive Training Wednesday Evening, John Baxter Sea Cadets Friday Evening." "OK 10am-6pm on Wednesday, 6am-2pm on Thursday and 9am to 5pm on Friday." And then the Duty Sheet would go to Chief Inspector Derek Taylor for approval. He would not admit it but they were sure he was well aware of the thought processes behind some of the timings.
John Skinner and John Baxter had a personal rule that they would not drink alcohol during the 8 hour period before going on duty. This became a good Road Safety ploy. If they had an early start the following day and John Skinner was at the Dive Club, he would change to soda. Inevitably this was noticed and a general cry went up. "Be Careful tomorrow morning. John has stopped drinking!"
Imagine their chagrin when a few years later Radar Duties became a major function of MCPS and they heard that one MCPS Member went to the bank for a mortgage and stated, quite correctly, that he was guaranteed well over four months wages in annual overtime payments because of the radar duties.
Shortly after transferring to Traffic in 1975, John met a Scottish paediatric nurse, Sheila Binnie. On 1st October 1977, they married and a year later their daughter Claire was born.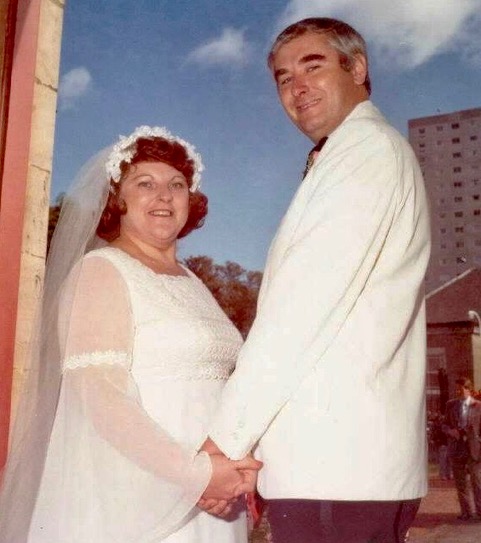 John and Sheila on their wedding day
at Tullianan Church, Scotland, on 1st October 1977
John joined Marine Section in 1979 where he braved the ocean waves for five years until his transfer back to Operations. He had many exiting ventures during his years in Marine Section.
An early call out was one winter night to respond to flares sighted off the South Shore. Phil Every, Steve Rollin and John were called out to crew the 'Blue Heron' to investigate. 'Blue Heron' was a 35 foot Harris fishing boat. It was dark and a stiff wind was blowing as they made their way out under Watford Bridge and down towards Pompano. As they approached Pompano they came out of the lee of the land and felt the full effect of the wind. Bermuda Harbour Radio stated that there had been no further reports of flares, so the Police crew decided to do a sweep with the spot light. John knew it was rough in the dark, but was not impressed when he saw the size of the waves they were encountering.
A flare was sighted and as they closed the area they saw a 55 foot three-masted schooner wallowing in the waves. It was taken into tow to Elys Harbour. The schooner did not have an engine. It transpired she was en route from Bar Harbour, Maine to the Caribbean and had been blown off course and had been damaged. She did not have a radio. A few days later John saw the Ships Cook, high in the main mast fitting a radio aerial. That cook was a very useful young lady.
Another adventure was to take a trip on Romay II, Lord Martonmere's 54 foot motor yacht, with then Marine Sgt Gerry Ardis and civilians Jimmy Vieira and the late Alan Edness. They went to Florida via the Bahamas. 18 hours after they left Bermuda, three men died in a local boat when severe weather suddenly sprang up. The Romay also experienced the same bad weather system and was 24 hours late arriving in the Bahamas. Radio messages from the Romay had not been received in Bermuda and there was a lot of concern on the island regarding the fate of the boat and her crew.
Sheila banned John from ever doing an ocean crossing again.
During the 1981 General Strike, Marine Section, together with the rest of the Bermuda Police Force was put on 12 hour shifts. The Marine Section Day shift paraded an hour early every morning. Not because they were keen (which they were!!) but because the Night Shift (Paul Cranage, ex-Merchant Navy and Mike Shaw ex-Royal Navy) would serve the Day Shift a FULL English Breakfast (for a nominal fee) before they officially started duty.
During his time in Marine Section John qualified for his Marine C Pilots Licence and following successful completion of the United States Coast Guard On Scene Commanders Course in New York, he started to develop his expertise in Disaster Management and Mitigation, especially in oil pollution, shipwreck and general search and rescue.
Marine Section was heavily involved in the response to the sinking of the Barque MARQUES during the 1984 Tall Ships Race with the loss of 19 of her 28 crew.
Whilst off duty John became interested in the hobby of computing.
John returned to Operations (Traffic) in 1984. It was during this period that he was diagnosed with serious whiplash. This injury was originally caused by the collision on Montpelier Road and then aggravated by an incident whilst on patrol in HERON II in sloppy weather. This resulted in him spending nearly two years in a cervical collar. It also meant he was put on 'Light Duties' in the Control Room.
Off duty, Sheila and John helped to run a Friday night Youth Group at Christ Church, Warwick together with Rev Martin Fair, the church's Youth Minister. (In May 2020 Martin was inducted as the Moderator of the Church of Scotland.) John joined the Congregational Board .Also for many years John helped organise the parking for the Annual Church Fair.
In 1990 Constable John Skinner was awarded the Colonial Police Long Serve Medal for 18 years service.
Attending Government House for their 18 years Long Service Medals - 1990
(l-r) P.C's Owen Marsh, John Skinner, Jimmy Costello and Cyril Plant
In March 1986 John became part of a small team consisting of Beverly Roberts from Government Data Processing Unit, Sgt George Rushe, Constables Esther Trott and Davie Kerr, (and later Norman Wilson) that did a lot of groundwork to implement the Bermuda Police Computer System. Under the leadership of Sgt John Van De Weg, Esther, Norman and John were assigned to the Bermuda Police Computer Unit which was created with effect from 01 February 1985.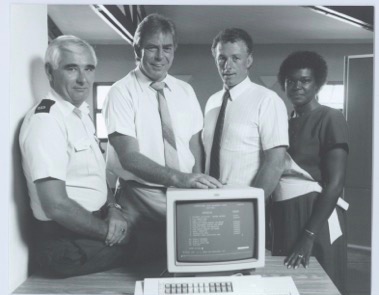 Members of the new Computer Section
(l-r) John Skinner, John Van de Weg, Norman Wilson and Esther Trott
In 1986 he started part time studies which in 1997 led to his Bachelor of Science Degree in Management Technology from the University of Maryland.
In 1993, John was elected to the Kirk Session of Christ Church, Warwick. The same year he was also elected a Member of the Institution of Analysts and Programmers.
On 27th October 1995 the following appeared in General Order:
The following attachments/secondments will take effect on and from the dates shown:-
Sergeant 319 J.H. Skinner from Operations (COMOPS) to 'D' Dept. (Headquarters) for the period 16/5/95 until further notice.
The move was to do a project under the supervision of Inspector Bob Hay. 'D' Dept. (Headquarters) was later renamed Operational Planning and Bob Hay later retired and John served there until his retirement.
An early challenge in October 1996 was writing an Operational Order at a few hours notice for the safe and efficient transfer of more than 80 Chinese illegal immigrants from the ship XING DA. The ship had been seized by US authorities at sea and the Bermuda authorities assisted in transferring the immigrants and the arrested crew to US C-130 aircraft which transported them to Guantanamo Bay for processing. Roger Kendall was sent by helicopter to be the on scene liaison with the US ships which were escorting the XING DA to Bermuda. He writes about his experiences in THERE and NOW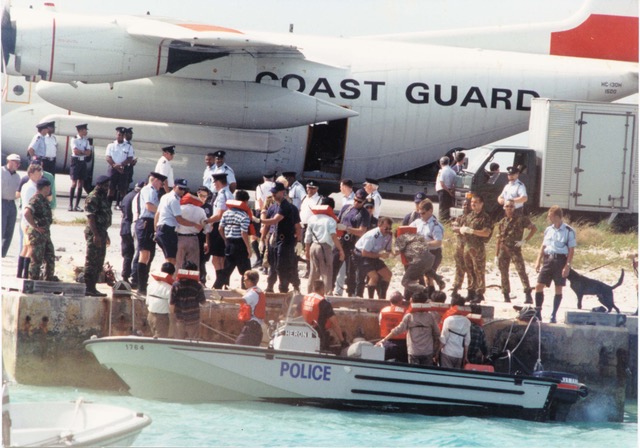 Transferring Xing Da illegal immigrants to U.S.C.G. Custody - 1996
Roger and John continued to work closely together until Rogers's retirement. As well as numerous local courses in general police duties, the marine environment, and computing, John has also attended the First Line Supervisors Course with the Ontario Provincial Police, and the US Governors National Hurricane Conference in Texas.
John travelled to Scotland in 1999 as part of The Tall Ships 2000 Race Planning Workshop (where he met a lady he was at school with in Mombasa, Kenya in 1960!). He supports Glasgow Rangers Football team and when on a day spent with a Strathclyde Police Traffic Unit took the opportunity to be photographed outside Ibrox.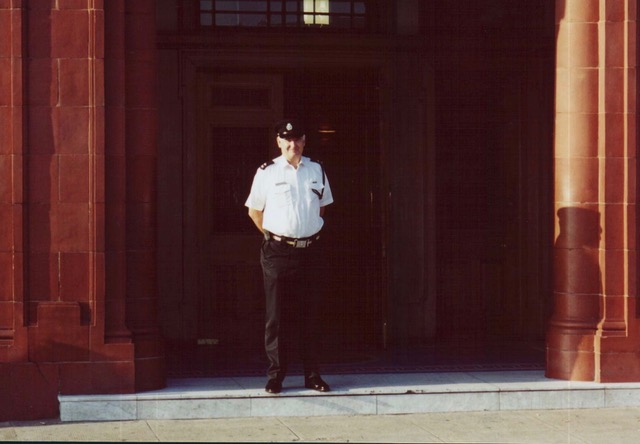 Inspector John Henry Skinner on hallowed ground at Ibrox Park - 1999
He was a member of The Governors Crisis Management Study, a number of Internal Security Exercises' Planning Teams, the Port Committee for Tall Ships 2000 and a Pan Am Health Organisation Medical Disaster Course.
In 1998 he was promoted Inspector and as the Bermuda Police Operational Planning Officer he was appointed Staff Officer to the Emergency Measures Organisation (EMO).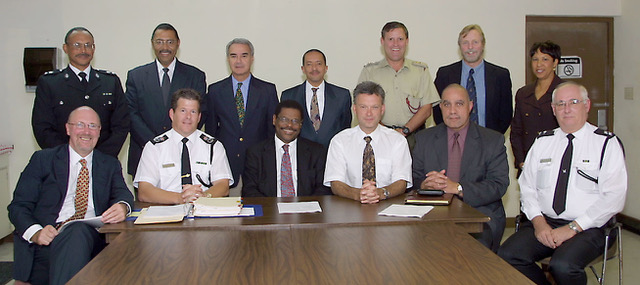 Emergency Measures Organisation Group
Supt Sinclair White, Mr Stan Oliver (W&E), Ian McIntyre (Aviation), Dr Derek Binns (Cabinet Office),
Col David Gibbons, Roger Williams (Bermuda Weather), Valerie Pethen (GIO)
Martin Law (Coordinator of Security Services) Commissioner Jonathan Smith,
Mr Terry Lister JP MP (Minister of Labour and Home Affairs) Deputy Governor
Tim Gurney, Robert Horton (Permanent Secretary,
Labour and Home Affairs) Inspector John Skinner
Together with then Sgt Linda Perry, in 2000 he attended New Scotland Yard for a Casualty Bureau Course
He played a major role in liaison between the Bermuda Police Service, Bermuda Government Departments, and military units and organizations both locally and overseas. He also authored several Police internal Manuals and a major revision to the Basic Emergency Plan in Bermuda.
Together with Sgt Alex MacDonald John helped organise and provide Secretariat services for three international Police related conferences in Bermuda
In 2001 John assisted in the planning and implementation of Bermuda's response to the terrorist atrocities of 9/11.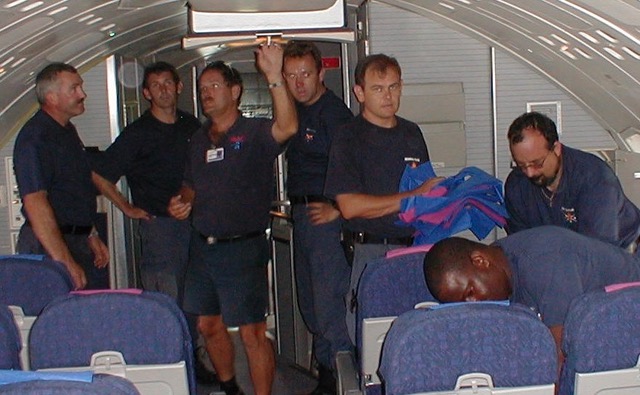 Members of EOD searching BA 747 after 9/11
(l-r) Ian McMillan, Jim Walters? Civilian, ?, Martin Weeks, Tom Pratt and Larry Dean
Over the years John received numerous letters of Good Work and appreciation as well as two Commissioners Commendations for his organisational skills.
As John retired he received the following from Mr. Leopold Mills III the retired Secretary to the Cabinet and Head of the Civil Service ... he often represented the Police Service at meetings of the Ceremonials Committee, chaired by the Deputy Governor and at Meetings of the Emergency Measures Organization. Inspector Skinners calm, efficient and competent execution of his duties and responsibilities as a member of the EMO were greatly appreciated by all of his colleagues in the organization and his breadth of knowledge of emergency procedures and protocols ensured the organization functioned at the highest possible levels of efficiency. These are qualities of character that earned Inspector Skinner the admiration and respect of his colleagues in the Service and the gratitude of those privileged to work with him.
Finally one from a number of years ago, which it is felt, explains the main characteristic of the John Skinner that we all know. The man who gives of himself tirelessly and selflessly in order to help others out. This letter was received in 1974 for an action whilst John was off duty.
Written by the parents of a boy.
There are no words adequate enough to properly thank you for the part you played in saving our son David's life last week. Dave is home now. The Doctor says he will be OK thanks to you. We shall always remember you for this we thank you again from the bottom of our hearts
John's response was "It was thoughtful of you to write but I cannot take much credit for what transpired after David was found as I was unable to do much apart from making David comfortable ... then John went on to explain what other people's contributions were.
To mark his retirement, John gave Sheila a gold Bermuda Police crest which she mounted on a chain and wore constantly. Many of you will remember Sheila wearing this. What you may not know is that the reverse of the crest was inscribed 'Thank you for 27 years love and support'.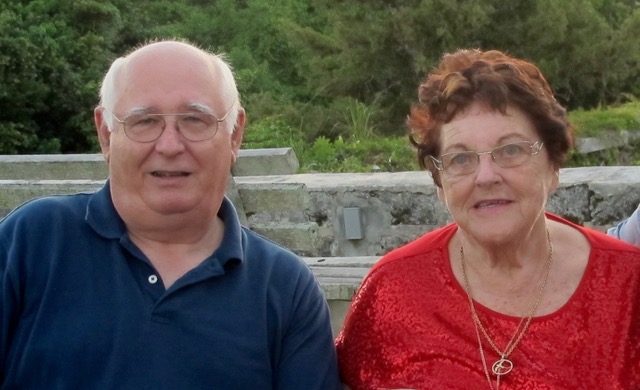 John and Sheila were regular attendees at our ExPo social functions
In June 2003, John was elected a Fellow of the Emergency Planning Society.
Following his retirement from the Bermuda Police John joined first a local Bank, then a real estate company and finally in 2006, AF Smith which was owned by the father of Commissioner Jonathan Smith. John retired from the company in April 2014 to look after Sheila who was sick.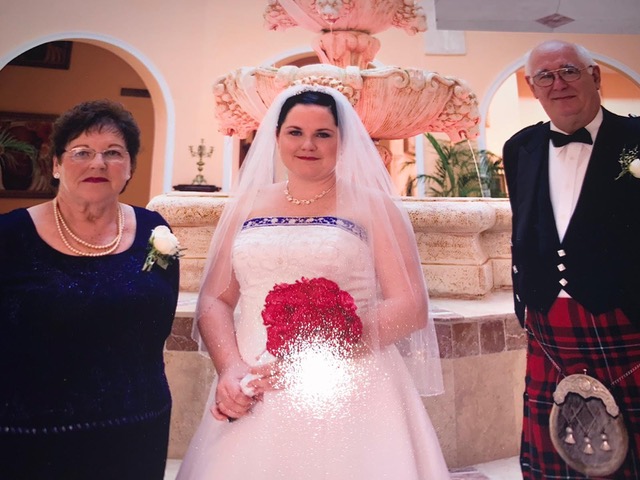 John and Sheila with their lovely daughter Claire
on her Wedding Day on 26th May 2007
Sheila passed away on 6th December 2014. John and Sheila had been married for 37 years. She is buried in the Christ Church, Warwick Graveyard, just a few feet away from her mother in law, Nancy. When they first met there was a frosty atmosphere, however within a few hours the ice had been broken and they became firm friends for nearly 40 years.
Besides his work on the Church Communications Ministry, John likes to spend his time travelling. He has visited England, Scotland, Wales, Eire, Azores, Ontario and has also attended a family wedding in the Dominican Republic.
In November 2017 John visited Kenya which included a return to his old school, The Duke of York School, Nairobi, and now renamed Lenana School. (Lenana was a Maasai tribal leader at the time Europeans first arrived in Kenya.).
John had the privilege of addressing the boys of the school (at five seconds notice) at the end of Sunday Chapel. There followed a very enjoyable two weeks of travel around some of the most picturesque countryside in Africa watching the East African Safari Classic Rally and also some of the wildlife. The Rally was marred by the death of the Rally Chairman following an incident in his personal non-rally vehicle.
In the last few years John, together with his girlfriend, Ann Morgan, have visited Cancun for a friends' wedding and vacationed and visited friends and relatives in Holland, UK, Nova Scotia, Connecticut, and Maryland.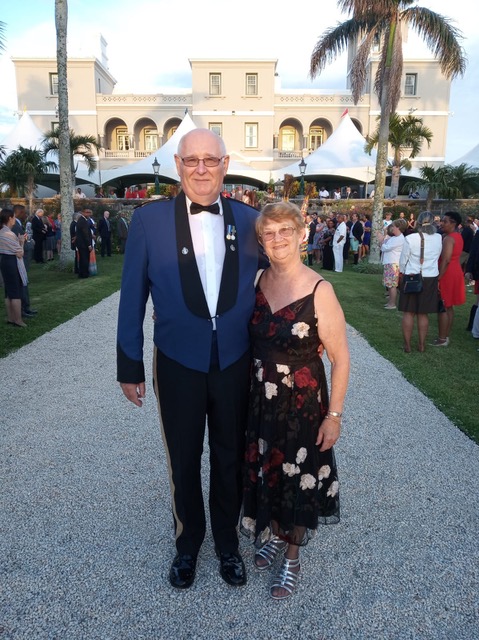 John and Ann attend the Queen's Birthday
Reception
at Government House - 2019
John also enjoys Photography, Genealogy and passing on his love of cooking to his grandchildren, Chelsea and Santiago.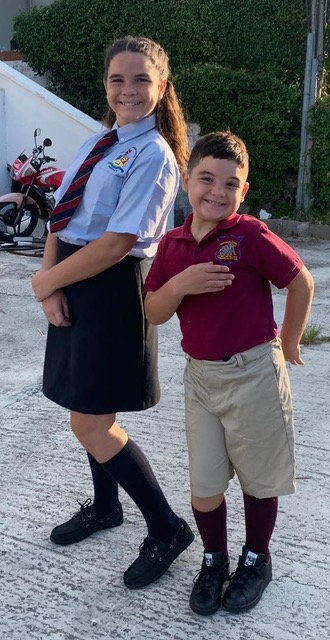 Chelsea and Santiago in their new school uniforms - 2018
John has been involved since its early days with the Police Critical Incident Stress Management Team (CISM). On retirement, he trained as a Peer Counsellor and is a member of the Chaplaincy program. In February 2005, John was the Technical Lead for a presentation made by the Bermuda Police CISM Team to the International Critical Incident Stress Foundations Bi-Annual World Conference. Hurricane Fabian had devastated Bermuda on 5th September 2003. The presentation described how the Bermuda Police Service came to terms with the effects of the hurricane and especially with the deaths of Constable Stephen Symons, Constable Nicole O'Connor, Station Duty Officer Gladys Saunders and the lessons learnt by the CISM Team.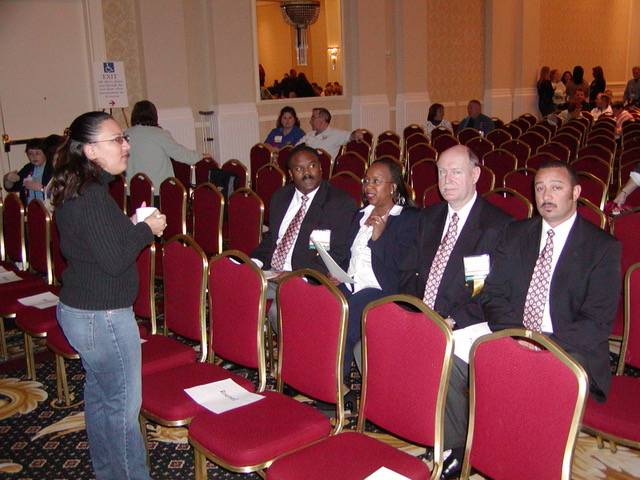 Tracy Adams, Doris DeCosta, Roger Kendall and Mark Clarke
being encouraged by Mira Ingemann before ICISF Presentation
John is also an active member of the Bermuda Bravery Awards Committee and the Bermuda Healthcare Advocacy Group.
As a member of the Bermuda Sailors Home, he has drafted a Manual (with retired Inspector John Dale) to record the lessons learnt when assisting distressed sailors following the sinking of the PIONEER fishing vessel in June 2016 and which stranded 17 foreign sailors in Bermuda.
Recently John has upgraded his CISM Skills by completing a Mental Health First Aid Course
At a 2018 Executive Committee of the Ex-Police Officers Association (XBPOA) John was asked to merge six lists of members. He was also told there were some names missing. He created a list of about 1000 names. That List now has over 3000 individual names and new names appear every month.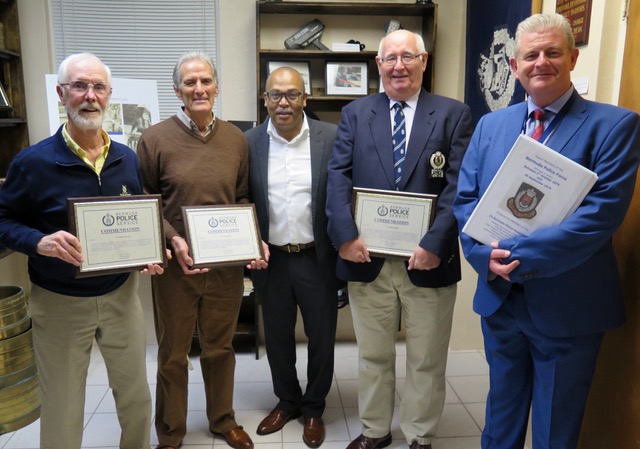 Awardees at ExPo's Annual Reception - 2020
(l-r) Roger Sherratt, George Rose, ExPo President Cal Smith,
John Skinner and COP Stephen Corbishley
On 18th January 2020, at the XBPOA Annual Cocktail Party, Commissioner of Police, Mr Stephen Corbishley unexpectedly presented Commendation Certificates to ex-Chief Inspector Roger Sherratt, the webmaster of the XBPOA website, ex-Superintendent George Rose, who researches in-depth articles for the XBPOA, and to John for their services to the Association and the Bermuda Police Service for researching and preserving the history of the Bermuda Police.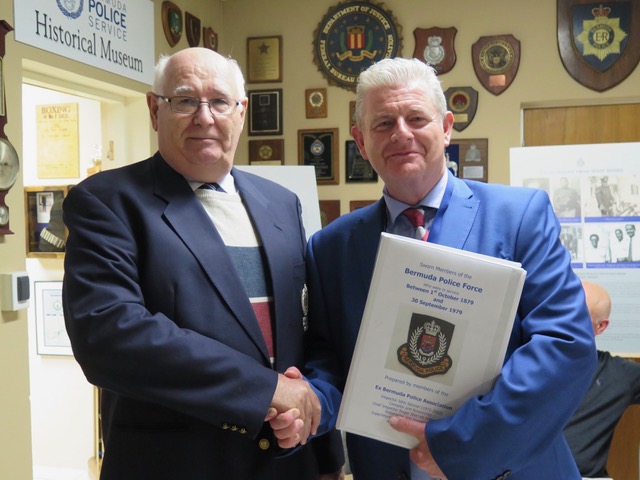 John Skinner presents a copy of his 100 year list to COP Stephen Corbishley
for the newly opened Police Museum
John's latest project is about Bermuda Police Officers who served in the military. He is currently concentrating on those who served in World War One. Other eras may follow.
10th June 2020