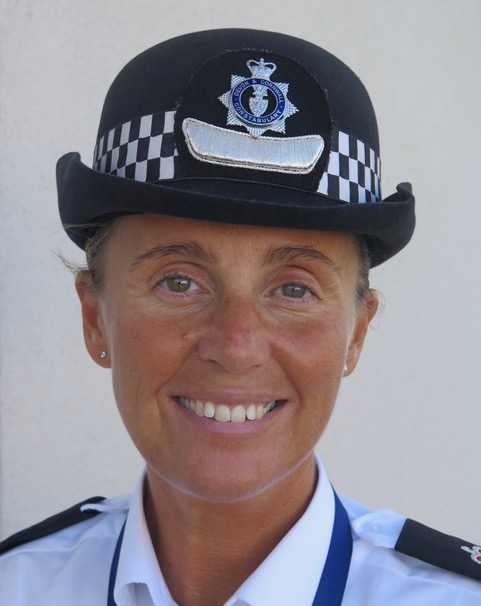 Supt. Claire Armes - Bermuda 2019
Superintendent Claire Armes of the Devon and Cornwall Police has just completed a three month Leadership Development secondment to the BPS during which she served as Head of the Community Policing Division. During her time here in Bermuda she had been actively involved in many aspects of policing, including first-hand experience as one of our Police Commanders during Hurricane Humberto and during Bermuda's first ever Pride Parade. Claire participated in Police Week activities during the first week of October, and thoroughly enjoyed having her husband and daughter here for Bermuda's major annual sporting event – our annual Cup Match.
Although her time working with the Bermuda Police Service was quite brief, we heard that she really endeared herself to the men and women of the BPS and as such we feel that she is more than qualified to be featured in our 'Then and Now" column! Claire provided us with the following account of her life as a police officer both in the U.K. and her attachment here Bermuda.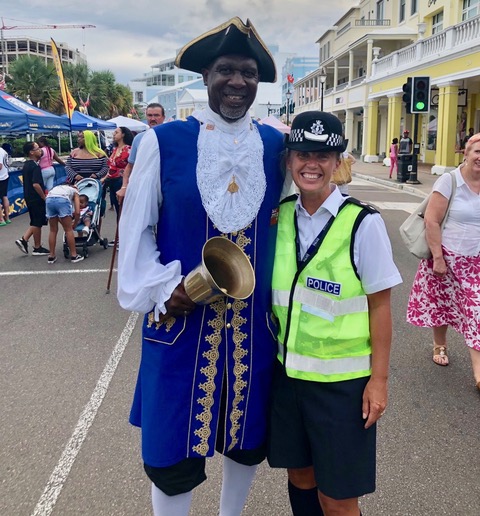 Claire meets Hamilton Town Crier, Ed Christopher, on Front Street
in Hamilton. Please note Claire's Bermuda shorts and knee length socks!
I was as born in Manchester but moved to Torquay as a child with my parents who had a desire to live by the sea! I don't have any siblings (or pets - not even a goldfish!).
I wanted to become a police officer from being a small child, my parents will say from about the age of 5 ! There is no history of policing in my family but I have always tried to help others and from a young age had a sense of public service. I was educated at Torquay Girls Grammar School and Exeter University having graduated with a BA(Hons) in Theology and Philosophy. Whilst at University I joined the Special Constabulary and it was here I gained a true insight into policing and knew it was the career for me!
Prior to attending university I completed voluntary work in Malaysia for over two years where I worked in a local school helping children to learn basic English. I was also enjoyed travelling around the world independently for a further year much to the concern of my parents as social media didn't exist then and regular contact was a challenge !
I became a full time officer with Devon and Cornwall Police in 1999, just three days after graduating from University and I have not looked back since. I've been fortunate enough to enjoy a widely varied career mostly in uniform roles. I've served as a patrol constable, neighbourhood officer, custody officer, on Professional Standards, as the Head of Custody and Director of Intelligence, but one of my proudest moments was being appointed as the Commander for South Devon which is where my career started as a Special Constable.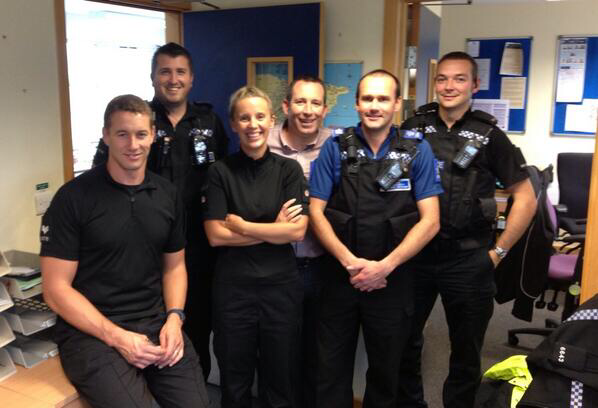 Claire with her Neighbourhood Policing Team in Brixham, Devon,
where she was the Local Area Commander for South Devon
I have also worked regionally within the Regional Organised Crime Unit and have enjoyed a secondment to HMICFRS (Her Majesty's Inspectorate of Constabularies Fire and Rescue Services) which involved travelling around the U.K.
Most recently I worked in Business Change where I led large scale procurement of Body Worn Video Technology and a new Records Management System across Devon, Cornwall and Dorset.
I have an extensive background in Strategic Partnerships working at Chief Executive level with key agencies such as Children's Services, Public Health, Education and Social Care.
I'm an experienced Tactical Firearms Commander, Public Order Public Safety Commander and Post Incident Manager. Work in these areas took me to Northern Ireland where I was one of the Silver Commanders for the G8 Summit a few years ago. This was a particularly humbling experience.
I have had experience of covert policing and I'm an accredited Authorising Officer for use of such tactics, which can be very interesting and challenging.
I am an active coach and mentor which is something I thoroughly enjoy. I support the College of Policing as a Senior Assessor for Fast Track and Direct Entry Schemes.
I'm also actively involved with the Police Superintendents Association and support the Panel of Friends work across the U.K. Helping to support others achieve their potential is something I am very passionate about and thoroughly enjoy. It's great to be able to use my own experiences to help others and I find it personally beneficial too.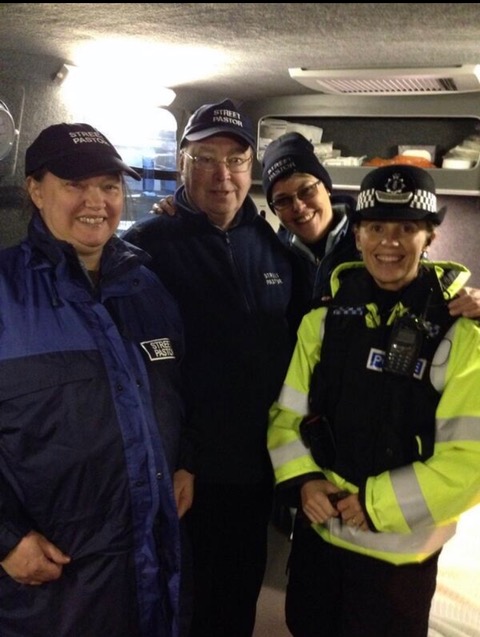 Claire supporting the work of Street Pastors (volunteers)
for night-time economy patrols in Torquay
My husband Chris is a police officer working as a neighbourhood constable in sunny Teignmouth. He is due to retire next year.We have a thirteen year old daughter, Phoebe, who is a keen sportsperson. She currently attends Millfield School in Somerset as a day pupil which is part of the reason I am transferring into Avon and Somerset upon my return to take up a new role as Head of Neighbourhood Policing.
Spending time with my family is the thing I like to do most. Phoebe swims competitively and plays hockey so any spare time is often spent pool or pitch side. However, I like to keep myself fit and healthy by using the gym and going for a run when I can. I also very much enjoy paddle boarding and have loved doing it here in Bermuda where the water is slightly warmer!
I volunteer with an organisation called 'Inspiring the Future' which provides support to young people encouraging healthy and positive lifestyle choices, careers advice or mentoring. I am also a Trustee of a large multi academy trust in Somerset where we oversee nine schools. This is incredibly rewarding as we have been able to help improve the standard of education for many young children and provide them with the best opportunities in their early years.
In May 2019 I saw an advertisement via the Superintendents Association for an attachment to Bermuda which sounded very interesting. I discussed it with my husband and our daughter and decided to submit an application along with my CV. After receiving several phone calls about my application I received the news that my application had been successful. I have to admit I was both shocked and excited and jumped around in our conservatory, slightly stuck for words which is unusual for me!
I knew very little about Bermuda before arriving at the airport and I can honestly say that serving here has far exceeded my expectations. It is a beautiful country and everyone has been so friendly and helpful. I have learned that the complexities of policing are similar across the world, just different levels of demand, but the underlying causes and concerns are often the same.
I've been received incredibly well by colleagues and members of the community for which I am incredibly grateful. I am always asking questions and have often been out and about because I believe building positive relationships is so important and I prefer to do this face to face where I can. It's been fantastic to share experiences with new colleagues many of whom will become lasting friends. I've met many different personalities, both official and unofficial, and have made many new friends during my time here whom I will stay in touch with.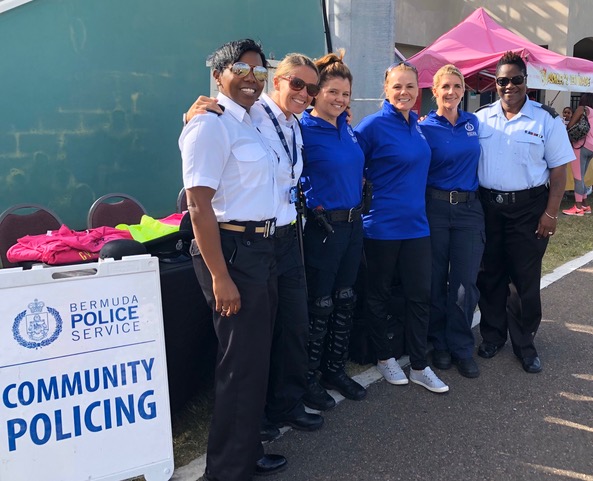 Claire with members of the Community Policing Division
and specialist colleagues from the Tactical Division
(l-r) Insp Shakisha Minors, Supt Claire Armes, PC Robin McNab,
Insp Tracy Burgess,
PC Helen McHugh and PC Roseanne Mienzer
While here I've served as the Head of the Community Policing Division which means I had responsibility for patrol and parish resources. I have, however, tried to get involved in all different aspects of Policing to broaden my knowledge.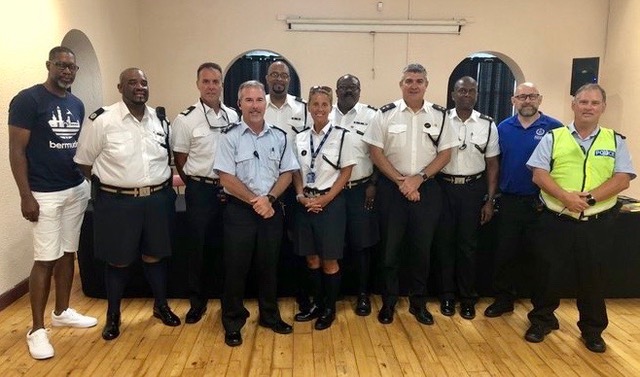 Claire with Senior Officers and members of the Pride Planning Team
(l-r) Insp Troy Glasgow, Deputy Commandant Ron-Michel Davis, Reserve Chief Officer Timothy Vieira,
Sgt Andrew Exell, Reserve Chief Officer Mikkel Harris, Supt Claire Armes, A/Supt Tracy Adams,
Supt Sean Field-Lament,
C/Insp Hashim Estwick, Sgt Brian McNab and Sgt Steve Gunn
Being one of the Commanders for the first ever Bermuda Pride was a moment I will never ever forget and feel very privileged to have experienced it. Likewise, I was one of the Commanders for Hurricane Humberto which was a totally new experience! Both provided me with valuable learning which I can use in the UK.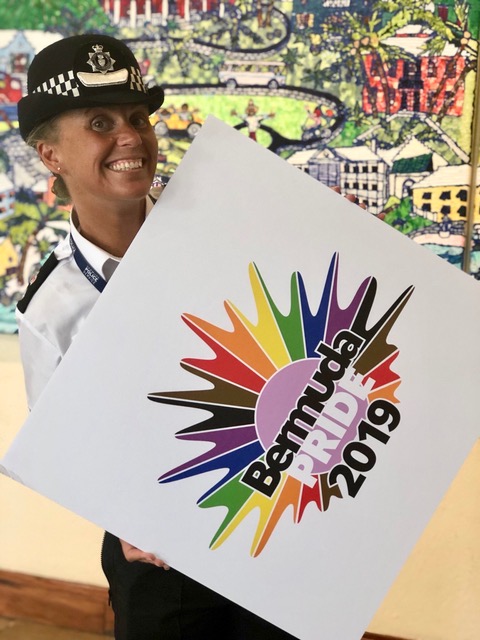 Claire experiences her first ever Pride Parade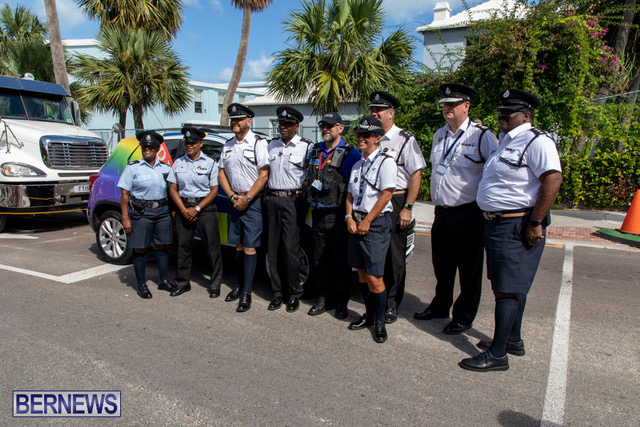 Police Team for Bermuda's first ever Pride Parade 2019
(l-r) Reserve Section Officer Sherry Tucker, PC Kimberley Spring, ACOP Martin Weekes, C/Insp Hashim Estwick,
Sgt Brian McNab, Supt. Sean Field-Lament, COP Corbishley, A/Supt Tracy Adams with Supt Claire Armes up front.
(Photo courtesy Bernews)
I thoroughly enjoyed volunteering to help with the aid relief for the Bahamas and was delighted to see HMS Protector here as I had welcomed the same ship to South Devon six years earlier and some of the crew were the same – that was a strange experience but proved what a small world we live in.
Claire with Chris and Phoebe enjoying the beach in Bermuda
My husband Chris, and daughter Phoebe were fortunate to spend nearly a month in Bermuda when we first arrived and they both fell in love with the place! Saying goodbye to them at the airport when they left was the hardest thing I think I have done as we are such a close family. Thank goodness for WhatsApp and Facetime though and I did dash back to the UK for a few nights to restock the fridge and freezer for them! I think the fact they were able to experience Bermuda for themselves really helped as they were able to visualise so much from home. They especially loved Coopers Island, Baileys Ice Cream, and Cup Match. My daughter had great fun having surfing lessons at Horseshoe Bay.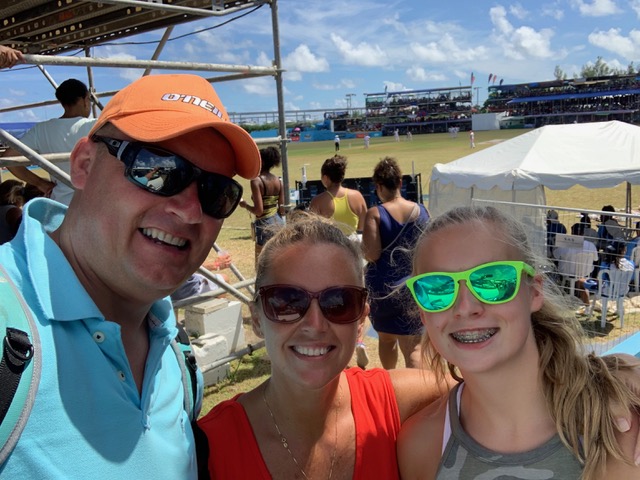 Chris, Claire and Phoebe get into the Cup Match spirit during Bermuda's annual two-day cricket match
when the Island comes to a standstill for the Cup Match holiday weekend
My parents also came out to Bermuda for a visit and can't wait to return. Unfortunately, they were here for Hurricane Humberto which was a unique experience for all of us, but they were struck by the beauty of Bermuda especially the sunsets.
I've certainly benefited in many ways from this attachment to Bermuda, not just professionally through sharing ideas and thoughts but also personally because as a full time working mum I rarely get time to myself. Whilst I have felt guilty about this I have used the time to reflect wisely which has been really beneficial. It has also made me appreciate my husband and daughter even more.
I was very impressed by Commissioner Corbishley's seven ambitions for the BPS which have set a clear direction moving forward and I feel certain will help see the BPS grow from strength to strength under his leadership. For any police service working in silos can be a challenge and I believe it would be great to see more partnership and multi agency working, and I have been involved in some excellent meetings regarding this aspect of policing. I feel very proud to have played a small part in the development of the Bermuda Police Service.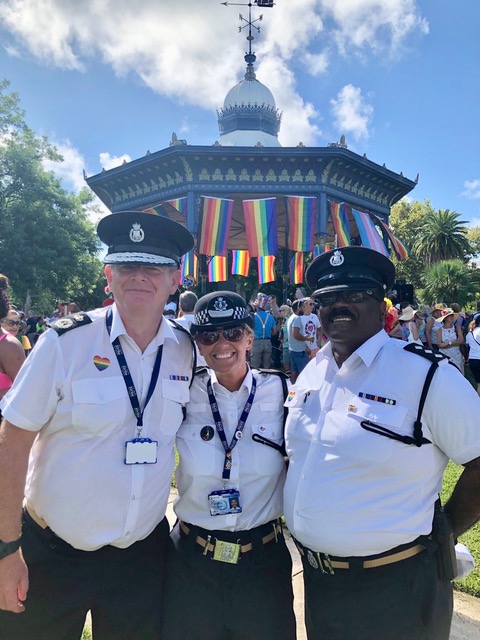 Commissioner Stephen Corbishley, Supt Claire Armes, and Chief Inspector
Tracey Adams in relaxed mood at the start of Bermuda's first ever Pride Parade
I know for sure I will always have very fond memories of Bermuda and several special moments come to mind such as looking back down Queen Street when standing at the top street in front of the Pride Parade. I was overwhelmed by the enormity of what I saw – just a huge colour rush! A moment in history for Bermuda.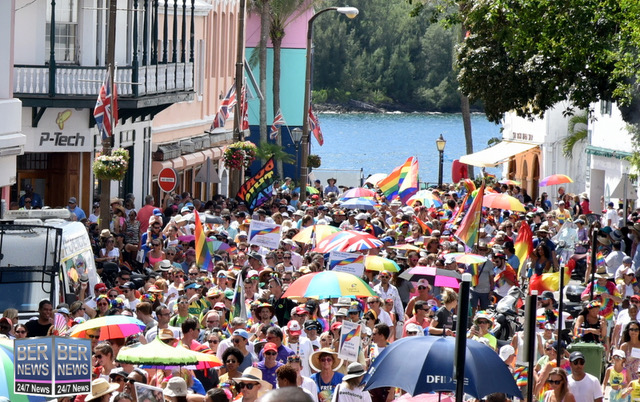 Thousands of Pride Parade participants wend their way up Queen Street
(Photo courtesy of Bernews)

I thoroughy enjoyed all of the activities organized during Police Week, especially serving at the Seniors Tea, listening to life stories and history of Bermuda which I found to be very inspiring,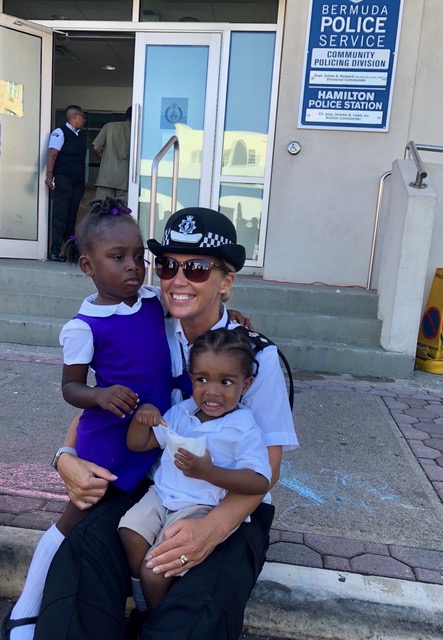 Claire with youngsters visiting Hamilton
Police Station on Open Day during Police Week

I will never forget going out on patrol in shorts and long socks - an experience I'm not likely to repeat back in the UK.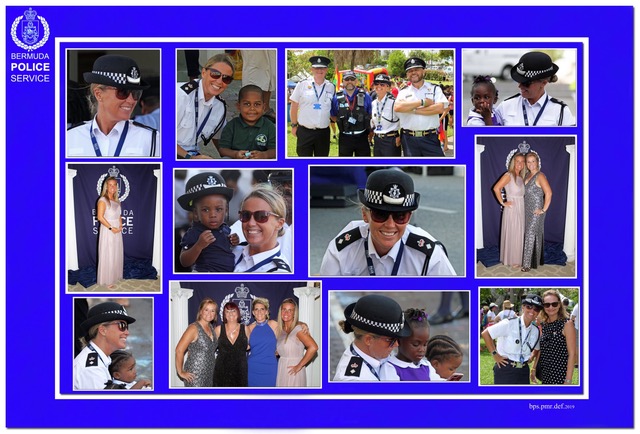 But the best memory I shall be taking home with me is the sense of community, kindness and love that I have been shown by the people of Bermuda. It's been amazing - thank you !
_______________________________________________________
8th November 2019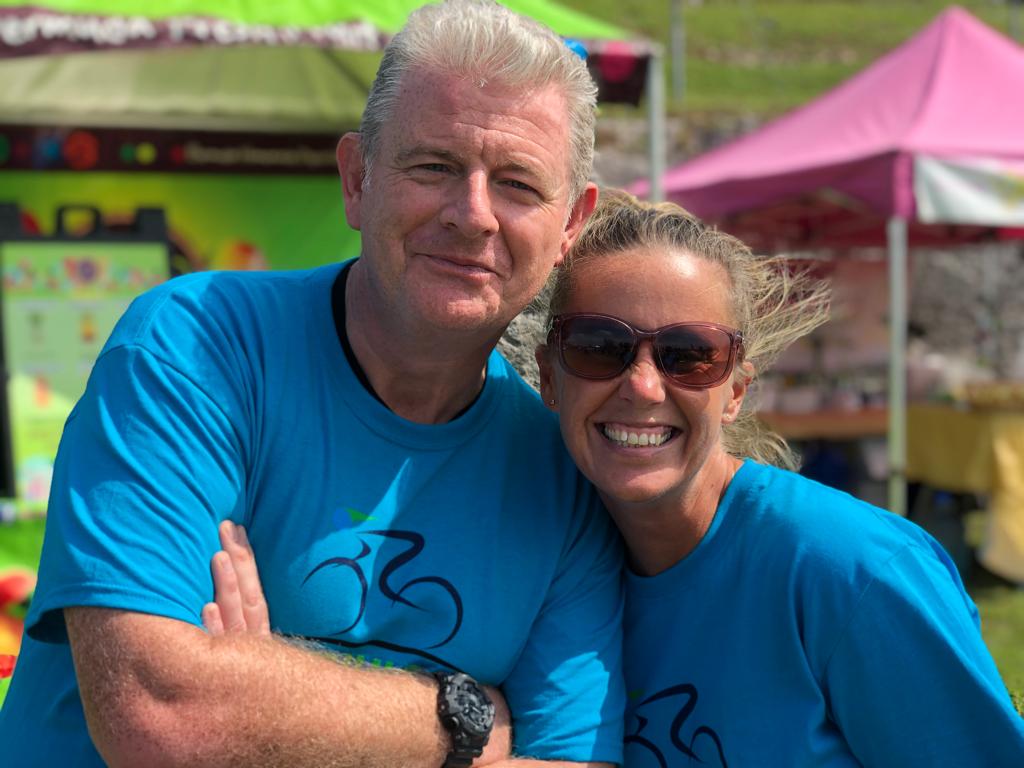 Commissioner Stephen Corbishley and Supt. Claire Armes during Police Week
Commissioner Stephen Corbishley kindly provided the following comments regarding Supt. Claire Armes secondment to the BPS and her commitment to policing and being a part of the BPS family during her time in Bermuda:-
"Claire immersed herself in the BPS from day one and the feedback she had from officers, staff, public and partners reflected her commitment to policing and being part of the BPS family. She contributed significantly to many agendas, notably the Pride event. Her presence reflected the positivity such secondments can provide and I am keen to further this with more across the service for our own officers and staff.
I received many comments regarding Claire's time with us and one that summarises it best was from our former colleague Mr Dwayne Caines:-
"Claire you have been a breath of fresh air, your modern and progressive view of policing has certainly been an important part of the modern policing model. You have been an amazing gift to the BPS and the Community on a whole and we are much better and richer because of you. The Commissioner made a good choice in your deployment to Bermuda and We at the City of Hamilton enjoyed working with you."

Stephen M. Corbishley
Commissioner of Police for the Bermuda Police Service
'Making Bermuda Safe'