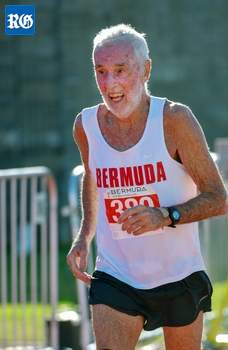 One step at a time for Mike
(courtesy the Royal Gazette)
What a lovely surprise it was to read an excellent article in this morning's Lifestyle column of the Royal Gazette (26th March 2019) featuring one of our own - Mike "Dagwood" Rickards - who has been out there running on Bermuda's highways and bi-ways for as long as I've been on the Island, which is for the past 55 years. You can view the article at http://www.royalgazette.com/lifestyle/article/20190326/one-step-at-time-for-mike
Entitled, "One step at a time for Mike" it tells all about Mike's dedication to keeping fit, whether it's running in our first Police mini-marathon, the annual Colorado race up Pike's Peek, or still running along Bermuda's roads at the age of 77. Mike has his own inimitable running style which is so easily recognized and it's best summed up by saying he "keeps on trucking!
Mike started running as a young lad in Leeds where cross-country and track held his interest as a schoolboy. After spending three years in the West Riding Constabulary, and suffering through the "horrendous winter" of 1962, Mike saw an advert for the Bermuda Police and applied for and was accepted, arriving here in September 1963. (How many of us came out from the UK as a result of that bitterly cold winter?)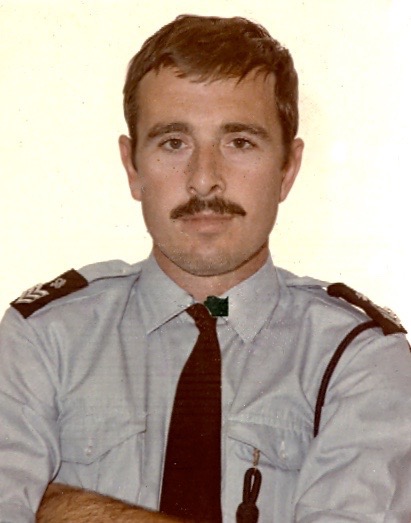 Sergeant Mike Rickards
Mike served in the Bermuda Police for 25 years and worked in practically every uniform department including Western Division, Central Division, Operations, and Marine Section where he was promoted to Sergeant in 1971. His postings as a Sergeant included several spells in Central and Western Divisions, Prosecutions, and Headquarters "A" Department.
Mike was an excellent football player and a regular member of the Police teams for many years. Anyone who played with him would testify to the fact that he was always as fit as a fiddle, and he would be out there training on the roads even before it became the thing to do! Mike can justly claim to have been a member of the finest ever Police Football Team in the 1967 when they beat YMSC in a Cup Game to end YMSC's two year unbeaten record. You can read more about that football team in our Then and Now article on Jim Lyons athttp://expobermuda.com/index.php/tan/116-jimlyons#comment-428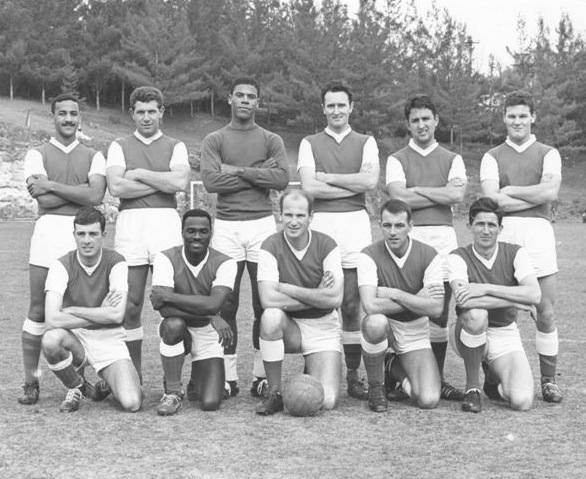 Police Football Team 1967
Our superb Police Football Team (possibly the best ever) who beat YMSC
in a Cup Game in 1967 to end YMSC's 2 year unbeaten record.
Standing (l-r) Arthur Bean, Ray Banks, Clyde "Tango" Burgess, Jim Lyons, Ray "Sleepy" DeSilva, Mick Hill
Kneeling - Mike "Dagwood" Rickards, Del Trott, Clive "Fury" Donald, Jack Crane (Captain), and Alan Wyatt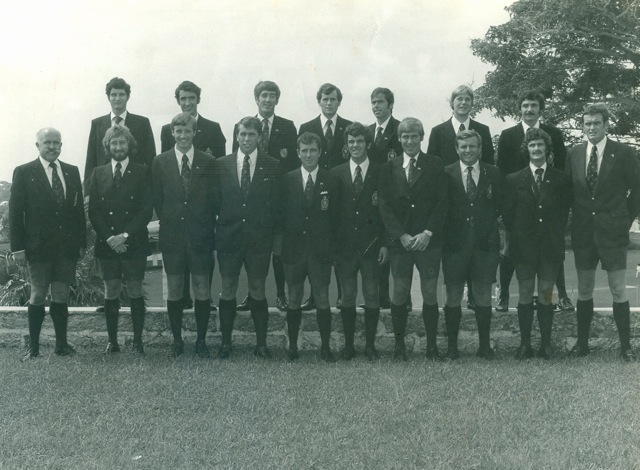 PRC Football Team Tour to New York and New Jersey - 1972
Top row (l-r) - Iain Morrison, John Headey, Steve Taylor, Frank Dowie,
Eric Robinson (C), Brian McManus (C), Bob Porritt.
Front row (l-r) Dave Parsons (Manager), Dave Walker (C), John Walsh,
Roger Brydon,
Mike Rickards,
Les Pearson, Stuart Donaldson, Davie Kerr,
Graham Blackshaw (C), Dave Inwood.
(C) - Civilians.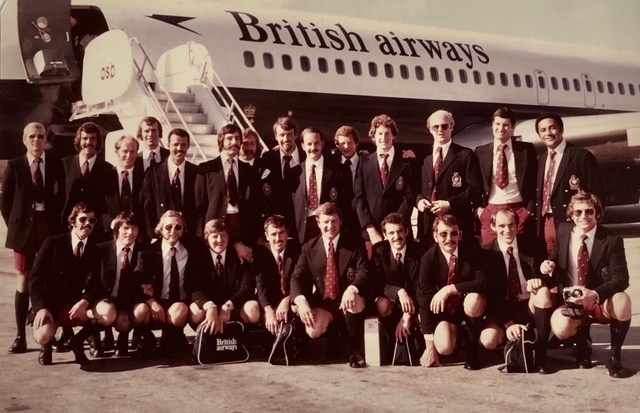 Police Recreation Club Team leaves for soccer tour to Florida 1976
Standing (l-r) Alan Cleave, Les Pearson, Ian Kittle, Paul Deans, Ralph Lindo, D. Evans, D. Walker,
J. Walsh, Howard Cutts, John Latoszek, C. Mitchell, Frank Woods, Iaian Morrison, Arthur Bean.
Front row - Eric Robinson, N. Morgan, M. Taylor, Jack Richards (Coach) Mike Rickards,
Andy Hall (Manager), Harry Mesham, J. Harper, Adrian Robson, Ernie McCreight.
Mike took part in our first ever PRC Mini Marathon, down to Flatts along Middle Road then back along North Shore Road to the Police Club in 1968, after which he got involved in the local running scene. He was a member of the Police Team that took part in a 24 hour Marathon held in 1980 to raise funds for charity, and has also competed in the Bermuda Half-Marathon Derby more 20 times.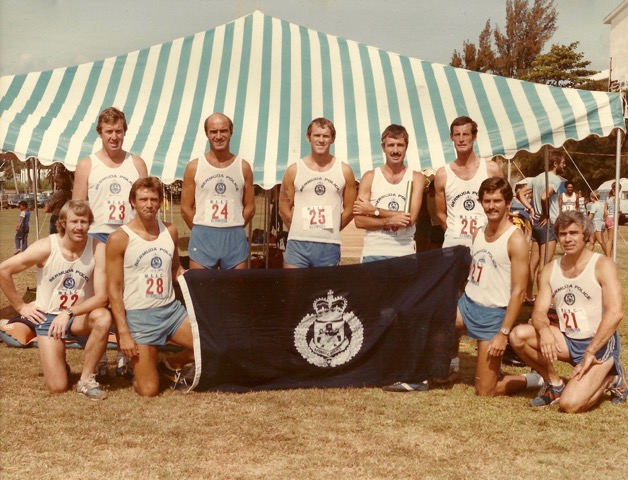 Police Team competing in 24 Hour Marathon - 1980
Standing (l-r) Dai Thomas, Gerry Benson, Phil Holder, Mike "Dagwood" Rickards, Bob "Pudsey" Hay.
Kneeling - Alan Cleave, Ian Coyles, Kevin Reeves, and Mike Jent
(Bob Oliver with beard in in background on right side)
According to the article Mike says his favourite place to run is over the dunes on Warwick's South Shore Beaches, because of the peaceful atmosphere, and "even if you are not running hard, if you keep going it is a good workout but easy on the joints"!
Mike has been happily married to his wife Rosalie since 1967, and they will be celebrating their 52nd anniversary later this year. They have two children, Peter and Susan.
In the article Mike describes how he and his crew from Hamilton Police Station were the first to arrive at the scene of the assassination of H.E. The Governor, Sir Richard Sharples and his ADC in March of 1973. Mike is clearly very proud of the 25 years he served in the Bermuda Police, and I can say without question that Mike was both a very efficient and a very popular and well-liked police officer who was always a pleasure to work with.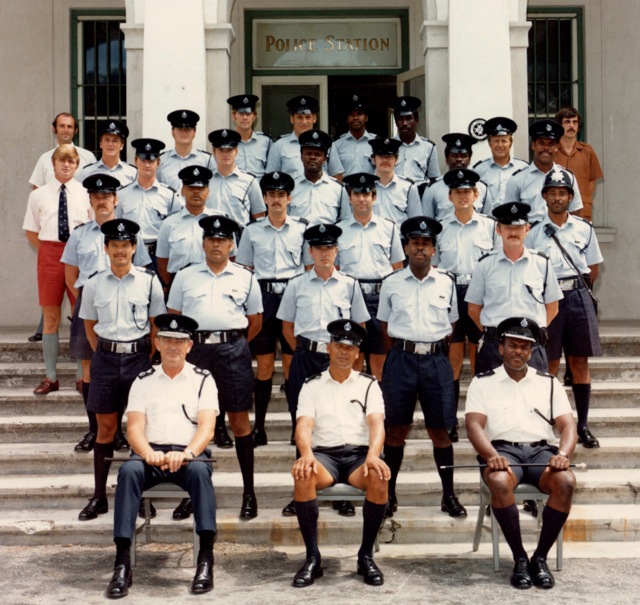 Western Division - circa 1973
Back Rows (l-r) Dai James, Damian Willcocks, Colin Hopkins, Mike Scully, Ben Linton, Ishmael Daniels, Peter Counsell & Alan Barker
4th Row - Dave Barber, Chris Bowerman, Keith Melville, Foster Burke, Byron Lewis, Donald Grant?, Clyde "Tango" Burgess
3rd Row - Bill Buchanan, Mike Phillips, Harry Mesham, Keith Bird, Dick Naylor, Howard Dill
2nd Row - Louis Griffiths, Sgts. Neville Phllips, Mike Rickards and J.T. Simmons, John Eve
Front Row - COP L.M. "Nobby" Clark, Inspector Hilton Wingood, and Superintendent Fred "Penny" Bean
After he retired in 1988, Mike joined the Bermuda Institute of Ocean Sciences (formerly known as the Biological Station) at Ferry Reach where he stayed for the next 20 years and describes himself as a "general gopher". Now retired, Mike loves gardening at home and hiking National Parks in the United States and Canada with Rosalie. He concludes the article saying that he has no plans to retire from running and just wants to keep going for as long as he can.
So, how many of us can say they are still putting in the effort that Mike does to stay fit? Let's hear from you if you are still staying active!