More Stories of Bermuda's Policemen
who served in the Military during
John Skinner, Inspector (retired)
In the course of researching the Names and Life and Service dates of members of the Bermuda Police (please see www.expobermuda.com), I became aware of the many great stories that involved these men and their women especially where their military service was concerned. The result was 'BERMUDA'S BRAVE BLUE LINE - Stories of Bermuda's Policemen who served in the Military during World War One.' (B.B.B.L.- WW1).
I had the perception that some names were missing from the main article and this soon became a reality. As more people read these stories, I hope that they will contact us at the Bermuda Ex-Police Officers Association so that more information can be added to the stories already written. More importantly please contact us so that we can add new names, and stories, of those who were not found during the original research.
It also became apparent was that the Bermuda Ex-Police Officers website would probably become the central repository of these stories and a resource for families doing genealogical research. As in the other versions of Bermuda's Brave Blue Line, I have used on-line resources as my main providers of information. My appreciation to these websites has been made in the main article.
On occasion, I have been able to use related family records and where they have been used, the family records have been confirmed by documentary evidence.
Oral histories change with time. One family recorded on ancestry.com that their Bermuda Policeman had been Commissioner in charge of the Bermuda Police Force when in fact he was a Sergeant in charge of a Parish. No names – no pack drill.
Such oral histories are valuable. They provide clues, which enable researchers to tease out the correct facts, and which may be even more interesting than the oral history.
The Royal Bermuda Regiment (R.B.R.), which is a Corps within the British Army in its own right, is the direct descendent of all the Bermuda military units mentioned in these articles. Earlier this year the R.B.R. formed the Royal Bermuda Regiment Association, which has a similar function to the Bermuda Ex-Police Officers Association (X.B.P.O.A.). The R.B.R.A.'s current priority is the welfare of the R.B.R.'s former soldiers. Arrangements are in already hand for a close liaison between X.B.P.O.A. and the R.B.R.A. in matters of mutual history and research.
DEDICATION
As with the main article, this supplement honours those members of the Bermuda Police Force (B.P.F.), who risked their lives to defend Great Britain and it's Empire, and especially Bermuda, following attacks by members of the Central Powers.
Sergeant Frederick Valentine Burnard BCdeG Royal Horse Artillery
Captain Patrick Joseph Condon Royal Army Service Corps
Gunner 1102 Richard George Darrell Bermuda Militia Artillery
Gunner Frederick Robert George Joslin Royal Marine Artillery
Private Sydney Francis Frank Floyd Royal Sussex Regiment
Joseph Shanks Unknown
On 10th August 1920 the Royal Gazette carried the headline 'NEW POLICEMEN ARE HERE FROM ENGLAND - Chief of The Force Brings 18 Ex-service Men With Him'.
The article said of the recruits:
Yesterday Mr. J. H. Sempill, Chief of Police, landed from the R.M.S.P. Chaudiere with eighteen policemen, from England, and two more men are to follow.
The majority of the 20 are former Metropolitan Police Force men, and all of them have seen service during the Great War, either on shore or afloat.
All of the men, except one featured in B.B.B.L.- WW1 and that man was Joseph Shanks. He was not featured in that article, as we were unable to prove his military service.
Despite further researches, the only reference to his military service that I have found is in the Royal Gazette article. As the Forces War Records website carries nearly 200 entries for J or Joseph Shanks without us being able to identify his particular record(s) the Royal Gazette article is probably correct.
I have included his story here in the hope that a relative will read this and be able to add to his story.
Joseph Shanks was born on 18th April 1895 in the cotton mill village of Stacksteads just outside Bacup, Lancashire, England to Thomas Shanks, a cotton weaver and his wife Alice Ann Shanks nee Kershaw.
In the 1911 Census Joseph was recorded as a 15 year old Cotton Weaver born in Bacup, who was living with his parents.
Joseph Shanks travelled to Bermuda via Canada on the Minnedosa in 20th July 1920. His Canadian Immigration form stated that he was an unmarried Police Officer born in Bacup (Lancashire) and that he was In Transit to Bermuda. His nearest relative was reported as his sister: Martha Shanks of 13 Harley Street, Bacup.
The Royal Gazette of 9th July 1921 mentions that PC Shanks came 2nd in a pistol shooting contest in the Governors Cup Competition.
Then came the Royal Gazette story of 8th August 1921:
ANOTHER P.C. FLITS.
Police Constable Joseph Shanks has been missing since 8pm on Wednesday and it is presumed that he took his departure by the 'Fort Hamilton' on Tuesday last, either as a stowaway or travelling under an assumed name as no one listed as Joseph Shanks appeared amongst the passengers.
He went off duty at 4am on Tuesday and did not report again on Wednesday evening when it was his turn on. He is the second of the Police Constables selected in England by Mr. J.H. Sempill, Chief of Police, to abscond in this manner. P.C. Harrison having cleared out in April last.
The reference to Constable Harrison has caused considerable research but to date I have been unable to find any reference to a Constable Harrison serving prior to 1937. The article continues:
Of both these men the Chief of Police states that they, unlike their comrades, never really settled down to work. P.C. Stone, a Bermudian with a splendid war record replaced P.C. Harrison and Mr Sempill says that any suitable local candidate offering his services in place of P.C. Shanks will be given preference over outside candidates, of whom there are several both in England and Canada.
This article was followed on 13th August 1921 with the Editor of the Royal Gazette having a bit of fun at somebody's expense (maybe the Editor of the Mid-Ocean News perhaps) but apparently making a reference to Constable Shank's flit.
LIMERICK
Reply to the Mid-Ocean
There was Bermudian crank
Who could find no other pranks
So to save himself going rank
He worried himself about shanks
And he mentioned the favours received
Shanks never received its believed
(By request of H.A.)
What Joseph Shanks did in the U.S.A. we have not discovered except that an unverified record in ancestry.com indicates that he married Dora Ellaline Williams in Brooklyn, New York on 24th September 1921. This was his bride's 21st birthday. Dora had been born on Ireland Island, Bermuda on 24th September 1900.
Whatever problems may have been caused by Joseph Shanks desertion from the Bermuda Police Force seems to have been overcome as the Royal Gazette 20th July 1922 reported that:
Mr and Mrs Shanks and their new baby arrived from New York. They expect to spend some time at St. George's and will reside at Hillview.
Exactly what they were doing in St. Georges is not recorded but Mrs Shanks is reported by the Royal Gazette to have visited New York on several occasions with her children. Her husband is not reported to have gone with her.
Another unconfirmed report on ancestry.com reports that Joseph Shanks died in Bermuda on 1st April 1970.
Frederick Valentine Burnard
The next man for whom we do have a verifiable military record is Frederick Valentine Burnard. The UK Census of 1911 records that Frederick Valentine Burnard was born in 1891 in Bermuda, and was a son of Robert Ellis Burnard and Mary Magdalene 'Nellie' Sondy of 7, Devonshire Street, Old Kent Road, London.
Robert is described as an Army Pensioner and a carpenter, which may explain the Bermuda connection. Nellie is described as having been born in Bermuda.
Ancestry.com states in an unverified record that Frederick was baptised in Devonshire, Bermuda on 11th March 1891 and that the family appeared to have returned to England in time for his sister to be born in Aldershot in 1901.
Frederick followed in his fathers footsteps. He was in his father's home on 2nd April 1911 - Census Night - when he was recorded as a Gunner, Royal Horse Artillery and married to Vera. Vera was Vera May Beavell born 1899 in Loddiswell, Devon, England.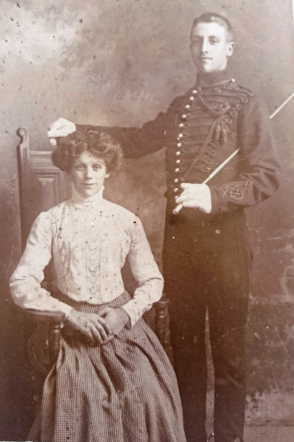 Frederick Valentine Burnard
& his wife Vera - undated
An ancestry.com document records that Gunner 62663 F.V. Burnard disembarked on 5th October 1914 for the Western Front.
An Imperial War Museum document, records that Gunner 62663 F.V. Burnard, Royal Horse Artillery, was entitled to wear the 1914 Star with Clasp and Roses. Another document indicates that he served with the 14th Brigade, R.H.A.
The 1914 Star according to Wikipedia was awarded to officers and men of the British and Indian Expeditionary Forces who served in France or Belgium between 5 August and midnight of 22–23 November 1914. The former date is the day after Britain's declaration of war against the Central Powers, and the closing date marks the end of the First Battle of Ypres.
The clasp, together with two small silver roses, was awarded to those who had served under fire or who had operated within range of enemy mobile artillery in France or Belgium during the period between 5 August and 22 November 1914.
Forces War Records website quotes an official document dated 11th August 1916 which informs us that 62663 Serjeant FV Burnard, Royal Field Artillery, of St Johns Wood NW was entitled to wear a 'Wound Stripe' as authorised by Army Order 204 of 16th July 1916 but does not indicate how or when he was wounded.
www.askdifference.com tells us that 'Sergeant' (abbreviated to 'Sgt' and capitalized when used as a named person's title) is a rank in many uniformed organizations, principally military and policing forces. The alternate spelling, "serjeant", is used in The Rifles and other units that draw their heritage from the British Light Infantry.
The Supplement to the London Gazette dated Monday 15th April 1918 states:
The following are the decorations and medals awarded by the Allied Powers at various dates to the British Forces for distinguished services rendered during the course of the campaign:-
His Majesty the King has given unrestricted permission in all cases to wear the Decorations and medals in question. Decorations conferred by His Majesty The King Of The Belgians.
Croix de Guerre.
656948 Serjeant Frederick Valentine Burnard, Royal Field Artillery (St. John's Wood, N.W.).
Prior to 1920 each Regiment had it's own system of issuing Service Numbers to its men. The R.H.A. gave a new number to men promoted to Serjeant. In 1920, the British Army standardised the whole numbering system.
Wikipedia informs us that The War Cross (Croix de Guerre / Oorlogskruis) is a military decoration of the Kingdom of Belgium established on 25 October 1915 by royal decree and primarily awarded for bravery or other military virtue on the battlefield, or for three years or more of service on the front line, or good conduct on the battlefield. It was only awarded to individuals.
Wikipedia reports in part that XIV Brigade, R.H.A. joined 7th Division at Lyndhurst and with 7th Division, it crossed to Belgium on 4 and 5 October 1914 (landing at Zeebrugge on 6 October) and served with the division on the Western Front until February 1917. While with the division, it saw considerable action serving at the Siege of Antwerp, the First Battle of Ypres, and in the battles of Neuve Chapelle, Aubers Ridge, Festubert, Loos, and of the Somme.
The Croix de Guerre was probably awarded for services during the Siege of Antwerp.
Gunner Burnard's Imperial War Museum Medal Record also records his promotion to Serjeant 656948 of T.R.F.A. Hamilton in 1920. T.R.F.A. was the Territorial Royal Field Artillery.
If the Hamilton is Hamilton, Bermuda it is possible in the absence of other evidence that Sgt Burnard, was posted to Bermuda at the end of WW1, took his demob here and transferred to the Territorial unit either full or part time. Forces War Records indicates that Sgt Burnard was the recipient of the Territorial Forces Medal.
The 1928 Blue Books list that Fredrk. Valentine Burnard joined the Bermuda Police as a Temporary Constable on 1st October 1928. On 3rd November 1929, he was promoted to 2nd Class Constable. He resigned on 30th September 1930.
Constable Burnard apparently had only one case reported in the Royal Gazette but that included an appeal to the Supreme Court and a counter claim of assault against Constable Burnard by the person he arrested. A short piece in the Royal Gazette on 23rd June 1930 introduced the public to the original incident:
HAMILTON POLICE COURT
Before Wor. H. V. Smith, Saturday, June 21
In the case of R. v. Dr. E. F. Gordon charged with an offence against the Summary Offences and Jurisdiction Act, 1926, the defendant was convicted and fined £3, to be paid by Wednesday next at 10 a.m., or in default one month's hard labour. An appeal was entered by defendant's counsel, Mr. A. R. Vaucrosson.
Dr. Edgar Fitzgerald Gordon was a Trinidadian Doctor who gained his Degree in Inverness, Scotland. He was invited to Bermuda to practise medicine following the death of a local doctor. Dr. Gordon was appalled at the apartheid practised in Bermuda at that time and became a vocal political activist.
One of his daughters - Dame Pamela Gordon-Banks, DBE, is a former Premier of Bermuda and another daughter Patricia Gordon-Pamplin is a former Member of Parliament and is also a former Party Leader. Moiré Stuart, the British broadcaster, is a granddaughter.
A biography of Dr Gordon, who changed his name to Muzumbo can be found at http://www.bermudabiographies.bm/Biographies/Biography-DrGordon.html
More information of the circumstances surrounding the arrest of Dr. Gordon was published in the Royal Gazette of 22nd July 1930 when the case went to the Supreme Court on Appeal:
SUPREME COURT OF BERMUDA
Appeal Dismissed
Before Mr. R. C. Hollis Hallett, Assistant Justice
The appeal of Dr. Edgar F. Gordon, against the decision of the magistrate on June 7, wherein he was convicted and fined £3 for disorderly conduct was heard yesterday when after a lengthy hearing the appeal was dismissed.
Mr. A. R. Vaucrosson appeared for the appellant, and the Attorney General, the Hon. T. M. Dill representing the Crown. Dr. Edgar F. Gordon claimed that on the morning of May 31, he with others was talking on his veranda, when Constable Burnard, who, being on his patrol in that vicinity, called upon them to go home. When asked his name, he gave it, but words passed between the constable and himself, ending by witness being hit over the left temple by the constable and being arrested and lodged in a cell.
Dr. Gordon claimed the constable over-exceeded his duty.
Articles of clothing worn by appellant on the morning of arrest were produced, on which were the bloodstains made by the wound on the temple.
Witness claimed he did not make any filthy remark to the constable. William Uriah Watkins; Reginald Alfred Tacklin gave corroborative evidence.
Constable Burnard called stated. "I was coming up Court Street at about 2.45 a.m. on May 31 when I saw 3 men near the Alaska Hall, and about 100 yards away I could hear their voices. They were talking loudly and swearing; they had a bottle and a glass and were drinking in turns. I told them to go home. One, whom I recognised as Dr. Gordon made a filthy remark. When refusing to give his proper name. I caught hold of him, intending to bring him to the station, but the others pulled him away. I pulled my truncheon and again closed in on him, and in the course of the struggle, he fell over his bicycle I hit him. It is not true that I hit him while he was on the ground. A bottle was thrown at me, glancing off my shoulder striking the ground and breaking.
Sergeant Cecil Tingey stated to having received appellant at the station.
The Court after weighing the evidence on both sides decided the evidence was sufficient to uphold the magistrate's verdict in the lower court and therefore dismissed the appeal.
But this was not the end of the matter. On 17th September 1930 the Royal Gazette reported that Dr. E.F. Gordon had charged Constable Burnard with assault.
HAMILTON POLICE COURT
BEFORE WOR. R. W. APPLEBY
September 26th, 1930
The following is the judgment given in the case of Dr. E. F. Gordon vs. Constable Frederick Burnard charged with assaulting Dr. Gordon on May 31st. 1930 and which was heard on Tuesday, September 16th.
E. F. Gordon vs Frederick Burnard
This is a charge brought by Dr. E. F. Gordon against Police Constable Burnard for assault on the early morning of the 31st May last. For the purposes of this decision, it is unnecessary to enter into a lengthy revision of the facts as alleged on the hearing. The facts were fully enquired into on the trial and the evidence given covered more than 20 sheets of foolscap so that an exhaustive inquiry was made into all the attendant circumstances.
Dr. Gordon was arrested by the Police Constable for an offence of which he was subsequently tried and convicted.
During the process of arrest there was some struggling between them, and it was alleged by the defence but denied by the prosecution that one of two other persons who were present at the time threw a bottle at the Constable and struck him on the shoulder.
During the course of the struggle the Constable drew his mace and struck Dr. Gordon a blow with it over the left eye, cutting the skin and inflicting the wound of which mention will presently be made.
Dr. Gordon's contention was that under the existing circumstances the Constable was not legally justified in arresting him; that the blow was a very severe one and constituted a most serious assault and was altogether unjustifiable.
For the defence it was urged that the arrest was lawful, that under the circumstances it becomes necessary to use force, that the blow was a slight one and no more force than was necessary was used.
Two questions are thus presented, first was the arrest unlawful? If so, this would in itself constitute an assault, and second, in making the arrest if lawful was unnecessary force used.
It is a well established principle of law that a person making an arrest may use sufficient but only sufficient force to effect his purpose and if he goes beyond that and uses an unnecessary amount of force he becomes the aggressor.
With regard to the first question after a careful survey of the evidence, I have no hesitation in concluding that the arrest was lawful and justified. With regard to the second question, namely, was more force than necessary used? I first of all come to the conclusion that some force of the kind used was necessary. Did it exceed the necessity? To decide this I must have recourse to the Medical testimony.
Dr. Gordon called Dr. Curtis as a witness on his behalf. I am setting out his evidence in extenso. It is as follows:—"I am a Medical Practitioner. On or about the 4th June Dr. Gordon came to my office. As he is a medical man, I made no note of the visit and so cannot say with certainty as to the date. I examined him. I found a healed lacerated incised wound on the left temple region, over the left eye. He had lachrymosis of the left lid, and a subconjuctival haemorrhage in the lateral aspect of the left eye.
On deep pressure over the region of the temple wound he complained of pain; localised pain. I advised an X-ray examination which subsequently was done, and this examination showed no evidence of bone injury. The healed wound was very long. I didn't think it was terribly serious at the time, especially as no bony injury was in evidence, or any symptoms of inter-cranial injury. The most serious part was the subconjunctival haemorrhage. The blow most likely was caused by a blunt instrument and the conjunctival haemorrhage would be a natural result of the injury.
There being no further evidence of injury I did not treat him any further. He had apparently treated himself or had been treated very successfully before coming to me. The skin wound was essentially superficial, but there was definite evidence of deeper injury, otherwise there would not have been an X-ray.
By the complainant: A wound of that sort, would usually heal from 4 to 5 days. I gave you a certificate as to my finding when I examined you, and after I had examined you.
Cross-examined by Counsel for the defence: There was no evidence at the time I saw the wound of there having been any stitches in it.
By the Court: The certificate was given on the 5th June, Dr. Gordon apparently not being satisfied with this testimony desired to be himself called as a medical witness and his evidence was as follows :—
"When I got home from the station I examined my face in the mirror and found a wound on the left temple region about ¾ inch and to the bone in depth; about an 1/8th of an inch. I had lost so much blood so I did not stitch it. I sterilised the wound and approximated the edges and healed it by the open method, which accounts for the scab when I went to Dr. Curtis on the 4th. It was by no means healed. I returned to him on the Ninth, when part of the scab was off. Apart from the wound, my temple muscle was bruised with a haemorrhage under it and it was the drying of the blood that caused me to go to Dr. Curtis on the 19th.
Owing to the injury to the temple muscle I couldn't eat for 2 days. The haemorrhage under the subconjunctival did not disappear for a fortnight, nor did the black eye."
There are two points perhaps to be observed with regard to Dr. Curtis' evidence, namely, that it is entirely independent testimony and that the examination referred to took place three days after the infliction of the wound, which had then partly healed. Subsequently Dr. Curtis gave a written Certificate as to the nature and condition of the wound, which seems to describe it as being rather more serious than his oral testimony would lead one to suppose.
This certificate is as follows:-—
"This is to certify that I have examined Dr. E. F. Gordon. He is suffering from a lacerated wound left temporal region with bruising of underlying parts and bone. There is a haematoma in this situation. He has a subconjunctival haemorrhage and extensive ecchymosis around the left eye. Considerable residual pain persists in the region of aforementioned injury. From the amount of blood seen on the clothing, it would appear that a branch of the temporal artery (left) had been severed.
From the extent of the injury as seen by me, considerable force must have caused the wound described."
It is hardly to be expected that a person using force can estimate absolutely and to a perfect nicety the result of a blow. I have already said that I think that some force of the kind used was necessary and it now only remains for me to add that in view of the medical testimony I again have no hesitation in concluding that under the conditions prevailing at the time the Police Constable in exercising his discretion as to the use of his mace did not use more force than was necessary for the accomplishment of the arrest.
I therefore dismiss the charge.
R. W. APPLEBY. J. P.
Police Magistrate
Central District.
Constable Burnard's resignation took effect four days after this court case. One wonders if there was a connection between the resignation and the court case and if so what was the context?
In 1934, he travelled on the Reino Del Pacifico 3rd Class from Bermuda to Liverpool and was recorded as a soldier en route to his parents address. From this, it would seem that he reenlisted.
However, that did not last long as Frederick Burnard went on to become the Manager of the A.1 Grocery Store at Baileys Bay. In December 1938, he was a witness against a thief who broke into Tom Moore's Tavern.
The Royal Gazette of 17th March 1942 recorded the death of Frederick's father with a Card of Thanks Notice. The Notice stated 'Mr F.V. Burnard and Family wish to thank all those who kindly assisted them on the day of the sudden death of the late Mr. R.E. Burnard, and those who sent floral tributes on the day of the funeral. Special thanks to Sgt. Major Ford, Capt Bayard Dill, bearers and the bugler.'
On a happier note, the Royal Gazette of the 25th May 1942 reported about a radio broadcast by His Excellency the Governor The Rt. Hon. Viscount Knollys which quoted him in part:
"And now I would like to tell you of the two events which to me were outstanding because they so conspicuously linked Bermuda with the Empire's war effort. One was my presentation of the splendid gift of a Spitfire - Spithead Billy - to a Bermudian pilot who received it on behalf of the Royal Air Force. You have already heard about it over the radio. It was a happy circumstance to find a Bermudian boy to be the first pilot of a Bermudian Spitfire.
May they both enjoy great success and happy landings.
"Since our return we have brought together at Government House the generous donor of the Spitfire, Mr. William Frith, and his wife, and the parents of the Pilot Officer Robert Burnard."
Pilot Office Frederick Robert Burnard, R.A.F., known as Robert, was the son of former Constable Frederick Valentine Burnard and Vera Burnard.
The Royal Gazette of 6th September 1946 reported that the Governor, who was now Admiral Sir Ralph Leatham, conducted an inspection visit to the Darrell's Island Airport and were present when an aircraft landed. On board were Flight Lieutenant Robert Burnard and Flying Officer Royston Dodwell who were returning to the island. Later that evening the two R.A.F. officers and their families were among the guests at a function at Government House.
Robert later went on to become Operations Officer at Bermuda Air Services.
Richard George Darrell
Richard George Darrell served in the Bermuda Militia Artillery as Gunner 1102. Unfortunately, the Royal Gazette did not give as detailed coverage to the activities of the B.M.A. as it did to the B.V.R.C. The main article - B.B.B.L.- WW1 gives some information on the B.M.A. gleaned from other sources.
I have been able to find out a little about Gunner Darrell's war service. According to Forces War Records website, his military documentation indicates that he was born in 1897 and that he enlisted in the B.M.A. in February or March 1916. Gunner Darrell was then part of the Bermuda Contingent Royal Garrison Artillery that embarked upon the ship Grampian at Bermuda on 29th May 1916 and sailed for the United Kingdom.
His time in the U.K. did not start well. On 29th June he was admitted to No. 39 Casualty Clearing Station with German Measles. He was fit to return to duty on 17th July 1916.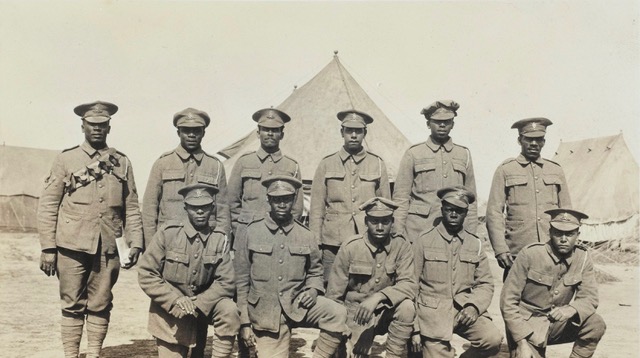 Soldiers of the Bermuda Contingent of the Royal Garrison
Artillery in a Casualty Clearing Station in July 1916
The location of the Clearing Station and the names of the soldiers in this photograph are not known. We would be very interested in receiving any information about the men in the photograph.
Gunner Darrell returned to Bermuda on 1st July 1919 with the main body of the B.C.R.G.A.
Richard George Darrell enlisted in the Bermuda Police Force on 13th July 1933 when he was appointed as a 3rd Class Constable. Like his contemporary 3rd Class Constables his initial annual salary was British Pounds (£) 225 plus uniform and £24 allowance in lieu of quarters.
He resigned on 30th April 1935. At this time, his annual salary was £230. In those days the rate of exchange was about US$5 to the British Pound. The current day (2020) value of the 1935 dollar is about $19. Constable Darrell's salary today would equate to about $22,000 per year.
We have yet to find out what happened to Constable Darrell after leaving the Bermuda Police Force.
Our next member of Bermuda's Brave Blue Line is Patrick Joseph Condon.
This story shows how valuable family input is to articles like these. I hope in time family input will help us flesh out some of the other stories, and I expect some of our stories will aid families to learn more about their own history.
Some of the background to researching Patrick Joseph Condon can be found on our website at http://expobermuda.com/index.php/latestnews/920-researching-patrick-joseph-condon. We are indebted to his grandson Mike Condon for photographs and many details of his life.
Patrick Joseph Condon was born in Limerick, Ireland on 27th March 1887 to John and Emily Condon nee Corbett. Although he was known as Joseph to avoid confusion I have referred to him as Patrick in this article.
The Irish Census of 31st March 1901 recorded him as living at No. 1, Clare Street, Limerick, Ireland with his parents.
John Condon, the father of Mike Condon wrote an unpublished memoir before he died. In it, John Condon describes his father Patrick Joseph Condon.
Mike Condon has kindly given us permission to quote from his father's memoir:
My name is John Joseph Condon. I was born in St Georges, Bermuda on September 21st 1924. My background and upbringing was in a military environment. My grandfather had served with the Indian Army and was stationed on the Ivory Coast for a period of time.
My father was born in Limerick, Eire. Because of the terrible hardships that existed during this time my father had no option but to apply to join the British Army, for boy service in the Army Service Corps at the age of fourteen. This was in 1901. He completed 25 years with the R.A.S.C. being recalled to serve for the duration of the Second World War 1939, at Winchester Barracks and Regents Park, London.
Patrick Condon's military service is recorded as commencing on 13th May 1901 at the age of 14 years and 2 months. He was a schoolboy from St. Mary's Parish, Limerick and given Army Number T 460 and a subsequent Service Number T 18191. (The T indicated Transport). The latter number was issued following the complete renumbering of British Army personnel in 1920.
On the same record is a faint pencil notation "O/C R A" followed by an indecipherable word. Below it can be seen the word Bermuda. The last column records his wife's name as Mary Eliza Moran and also his daughters name as Mary Patricia Lucy. This indicates that this particular document although some form of index, was updated periodically.
In the UK census of 2nd April 1911 at an unnamed military address Patrick Condon, aged 24 was recorded as an unmarried Corporal from Limerick who was a 'Wheeler' in the Army Service Corps.
The www.greatwarforum.org website correspondent Lieut-General Ron Clifton describes A.S.C. Wheelers as 'men who made and repaired wheels - an essential skill in any unit relying largely on horsed transport. They often repaired the other woodwork of wagons when damaged. The horses nearest the wagon or gun, in four or six horsed teams, were also known as wheelers but the men riding the near (left) side horses of each pair were simply Drivers.'
Another correspondent, Lt. Col N.H. Clark noted that 'The men of the Army Service Corps (ASC), were the unsung heroes of the war.' He then goes on to explain the organization of the A.S.C. and how vast quantities of supplies and stores were transported from the Depots in the U.K. to the front line troops.
The UK World War 1 Medal Rolls Index Cards 1914-1920 show that Corporal T/18191 Condon was entitled to wear the 1914 Star as he had entered the theatre of war in France and Belgium on 10th August 1914.
The UK World War 1 Service Medal and Award Rolls 1914-1920 show that Acting Company Quarter Master, Sergeant RASC T/18191 Patrick Condon was entitled to wear the Victory Medal and/or British War Medal. On the same list is Temporary Warrant Officer S/18198 Richard Ernest Badcock. Their service together has a reference later in Patrick Condon's story.
I have not been able to trace specific instances of Patrick Condon's wartime service but he was posted to Bermuda in 1919.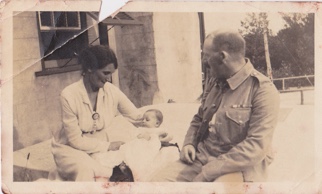 Undated photo of Patrick and Mary Condon with baby
The Journal of the Royal Army Service Corps of 1922 reported Sergt Condon's retirement:
We have just said good-bye to Sergt Condon and his family. Condon had completed his 21 years and has gone to settle down in America. He was Transport N.C.O. here and was a worthy representative of that excellent type - the old pre-war Horse Transport N.C.O.
He was obviously well thought of in the local community as his retirement was also mentioned in the Royal Gazette of 20th September 1922:
PERSONAL
Amongst the passengers sailing per s.s. Fort Victoria on Tuesday the 19th inst. are Sergt. and Mrs. Condon and family. During his tour of service in Bermuda Sergt. Condon has been connected with the R.A.S.C. Transport Dept., and in this capacity has come into contact with the business community by whom he is universally regarded as a most courteous and obliging N.C.O. It is the intention of Sergt. Condon to spend a little time travelling in the States after which he intends to settle in Brooklyn where his brother is a prominent citizen. In taking his discharge from the army Sergt. Condon carries with him the best wishes of all his comrades.
Looking at the passenger manifest of the ss Fort Victoria as presented to the United States authorities in New York, it shows that Patrick Condon planned to go to Maspeth. Mike Condon notes: The final destination on the embarkation card you sent was Maspeth, Long Island close to Brooklyn where he eventually and briefly was a tram driver over the Brooklyn Bridge before returning to Bermuda.
Patrick Condon's occupation on the passenger manifest is recorded as R.A.S.C. retired and listed 'Col. G.E. Badcock, Friend, Prospect, Bermuda' as 'The name and complete address of nearest relative or friend in country from which alien came.'
Mike Condon explains the connection: The passenger list you sent me showing my grandfather's journey with his family from Bermuda to the States has thrown up one extremely useful bit of information: his sponsor was a G.E. Badcock.
This is the link with his prior British Army service, as Badcock acted briefly as Bermuda Governor in 1923 (July to September) eventually rising to the rank of Brigadier in the Army.
Colonel, later Brigadier Gerald Eliot Badcock was probably related (a brother?) to Temporary Warrant Officer S/18198 Richard Ernest Badcock who was mentioned earlier as serving with Patrick Condon. It is thought Colonel Badcock used his spare time in Bermuda to write several books on military history.
As Mike Condon explains: He also wrote several accounts of the army's exploits in the Middle East including those of T E Lawrence (of Arabia) during WW1. Ref: "A History of the Transport Services of the Egyptian Expeditionary Force, 1916-1917-1918. By Brevet Lieut.-Col. G.E. Badcock.".
It seems that the project in USA was not successful because on 1st May 1923 Patrick Joseph Condon was appointed as a 3rd Class Constable in Bermuda Police Force. The Blue Books record that Patrick Joseph Condon was re-appointed as a 3rd Class Constable in Western Division on 1st October 1924, but there is no record of his previous resignation.
Mike Condon sheds some light on this: My brother has confirmed further details, that Patrick left the force to try his luck in business with his brother who lived in New York. That venture failed and he returned to Bermuda with my grandmother (Mary) who was expecting her first child. That explains the break in service in your records.
In a later email Mike Condon added this information about the New York venture:
My brother Paul in Paris did offer some more information regarding the reason for Patrick's speedy return to Bermuda from New York. My brother had heard from our aunt Mary (Patrick's oldest child, who aged 2 went to New York with the family) that her mother (also Mary and a devout Catholic) disapproved of the venture between the two brothers. They had fallen foul of Patrick's concerns about the probity of his brother's business dealings. Brooklyn in those days was quite a wild and lawless place it seems!
As this occurred about a year after Prohibition started in the United States of America one can speculate what the brother's venture may have been. Prohibition gave rise to an increase in liquor smuggling, which also gave rise to an increase in seamen appearing in Bermuda courts for contravening Bermuda's Customs Regulations.
On 31st May 1928 Patrick Condon resigned from the Bermuda Police Force for the final time. It seems as though he returned to the military life as the below photograph shows that he was a Warrant Officer in 1932.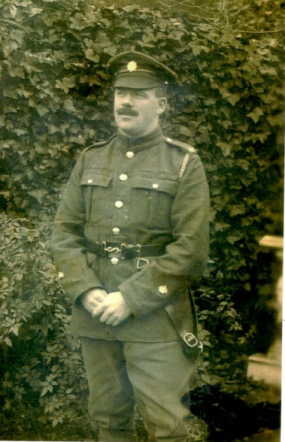 Warrant Officer Patrick Joseph Condon 1932
In 1939 Patrick and Mary are recorded as living at 35 Amesbury Road, somewhere in Wiltshire. His occupation is given as Barrack Warden. It is believed that they were in the Devizes area and that he was working at Bulford Barracks.
In 1939 he was transferred to Winchester Barracks. The British Army List of October 1940 lists that P.J. Condon was granted an Emergency Commission as a Quartermaster Lieutenant in the Royal Army Service Corps. with effect from 2nd January 1940.
John Condon's memoir reveals:
On the 17th December, 1942. I received my call up papers, instructed to report to the Essex Regiment, Warley Barracks, Warley. My birthday is on Sept. 21st. I was 18 years old.
Caught the train from Liverpool St. station with many other men going in the same direction as me. Met and conveyed to the barracks and shown to billet accommodation the building were known as 'spider' huts, lined with double bunks along the walls. In the central section were the toilets and a line of wash basins (latrines & ablutions). Another area had the cookhouse and mess.
After the six weeks training, and due to my father being in the R.A.S.C. at present he was able to ask for my transfer to the Corps. This pleased me very much. Received a posting to Yeovil Somerset. Here I was taught to drive and learn about motor vehicles.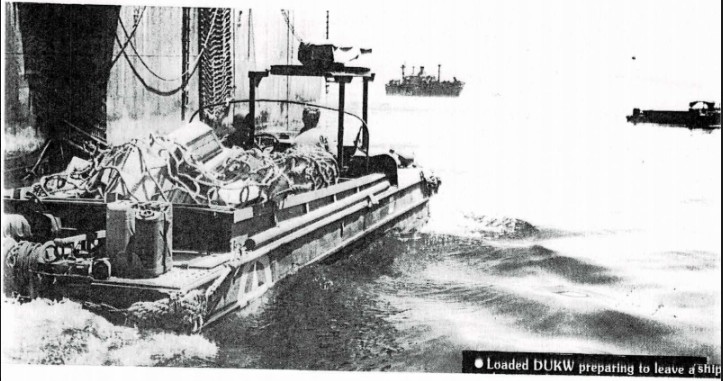 A loaded DUKW leaving a ship
Mike tells us that his father took part in the D-Day landings in Normandy as part of the crew of a DUKW, an amphibious vehicle used to transport men and supplies from the ships to the shore.
The Journal of the Royal Army Service Corps made the following announcement in 1946: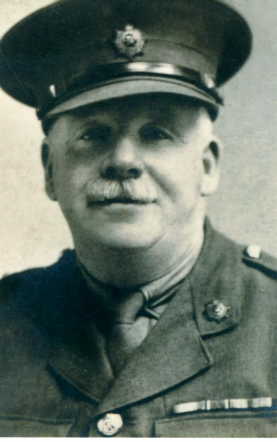 Lieutenant Patrick Joseph Condon R.A.S.C. 1941
CAPTAIN PATRICK JOSEPH CONDON
It is with deep regret that we heard of the death of Capt. P. J. Condon, R.A.S.C., who died suddenly on 23rd August 1946, aged 59 years.
Capt. Condon enlisted in the Corps on boy's service on 13th May, 1901, and was on active service in France and Bermuda (West Indies) from 1919 to 1922, being subsequently granted a War Emergency commission at the beginning of the recent hostilities. He was employed on the Barrack Staff until the time of his death.
He leaves a widow, one son (who is at present serving with the Corps) and three daughters, to whom we extend our deepest sympathy.
A final word from Mike Condon: It's nice that the article ends on the note that my father (John Joseph) was also serving in the RASC when Patrick died.
Frederick Robert George Joslin
Fredrick Robert George Joslin was born on 2nd March 1896, a son to George and Rose Joslin nee Storey in Braughing, Hertfordshire, England. He was baptized into the Church of England on 30th May 1897.
On 17th June 1913, young Frederick was a 5ft 6in tall when he enlisted as a Private in the Royal Marine Artillery. He gave his occupation as Under Footman.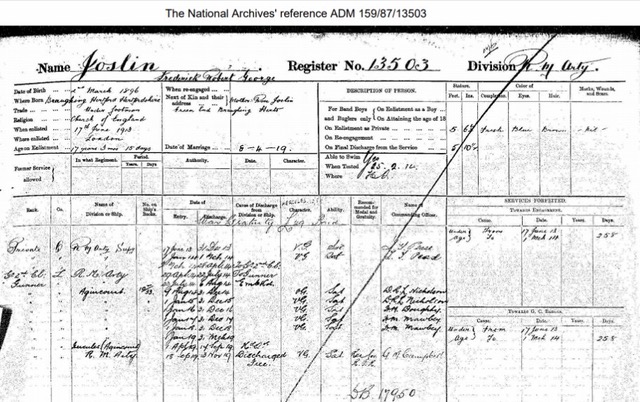 Part of the Service Record Sheet of Gunner Frederick
Robert George Joslin, Royal Marine Artillery
(Source National Archives)
On 29th April 1914 he was transferred to the Dreadnought HMS Agincourt with the rank of Gunner. He served on the Agincourt throughout the War.
Wikipedia reports that HMS Agincourt was originally built for the Brazilian Navy, who sold her to the Ottoman Empire whilst still under construction. The British authorities seized her and renamed her Agincourt just before World War broke out to stop her becoming an asset of the Central Powers. Because of her luxurious fittings she was nicknamed 'A Gin Court '.
HMS Agincourt mounted more heavy guns (fourteen) and more turrets (seven) than any other dreadnought battleship. She served with the Home Fleet and took part in the Battle of Jutland. It is reported that she fired 144 twelve-inch shells (each of 850 pounds) and 111 six-inch shells (100 pound each) during the battle, although she is not known to have hit anything.
Gunner Frederick Joslin took his discharge on 13th November 1919, by which time he had reached the height of 5 feet 10 ½ inches. A note on his file states that he married on 8th April 1919.
We have been unable to trace what Fredrick Joslin did after his demob but maybe a clue will be found in the UK 1921 Census, which is due for release in January 2022.
On 17th of February 1927 Frederick Robert Joslin a 29 year old Police man left Liverpool, England on the ship 'Orcoma' bound for Bermuda. He did not have his wife with him, but Constable Fergus Ferguson was also on the voyage. The Blue Books tell us that Frederick Joslin joined the Bermuda Police on 1st May 1927 as a 2nd Class Constable.
On 1st December 1927 Mrs Emma Joslin and three young children, Mary, Gordon and Olive left Liverpool, England on the 'Orcoma' bound for Bermuda.
Constable Joslin served in Central. He was promoted to First Class Constable in 1928 and then to Supernumerary Sergeant in 1934. He was one of a number of officers mentioned in the Royal Gazette of 20th October 1934 as having been awarded First Aid Certificates. He resigned on 19th November 1935.
On 6th December 1935 he arrived in New York. The United States authorities recorded that 38 year old Frederick R. Joslin had commenced employment on Bermuda-New York passenger ship the 'Queen of Bermuda' as a Master At Arms on 4th December 1935.
The following article appeared in the Royal Gazette of 2nd October 1943;
LOCAL GIRL IS MECHANIC ENGINEER WITH W.A.A.F.
Olive Joslin. daughter of Mr. and Mrs. F. R. G. Joslin, of St. George's, who proceeded overseas at her own expense on August 10, 1942, is now a Flight Mechanic Engineer with the Women's Auxiliary Air Force in England.
Her job, she writes in a recent letter, is to assemble engines and to go aloft for inspections and tests with a pilot before the plane is used for other purposes.
Flight Mechanic Joslin is able to put an engine together, a requirement she had to fulfil in order to pass her last exams. Her mark was over eighty percent.
On 10th August 1945 the Royal Gazette reported in a long article that the Boys Training School (a detention Centre for wayward juveniles) was moving from Nonsuch Island to Paget Island and that Mr Frederick Joslin was Second Assistant and Mrs Joslin was Assistant Matron.
The Royal Gazette of 3rd April 1948 carried the following Official Notice:
GOVERNMENT NOTICES
His Excellency the Governor has been pleased to approve the promotion of 2nd Class Warder F. R. G. JOSLIN to 1st Class Warder with effect from 1st March, 1948.
By Command,
WILLIAM ADDIS,
Frederick Robert George Joslin died on 22nd April 1949. The Royal Gazette of 23rd April 1949 recorded his funeral arrangements.
Funeral Of Mr. Frederick Joslin Of St. George's
The funeral took place at St. George's on Thursday afternoon of Mr. Frederick Joslin of Clifton House, St. George's West, whose death took place at King Edward Hospital on Wednesday at the age of 54 years.
A service was held at St. Peter's Church, when Rev. J.W. Stowe conducted a service, which was attended by officers of Hamilton and St. George's prisons and members of the police force from Hamilton and St. George's.
In paying tribute to Mr. Joslin, the Vicar said Mr. Joslin had served the community well both as a warder and a member of the police force. He expressed his sympathy to the widow and family.
The hymns 'Abide with Me' and 'On the Resurrection Morning' were sung and as the cortege left the church the Nunc Dimitus was chanted.
Prison officers acted as pallbearers from the house to the church, while members of the Hamilton Police Headquarters carried the coffin from the church.
At the graveside Warder Furbert sounded the Last Post, after which officers of the prisons and police force saluted at the graveside.
The chief mourners were Mrs. F. Joslin (widow), Miss Betty Joslin (daughter) and Mr. Gordon Joslin (son).
Amongst those present were Mr. A.J. Croke, Warden of Prisons, Mr Charles W. Brown, Chief Warder, Hamilton, Senior Warder J. Mello, 1st Class Warder W. Williamson, 1st Class Warden F. Ray, and 2nd Class Warder L. Smith, Chief Warder A. F. Soane and 2nd Class Warders R. Fickling, J. Shannon, E. Rosser, G. Young, and W. Furbert, the last six of St. George's prison.
Amongst the wreaths were one from the Warden of Prisons and prison officers of H.M. Prisons, and from inmates of H.M. Prison, St. George's.
At 8 a.m on Thursday the flag was lowered to half mast and the inmates of the prison stood to attention for a two minutes silence in remembrance of Mr. Joslin.
Sydney Francis Frank Floyd
Sydney Francis Frank Floyd

was born on 24th March 1900 in St. Giles, London a fourth child to Charles Abraham Floyd and Alice Mary Floyd nee Piesse. The 1911 Census indicates that his father, Charles, was a Foreman at the local Council and at that time Sydney had eight siblings ranging in age from 3 years to 21 years living at the family home in St Pancras, London.
Sydney Francis Frank Floyd was appointed a Constable in the Central District of the Bermuda Police Force on 10th August 1920. His obituary notes that he was a former member of the Royal Sussex Regiment and that he was serving with them when he joined Bermuda Police Force.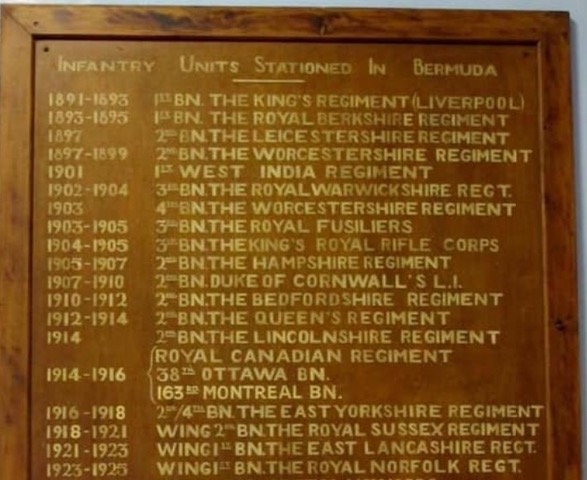 Part of the Garrison Service Board in the PRC
showing the service of the Royal Sussex Regiment
The 'Service Boards' in the former British garrison Officers Mess which is now the Bermuda Police Recreation Club notes that a Wing of the 2nd Battalion, Royal Sussex Regiment served in Bermuda from 1918 to 1921. They relieved the Yorkshire Regiment sometime in late 1918.
I have been unable to find the military service of Sydney Floyd. However if we assume that he joined the 2nd Battalion and that he joined at the age of 16 (and that he gave them his correct age) Wikipedia tells us that: The battalion took part in the Battle of the Somme in Autumn 1916, the British pursuit to the Hindenburg Line in Spring 1917, the Battle of Paschendaele in October 1917, the Battle of the Lys in April 1918 and the Second Battle of Arras in August 1918.
Constable Floyd resigned from the Bermuda Police Force some time in 1922. The Royal Gazette carried the following article on 9th September 1922, which may help explain the circumstances of his resignation.
WEDDING
Sheppard-Floyd
On Thursday evening, September 7th, a very pretty wedding was celebrated in the Cathedral when the ceremony was performed by the Rev. Canon H. Marriott.
The bride, Miss Mildred Sheppard, is the eldest daughter of Mr. and Mrs. G. Sheppard, and the bridegroom is a member of the Police Force. Mr. Sydney Francis Floyd, son of Mr. and Mrs. C. A. Floyd of London, England.
The bride was given away by her father and wore a very pretty dress of satin charmeuse, georgette and pearl trimming. The bridesmaids were the two sisters of the bride and Miss L. Lewis. They wore organdie dresses, (maize, pink and blue) with black picture hats. The bride's bouquet was of bridal roses, the bridesmaids' of frangipani blossoms.
Mr. Gilbert Cooper, in the absence of Mr. A. M. Purcell, was at the organ, accompanying the two hymns and playing the usual wedding marches.
Some very useful and valuable presents were received:—
From the Police, a clock and vases. From the Cathedral Choir, of which the bride is a member, a silver fruit dish. Mr. and Mrs. W. Roberts' gift was a dinner set.
The Floyds were married for some 18 years. The Royal Gazette of 10th July 1942 reported on the demise of Sydney Francis Floyd and also the service he gave to the community and the respect he was known by within the community.
OBITUARY
Sidney Floyd
Mr. Sidney Floyd, of Rosemont Avenue, Pembroke, who has been an employee of Messrs. J. E. Lightbourn & Company for many years, died yesterday morning at 9.45 o'clock in the King Edward VII Memorial Hospital from a heart ailment after a brief illness. The deceased is survived by his wife, three daughters, a son, and a recently born grandchild.
Mr. Floyd came to Bermuda originally with the Sussex Regiment, remaining here to become a member of the Bermuda Police Force. He was also employed for a time at the American House and worked in building the Bermudiana Hotel.
Mr. Floyd is known to thousands of British and Allied ratings, due to the great contribution he made to providing them with recreation in this Colony. He was master of ceremonies at the many dances held at the Naval Recreation Rooms, where he endeared himself to the Servicemen by leading in community singing and being continuously on the alert to see that the men were enjoying themselves. "He was one of our hardest and most appreciated workers," said an official of the Ladies' Hospitality Organisation to a reporter of The Royal Gazette yesterday morning. "We don't know what we shall do without him. He has made happy so many boys who were far from their own homes."
The same tribute was paid to the deceased by officers and members of the Bermuda War Veterans Association, of which Mr. Floyd has long been a member and one of its ablest organisers.
For several years he was one of the co-promoters of the annual Derby Sweepstake from which hundreds of pounds swelled the Welfare Fund of the Association, and prior to the Christmas holidays each year he arranged and organised the War Veterans' Christmas Raffle.
A member of the Church of England, Mr. Floyd was a chorister at the Bermuda Cathedral for many years. He was also well known among the boys at Saltus Grammar School for the keen interest he took in the annual boxing championships.
In addition to these community interests, Mr. Floyd played "Santa Claus" at Christmas for a variety of organisations, institutions, festivals and functions.
He will be particularly remembered by those who have been associated with, or patients at, the King Edward Memorial Hospital during the festive season of the year. For many years he was Santa Claus at the Hospital. To him it was never a duty because he loved bringing laughter and joy to others, deriving keen enjoyment with each appearance he made. His interest and enthusiasm never waned.
The funeral cortege left the residence at 5.30 p.m. yesterday proceeding to St. John's Church, Pembroke, where a service was conducted by the Rev. Eustace M. Strong, Rector of Pembroke, who delivered a short eulogy. The pallbearers, all members of the Bermuda War Veterans Association, were: Dr. Charles B. Wainwright, Vice-President, Colonel R. J. Tucker, O.B.E., Messrs E. Brownlow Gray, Albert Churm, A.N. Welch and Thomas Nesbit.
A contingent of local war veterans attended the funeral, as also did the executives and staff of Messrs. J. E. Lightbourn & Company, and officials from the Naval Recreation Rooms. Interment took place in St. John's Churchyard.