We recently wrote to John Headey wondering about the fate of Queen Cersei (or rather his daughter Lena) after this year's final season of Game of Thrones. For anyone not aware of it, Queen Cersei has been played throughout the series by John's beautiful daughter, Lena Headey who was born here in Bermuda while John was serving in the Bermuda Police.
During her time in the role of Queen Cersai, Lena had a once-in-a-lifetime opportunity of meeting a fellow member of Royalty, Her Majesty Queen Elizabeth II on the set of Games of Thrones as we reported in our Latest News article at http://expobermuda.com/index.php/latest-news/290-headeyarticle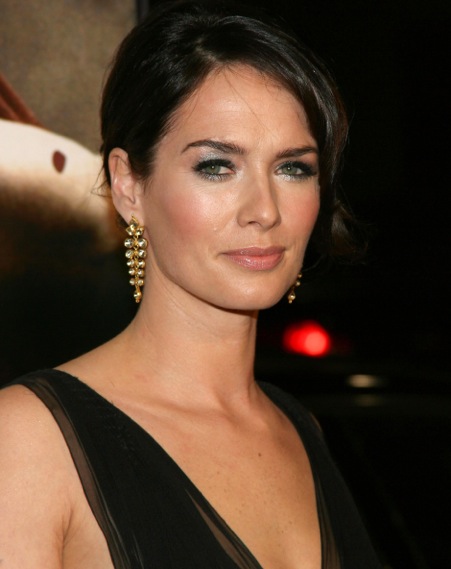 Lena Headey
We were not actually expecting any inside information, and John remained tight-lipped about the future of Queen Cersei, but he was a little more forthright about his home football club, who are destined to follow my home team, Stoke City, into the Championship next season.
John commented on what a miserable season it has been for his club, and their last three games are against Liverpool, Man United, and Southampton. After last week's dismal performance by Man United, it's possible that John and Huddersfield Town fans may have something to cheer in their last home game if Town can replicate Everton's success. Keith Cassidy hasn't stopped smiling since last Saturday!
John pointed out that just last week a list was published of the spending by all EPL clubs in the last 12 months, and John says, "Guess what – the top six all look strangely familiar! Sadly it all seems to be about money these days, and teams like Huddersfield are on a different planet in that respect compared with most clubs in the top flight."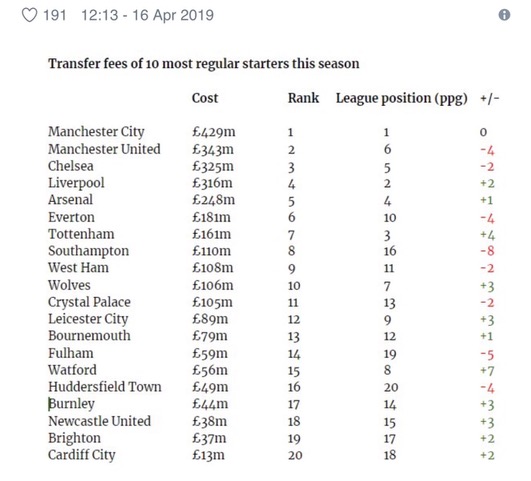 SPENDING ON TRANSFER FEES BY EPL CLUBS
John also mentioned that a Stoke supporter is a frequent contributor to Huddersfield Town fans' forum discussion board and he recalls him saying, "It's hard to decide if survival in the Premier League is worth the dubious pleasure of losing most weeks." As John says, "He has a point." John added, "There are rumours about a consortium possibly taking over the club. Our Chairman and owner, a local guy and genuine fan has been very ill although he is now recovering. I'm concerned that the old adage 'careful what you wish for' " may apply.
John and his wife Susan are kept busy as grandparents to Lena's two children, Wylie and Teddy Rose, who have been mentioned several times in our Grandparents column which you can view at http://expobermuda.com/index.php/lia/530-grandparents,

Also included in the Grandparents column is this photo of John with then 8 year old Wylie proudly wearing his Huddersfield Town strip. We wondered if young Wylie would stay faithful to his grandad's club but rumour has it that he's shifted his loyalties to Arsenal, just as my grandson is now supporting, of all teams, Scunthorpe United. That may have something to do with his dad's loyalties and the subliminal fact that their personalized car number plate here in Bermuda is "Scunny"! So much for loyalty!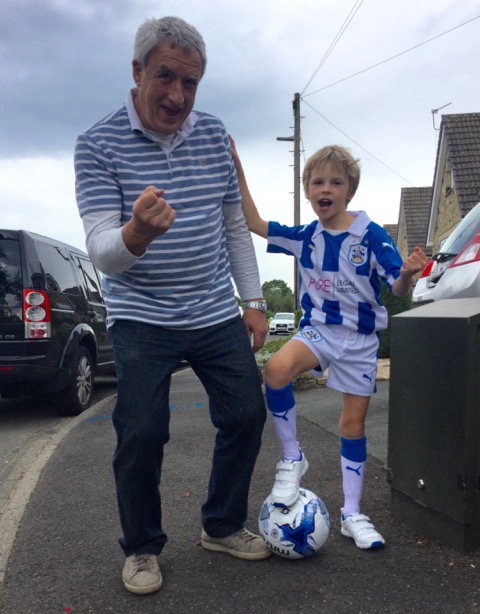 John Headey with grandson Wylie when he was a Huddersfield Town fan!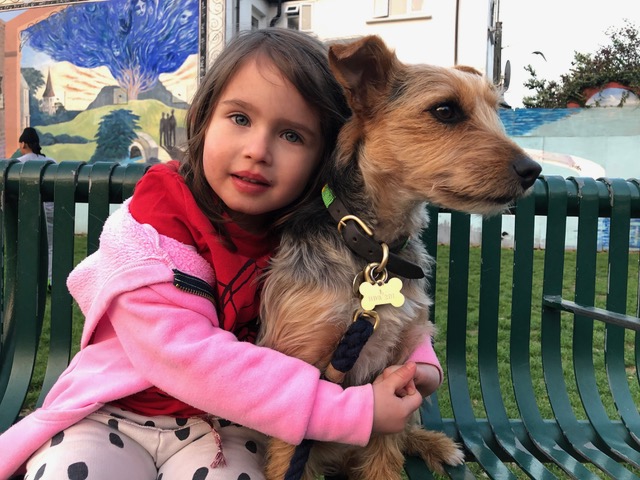 Teddy Rose loves her terrier - Alfie
John readily admits he's clutching at straws but he's taking solace in the fact that his gorgeous granddaughter Teddy Rose loves her terrier, Alfie, and he points out that Huddersafield Town are known as the "Terriers"!!
At least my Grandaughter Teddy Rose has got something right, she loves her terrier Alfie ...

Editors note - We are always happy to receive photos and information about our former colleagues who are now grandparents for the Grandparents Column.