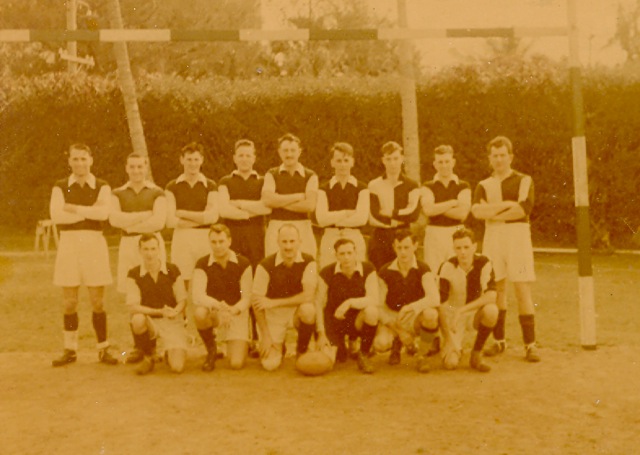 Bermuda's first Police Rugby Team – taken in July 1954 at BAA Field
l-r Back Row - Robert Railton (Capt) (former professional for Whitehaven), Jack Ham,
Bill Freeman, ?, Arthur Rose, Peter Jackson, ?, Jim McMaster, Collins
(left to become Master at Arms on the Queen of Bermuda)
Front Row - Ted Burton, White, Frank Walsh, Charles Giltrap,
John Joe Sheehy, The Rt. Hon Raymond Barnwall.
The face of rugby has certainly undergone major changes since the Bermuda Police Team first started competing way back in July 1954. The Royal Gazette sports article on the 2019 annual Duckett Memorial Trophy tournament is a case in point. When the Duckett Memorial Trophy was first contested following the assassination of Commissioner George Duckett in 1972, this hard fought annual battle had initially been an encounter between the Police first team and a National Select side (the Best of the Rest!)
Not so this year! This annual tournament, played in January each year, has evolved into no less than four rugby matches involving four Police teams, the men's first and second teams, and the ladies first and second teams. Ladies rugby has taken off in Bermuda as elsewhere around the world - and make no mistake about it, ladies play the game for keeps!
During a pre-game interview with the Royal Gazette which you can view athttp://www.royalgazette.com/rugby/article/20190111/police-set-for-tough-tests-against-best, Police head coach Peter Lewington explained, "This is the highlight of our season. Statistically, we shouldn't win when you look at the quality of all the opposition teams. However, the decades of results show that Police are dominant in this fixture, and this year we are planning to add more victories to that story. November marks the club's 60th anniversary, and winning is the best way to start the year."
Yes, the face of rugby has seen many changes but some familiar faces, and familiar names showed up at the Police Sports Field to play for the Police in the annual battle of the Blues versus the Rest.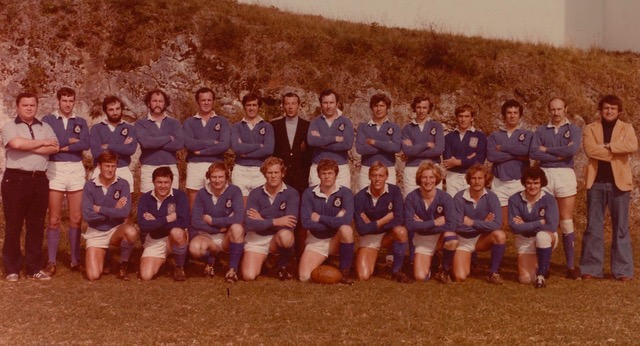 Duckett Trophy Police Team 1976

In the above photo from our archives you'll see two young men on the back row who played regularly for the Police team four or five decades ago. One is former Sgt Paul Field who joined the Bermuda Police in 1962 and served until 1973 at which time he pursued a successful new career in the security business. Paul was an avid sportsman who played both rugby and cricket during his time in the Service.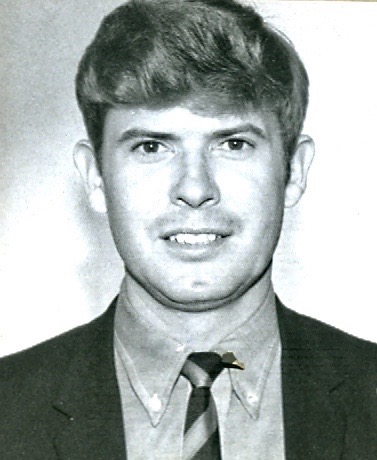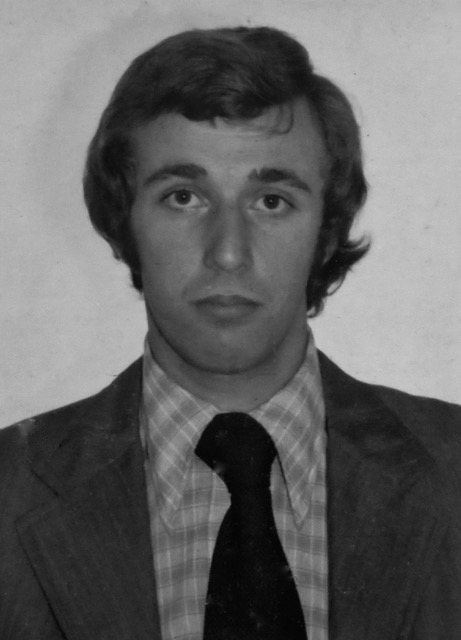 P.C. Paul Field P.C. Keith Cassidy
Standing next to him is retired Sgt Keith Cassidy who arrived in Bermuda as a young police recruit in late 1971 and served, mainly in Scenes of Crime Office (S.O.C.O.), retiring in 1999 after almost 28 years. Keith was also an avid sportsman who played both rugby and football for Police teams.
Paul gave up rugby some time ago but he maintains great interest in the Police Rugby team and especially the annual Duckett Memorial matches - with very good reason! Paul's son Sean Field-Lament followed in his dad's footsteps on the rugby field and has been a regular member of the Police team for at least 20 years, and he's now been followed by Paul's grandson Jake.
The Field Boys 2017
Paul (centre) proudly holds the Duckett Memorial Trophy
flanked by his son Sean (left) and Jake (right)
As seen in the photo above taken last year, Paul holds up the Duckett Memorial Shield which he had successfully competed for when it was first created, and he is flanked by both his son Sean and his grandson Jake, who had turned out in blue shirts as members of the Police 2nd Team, so three generations of Fields have played for Police Rugby Teams although, to the best of our knowledge, Paul never played in the same team as his son Sean.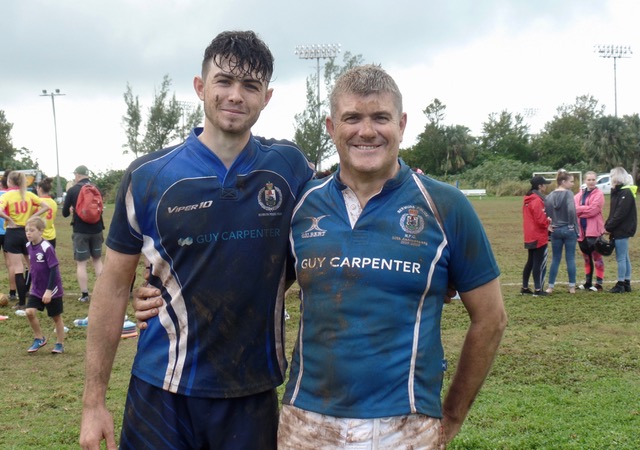 Sean and Jake Field-Lament fresh off the field
Perhaps the greatest surprise of the tournament this year was the fact that we had two Cassidys playing for the Police 2nd Team, one being Jonathan Cassidy, an exceptional player who has been both a regular member of the Police Rugby team and has also represented Bermuda and the West Indies internationally.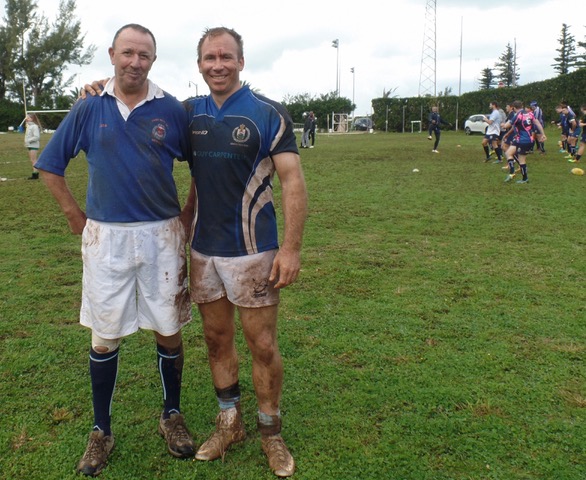 Keith and Jonathan Cassidy survive the match
Why would it be a surprise to have two Cassidys playing for Police this year? Well, the fact is that Jonathan's dad, Keith, has not only played regularly in the team with his son Jonathan, but by stepping out on the field to play in this year's tournament, Keith, at just two days short of his 70th birthday, must surely be by far the most "senior" player ever to turn out and play for his beloved Police team.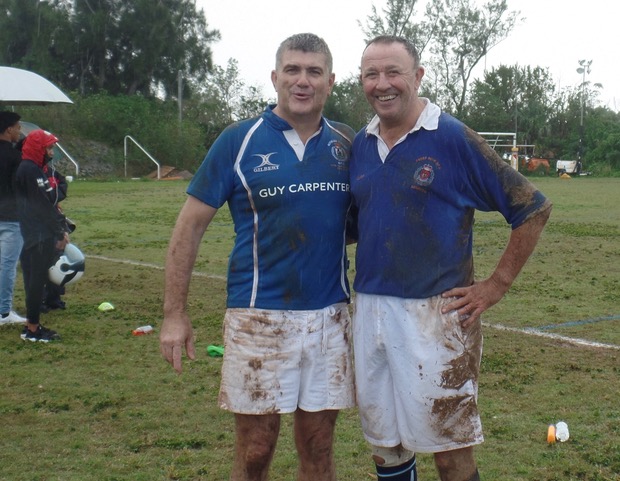 Dirty but undaunted!
Sean Field-Lament and Keith Cassidy
And if the Fields think they will be the only family to ever have three generations represent the Boys in Blue, they may need to think again because Keith's grandson, Lincoln, was fascinated watching his dad and his grandad from the sidelines at Police Field – and what colour shirt do you think he was wearing?!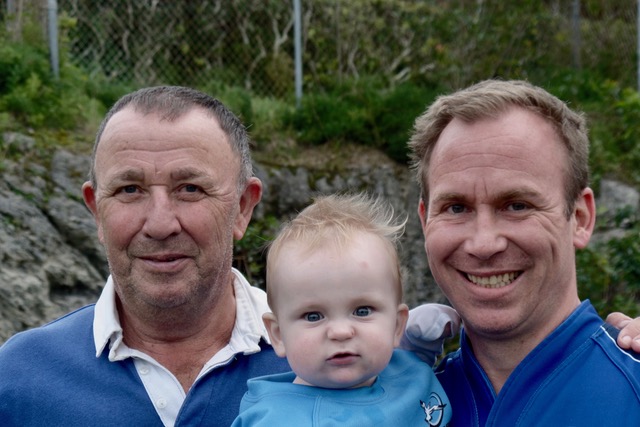 The Cassidy Clan
Keith, young Lincoln (that is one fiercely determined look), and Jonathan
And just to show that Police Team players are resilient, we also had former P.C. Andy Pell who served as a P.C. in Central Division from 1988-1993, turn up to play for the 2nd team with his son Danny.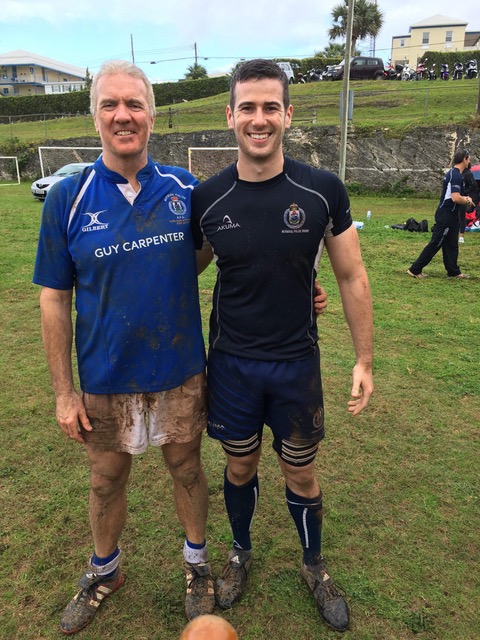 Former P.C. Andy Pell and his son Danny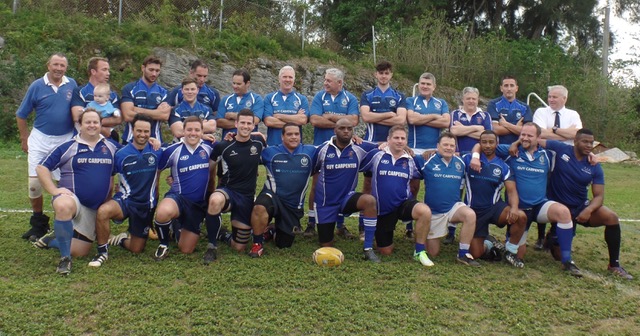 Police Rugby Club 2nd Team - Duckett Memorial Tournament 2019
Back Row (L-R) - Keith Cassidy, little Lincoln Cassidy, Jonathan Cassidy, Matt Koen, Dylan Edward, Pete
Lewington, Guy Bowker, Andy Pell, Danny Moore, Jake Field, Sean Field-Lament, Gareth Davies, Darryl van Heerden
Front Row (L-R) - Nick West, Daniel Farrar, Quintin Venter, Danny Pell, Jamie Billings, Ralson Douglas,
Ryan Somerville, Angus Ayliffe, Warren Bundy, Dragan Pavkovic, Jordan DeShields.
For the record,
Police head coach Peter Lewington, was spot on with his predictions of a good day for the Police Teams, with success in three out of their four matches.
Both the Men's 1st and 2nd teams won their matches, and the Ladies 1st team won theirs.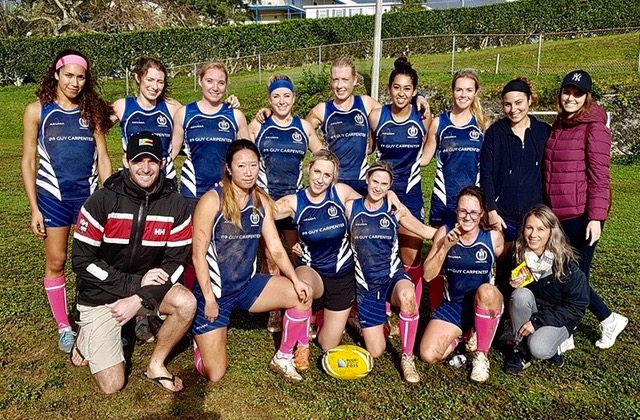 Police Rugby Club Ladies 1st Team:
Back Row L-R: Kierra Smith, Clodagh Barry, Amelia Cole, Meagan Jackson (captain),
Fiona Donaldson, Jenna Burrows, Francesca Rawlinson (vice-captain),
Melissa Rodrigues, Johanita Louw
Front Row L-R: Matt Koen (coach), Mika Tomita, Saphia Tonkin,
Jo Murray, Olivia Smart, Estienne Coetzee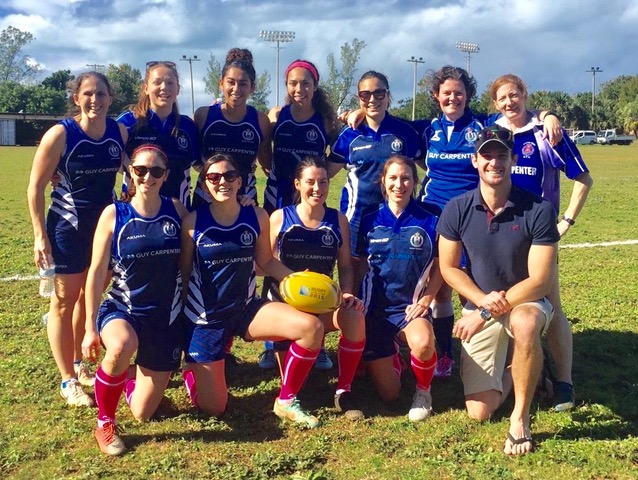 Police Rugby Club Ladies 2nd Team
Back Row (L-R) Erica McArthur (captain), Hanah Cannon, Jenna Burrows,
Kierra Smith, Melissa Rodrigues, Liz Copeland, Kerry Heigham
Front Row L-R: Jessica Wagner, Barbara Bates, Julie McDonald,
Clodagh Barry, Matt Koen (coach)
For a comprehensive report on results view the Royal Gazette article at http://www.royalgazette.com/rugby/article/20190115/police-lay-down-law-in-memorial-match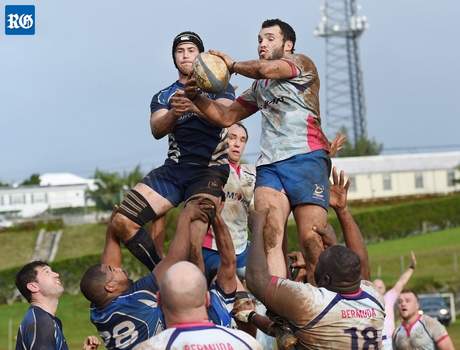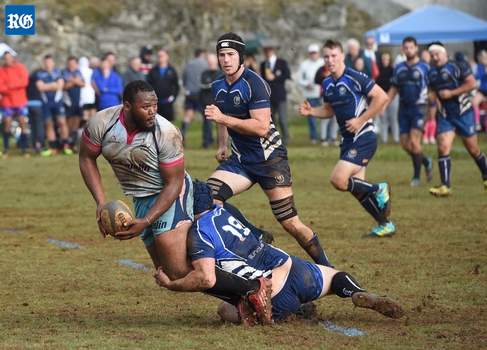 Men's 1st Teams in Action - Duckett Memorial Tournament - 2019
(Photos courtesy Akil Simmons, Royal Gazette)
Related rugby articles available on our ExPo website:-
Editors note - We would be interested in hearing of any other families who have had two or more of their members competing in Police sporting events. We believe the following family members have represented the Police Rugby Team:-
Robert Railton (former professional Rugby League player) who was Captain of our first ever Police Rugby Team back in 1954, and his son Robert "Bob" Railton, both of whom served in the BPS;

Dave Lunn and his sons Dave, Greg and Colin, all of whom we believe played alongside their dad at least once. This has to be a record for the number of players in the same family representing the Police Rugby Team;

Steve Rollin and his son Alexander.
And how about other sports? For example, we believe Ralph and Matthew Lindo both play football for the Police?