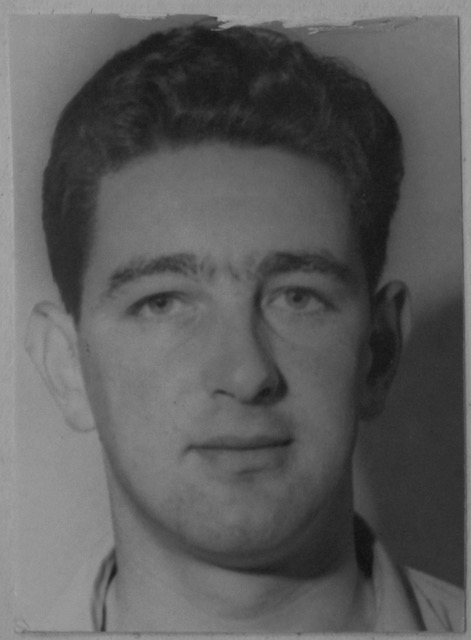 Young P.C. Ken Norman - 1960
We heard in July 2019 the sad news that former Sgt. Ken Norman, who served in the Bermuda Police for 6 years from August 1960 – September 1966, had passed away at the age of 80 in Kitchener, Ontario, Canada.
Ken was born and raised in Northallerton in Yorkshire, and he joined the North Riding Constabulary as a young cadet from 1955 - 1958 then served as a constable for 3 years, serving in Northallerton, Thornaby, Ripon and Southbank. In the summer of 1960 he applied for and was accepted in the Bermuda Police, arriving on Island together with two other experienced police officers from Yorkshire, Jim Lyons from Ripon, and Michael Green from Stillington.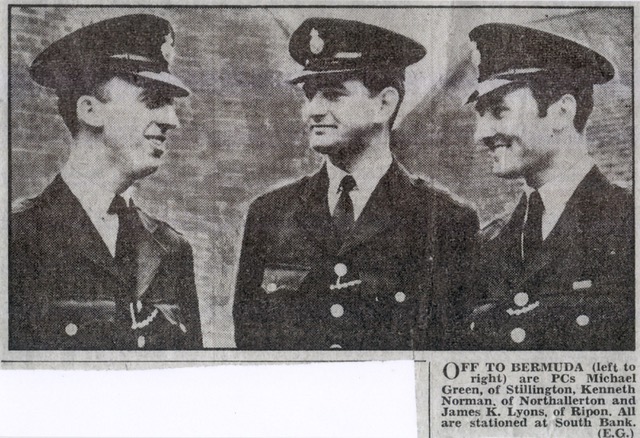 Three young Yorkshire police constables heading for Bermuda
(l-r) Michael Green, Kenneth "Ken" Norman and James "Jim" Lyons
Ken was initially stationed in Central Division (Hamilton) prior to being transferred to Operations (Traffic) where he passed his Grade 1 Driving Course and thoroughly enjoyed riding motor cycles and driving police cars. After a further spell in Central Division, Ken was promoted to Sergeant in March 1965 and was transferred to Eastern Division (St. George's). Ken was an excellent police officer and was very well liked by all who worked with him.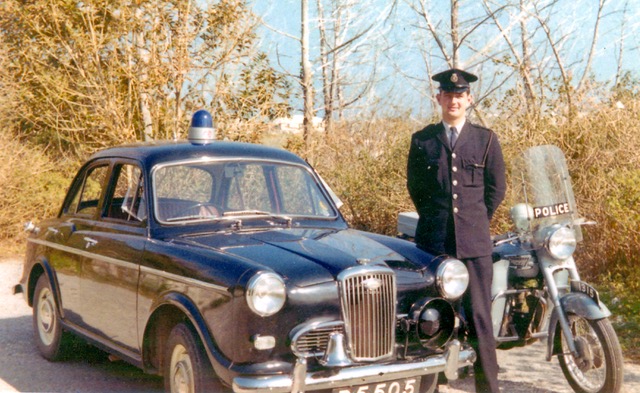 P.C. Ken Norman enjoyed his time in Operations (Traffic)
Ken married the love of his life, Joan, who was a nurse

when they met

at King Edward V11 Memorial Hospital, and they set up home on Mary Victoria Road at Prospect near to Police Headquarters. Their two children Stephen and Carolyn were both born in Bermuda.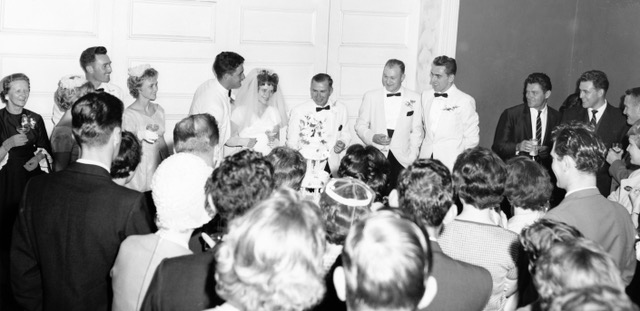 Ken and Joan's wedding reception at the Police Recreation Club - March 1962
(l-r)) - Joan's Mother Ida Cleland, Jim Lyons, Joan's sister Maureen, Ken and Joan,
Joan's father Frank Cleland,Tom Oliver, Ron Shelley, Barry King, Mike Leng, Mike Burke and Carolyn Cameron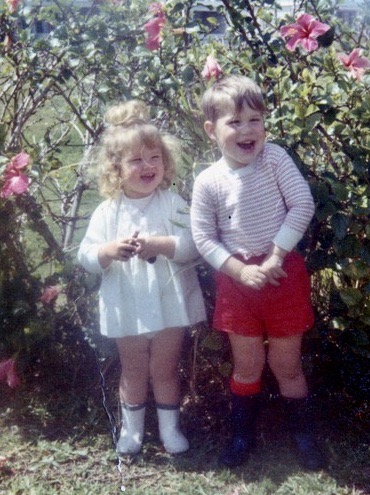 Carolyn and Stephen surrounded by hibiscus
in their garden in Bermuda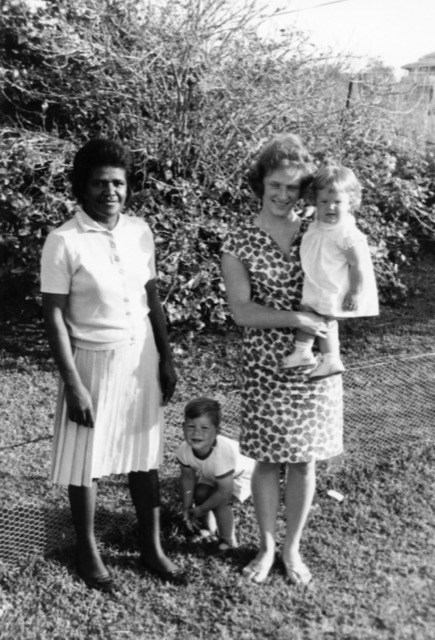 Nanny Dorothy Gomes, with Stephen, Joan, and Carolyn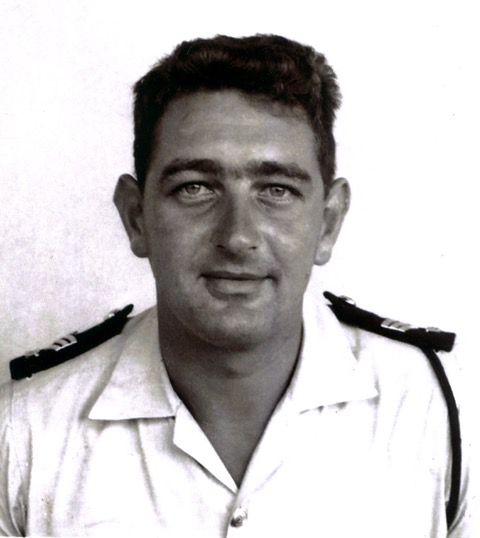 Ken Norman promoted to Sergeant in March 1965
One of his fellow officers at that time, Mike Burke, remembers Ken as a great guy and the two young men had something else in common apart from being fellow police officers; they both married beautiful young Canadian nurses who were working at King Edward V11 Memorial Hospital. Mike recalls that when he and his wife Cam visited Cam's hometown of St. Thomas in Ontario, in 1975, by sheer chance he met up with Ken Norman, Malcolm Bull (dog handler) and Connell McBurnie, all of whom had served here in the Bermuda Police, and they all enjoyed an evening out.
While they were both working at KEMH, Cam (Carolyn) and Joan both lived on the same floor at KEMH Queen Elizabeth Residence. Cam Burke recalls, "Norma Mac Isaac and I were asked by Joan to be 'dates' (old fashioned term!) for two of the attendants at their wedding as they were all going to the '40 Thieves' after the reception. My date was Ron Shelley, and Norma's was Colin Chiswell and they married the following June (divorced now). Ken and Joan lived on Mary Victoria Road when we lived on Alexandra Road in what was very much a police community."
In 1966, Ken and Joan, decided to move with their young family to Ontario, Canada. Joan says, "When we moved back to Canada in 1966 we originally lived in Brampton, Ontario, where Ken became an insurance adjuster and I worked at Peel Memorial Hospital in Brampton. In 1967 Tom and Anne O'Sullivan moved to Brampton where Tom also worked as an insurance adjuster and Anne worked at Peel Memorial Hospital. We enjoyed a close friendship and many fun times with Ann and Tom for the 6 years before Ken and I moved to Kitchener where Ken first worked as an insurance adjuster, and later as a Regional Sales Manager for O-Pee-Chee, a confectionary company in London, Ontario. He retired in 2003 and then enjoyed travelling and golfing with his golf buddies."
"It was while we were living in Brampton that Ken and Tom were instrumental in starting the first ex-Bermuda Police/Canada Association reunions."
The first of these reunions was held at the Holiday Inn in Etobicoke near Toronto on the evening of the 21st September 1972, when former Deputy Commissioner F. B. (Frank) Williams, QPM, and his wife were visiting Toronto. Below is a photo of all of the attendees including both Ken and Tom who were sitting on the front row despite good natured "protestations" from the rest of the group!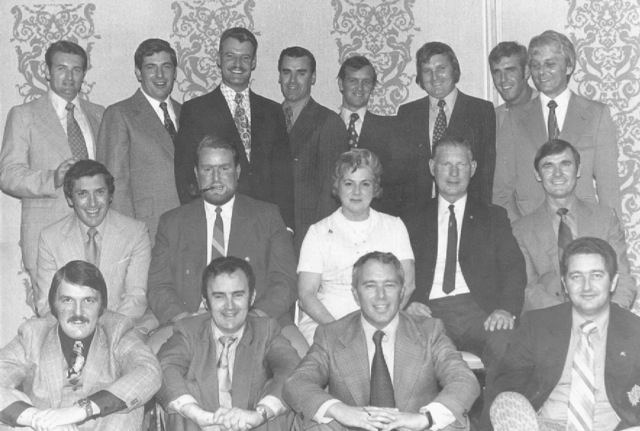 Inaugural ex-Bermuda Police/Canada reunion - 1972
Top Row (l-r) John Millington, Ian Mitchell, Connell McBurnie, Bill Smith,
Clive Thompson, Duncan Gourlay, Ron Woodhouse, Peter Jackson.
Middle Row - Malcolm Santer (Pharmacist and rugby player),
Barry "Tim" Burch, Mrs. Joan Williams, Frank B. Williams, Bob Curnow.
Bottom Row - Dave Needham, Tom O'Sullivan, Peter Rose, Ken Norman.
This first reunion was a great success and was covered in an article written by Peter Rose in the Police Magazine Winter edition 1972, which is featured in the "Who, When and Where" article. Ken and Tom certainly set a trend and there have since been other reunions of our ex-Bermuda police officers who have settled in Canada.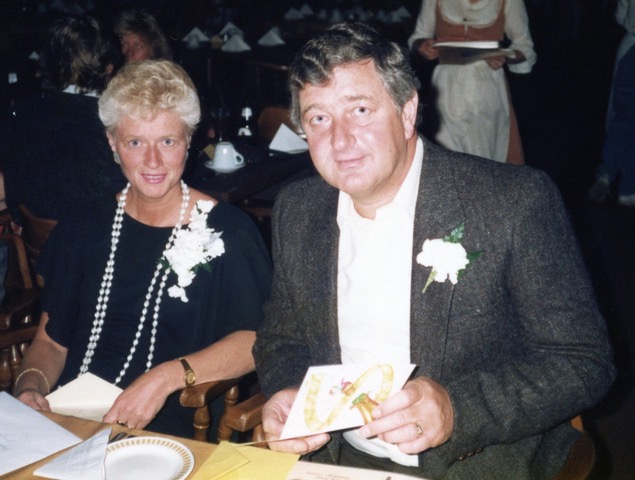 Joan and Ken on their 25th wedding anniversary
Joan has written to say that Ken loved to reminisce about his time on the Bermuda Police Force and had many fond memories of his fellow officers. The Bermuda Ex-Police website provided him with many happy hours reading the news and updates provided there. Joan sent a big "thank-you" to those engaged in publishing the website.
Sadly, Tom O'Sullivan died at age 49. Anne remarried several years later, and still lives in Brampton, and Ken and Joan maintained their friendship.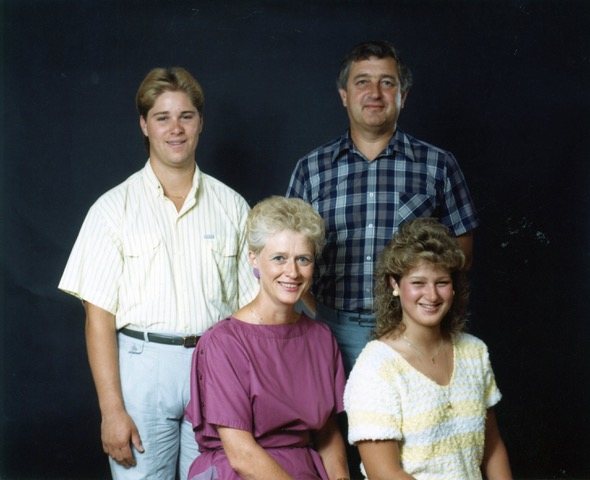 Ken and Joan with Stephen and Carolyn - 1985
Ken will be sorely missed by Joan, their son Stephen and daughter Carolyn, who as mentioned earlier were both born in Bermuda, and by their grandchildren Blake Cameron, Kaleigh Cameron, and Cole Cameron who will greatly miss their "Papa".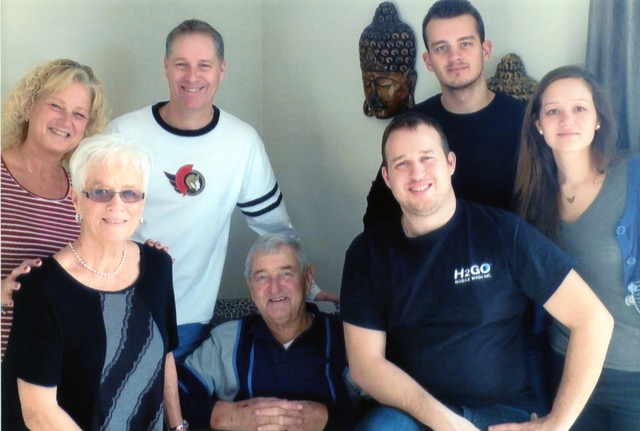 The last Christmas Ken had with his family all together
Front Row, L to R. Joan, Ken, and Blake Cameron
Back Row - Carolyn Cameron, Stephen Norman, Cole Cameron, and Kaleigh Cameron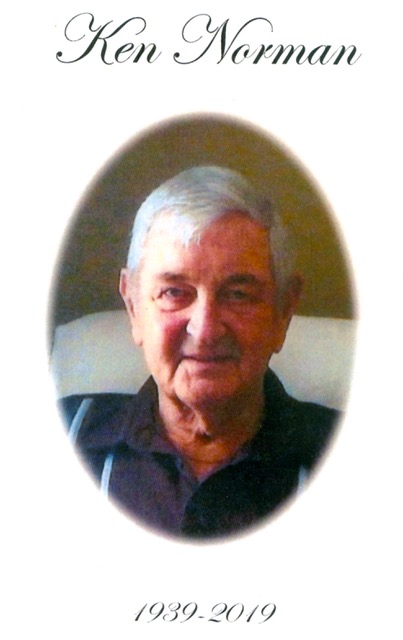 Ken was pre-deceased by his parents, Sam and Winnifred Norman.
On behalf of those of us who knew Ken and worked with him during his time in Bermuda we send our sincere condolences to Joan and their family.
----------------------------------------------------------------
Editors note - When I first arrived in Bermuda in 1964, many of our young police officers spent time socialising with nurses at KEMH. I was no exception and we often wondered if it might be possible to get passed the "House Mother" at Queen Elizabeth residence but security there was tighter than at Fort Knox! Cam Burke recalls that the "housemothers" in 1962 -1963 were Mrs Todd (usually 4pm-12pm), Mrs Brown and Mrs Cann. Police and nurses shared use of the Admiralty House park and beach, and attended numerous parties in the cave at Admiralty, at the Police Club, in private homes, and in the Police Barracks despite the fact that it was strictly against the rules for females to enter the barracks! So it's no surprise that marriages between policemen and nurses were not at all unusual.
I asked Cam Burke how many she could recall and she immediately listed the following Canadian nurses who married UK policemen:- Peter Rose and Gail Moore, Colin Chiswell and Norma Mac Isaac; Connell MacBurnie and Joan Caskanette;
Tom O'Sullivan and Ann; Ken Norman and Joan: Mike Lang and Shirley; Tim Burch and Patricia; and of course Mike Burke and Cam. There may have been more Canadian girls who married policemen, and there were definitely more policemen who married British girls, including John and Ann Rawson, and Alexander "Sandy" Sommerville and Phillipa Ryding just to name two couples. We wonder how many more there were.
By coincidence, if you check the photo of Ken and Joan's wedding reception above you will see Mike Burke standing estreme right, and next to him is Carolyn "Cam" Cameron. Mike and "Cam" soon joined the list of police/nurse partnerships and they were married one year later in June 1963. You can read about Mike Burke's lifestory in our "Then and Now" column at
http://expobermuda.com/index.php/tan/199-mikeburke
NB For those not residing here in Bermuda, the Queen Elizabeth nurses residence was razed to the ground about 3 years ago as part of the expansion of King Edward Hospital that now has a new wing.